Abstract
Release from natural enemies is often cited as a key factor for understanding the success of invasive plant species in novel environments. However, with time invasive species will accumulate native enemies in their invaded range, with factors such as spread distance from the site of introduction, climate and leaf-level traits potentially affecting enemy acquisition rates. However, the influence of such factors is difficult to assess without examining enemy attack across the entire species' range. We tested the significance of factors associated with range expansion (distance from source population and maximum population density), climatic variables (annual temperature and rainfall) and leaf-level traits [specific leaf area (SLA) and foliar nitrogen concentration] in explaining variation in enemy damage across multiple populations of two coastal invasive plants (Gladiolus gueinzii Kunze and Hydrocotyle bonariensis Lam.) along their entire introduced distribution in eastern Australia. We found that for H. bonariensis, amount of foliar damage increased with distance from source population. In contrast, for G. gueinzii, probability and amount of foliar damage decreased with decreasing temperature and increasing rainfall, respectively. Our results show that patterns of enemy attack across species' ranges are complex and cannot be generalised between species or even range edges.
Access options
Buy single article
Instant access to the full article PDF.
USD 39.95
Price excludes VAT (USA)
Tax calculation will be finalised during checkout.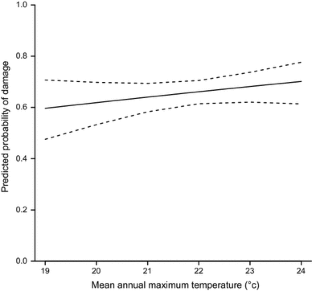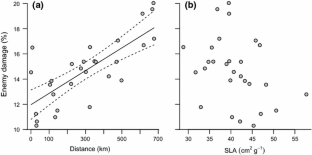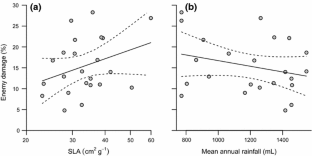 References
Alexander HM, Price S, Houser R, Finch D, Tourtellot M (2007) Is there reduction in disease and pre-dispersal seed predation at the border of a host plant's range? Field and herbarium studies of Carex blanda. J Ecol 95:446–457. https://doi.org/10.1111/j.1365-2745.2007.01228.x

Angert, AL, Schemske, DW (2005) The evolution of species' distributions: reciprocal transplants across the elevation ranges of Mimulus cardinalis and M. lewisii. Evolution 59:1671-1684. doi:10.1554/05-107.1

Anstett DN, Nunes KA, Baskett C, Kotanen PM (2016) Sources of controversy surrounding latitudinal patterns in herbivory and defense. Trends Ecol Evol 2142:789–802. https://doi.org/10.1016/j.tree.2016.07.011

Blossey B, Nötzold R (1995) Evolution of increased competitive ability in invasive nonindigenous plants: a hypothesis. J Ecol 83:887–889. https://doi.org/10.2307/2261425

Briers RA (2003) Range limits and parasite prevalence in a freshwater snail. Proc Biol Sci 270(Suppl):S178–S180. https://doi.org/10.1098/rsbl.2003.0046

Castagneyrol B, Giffard B, Péré C, Jactel H (2013) Plant apparency, an overlooked driver of associational resistance to insect herbivory. J Ecol 101:418–429. https://doi.org/10.1111/1365-2745.12055

Castells E, Morante M, Blanco-Moreno JM, Sans FX, Roser V, Blasco-Moreno A (2013) Reduced seed predation after invasion supports enemy release in a broad biogeographical survey. Oecologia 173:1397–1409. https://doi.org/10.1007/s00442-013-2718-4

Castilla AR, Alonso C, Herrera CM (2013) Herbivory at marginal populations: consequences for maternal fitness and vegetative differentiation. Acta Oecologica 49:32–38. https://doi.org/10.1016/j.actao.2013.02.008

Evans JP (1992) The effect of local resource availability and clonal integration on ramet functional-morphology in Hydrocotyle bonariensis. Oecologia 89:265–276

Fagan WF, Bishop JG (2000) Trophic interactions during primary succession: herbivores slow a plant reinvasion at Mount St. Helens. Am Nat 155:238–251. https://doi.org/10.1086/303320

García D, Zamora R, Gómez JM, Jordano P, Hódar JA (2000) Geographical variation in seed production, predation and abortion in Juniperus communis throughout its range in Europe. J Ecol 88:436–446. https://doi.org/10.1046/j.1365-2745.2000.00459.x

Gruntman M, Segev U, Glauser G, Tielbörger K (2016) Evolution of plant defences along an invasion chronosequence: defence is lost due to enemy release—but not forever. J Ecol. https://doi.org/10.1111/1365-2745.12660

Harvey KJ, Nipperess DA, Britton DR, Hughes L (2013) Does time since introduction influence enemy release of an invasive weed? Oecologia 173:493–506. https://doi.org/10.1007/s00442-013-2633-8

Heyligers PC (1998) Some New South Wales coastal plant distributions: a comparison of herbarium records with transect survey data. Cunninghamia 5:645–664

Heyligers PC (1999) Dispersal of the exotic coastal dune plants Gladiolus gueinzii and Trachyandra divaricata in Australia. Cunninghamia 6:315–330

Heyligers PC (2008) Flora of the Stockton and Port Hunter sandy foreshores with comments on fifteen notable introduced species. Cunninghamia 10:315–329

Hochberg ME, Ives AR (1999) Can natural enemies enforce geographical range limits? Ecography 22:268–276. https://doi.org/10.1111/j.1600-0587.1999.tb00502.x

Jakobs G, Weber E, Edwards PJ (2004) Introduced plants of the invasive Solidago gigantea (Asteraceae) are larger and grow denser than conspecifics in the native range. Divers Distrib 10:11–19. https://doi.org/10.1111/j.1472-4642.2004.00052.x

Jump AS, Woodward FI (2003) Seed production and population density decline approaching the range-edge of Cirsium species. New Phytol 160:349–358. https://doi.org/10.1046/j.1469-8137.2003.00873.x

Kambo D, Kotanen PM (2014) Latitudinal trends in herbivory and performance of an invasive species, common burdock (Arctium minus). Biol Invasions 16:101–112. https://doi.org/10.1007/s10530-013-0506-z

Katz DSW, Ibáñez I (2016) Biotic interactions with natural enemies do not affect potential range expansion of three invasive plants in response to climate change. 1–13. https://doi.org/10.1007/s10530-016-1229-8

Keane RM, Crawley MJ (2002) Exotic plant invasions and the enemy hypothesis. Trends Ecol Evol 17:164–170

Kelehear C, Brown GP, Shine R (2012) Rapid evolution of parasite life history traits on an expanding range-edge. Ecol Lett 15:329–337. https://doi.org/10.1111/j.1461-0248.2012.01742.x

Kilkenny FF, Galloway LF (2013) Adaptive divergence at the margin of an invaded range. Evolution 67:722–731. https://doi.org/10.1111/j.1558-5646-2012.01829.x

Knight TM, Miller TE (2004) Local adaptation within a population of Hydrocotyle bonariensis. Evol Ecol Res 6:103–114

Kolar CS, Lodge DM (2001) Progress in invasion biology: predicting invaders. Trends Ecol Evol 16:199–204. https://doi.org/10.1016/S0169-5347(01)02101-2

Lee Y, Kotanen PM (2015) Differences in herbivore damage and performance among Arctium minus (burdock) genotypes sampled from a geographic gradient: a common garden experiment. Biol Invasions 17:397–408. https://doi.org/10.1007/s10530-014-0737-7

Leishman MR, Cooke J, Richardson DM (2014) Evidence for shifts to faster growth strategies in the new ranges of invasive alien plants. J Ecol n/a-n/a. https://doi.org/10.1111/1365-2745.12318

Mitchell CE, Agrawal AA, Bever JD et al (2006) Biotic interactions and plant invasions. Ecol Lett 9:726–740. https://doi.org/10.1111/j.1461-0248.2006.00908.x

Moles AT, Bonser SP, Poore AGB et al (2011) Assessing the evidence for latitudinal gradients in plant defence and herbivory. Funct Ecol 25:380–388. https://doi.org/10.1111/j.1365-2435.2010.01814.x

Murray B, Phillips M (2012) Temporal introduction patterns of invasive alien plant species to Australia. NeoBiota 13:1. https://doi.org/10.3897/neobiota.13.2422

Nunes KA, Cassin CM, Kotanen PM (2016) Variation in herbivory along a latitudinal gradient for native and exotic Asteraceae. Plant Ecol 217:1–13. https://doi.org/10.1007/s11258-016-0593-x

Pennings SC, Sillman BR (2005) Linking biogeography and community ecology: latitudinal variation in plant—herbivore interaction strength. Ecology 86:2310–2319. https://doi.org/10.1890/04-1022

Pérez-Harguindeguy N, Díaz S, Vendramini F, Cornelissen JHC, Gurvich DE, Cabido M (2003) Leaf traits and herbivore selection in the field and in cafeteria experiments. Aust Ecol 28:642–650. https://doi.org/10.1046/j.1442-9993.2003.01321.x

R Development Core Team (2016) R: a language and environment for statistical computing. R Foundation for Statistical Computing, Vienna

Sagarin R, Gaines S (2002a) The "abundant centre" distribution: to what extent is it a biogeographical rule? Ecol Lett 5:137–147. https://doi.org/10.1046/j.1461-0248.2002.00297.x

Sagarin RD, Gaines SD (2002b) Geographical abundance distributions of coastal invertebrates: using one-dimensional ranges to test biogeographic hypotheses. J Biogeogr 29:985–997. https://doi.org/10.1046/j.1365-2699.2002.00705.x

Samis KE, Eckert CG (2007) Testing the abundant center model using range-wide demographic surveys of two coastal dune plants. Ecology 88:1747–1758. https://doi.org/10.1890/06-1153.1

Sexton JP, McIntyre PJ, Angert AL, Rice KJ (2009) Evolution and ecology of species range limits. Annu Rev Ecol Evol Syst 40:415–436. https://doi.org/10.1146/annurev.ecolsys.110308.120317

Siemann Evan, Rogers W (2001) Genetic differences in growth of an invasive tree species. Ecol Lett 4:514–519. https://doi.org/10.1046/j.1461-0248.2001.00274.x

Siemann E, Rogers WE, Dewalt SJ (2006) Rapid adaptation of insect herbivores to an invasive plant. Proc R Soc B 273:2763–2769. https://doi.org/10.1098/rspb.2006.3644

Sletvold N, Grindeland JM (2008) Floral herbivory increases with inflorescence size and local plant density in Digitalis purpurea. Acta Oecologica 34:21–25. https://doi.org/10.1016/j.actao.2008.03.002

Stastny M, Schaffner U, Elle E (2005) Do vigour of introduced populations and escape from specialist herbivores contribute to invasiveness? J Ecol 93:27–37. https://doi.org/10.1111/j.1365-2745.2004.00962.x

Torchin ME, Lafferty KD, Dobson AP, McKenzie VJ, Kuris AM (2003) Introduced species and their missing parasites. Nature 421:628–630. https://doi.org/10.1038/nature01346

Tsai Y-HE, Manos PS (2010) Host density drives the postglacial migration of the tree parasite, Epifagus virginiana. Proc Natl Acad Sci U S A 107:17035–17040. https://doi.org/10.1073/pnas.1006225107

Vaupel A, Matthies D (2012) Abundance, reproduction, and seed predation of an alpine plant decrease from the center toward the range limit. Ecology 93:2253–2262. https://doi.org/10.1890/11-2026.1

Vergeer P, Kunin W (2011) Life history variation in Arabidopsis lyrata across its range: effects of climate, population size and herbivory. Oikos 120:979–990. https://doi.org/10.1111/j.1600-0706.2010.18944.x

Wan JS, Bonser SP (2016) Enemy release at range edges: do invasive species escape their herbivores as they expand into new areas? J Plant Ecol 9:636–647. https://doi.org/10.1093/jpe/rtw003
Acknowledgements
We thank Joshua Griffiths, Veronica Shaw, Claire Laws, Guyo Gufu, James Lawson and Rachael Gallagher for kind assistance in the field. We also thank Muhammad Masood for patiently conducting the C:H:N analysis. The experiments comply with the current laws of Australia in which the experiments were performed.
Additional information
Communicated by Wayne Dawson.
This study is the first to thoroughly investigate variation in and causes of enemy damage in multiple populations across invasive species' ranges. We found that patterns of enemy attack varied greatly between species, which have significant implications for enemy release within invaded ranges.
Electronic supplementary material
Below is the link to the electronic supplementary material.
About this article
Cite this article
Tabassum, S., Leishman, M.R. Does enemy damage vary across the range of exotic plant species? Evidence from two coastal dune plant species in eastern Australia. Oecologia 186, 303–309 (2018). https://doi.org/10.1007/s00442-017-4008-z
Received:

Accepted:

Published:

Issue Date:

DOI: https://doi.org/10.1007/s00442-017-4008-z
Keywords
Enemy release

Plant invasions

Population density

Leaf traits

Range limits