Abstract
Invasive species dominance in invaded communities may not be long-lasting due to regulatory processes, such as plant–soil feedbacks and neighboring species adaptation. Further, the change in species competitive ability may be contingent upon neighbor identity (i.e., specialized response) or consistent across neighbors (i.e., generalized response). Specialized responses can facilitate overall coexistence, while generalized responses may result in competitive exclusion. We set up a greenhouse experiment to test, in three species, the effect of soil conditions (non-invaded vs. invaded soil) and maternal experience (offspring of maternal plants from invaded vs. non-invaded areas) on species competitive ability against the invader Bromus inermis and conspecifics. If changes in species competitive ability against B. inermis were also evident when interacting with conspecifics, it would suggest a generalized increased/decreased competitive ability. Maternal experience resulted in reduced suppression of B. inermis in the three species and no change in tolerance. On the other hand, tolerance to B. inermis was enhanced when plants grew in soil from invaded areas, compared to non-brome soil. Importantly, both the decreased suppression due to maternal experience with B. inermis and the increased tolerance in invaded soil appear to be invader specific, as no such effects were observed when interacting with conspecifics. Specialized responses should facilitate coexistence, as no individual/species is a weaker or stronger competitor against all other neighbors or under all local soil conditions. Further, the negative plant–soil feedback for B. inermis should facilitate native species recovery in invaded areas and result in lower B. inermis performance and dominance over time.
Access options
Buy single article
Instant access to the full article PDF.
US$ 39.95
Tax calculation will be finalised during checkout.
Subscribe to journal
Immediate online access to all issues from 2019. Subscription will auto renew annually.
US$ 119
Tax calculation will be finalised during checkout.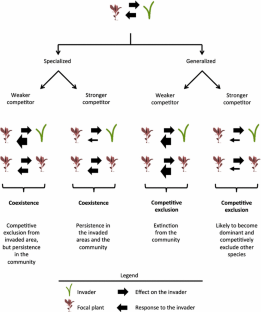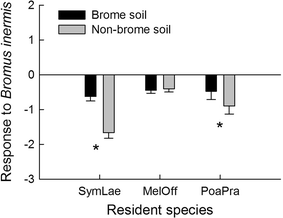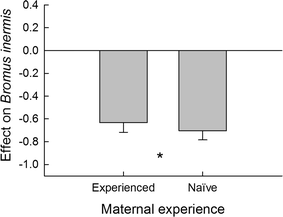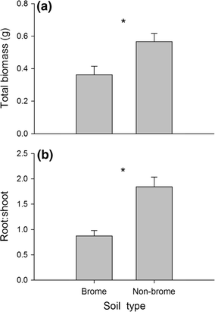 References
Aarssen LW (1989) Competitive ability and species coexistence: a "plant"s-eye' view. Oikos 56:386. https://doi.org/10.2307/3565625

Aarssen LW (2015) Body size and fitness in plants: revisiting the selection consequences of competition. Perspect Plant Ecol Evol Syst 17:236–242. https://doi.org/10.1016/j.ppees.2015.02.004

Agrawal AA, Kotanen PM, Mitchell CE, Power AG, Godsoe W, Klironomos J (2005) Enemy release? An experiment with congeneric plant pairs and diverse above- and belowground enemies. Ecology 86:2979–2989

Baron E, Richirt J, Villoutreix R, Amsellem L, Roux F (2015) The genetics of intra- and interspecific competitive response and effect in a local population of an annual plant species. Funct Ecol 29:1361–1370. https://doi.org/10.1111/1365-2435.12436

Batten KM, Scow KM, Espeland EK (2008) Soil microbial community associated with an invasive grass differentially impacts native plant performance. Microb Ecol 55:220–228. https://doi.org/10.1007/s00248-007-9269-3

Baxendale C, Orwin KH, Poly F, Pommier T, Bardgett RD (2014) Are plant-soil feedback responses explained by plant traits? New Phytol 204:408–423. https://doi.org/10.1111/nph.12915

Bennett JA, Stotz GC, Cahill JF (2014) Patterns of phylogenetic diversity are linked to invasion impacts, not invasion resistance, in a native grassland. J Veg Sci 25:1315–1326. https://doi.org/10.1111/jvs.12199

Bever JD (1994) Feeback between plants and their soil communities in an old field community. Ecology 75:1965–1977

Bever JD (2003) Soil community feedback and the coexistence of competitors: conceptual frameworks and empirical tests. New Phytol 157:465–473

Bonduriansky R, Day T (2009) Nongenetic inheritance and its evolutionary implications. Annu Rev Ecol Evol Syst 40:103–125. https://doi.org/10.1146/annurev.ecolsys.39.110707.173441

Brinkman EP, Van der Putten WH, Bakker E-J, Verhoeven KJF (2010) Plant-soil feedback: experimental approaches, statistical analyses and ecological interpretations: design and analysis of feedback experiments. J Ecol 98:1063–1073. https://doi.org/10.1111/j.1365-2745.2010.01695.x

Cahill JF (1999) Fertilization effects on interactions between above-and belowground competition in an old field. Ecology 80:466–480

Cahill JF, Casper BB (2000) Investigating the relationship between neighbor root biomass and belowground competition: field evidence for symmetric competition belowground. Oikos 90:311–320

Cahill JF, Kembel SW, Gustafson DJ (2005) Differential genetic influences on competitive effect and response in Arabidopsis thaliana. J Ecol 93:958–967. https://doi.org/10.1111/j.1365-2745.2005.01013.x

Cahill JF, McNickle GG, Haag JJ, Lamb EG, Nyanumba SM, St. Clair CC (2010) Plants integrate information about nutrients and neighbors. Science 328:1657. https://doi.org/10.1126/science.1189736

Cahill JF, Cale JA, Karst J, Bao T, Pec GJ, Erbilgin N (2016) No silver bullet: different soil handling techniques are useful for different research questions, exhibit differential type I and II error rates, and are sensitive to sampling intensity. New Phytol. https://doi.org/10.1111/nph.14141

Callaway RM, Ridenour WM, Laboski T, Weir T, Vivanco JM (2005) Natural selection for resistance to the allelopathic effects of invasive plants. J Ecol 93:576–583. https://doi.org/10.1111/j.1365-2745.2005.00994.x

Callaway RM, Cipollini D, Barto K, Thelen GC, Hallett SG, Prati D, Stinson K, Klironomos J (2008) Novel weapons: invasive plant suppresses fungal mutualists in America but not in its native Europe. Ecology 89:1043–1055. https://doi.org/10.1890/07-0370.1

Carrigy AA, Stotz GC, Dettlaff MA, Pec GJ, Inderjit Erbilgin N, Cahill JF (2016) Community-level determinants of smooth brome (Bromus inermis) growth and survival in the aspen parkland. Plant Ecol 217:1395–1413

Catling PM, Mitrow G (2005) Invasive plants of natural habitats in Canada. Canadian Bot Assoc Bull 38:55–57

Chanway CP, Holl FB, Turkington R (1989) Effect of Rhizobium leguminosarum biovar Trifolii genotype on specificity between Trifolium repens and Lolium perenne. J Ecol 77:1150. https://doi.org/10.2307/2260829

Connell JH (1980) Diversity and the coevolution of competitors, or the ghost of competition past. Oikos 35:131. https://doi.org/10.2307/3544421

Cortois R, Schröder-Georgi T, Weigelt A, van der Putten WH, De Deyn GB (2016) Plant-soil feedbacks: role of plant functional group and plant traits. J Ecol 104:1608–1617. https://doi.org/10.1111/1365-2745.12643

Deck A, Muir A, Strauss S (2013) Transgenerational soil-mediated differences between plants experienced or naïve to a grass invasion. Ecol Evol 3:3663–3671. https://doi.org/10.1002/ece3.716

DiAllesandro A, Kobiela BP, Biondini M (2013) Invasion as a function of species diversity: a case study of two restored North Dakota grasslands. Ecol Restor 31:186–194

Dostál P, Weiser M, Koubek T (2012) Native jewelweed, but not other native species, displays post-invasion trait divergence. Oikos 121:1849–1859. https://doi.org/10.1111/j.1600-0706.2011.20333.x

Dostál P, Müllerová J, Pyšek P, Pergl J, Klinerová T (2013) The impact of an invasive plant changes over time. Ecol Lett 16:1277–1284. https://doi.org/10.1111/ele.12166

Dudley SA, Murphy GP, File AL (2013) Kin recognition and competition in plants. Funct Ecol 27:898–906. https://doi.org/10.1111/1365-2435.12121

Eppinga MB, Rietkerk M, Dekker SC, De Ruiter PC (2006) Accumulation of local pathogens: a new hypothesis to explain exotic plant invasions. Oikos 114:168–176

Fletcher RA, Callaway RM, Atwater DZ (2016) An exotic invasive plant selects for increased competitive tolerance, but not competitive suppression, in a native grass. Oecologia 181:499–505. https://doi.org/10.1007/s00442-016-3584-7

Galloway LF (2005) Maternal effects provide phenotypic adaptation to local environmental conditions: research review. New Phytol 166:93–100. https://doi.org/10.1111/j.1469-8137.2004.01314.x

Gaudet CL, Keddy PA (1988) A comparative approach to predicting competitive ability from plant traits. Nature 334:242–243. https://doi.org/10.1038/334242a0

Germain RM, Gilbert B (2014) Hidden responses to environmental variation: maternal effects reveal species niche dimensions. Ecol Lett 17:662–669. https://doi.org/10.1111/ele.12267

Gianoli E (2002) Maternal environmental effects on the phenotypic responses of the twining vine Ipomoea purpurea to support availability. Oikos 99:324–330. https://doi.org/10.1034/j.1600-0706.2002.990213.x

Goergen EM, Leger EA, Espeland EK (2011) Native perennial grasses show evolutionary response to Bromus tectorum (Cheatgrass) invasion. PLoS One 6:e18145. https://doi.org/10.1371/journal.pone.0018145

Goldberg DE (1990) Components of resource competition in plant communities. In: Tilman D, Grace JB (eds) Perspectives on plant competition. Academic Press, Inc., San Diego, pp 27–49

Goldberg DE (1996) Competitive ability: definitions, contingency and correlated traits. Philos Trans R Soc B Biol Sci 351:1377–1385

Goldberg DE, Fleetwood L (1987) Competitive effect and response in four annual plants. J Ecol 75:1131–1143. https://doi.org/10.2307/2260318

Grace JB, Smith MD, Grace SL, Collins SL, Stohlgren TJ (2000) Interactions between fire and invasive plants in temperate grasslands of North America. In: Proceedings of the invasive species workshop: the role of fire in the control and spread of invasive species. Fire conference, pp 40–65

Klironomos JN (2002) Feedback with soil biota contributes to plant rarity and invasiveness in communities. Nature 417:67–70. https://doi.org/10.1038/417067a

Laird RA, Schamp BS (2006) Competitive intransitivity promotes species coexistence. Am Nat 168:182–193. https://doi.org/10.1086/506259

Lankau RA (2013) Species invasion alters local adaptation to soil communities in a native plant. Ecology 94:32–40

Leger EA (2008) The adaptive value of remnant native plants in invaded communities: an example from the Great Basin. Ecol Appl 18:1226–1235

Liao C, Peng R, Luo Y, Zhou X, Wu X, Fang C, Chen J, Li B (2008) Altered ecosystem carbon and nitrogen cycles by plant invasion: a meta-analysis. New Phytol 177:706–714. https://doi.org/10.1111/j.1469-8137.2007.02290.x

Lowe S, Browne M, Boudjelas S, De Poorter M (2004) 100 of the World's worst invasive alien species. A selection from the Global Invasive Species Database. The Invasive Species Specialist Group (ISSG) a specialist group of the Species Survival Commission (SSC) of the World Conservation Union (IUCN)

Mangla S, Inderjit, Callaway RM (2007) Exotic invasive plant accumulates native soil pathogens which inhibit native plants. J Ecol. https://doi.org/10.1111/j.1365-2745.2007.01312.x

Mills KE, Bever JD (1998) Maintenance of diversity within plant communities: soil pathogens as agents of negative feedback. Ecology 79:1595–1601

Mousseau TA, Fox CW (1998) Maternal effects as adaptations. Oxford University Press, Oxford

Myhr KE, Tesar MB, Davis RA, deZeeuw DJ (1966) Death of smooth bromegrass (Bromus inermis Leyss.) on organic soil. Crop Sci 6:221–223

Nijjer S, Rogers WE, Siemann E (2007) Negative plant-soil feedbacks may limit persistence of an invasive tree due to rapid accumulation of soil pathogens. Proc R Soc B Biol Sci 274:2621–2627. https://doi.org/10.1098/rspb.2007.0804

Niu H, Liu W, Wan F, Liu B (2007) An invasive aster (Ageratina adenophora) invades and dominates forest understories in China: altered soil microbial communities facilitate the invader and inhibit natives. Plant Soil 294:73–85. https://doi.org/10.1007/s11104-007-9230-8

Oduor AMO (2013) Evolutionary responses of native plant species to invasive plants: a review. New Phytol 200:986–992. https://doi.org/10.1111/nph.12429

Olsson S, Gerhardson B (1992) Effects of long-term barley monoculture on plant-affecting soil microbiota. Plant Soil 143:99–108

Otfinowski R, Kenkel NC (2008) Clonal integration facilitates the proliferation of smooth brome clones invading northern fescue prairies. Plant Ecol 199:235–242. https://doi.org/10.1007/s11258-008-9428-8

Otfinowski R, Kenkel NC, Catling PM (2007) The biology of Canadian weeds. 134. Bromus inermis Leyss. Can J Plant Sci 87:183–198

Packer A, Clay K (2003) Soil pathogens and Prunus serotina seedling and sapling growth near conspecific trees. Ecology 84:108–119

Pennings SC, Clark CM, Cleland EE, Collins SL, Gough L, Gross KL, Milchunas DG, Suding KN (2005) Do individual plant species show predictable responses to nitrogen addition across multiple experiments? Oikos 110:547–555

Petermann JS, Fergus AJ, Turnbull LA, Schmid B (2008) Janzen–Connell effects are widespread and strong enough to maintain diversity in grasslands. Ecology 89:2399–2406

Pinheiro J, Bates D, DebRoy S, Sarkar D, R Core Team (2016) nlme: linear and nonlinear mixed effects models. R Package version 3.1-127. https://CRAN.R-project.org/package=nlme

Piper CL, Lamb EG, Siciliano SD (2015a) Smooth brome changes gross soil nitrogen cycling processes during invasion of a rough fescue grassland. Plant Ecol 216:235–246. https://doi.org/10.1007/s11258-014-0431-y

Piper CL, Siciliano SD, Winsley T, Lamb EG (2015b) Smooth brome invasion increases rare soil bacterial species prevalence, bacterial species richness and evenness. J Ecol 103:386–396. https://doi.org/10.1111/1365-2745.12356

Prati D, Bossdorf O (2004) Allelopathic inhibition of germination by Alliaria petiolata (Brassicaceae). Am J Bot 91:285–288. https://doi.org/10.3732/ajb.91.2.285

Proffitt CE, Chiasson RL, Owens AB, Edwards KR, Travis SE (2005) Spartina alterniflora genotype influences facilitation and suppression of high marsh species colonizing an early successional salt marsh. J Ecol 93:404–416. https://doi.org/10.1111/j.0022-0477.2005.00983.x

Reinhart KO, Rinella MJ (2016) A common soil handling technique can generate incorrect estimates of soil biota effects on plants. New Phytol 210:786–789

Roach DA, Wulff RD (1987) Maternal effects in plants. Annu Rev Ecol Syst 18:209–235. https://doi.org/10.1146/annurev.es.18.110187.001233

Robertson GP, Coleman DC, Bledsoe CS, Sollins P (eds) (1999) Standard soil methods for long-term ecological research. Oxford University Press, Oxford

Rodríguez-Echeverría S, Crisóstomo JA, Nabais C, Freitas H (2008) Belowground mutualists and the invasive ability of Acacia longifolia in coastal dunes of Portugal. Biol Invasions 11:651–661. https://doi.org/10.1007/s10530-008-9280-8

Rowe CLJ, Leger EA (2010) Competitive seedlings and inherited traits: a test of rapid evolution of Elymus multisetus (big squirreltail) in response to cheatgrass invasion: competitive seedlings and inherited traits. Evol Appl 4:485–498. https://doi.org/10.1111/j.1752-4571.2010.00162.x

Scharfy D, Güsewell S, Gessner MO, Venterink HO (2010) Invasion of Solidago gigantea in contrasting experimental plant communities: effects on soil microbes, nutrients and plant-soil feedbacks: invasion of Solidago gigantea in contrasting experimental plant communities. J Ecol 98:1379–1388. https://doi.org/10.1111/j.1365-2745.2010.01722.x

Sherrard ME, Maherali H (2012) Local adaptation across a fertility gradient is influenced by soil biota in the invasive grass, Bromus inermis. Evol Ecol 26:529–544. https://doi.org/10.1007/s10682-011-9518-2

Shorthouse JD (2010) Ecoregions of Canada's prairie grasslands. In: Shorthouse J (ed) Arthropods of Canadian Grasslands (Volume 1): ecology and interactions in grassland habitats. Biological Survey of Canada, pp 53–81

Sinkins PA, Otfinowski R (2012) Invasion or retreat? The fate of exotic invaders on the northern prairies, 40 years after cattle grazing. Plant Ecol 213:1251–1262. https://doi.org/10.1007/s11258-012-0083-8

Stotz GC, Gianoli E, Cahill JF (2016) Spatial pattern of invasion and the evolutionary responses of native plant species. Evol Appl. https://doi.org/10.1111/eva.12398

Stotz GC, Gianoli E, Patchell MJ, Cahill JF (2017) Differential responses of native and exotic plant species to an invasive grass are driven by variation in biotic and abiotic factors. J Veg Sci 28:325–336. https://doi.org/10.1111/jvs.12499

Strauss SY, Lau JA, Carroll SP (2006) Evolutionary responses of natives to introduced species: what do introductions tell us about natural communities?: evolutionary responses of natives to introduced species. Ecol Lett 9:357–374. https://doi.org/10.1111/j.1461-0248.2005.00874.x

Suding KN, Collins SL, Gough L, Clark C, Cleland EE, Gross K, Milchunas DG, Pennings S (2005) Functional-and abundance-based mechanisms explain diversity loss due to N fertilization. Proc Natl Acad Sci USA 102:4387–4392

Thorpe AS, Aschehoug ET, Atwater DZ, Callaway RM (2011) Interactions among plants and evolution: plant interactions and evolution. J Ecol 99:729–740. https://doi.org/10.1111/j.1365-2745.2011.01802.x

Turkington R, Cavers PB, Rempel E (1978) The biology of canadian weeds. 29. Melilotus alba Desr. and M. officinalis (L.) Lam. Can J Plant Sci 58:523–537

Van der Putten WH, Peters BA (1997) How soil-borne pathogens may affect plant competition. Ecology 78:1785–1795

Van der Putten WH, Bardgett RD, Bever JD, Bezemer M, Casper BB, Fukami T, Kardol P, Klironomos JN, Kulmatiski A, Schweitzer JA, Suding KN, Van de Voorde TFJ, Wardle DA (2013) Plant-soil feedbacks: the past, the present and future challenges. J Ecol 101:265–276. https://doi.org/10.1111/1365-2745.12054

Vanterpool TC (1942) Pythium root rot of grasses. Sci Agric [Ottawa] 22:674–687

Vilà M, Espinar JL, Hejda M, Hulme PE, Jarošík V, Maron JL, Pergl J, Schaffner U, Sun Y, Pyšek P (2011) Ecological impacts of invasive alien plants: a meta-analysis of their effects on species, communities and ecosystems: ecological impacts of invasive alien plants. Ecol Lett 14:702–708. https://doi.org/10.1111/j.1461-0248.2011.01628.x

Vinton MA, Goergen EM (2006) Plant-soil feedbacks contribute to the persistence of Bromus inermis in Tallgrass Prairie. Ecosystems 9:967–976. https://doi.org/10.1007/s10021-005-0107-5

Wang P, Stieglitz T, Zhou DW, Cahill JF Jr (2010) Are competitive effect and response two sides of the same coin, or fundamentally different? Funct Ecol 24:196–207. https://doi.org/10.1111/j.1365-2435.2009.01612.x

Westoby M, Leishman M, Lord J (1996) Comparative ecology of seed size and dispersal. Philos Trans Biol Sci:1309–1318

Willis CG, Brock MT, Weinig C (2010) Genetic variation in tolerance of competition and neighbour suppression in Arabidopsis thaliana: genetic variation in tolerance of competition and neighbour suppression. J Evol Biol 23:1412–1424. https://doi.org/10.1111/j.1420-9101.2010.02003.x

Yelenik SG, Levine JM (2011) The role of plant-soil feedbacks in driving native-species recovery. Ecology 92:66–74
Acknowledgements
This project was supported by the Alberta Conservation Association (ACA) Grant Eligible Conservation Fund to JFC and GCS, and Natural Sciences and Engineering Research Council of Canada (NSERC) Discovery and Accelerator Grants to JFC. GCS was supported by a Comisión Nacional de Investigación Científica y Tecnológica (CONICYT) Becas-Chile Scholarship. We thank A. Carrigy and A. Sywensky for help setting up the experiment and sample processing, respectively.
Additional information
Communicated by Edith B. Allen.
Electronic supplementary material
Below is the link to the electronic supplementary material.
About this article
Cite this article
Stotz, G.C., Gianoli, E. & Cahill, J.F. Maternal experience and soil origin influence interactions between resident species and a dominant invasive species. Oecologia 186, 247–257 (2018). https://doi.org/10.1007/s00442-017-3996-z
Received:

Accepted:

Published:

Issue Date:
Keywords
Tolerance

Suppression

Plant–soil feedbacks

Invasion

Adaptation