Abstract
Limited resources trigger trade-offs in resource allocation. Reproduction is one of the most demanding activities in terms of energy, and costs related to reproduction can be apparent either as reduced future reproduction or as survival. However, costs are not always detected, because individual heterogeneity in quality and resource acquisition may explain variation in costs among individuals. We conducted a comprehensive study in spotless starlings (Sturnus unicolor) nesting in Central Spain to determine whether costs of reproduction could be detectable in the short and/or long term and whether prenatal or postnatal investment were driving these costs. We took into account the life history of the species, where egg volume is highly repeatable, males are facultatively polygynous, and intraspecific brood parasitism occurs. Females with a high reproductive effort in a breeding event also had a high reproductive effort in the second event of the season. The mating system and maternal age were reliable predictors of breeding success within a breeding event: monogamous and primary females, as well as older mothers, raised more nestlings than secondary females and 1-year-old females, respectively. However, when high-investing females suffered intra-brood parasitism in 1 year, we found a negative correlation between current and future reproduction. These results suggest that, under some circumstances, females are able to skip the short-term costs of reproduction, but when extra effort is added, trade-offs arise. While most studies have focused on different aspects of individual quality on costs, the ecological context seems to represent an important component that should be taken into account.
We're sorry, something doesn't seem to be working properly.
Please try refreshing the page. If that doesn't work, please contact support so we can address the problem.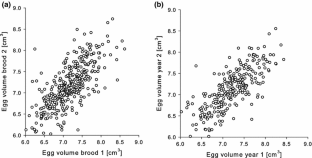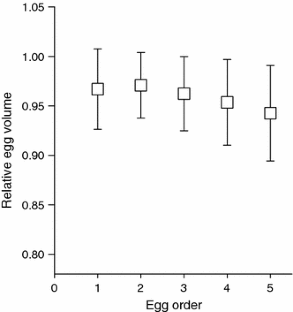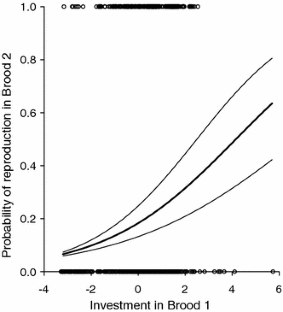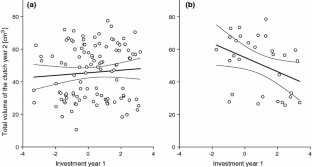 References
Barbraud C, Weimerskirch H (2005) Environmental conditions and breeding experience affect costs of reproduction in blue petrels. Ecology 86:682–692

Beauplet G, Barbraud C, Dabin W, Küssener C, Guinet C (2006) Age-specific survival and reproductive performances in fur seals: evidence of senescence and individual quality. Oikos 112:430–441

Burnham KP, Anderson DR (2002) Model selection and multimodel inference. A practical information-theoretic approach. Springer, New York

Cam E, Monnat J-Y (2000) Apparent inferiority of first-time breeders in the kittiwake: the role of heterogeneity among age classes. J Anim Ecol 69:380–394

Cam E, Link WA, Cooch EG, Monnat J-Y, Danchin E (2002) Individual covariation in life-history traits: seeing the trees despite the forest. Am Nat 159:96–105

Christians JK (2002) Avian egg size: variation within species and inflexibility within individuals. Biol Rev 77:1–26. doi:10.1017/s1464793101005784

Clutton-Brock TH, Guinness FE, Albon SD (1983) The costs of reproduction to red deer hinds (Cervus elaphus). J Anim Ecol 52:367–383

Croxall JP, Rothery P, Crisp A (1992) The effect of maternal age and experience on egg-size and hatching success in wandering albatrosses Diomedea exulans. Ibis 134:219–228

de Heij ME, van den Hout PJ, Tinbergen JM (2006) Fitness cost of incubation in great tits (Parus major) is related to clutch size. Proc R Soc B-Biol Sci 273:2353–2361. doi:10.1098/rspb.2006.3584

Engqvist L (2005) The mistreatment of covariate interaction terms in linear model analyses of behavioural and evolutionary ecology studies. Anim Behav 70:967–971

Evans PGH (1988) Intraspecific nest parasitism in the European starling Sturnus vulgaris. Anim Behav 36:1282–1294

Garamszegi LZ, Török J, Michl G, Møller AP (2004) Female survival, lifetime reproductive success and mating status in a passerine bird. Oecologia 138:48–56

Hamel S, Gaillard J-M, Yoccoz NG, Loison A, Bonenfant C, Descamps S (2010) Fitness costs of reproduction depend on life speed: empirical evidence from mammalian populations. Ecol Lett 13:915–935

Hamilton WD (1971) The geometry of the selfish herd. J Theor Biol 31:295–311

Hegyi G, Rosivall B, Torok J (2006) Paternal age and offspring growth: separating the intrinsic quality of young from rearing effects. Behav Ecol Sociobiol 60:672–682. doi:10.1007/s00265-006-0211-3

Hoyt DF (1979) Practical methods of estimating volume and fresh weight of bird eggs. Auk 96:73–77

Kvalnes T, Ringsby TH, Jensen H, Sæther B-E (2013) Correlates of egg size variation in a population of house sparrow Passer domesticus. Oecologia 171:391–402. doi:10.1007/s00442-012-2437-2

Lack D (1947) The significance of clutch size. Ibis 89:302–352

Leach AG, Van Dellen AW, Riecke TV, Sedinger JS (2017) Incubation capacity contributes to constraints on maximal clutch size in Brent geese Branta bernicla nigricans. Ibis 159:588–599

Lindén M, Møller AP (1989) Cost of reproduction and covariation of life history traits in birds. Trends Ecol Evol 4:367–371

López-Rull I, Salaberria C, Gil D (2010) Seasonal decline in egg size and yolk androgen concentration in a double brooded passerine. Ardeola 57:321–332

Lyon BE, Eadie JM (2008) Conspecific brood parasitism in birds: a life-history perspective. Ann Rev Ecol Evol Syst 39:343–363

Merkling T et al (2017) Reproductive effort and oxidative stress: effects of offspring sex and number on the physiological state of a long-lived bird. Funct Ecol 31:1201–1209

Møller AP (2007) Interval between clutches, fitness, and climate change. Behav Ecol 18:62–70

Monaghan P, Nager RG (1997) Why don't birds lay more eggs? Trends Ecol. Evolution 12:270–274. doi:10.1016/s0169-5347(97)01094-x

Moreno J, Sanz JJ (1994) The relationship between the energy expenditure during incubation and clutch size in the pied flycatcher Ficedula hypoleuca. J Avian Biol 25:125–130

Moreno J, Veiga JP, Romasanta MSS (2002) Effects of maternal quality and mating status on female reproductive success in the polygynous spotless starling. Anim Behav 64:197–206

Moyes K, Morgan BJT, Morris A, Morris SJ, Clutton-Brock TH, Coulson T (2008) Exploring individual quality in a wild population of red deer. J Anim Ecol 78:406–413

Moyes K, Morgan B, Morris A, Clutton-Brock T, Coulson T (2011) Individual differences in reproductive costs examined using multi-state methods. J Anim Ecol 80:456–465

Muriel J et al (2015) Context-dependent effects of yolk androgens on nestling growth and immune function in a multibrooded passerine. J Evol Biol 28:1476–1488

Nagelkerke NJD (1991) A note on a general definition of the coefficient of determination. Biometrika 78:691–692

Nager RG, Monaghan P, Houston DC (2001) The cost of egg production: increased egg production reduces future fitness in gulls. J Avian Biol 32:159–166. doi:10.1034/j.1600-048X.2001.320209.x

Nakagawa S, Schielzeth H (2010) Repeatability for Gaussian and non-Gaussian data: a practical guide for biologists. Biol Rev 85:935–956

Nicolai CA, Sedinger JS, Wege ML (2004) Regulation of development time and hatch synchronization in black brant (Branta benicla nigricans). Funct Ecol 18:475–482

Peel MC, Finlayson BL, McMahon TA (2007) Updated world map of the Köppen-Geiger climate classification. Hydrol Earth Syst Sci 11:1633–1644

Pellerin S, Rioux Paquette S, Pelletier F, Garant D, Bélisle M (2016) The trade-off between clutch size and egg mass in tree swallows Tachycineta bicolor is modulated by female body mass. J Avian Biol 47:500–507

Pettifor RA, Perrins CM, McCleery R (1988) Individual optimization of clutch size in great tits. Nature 336:160–161

Pettifor RA, Perrins CM, McCleery RH (2001) The individual optimization of fitness: variation in reproductive output, including clutch size, mean nestling mass and offspring recruitment, in manipulated broods of great tits Parus major. J Anim Ecol 70:62–79

Pilz KM, Smith HG, Andersson M (2005) Brood parasitic European starlings do not lay high-quality eggs. Behav Ecol 16:507–513

Proaktor G, Coulson T, Milner-Gulland EJ (2008) The demographic consequences of the cost of reproduction in ungulates. Ecology 89:2604–2611. doi:10.1890/07-0833.1

Pyle P, Spear LB, Sydeman WJ, Ainley DG (1991) The effects of experience and age on the breeding performance of western gulls. Auk 108:25–33

R Core Team (2014) R: a language and environment for statistical computing. R Foundation for Statistical Computing. http://www.R-project.org. Vienna, Austria

Reznick D (1985) Costs of reproduction: an evaluation of the empirical evidence. Oikos 44:257–267

Rödel HG, Valencak TG, Handrek A, Monclús R (2016) Paying the energetic costs of reproduction: reliance on postpartum foraging and stored reserves. Behav Ecol 27:748–756. doi:10.1093/beheco/arv217

Roff DA (1992) The evolution of life histories: theory and analysis. Chapman and Hall, New York

Sandell M, Smith H, Bruun M (1996) Paternal care in the European starling, Sturnus vulgaris: nestling provisioning. Behav Ecol Sociobiol 39:301–309

Santos ESA, Nakagawa S (2012) The costs of parental care: a meta-analysis of the trade-off between parental effort and survival in birds. J Evol Biol 25:1911–1917. doi:10.1111/j.1420-9101.2012.02569.x

Sanz JJ (1997) Clutch size manipulation in the pied flycatcher: effects on nestling growth, parental care and moult. J Avian Biol 28:157–162

Sanz JJ, Kranenbarg S, Tinbergen JM (2000) Differential response by males and females to manipulation of partner contribution in the great tit (Parus major). J Anim Ecol 69:74–84

Slagsvold T, Lifjeld J (1994) Polygyny in birds: the role of competition between females for male parental care. Am Nat 143:59–94

Slagsvold T, Sandvik J, Rofstad G, Lorentsen Ö, Husby M (1984) On the adaptive value of intraclutch egg-size variation in birds. Auk 101:685–697

Slattery SM, Alisauskas RT (1995) Egg characteristics and body reserves of neonate Ross' and lesser snow geese. Condor 97:970–984

Smith HG, Ottosson U, Sandell M (1994) Intrasexual competition among polygynously mated females starlings (Sturnus vulgaris). Behav Ecol 5:57–63

Smith HG, Ohlsson T, Wettermark K-T (1995) Adaptive significance of egg size in the European starling: experimental tests. Ecology 76:1–7

Stearns SC (1992) The evolution of life histories. Oxford University Press, Oxford

van Noordwijk AJ, de Jong G (1986) Acquisition and allocation of resources: their influence on variation in life history tactics. Am Nat 128:137–142

Vedder O, Zhang H, Bouwhuis S (2017) Early mortality saves energy: estimating the energetic cost of excess offspring in a seabird. Proc R Soc B 284:20162724
Acknowledgements
We are very grateful to all the volunteers and students who helped to collect data over the years. The project was funded by several consecutive grants from the Ministerio de Economia y Competitividad to DG (CGL2014-55577R, CGL2011-26318). RM was supported by a Marie Skłodowska-Curie action within the Horizon 2020 Initiative from the European Commission. JM was supported by an FPI Grant (BES-2009-021383) from the Spanish Ministry of Science and Innovation (MICINN) during 2012–2013. LP-R was supported by a postdoctoral contract from MINECO through the Severo Ochoa Programme for Centres of Excellence in Research, Development, and Innovation (SEV-2012-0262). All the protocols comply with the Ethical Committee for animal experimentation of the Comunidad de Madrid (permission PROEX 203/15). Permission to work in the area was granted by both the Parque Regional de la Cuenca Alta del Manzanares and the Ayuntamiento de Soto del Real. This study is a contribution to the research developed at the "El Ventorrillo" field station.
Ethics declarations
Conflict of interest
The authors declare that they have no conflict of interest.
Ethical approval
All applicable institutional and/or national guidelines for the care and use of animals were followed.
Additional information
Communicated by Hannu J. Ylonen.
Electronic supplementary material
Below is the link to the electronic supplementary material.
About this article
Cite this article
Monclús, R., Muriel, J., Pérez-Rodríguez, L. et al. The role of the mating system and intraspecific brood parasitism in the costs of reproduction in a passerine bird. Oecologia 185, 629–639 (2017). https://doi.org/10.1007/s00442-017-3977-2
Received:

Accepted:

Published:

Issue Date:
Keywords
Egg volume

Prenatal investment

Postnatal investment

Reproduction

Spotless starling

Sturnus unicolor