Abstract
Learning is a change in state resulting from new experiences enabling behavioural responses to be adjusted in alignment with external cues. Individuals differ in the speed and accuracy at which they learn. Personality has been postulated as being a major influence on learning ability in terms of attention and encounter rates of environmental cues. This link forms the basis of the cognitive style hypothesis (CSH), predicting that an individual's cognitive style will occur along a fast–slow behavioural gradient. Fast types are characterised as being active, neophilic, and bold individuals who sample their environment rapidly, yet superficially, enabling learning to occur at a higher speed, but at the cost of accuracy. Slow types have the opposite suite of personality traits resulting in them being more accurate flexible learners. Greater level of learning flexibility is thought to help promote invasions success. Here, we test the predictions of the CSH in an invasive lizard (Lampropholis delicata) to determine if personality dictates learning performance in a two-phase associative task. Results indicated that the delicate skink was capable of learning an associative task but only provided partial support for the CSH. Personality was found to influence learning accuracy, however, the direction of that relationship was opposite to that predicted. Instead, fast lizards made fewer mistakes when learning to associate a colour to a goal. These findings highlight the need to further investigate the CSH across taxa and consider its potential as an underlying mechanism of the invasion process.
We're sorry, something doesn't seem to be working properly.
Please try refreshing the page. If that doesn't work, please contact support so we can address the problem.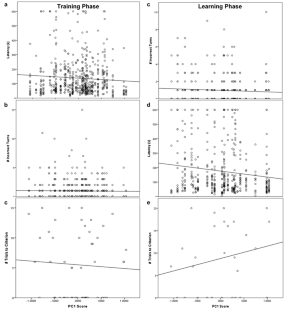 References
Amiel JJ, Shine R (2012) Hotter nests produce smarter young lizards. Biol Lett 8:372–374

Amiel JJ, Tingley R, Shine R (2011) Smart moves: effects of relative brain size on establishment success of invasive amphibians and reptiles. PLoS One 6:e18277

Amiel JJ, Lindstrom T, Shine R (2013) Egg incubation effects generate positive correlations between size, speed and learning ability in young lizards. Anim Cogn 17:337–347. doi:10.1007/s10071-013-0665-4

Amy M, van Oers K, Naguib M (2012) Worms under cover: relationships between performance in learning tasks and personality in great tits (Parus major). Anim Cogn 15:763–770

Bell AM (2007) Future directions in behavioural syndromes research. Proc R Soc Biol Sci Ser B 274:755–761

Bezzina CN, Amiel JJ, Shine R (2014) Does invasion success reflect superior cognitive ability? A case study of two congeneric lizard species (Lampropholis, Scincidae). PLoS One 9:e86271

Biro PA, Stamps JA (2010) Do consistent individual differences in metabolic rate promote consistent individual differences in behavior? Trends Ecol Evol 25:653–659. doi:10.1016/j.tree.2010.08.003

Burger J, Boarman W, Kurzava L, Gochfeld M (1991) Effect of experience with pine (Pituophis melanoleucus) and king (Lampropeltis getulus) snake odors on Y-maze behavior of pine snake hatchlings. J Chem Ecol 17:79–87

Burghardt GM (1977) Learning processes in reptiles. Biol Reptil 7:555–681

Carazo P, Noble DWA, Chandrasoma D, Whiting MJ (2014) Sex and boldness explain individual differences in spatial learning in a lizard. Proc R Soc Biol Sci Ser B 281:20133275

Careau V, Garland T Jr (2012) Performance, personality, and energetics correlation, causation and mechanism. Physiol Biochem Zool 85:43–571. doi:10.1086/666970

Carere C, Locurto C (2011) Interaction between animal personality and animal cognition. Curr Zool 57:491–498

Carvalho CF et al (2013) Personality traits are related to ecology across a biological invasion. Behav Ecol 24:1081–1091. doi:10.1093/beheco/art034

Chapple DG, Hoskin CJ, Chapple SN, Thompson MB (2011) Phylogeographic divergence in the widespread delicate skink (Lampropholis delicata) corresponds to dry habitat barriers in eastern Australia. BMC Evol Biol 11:191–208. doi:10.1186/1471-2148-11-191

Chapple DG, Simmonds SM, Wong B (2012) Can behavioral and personality traits influence the success of unintentional species introductions? Trends Ecol Evol 27:57–64

Chapple DG, Whitaker AH, Chapple SN, Miller KA, Thompson MB (2013) Biosecurity interceptions of an invasive lizard: origin of stowaways and human-assisted spread within New Zealand. Evol Appl 6:324–339

Chapple DG, Miller KA, Chaplin K, Barnett L, Thompson MB, Bray RD (2014) Biology of the invasive delicate skink (Lampropholis delicata) on Lord Howe Island. Aust J Zool 62:498–506. doi:10.1071/ZO14098

Clark BF, Amiel JJ, Shine R, Noble DWA, Whiting MJ (2014) Colour discrimination and associative learning in hatchling lizards incubated at 'hot' and 'cold' temperatures. Behav Ecol Sociobiol 68:239–247

Day LB, Ismail N, Wilczynski W (2003) Use of position and feature cues in discrimination learning by the whiptail lizard (cnemidophorus inornatus). J Comp Psychol 117:440–448

Ducatez S, Audet JN, Lefebvre L (2015) Problem-solving and learning in Carib grackles: individuals show a consistent speed–accuracy trade-off. Anim Cogn 18:485–496

Dugatkin LA, Alfieri MS (2003) Boldness, behavioral inhibition and learning. Ethol Ecol Evol 15:43–49

Dukas R (2004) Evolutionary biology of animal cognition. Annu Rev Ecol Evol Syst 35:347–374

Fleishman LJ, Loew ER, Whiting MJ (2011) High sensitivity to short wavelengths in a lizard and implications for understanding the evolution of visual systems in lizards. Proc R Soc Biol Sci Ser B. doi:10.1098/rspb.2011.0118

Grieco F, van Noordwijk AJ, Visser ME (2002) Evidence for the effect of learning on timing of reproduction in blue tits. Science 296:136–138

Griffin AS, Guillette LM, Healy SD (2015) Cognition and personality: an analysis of an emerging field. Trends Ecol Evol. doi:10.1016/j.tree.2015.01.012

Guenther A, Brust V, Dersen M, Trillmich F (2013) Learning and personality types are related in cavies (Cavia aperea). J Comp Psychol 128:74. doi:10.1037/a0033678

Guillette LM, Reddon AR, Hoeschele M, Sturdy CB (2011) Sometimes slower is better: slow-exploring birds are more sensitive to changes in a vocal discrimination task. Proc Biol Sci R Soc 278:767–773. doi:10.1098/rspb.2010.1669

Guillette LM, Hahn AH, Hoeschele M, Przylupski A-M, Sturdy CB (2015) Individual differences in learning speed, performance accuracy and exploratory behaviour in black-capped chickadees. Anim Cogn 18:165–178

Hazlett BA, Acquistapace P, Gherardi F (2002) Differences in memory capabilities in invasive and native crayfish. J Crustac Biol 22:439–448

IBM SPSS (2011) Statistics for Windows, Version 20.0., IBM Corp, Armonk, NY

Jones JC, Helliwell P, Beckman M, Maleszka R, Oldroyd BP (2005) The effects of rearing temperature on developmental stability and learning and memory in the honey bee, Apis mellifera. J Comp Physiol A 191:1121–1129

Leal M, Powell BJ (2012) Behavioural flexibility and problem-solving in a tropical lizard. Biol Lett 8:28–30

Lowry H, Lill A, Wong BBM (2013) Behavioural responses of wildlife to urban environments. Biol Rev 88:537–549

Mamuneas D, Spence AJ, Manica A, King AJ (2014) Bolder stickleback fish make faster decisions, but they are not less accurate. Behav Ecol. doi:10.1093/beheco/aru160

Melki-Wegner B (2015) The interaction between tail loss, personality and behaviour in the delicate skink, Lampropholis delicata. Honours Thesis, Monash University, Victoria

Mery F (2013) Natural variation in learning and memory. Curr Opin Neurobiol 23:52–56

Michelangeli M, Chapple DG, Wong BBM (2016a) Are behavioural syndromes sex specific? Personality in a widespread lizard species. Behav Ecol Sociobiol. doi:10.1007/s00265-016-2197-9

Michelangeli M, Wong BB, Chapple DG (2016b) It'sa trap: sampling bias due to animal personality is not always inevitable. Behav Ecol 27:62–67

Moule H, Michelangeli M, Thompson M, Chapple D (2016) The influence of urbanization on the behaviour of an Australian lizard and the presence of an activity–exploratory behavioural syndrome. J Zool 298:103–111

Nakagawa S, Schielzeth H (2010) Repeatability for Gaussian and non-Gaussian data: a practical guide for biologists. Biol Rev 85:935–956

Niemela PT, Vainikka A, Forsman JT, Loukola OJ, Kortet R (2013) How does variation in the environment and individual cognition explain the existence of consistent behavioral differences? Ecol Evol 3:457–464. doi:10.1002/ece3.451

Noble DWA, Byrne RW, Whiting MJ (2014) Age-dependent social learning in a lizard. Biol Lett 10. doi: 10.1098/rsbl.2014.0430

R Core Team (2013) R: a language and environment for statistical computing. R Foundation for Statistical Computing, Vienna

Raine NE, Chittka L (2008) The correlation of learning speed and natural foraging success in bumble-bees. Proc R Soc B Biol Sci 275:803–808

Roudez RJ, Glover T, Weis JS (2008) Learning in an invasive and a native predatory crab. Biol Invasions 10:1191–1196

Sasvári L (1985) Keypeck conditioning with reinforcements in two different locations in thrush, tit and sparrow species. Behav Processes 11:245–252

Shettleworth S (1998) Cognition, evolution, and behavior. Oxford University Press, New York

Shettleworth SJ (2001) Animal cognition and animal behaviour. Anim Behav 61:277–286. doi:10.1006/anbe.2000.1606

Sih A, Del Giudice M (2012) Linking behavioural syndromes and cognition: a behavioural ecology perspective. Philos Trans R Soc Lond B Biol Sci 367:2762–2772. doi:10.1098/rstb.2012.0216

Sih A, Bell A, Johnson JC (2004) Behavioral syndromes: an ecological and evolutionary overview. Trends Ecol Evol 19:372–378. doi:10.1016/j.tree.2004.04.009

Sinervo B et al (2010) Erosion of lizard diversity by climate change and altered thermal niches. Science 328:894–899. doi:10.1126/science.1184695

Sol D, Timmermans S, Lefebvre L (2002) Behavioural flexibility and invasion success in birds. Anim Behav 63:495–502

Sol D, Bacher S, Reader SM, Lefebvre L (2008) Brain size predicts the success of mammal species introduced into novel environments. Am Nat 172:S63–S71

Sol D, Lapiedra O, González-Lagos C (2013) Behavioural adjustments for a life in the city. Anim Behav 85:1101–1112. doi:10.1016/j.anbehav.2013.01.023

Stamps J, Groothuis TG (2010) The development of animal personality: relevance, concepts and perspectives. Biol Rev 85:301–325

Tebbich S, Stankewitz S, Teschke I (2012) The relationship between foraging, learning abilities and neophobia in two species of Darwin's finches. Ethology 118:135–146. doi:10.1111/j.1439-0310.2011.02001.x

Thornton A, Lukas D (2012) Individual variation in cognitive performance: developmental and evolutionary perspectives. Philos Trans R Soc Lond B Biol Sci 367:2773–2783

Tingley R, Thompson MB, Hartley S, Chapple DG (2016) Patterns of niche filling and expansion across the invaded ranges of an Australian lizard. Ecography 39:270–280. doi:10.1111/ecog.01576

Titulaer M, van Oers K, Naguib M (2012) Personality affects learning performance in difficult tasks in a sex-dependent way. Anim Behav 83:723–730. doi:10.1016/j.anbehav.2011.12.020

Waldman B (1985) Olfactory basis of kin recognition in toad tadpoles. J Comp Physiol A 156:565–577

Wolak ME, Fairbairn D, Paulsen YR (2011) Guidelines for estimating repeatability. Methods Ecol Evol 3:129–137

Wright TF, Eberhard J, Hobson E, Avery ML, Russello M (2010) Behavioral flexibility and species invasions: the adaptive flexibility hypothesis. Ethol Ecol Evol 22:393–404
Acknowledgements
We thank H. Moule and M. Bertram for assistance during fieldwork and H. Kang, D. Littlewood, and S. Walsh for help with lizard captive husbandry. R. San Martin, I. Stewart, and P. Arnold provided access to the animal housing facility and construction of experimental equipment. The project was conducted in accordance with our Monash University Animal Ethics Committee approvals (BSCI/2012/17, BSCI/2013/19, BSCI2014/11, BSCI/2014/26, BSCI/2015/04), associated scientific research permits (NSW: SL101203; VIC: 10006866, 10006867), and under special permission from Lane Cove National Park. Financial support was provided to CTG by the ANZ Trustees Foundation-Holsworth Wildlife Research Endowment and to DGC and BBMW by the Australian Research Council Discovery Project Grant (DP170100684).
Ethics declarations
Conflict of interest
We have no competing interests.
Additional information
Communicated by Hannu J. Ylonen.
Electronic supplementary material
Below is the link to the electronic supplementary material.
About this article
Cite this article
Chung, M., Goulet, C.T., Michelangeli, M. et al. Does personality influence learning? A case study in an invasive lizard. Oecologia 185, 641–651 (2017). https://doi.org/10.1007/s00442-017-3975-4
Received:

Accepted:

Published:

Issue Date:
Keywords
Associative learning

Behaviour

Cognitive style hypothesis

Lizard

Personality type