Abstract
Periodic changes in abundance, or population cycles, are common in a variety of species and is one of the most widely studied ecological phenomena. The strength of, and synchrony between population cycles can vary across time and space and understanding these patterns can provide insight into the mechanisms generating population cycles and their variability within and among species. Here, we used wavelet and spectral analysis on a range-wide dataset of abundance for the greater sage-grouse (Centrocercus urophasianus) to test for regional differences in temporal cyclicity. Overall, we found that most populations (11 of 15) were cyclic at some point in a 50-year time series (1965–2015), but the patterns varied over both time and space. Several peripheral populations demonstrated amplitude dampening or loss of cyclicity following population lows in the mid-1990s. Populations through the core of the range in the Great and Wyoming Basins had more consistent cyclic dynamics, but period length appeared to shorten from 10–12 to 6–8 years. In one time period, where cyclicity was greatest overall, increased pairwise population synchrony was correlated with cycle intensity. Our work represents a comprehensive range-wide assessment of cyclic dynamics and revealed substantial variation in temporal and spatial trends of cyclic dynamics across populations.
Access options
Buy single article
Instant access to the full article PDF.
US$ 39.95
Tax calculation will be finalised during checkout.
Subscribe to journal
Immediate online access to all issues from 2019. Subscription will auto renew annually.
US$ 119
Tax calculation will be finalised during checkout.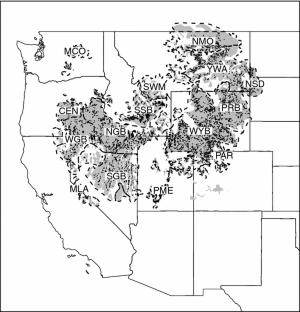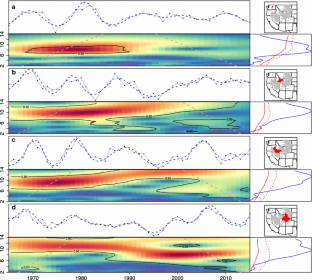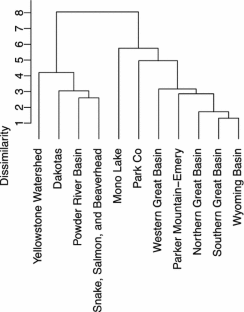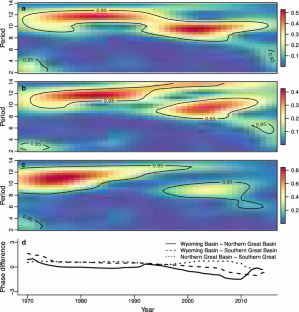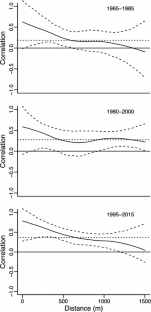 References
Atkinson PW, Austin GE, Rehfisch MM et al (2006) Identifying declines in waterbirds: the effects of missing data, population variability and count period on the interpretation of long-term survey data. Biol Conserv 130:549–559

Berryman AA (1996) What causes population cycles of forest Lepidoptera? Trends Ecol Evol 11:28–32

Bierman S, Fairbairn J, Petty S et al (2006) Changes over time in the spatiotemporal dynamics of cyclic populations of field voles (Microtus agrestis L.). Am Nat 167:583–590

Bjornstad ON (2000) Cycles and synchrony: two historical "experiments" and one experience. J Anim Ecol 69:869–873

Bjørnstad ON, Falck W, Stenseth NC (1995) A geographic gradient in small rodent density fluctuations: a statistical modelling approach. Proc R Soc B Biol Sci 262:127–133

Bjørnstad ON, Grenfell BT (2001) Noisy clockwork: time series analysis of population fluctuations in animals. Science 293:638–643

Bjørnstad ON, Ims RA, Lambin X (1999) Spatial population dynamics: analyzing patterns and processes of population synchrony. Trends Ecol Evol 14:427–432

Boutin S, Krebs CJ, Boonstra R et al (1995) Population changes of the vertebrate community during a snowshoe hare cycle in Canada's boreal forest. Oikos 74:69–80

Brommer JE, Pietiainen H, Ahola K et al (2010) The return of the vole cycle in southern Finland refutes the generality of the loss of cycles through "climatic forcing". Glob Chang Biol 16:577–586

Cattadori IM, Hudson PJ (1999) Temporal dynamics of grouse populations at the southern edge of their distribution. Ecography 22:374–383

Cattadori IM, Hudson PJ (2000) Are grouse populations unstable at the southern end of their range? Wildl Biol 6:213–218

Cazelles B, Chavez M, Berteaux D et al (2008) Wavelet analysis of ecological time series. Oecologia 156:287–304

Clarke RT, Rothery P, Raybould AF (2002) Confidence limits for regression relationships between distance matrices: estimating gene flow with distance. J Agric Biol Environ Stat 7:361–372

Connelly JW, Knick ST, Schroeder MA, Stiver SJ (2004) Conservation assessment of greater sage-grouse and sagebrush habitats. West Assoc Fish Wildl Agencies, Cheyenne, Wyoming, USA, p 610

Cornulier T, Yoccoz NG, Bretagnolle V et al (2013) Europe-wide dampening of population cycles in keystone herbivores. Science 340:63–66

Doherty KE, Evans JS, Coates PS et al (2016) Importance of regional variation in conservation planning: a rangewide example of the greater sage-grouse. Ecosphere 7:e01462

Ecke F, Christensen P, Rentz R et al (2010) Landscape structure and the long-term decline of cyclic grey-sided voles in Fennoscandia. Landsc Ecol 25:551–560

Eckert CG, Samis KE, Lougheed SC (2008) Genetic variation across species' geographical ranges: the central-marginal hypothesis and beyond. Mol Ecol 17:1170–1188

Esper J, Buntgen U, Frank DC et al (2007) 1200 years of regular outbreaks in alpine insects. Proc R Soc B Biol Sci 274:671–679

Fedy BC, Aldridge CL (2011) The importance of within-year repeated counts and the influence of scale on long-term monitoring of sage-grouse. J Wildl Manag 75:1022–1033

Fedy BC, Doherty KE (2011) Population cycles are highly correlated over long time series and large spatial scales in two unrelated species: greater sage-grouse and cottontail rabbits. Oecologia 165:915–924

Fedy BC, Doherty KE, Aldridge CL et al (2014) Habitat prioritization across large landscapes, multiple seasons, and novel areas: an example using greater sage-grouse in Wyoming. Wildl Monogr 190:1–39

Fewster RM, Buckland ST, Siriwardena GM et al (2000) Analysis of population trends for farmland birds using generalized additive models. Ecology 81:1970–1984

Fox JW, Vasseur DA, Hausch S, Roberts J (2011) Phase locking, the Moran effect and distance decay of synchrony: experimental tests in a model system. Ecol Lett 14:163–168

Garton E, Connelly J (2011) Greater sage-grouse population dynamics and probability of persistence. Stud Avian Biol 38:293–381

Garton EO, Connelly JW, Horne JS et al (2011) Greater sage-grouse population dynamics and probability of persistence. In: Knick ST, Connelly JW (eds) Greater sage-grouse: ecology and conservation of a landscape species and its habitats. Studies in Avian Biology, vol 38. University of California Press, Berkeley

Goodwin B, Fahrig L (2002) Effect of landscape structure on the movement behaviour of a specialized goldenrod beetle, Trirhabda borealis. Can J Zool 80:24–35

Hanski I, Hanssont L, Henttonent H (1991) Specialist predators, generalist predators, and the microtine rodent cycle. J Anim Ecol 6017878:353–367

Hastings A (2004) Transients: the key to long-term ecological understanding? Trends Ecol Evol 19:39–45

Haydon DT, Shaw DJ, Cattadori IM et al (2002) Analysing noisy time-series: describing regional variation in the cyclic dynamics of red grouse. Proc R Soc B Biol Sci 269:1609–1617

Henden JA, Ims RA, Yoccoz NG (2009) Nonstationary spatio-temporal small rodent dynamics: evidence from long-term Norwegian fox bounty data. J Anim Ecol 78:636–645

Ims RA, Henden J-A, Killengreen ST (2008) Collapsing population cycles. Trends Ecol Evol 23:79–86

Inchausti P, Ginzburg LR (2009) Maternal effects mechanism of population cycling: a formidable competitor to the traditional predator-prey view. Philos Trans R Soc Lond B Biol Sci 364:1117–1124

Jenouvrier S, Weimerskirch H, Barbraud C et al (2005) Evidence of a shift in the cyclicity of Antarctic seabird dynamics linked to climate. Proc Biol Sci 272:887–895

Johnson DM, Büntgen U, Frank DC et al (2010) Climatic warming disrupts recurrent Alpine insect outbreaks. Proc Natl Acad Sci USA 107:20576–20581

Kausrud KL, Mysterud A, Steen H et al (2008) Linking climate change to lemming cycles. Nature 456:93–97

Keitt TH (2014) mvcwt: wavelet analysis of multiple time series. R package version 1.3. https://CRAN.R-project.org/package=mvcwt

Kendall B, Briggs C, Murdoch W (1999) Why do populations cycle? A synthesis of statistical and mechanistic modeling approaches. Ecology 80:1789–1805

Kendall BE, Prendergast J, Bjørnstad ON (1998) The macroecology of population dynamics: taxonomic and biogeographic patterns in population cycles. Ecol Lett 1:160–164

Klemola T, Tanhuanpa M, Korpima E, Ruohoma K (2002) Specialist and generalist natural enemies as an explanation for geographical gradients in population cycles of northern herbivores. Oikos 99:83–94

Knick ST, Hanser SE, Preston KL (2013) Modeling ecological minimum requirements for distribution of greater sage-grouse leks: implications for population connectivity across their western range, U.S.A. Ecol Evol 3:1539–1551

Korpela K, Delgado M, Henttonen H et al (2013) Nonlinear effects of climate on boreal rodent dynamics: mild winters do not negate high-amplitude cycles. Glob Chang Biol 19:697–710

Liebhold A, Koenig WD, Bjørnstad ON (2004) Spatial synchrony in population dynamics. Annu Rev Ecol Evol Syst 35:467–490

Lomb NR (1976) Least-squares frequency analysis of unequally spaced data. Astrophys Space Sci 39:447–462

Ludwig GX, Alatalo RV, Helle P et al (2006) Short- and long-term population dynamical consequences of asymmetric climate change in black grouse. Proc Biol Sci 273:2009–2016

Martínez-Padilla J, Redpath SM, Zeineddine M, Mougeot F (2014) Insights into population ecology from long-term studies of red grouse Lagopus lagopus scoticus. J Anim Ecol 83:85–98

Moss AR, Watson A (1996) Experimental prevention of a population cycle in red grouse. Ecology 77:1512–1530

Moss R, Watson A (2001) Population cycles in birds of the grouse family (Tetraonidae). In: Caswell H (ed) Advances in ecological research. Academic, San Diego, pp 53–111

Murray DL, Steury TD, Roth JD (2008) Assessment of Canada lynx research and conservation needs in the southern range: another kick at the cat. J Wildl Manag 72:1463

Peltonen M, Liebhold AM, Bjørnstad ON, Williams DW (2002) Spatial synchrony in forest insect outbreaks: roles of regional stochasticity and dispersal. Ecology 83:3120–3129

Pomara LY, Zuckerberg B (2017) Climate variability drives population cycling and synchrony. Divers Distrib 23:421–434

Press WH, Teukolsky SA, Vetterling WT, Flannery BP (1992) Numerical recipes example book (C++). Cambridge University Press, Cambridge

R Core Team (2016) R: a language and environment for statistical computing. R Foundation for Statistical Computing, Vienna, Austria. http://www.R-project.org/ 

Redpath SM, Mougeot F, Leckie FM et al (2006) Testing the role of parasites in driving the cyclic population dynamics of a gamebird. Ecol Lett 9:410–418

Rouyer T, Fromentin JM, Stenseth NC, Cazelles B (2008) Analysing multiple time series and extending significance testing in wavelet analysis. Mar Ecol Prog Ser 359:11–23

Row JR, Wilson PJ, Murray DL (2014) Anatomy of a population cycle: the role of density dependence and demographic variability on numerical instability and periodicity. J Anim Ecol 83:800–812

Royama T (1992) Analytical population dynamics. Chapman & Hall, London

Ruf T (1999) The Lomb–Scargle periodogram in biological rhythm research: analysis of incomplete and unequally spaced time-series. Biol Rhythm Res 30:178–201

Scargle JD (1982) Statistical aspects of spectral analysis of unevenly spaced data. Astrophys J 263:835–853

Schroeder M, Aldridge C, Apa A et al (2004) Distribution of sage-grouse in North America. Condor 106:363–376

Shaw DJ, Haydon DT, Cattadori IM et al (2004) The shape of red grouse cycles. J Anim Ecol 73:767–776

Strann KB, Yoccoz NG, Ims RA (2002) Is the heart of Fennoscandian rodent cycle still beating? A 14-year study of small mammals and Tengmalm's owls in northern Norway. Ecography 25:81–87

Torrence C, Compo GP (1998) A practical guide to wavelet analysis. Bull Am Meteorol Soc 79:61–78

Turchin P, Batzli G (2001) Availability of food and the population dynamics of arvicoline rodents. Ecology 82:1521–1534

Vasseur DA, Fox JW (2009) Phase-locking and environmental fluctuations generate synchrony in a predator–prey community. Nature 460:1007–1010

Western Association of Fish and Wildlife Agencies (2015) Greater sage-grouse population trends: an analysis of lek count databases 1965–2015, Cheyenne, Wyoming, USA, p 55

Williams CK, Ives AR, Applegate RD, Ripa J (2004) The collapse of cycles in the dynamics of North American grouse populations. Ecol Lett 7:1135–1142
Acknowledgements
We thank San Stiver (WAFWA) for coordinating the collection of lek data from State agencies and Tom Remington (WAFWA) for organizing, proofing, and providing a lek abundance database.
Additional information
Communicated by Ola Olsson.
Electronic supplementary material
Below is the link to the electronic supplementary material.
About this article
Cite this article
Row, J.R., Fedy, B.C. Spatial and temporal variation in the range-wide cyclic dynamics of greater sage-grouse. Oecologia 185, 687–698 (2017). https://doi.org/10.1007/s00442-017-3970-9
Received:

Accepted:

Published:

Issue Date:
Keywords
Greater sage-grouse

Population cycles

Population dynamics

Population synchrony

Wavelet analysis