Abstract
Bighead carp (Hypophthalmichthys nobilis) are an invasive planktivore that can greatly deplete planktonic resources. Due to the inefficient conversion of food into fish tissue, large portions of consumed materials are egested and shunted to benthic habitats. We explored how bighead carp alter pools of organic matter between planktonic and benthic habitats, and across ecosystem boundaries. Here, we report evidence from a manipulative experiment demonstrating that bighead carp greatly reapportion pools of organic matter from planktonic to benthic habitats to such a degree that additional effects propagated across ecological boundaries into terrestrial ecosystems. Strong direct consumption by bighead carp reduced filamentous algae, biomass and production of zooplankton, and production of a native planktivorous fish within planktonic habitats. Reduced herbivory indirectly increased phytoplankton (chlorophyll a). Direct consumption of organic matter by bighead carp supported high carp production and concomitant losses of materials due to egestion. Perhaps in response to organic matter subsidies provided by fish egestion, ponds having bighead carp had higher standing crop biomass of Chironomidae larvae, as well as cross-boundary fluxes of their adult life stage. In contrast, we detected reduced cross-boundary fluxes of adult Chaoboridae midges in ponds having bighead carp. Consideration of bighead carp as mediators of organic matter exchanges provides a clearer framework for predicting the direct and extended impacts of these invasive planktivores in freshwater ecosystems. The perception of bighead carp must evolve beyond competitors for planktonic resources, to mediators and processors of nutrients and energy within and across ecosystems.
Access options
Buy single article
Instant access to the full article PDF.
US$ 39.95
Tax calculation will be finalised during checkout.
Subscribe to journal
Immediate online access to all issues from 2019. Subscription will auto renew annually.
US$ 119
Tax calculation will be finalised during checkout.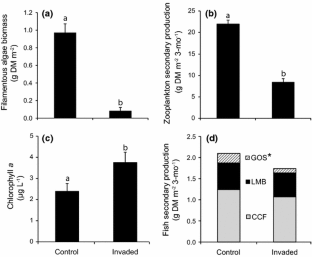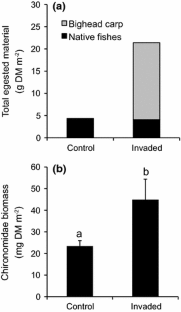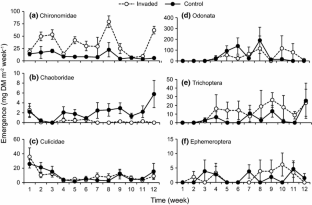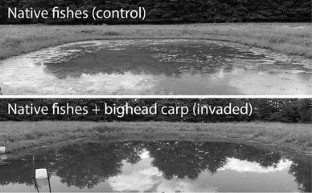 References
APHA (American Public Health Association) (2005) Standard methods for the examination of water and wastewater, 21st edn. APHA, Washington, DC

Baxter CV, Fausch KD, Murakami M, Chapman PL (2004) Fish invasion restructures stream and forest food webs by interrupting reciprocal prey subsidies. Ecology 85:2656–2663

Benke AC, Wallace JB (1980) Trophic basis of production among net-spinning caddisflies in a southern Appalachian stream. Ecology 61:108–118

Benke AC, Huryn AD, Smock LA, Wallace JB (1999) Length-mass relationships for freshwater macroinvertebrates in North America with particular reference to the southeastern United States. J N Am Benthol Soc 18:308–343

Bradford DF (1989) Allotopic distribution of native frogs and introduced fishes in high Sierra Nevada lakes of California: implication of the negative effect of fish introductions. Copeia 1989:775–778

Chen S, Hu C, Tian L, Shun X (1985) Digestion of silver carp (Hypothalmichthys moltrix) and bighead carp (Aristichthys nobilis) for Daphnia pulex. Collect Treatise Icthyol 4:163–170

Chick JH, Pegg MA (2001) Invasive carp in the Mississippi River Basin. Science 292:2250–2251

Collins SF, Moerke AH, Chaloner DT, Janetski DJ, Lamberti GA (2011) Response of dissolved nutrients and periphyton to spawning Pacific salmon in three northern Michigan streams. J N Am Benthol Soc 30:831–839

Collins SF, Marcarelli AM, Baxter CV, Wipfli MS (2015a) A critical assessment of the ecological assumptions underpinning compensatory mitigation of salmon-derived nutrients. Environ Manag 56:571–586

Collins SF, Butler SE, Diana MJ, Wahl DH (2015b) Catch rates and cost effectiveness of entrapment gears for Asian carp: a comparison of pound nets, hoop nets, and fyke nets in backwater lakes of the Illinois River. N Am J Fish Manag 35:1219–1225

Collins SF, Marshall B, Moerke AH (2016a) Aerial insect responses to non-native Chinook salmon spawning in a Great Lakes tributary. J Great Lakes Res 42:630–636

Collins SF, Baxter CV, Marcarelli AM, Wipfli MS (2016b) Effects of experimentally added salmon subsidies on resident fishes via direct and indirect pathways. Ecosphere 7(3):1–17

Collins SF, Diana MJ, Butler SE, Wahl DH (2017) A comparison of sampling gears for capturing juvenile Silver Carp in river-floodplain ecosystems. N Am J Fish Manag 37:94–100

Crooks JA (2002) Characterizing ecosystem-level consequences of biological invasions: the role of ecosystem engineers. Oikos 97:153–166

Cross WF, Baxter CV, Donner KC, Rosi-Marshall EJ, Kennedy TA, Hall RO Jr, Wellard Kelly HA, Rogers RS (2011) Ecosystem ecology meets adaptive management: food web response to a controlled flood on the Colorado River, Glen Canyon. Ecol Appl 21:2016–2033

Epanchin PN, Knapp RA, Lawler SP (2010) Nonnative trout impact an alpine-nesting bird by altering aquatic-insect subsidies. Ecology 91:2406–2415

Fausch KD (1998) Interspecific competition and juvenile Atlantic salmon (Salmo salar): on testing effects and evaluating the evidence across scales. Can J Fish Aquat Sci 55:218–231

Flecker AS, McIntyre PB, Moore JW, Anderson JT, Taylor BW, Hall RO Jr (2010) Migratory fishes as material and process subsidies in riverine ecosystems. Am Fish Soc Symp 73:559–592

Huryn AD (1998) Ecosystem-level evidence for top-down and bottom-up control of production in a grassland stream system. Oecologia 115:173–183

Irons KS, Sass GG, McClelland MA, Stafford JD (2007) Reduced condition factor of two native fish species coincident with invasion of non-native Asian carps in the Illinois River, U.S.A. Is this evidence for competition and reduced fitness? J Fish Biol 71:258–273

Jones C, Lawton JH (1995) Linking species and ecosystems. Chapman and Hall, New York

Kennedy TA, Hobbie SE (2004) Saltcedar (Tamarix ramosissima) invasion alters organic matter dynamics in a desert stream. Freshw Biol 49:65–76

Knapp RA, Corn PS, Schindler DE (2001) The introduction of nonnative fish into wilderness lakes: good intentions, conflicting mandates, and unintended consequences. Ecosystems 4:275–278

Kozerski HP (1994) Possibilities and limitations of sediment traps to measure sedimentation and resuspension. Hydrobiologia 284:93–100

Levine JM, Vilà M, D'Antonio CM, Dukes JS, Grigulis K, Lavorel S (2003) Mechanisms underlying the impacts of exotic plant invasions. Proc R Soc Lond B: Biol Sci 270:775–781

Lindeman RL (1942) The trophic-dynamic aspect of ecology. Ecology 23:399–417

Loreau M, Holt RD (2004) Spatial flows and the regulation of ecosystems. Am Nat 163:606–615

McCauley E (1984) The estimation of the abundance and biomass of zooplankton in samples. In: Downing JA, Rigler FH (eds) A manual on methods for the assessment of secondary productivity in fresh waters. Blackwell Scientific Publications, London, pp 232–240

Meyer JL (1997) Conserving ecosystem function. In: Pickett STA, Ostfeld RS, Shachak M, Likens GE (eds) The ecological basis of conservation. Chapman and Hall, New York, pp 136–145

Mineau MM, Baxter CV, Marcarelli AM, Minshall GW (2012) An invasive riparian tree reduces stream ecosystem efficiency via a recalcitrant organic matter subsidy. Ecology 93:1501–1508

Moore JC, de Ruiter PC (2012) Energetic food webs: an analysis of real and model ecosystems. Oxford University Press, Oxford

Morin A, Mousseau TA, Roff DA (1987) Accuracy and precision of secondary production estimates. Limnol Oceanogr 32:1342–1352

Muehlbauer JD, Collins SF, Doyle MW, Tockner K (2014) How wide is a stream? Spatial extent of the potential "stream signature" in terrestrial food webs using meta-analysis. Ecology 95:44–55

Murakami M, Nakano S (2002) Indirect effect of aquatic insect emergence on a terrestrial insect population through by birds predation. Ecol Lett 5:333–337

Pickett ST, Kolasa J, Jones CG (2007) Ecological understanding: the nature of theory and the theory of nature. Academic Press, New York

Plante C, Downing JA (1989) Production of freshwater invertebrate populations in lakes. Can J Fish Aquat Sci 46:1489–1498

Polis GA, Anderson WB, Holt RD (1997) Toward an integration of landscape and food web ecology: the dynamics of spatially subsidized food webs. Annu Rev Ecol Syst 28:289–316

Radke RJ, Kahl U (2002) Effects of a filter-feeding fish [silver carp, Hypophthalmichthys molitrix (Val.)] on phyto- and zooplankton in a mesotrophic reservoir: results from an enclosure experiment. Freshw Biol 47:2337–2344

Reiners WA, Driese KL (2001) The propagation of ecological influences through heterogeneous environmental space. Bioscience 51:939–950

Sabo JL, Bastow JL, Power ME (2002) Length–mass relationships for adult aquatic and terrestrial invertebrates in a California watershed. J N Am Benthol Soc 21:336–343

Sampson SJ, Chick JH, Pegg MA (2009) Diet overlap among two Asian carp and three native fishes in backwater lakes on the Illinois and Mississippi rivers. Biol Invasion 11:483–496

Sass GG, Cook TR, Irons KS, McClelland MA, Michaels NN, O'Hara TM, Stroub MR (2010) A mark-recapture population estimate for invasive silver carp (Hypophthalmichthys molitrix) in the La Grange Reach, Illinois River. Biol Invasion 12:433–436

Sass GG, Hinz C, Erickson AC, McClelland NN, McClelland MA, Epifanio JM (2014) Invasive bighead and silver carp effects on zooplankton communities in the Illinois River, Illinois, USA. J Great Lakes Res 40:911–921

Schindler DE, Scheuerell MD (2002) Habitat coupling in lake ecosystems. Oikos 98:177–189

Simon KS, Townsend CR (2003) Impacts of freshwater invaders at different levels of ecological organization, with emphasis on salmonids and ecosystem consequences. Freshw Biol 48:982–994

Skern-Mauritzen M, Ottersen G, Handegard NO, Huse G, Dingsør GE, Stenseth NC, Kjesbu OS (2015) Ecosystem processes are rarely included in tactical fisheries management. Fish Fish 17:165–175

Stockwell JD, Johannsson OE (1997) Temperature-dependent allometric models to estimate zooplankton production in temperate freshwater lakes. Can J Fish Aquat Sci 54:2350–2360

Strayer DL, Caraco NF, Cole JJ, Findlay S, Pace ML (1999) Transformation of freshwater ecosystems by bivalves: a case study of zebra mussels in the Hudson River. Bioscience 49:19–27

Thayer SA, Haas RC, Hunter RD, Kushler RH (1997) Zebra mussel (Dreissena polymorpha) effects on sediment, other zoobenthos, and the diet and growth of adult yellow perch (Perca flavescens) in pond enclosures. Can J Fish Aquat Sci 54:1903–1915

Vanni MJ (2002) Nutrient cycling by animals in freshwater ecosystems. Annu Rev Ecol Syst 33:341–370

Vitousek PM, Mooney HA, Lubchenco J, Melillo JM (1997) Human domination of Earth's ecosystems. Science 277:494–499

Wotton RS, Malmqvist B (2001) Feces in aquatic ecosystems. Bioscience 51:537–544
Acknowledgements
We specifically thank M. Diana, S. Butler, M. Naninni, B. Van Ee, M. Stanton, B. Smith for their logistical, field, and laboratory assistance. We also thank members of the Kaskaskia, Ridge Lake, and Sam Parr Biological stations of the Illinois Natural History Survey, as well as graduate students from the University of Illinois for their intellectual discussions and feedback.
Author contribution statement
SFC and DHW conceived and designed the experiment. SFC performed the experiment. SFC and DHW analyzed the data. SFC wrote the manuscript.
Additional information
Communicated by Robert O. Hall.
Electronic supplementary material
Below is the link to the electronic supplementary material.
About this article
Cite this article
Collins, S.F., Wahl, D.H. Invasive planktivores as mediators of organic matter exchanges within and across ecosystems. Oecologia 184, 521–530 (2017). https://doi.org/10.1007/s00442-017-3872-x
Received:

Accepted:

Published:

Issue Date:
Keywords
Asian carp

Invasive species

Cross-boundary flux

Insect emergence

Indirect effect