Abstract
Resource availability can significantly alter host–parasite dynamics. Abundant food can provide more resources for hosts to resist infections, but also increase host tolerance of infections by reducing competition between hosts and parasites for food. Whether abundant food favors host resistance or tolerance (or both) might depend on the type of resource that the parasite exploits (e.g., host tissue vs. food), which can vary based on the stage of infection. In our study, we evaluated how low and high resource diets affect Cuban tree frog (Osteopilus septentrionalis) resistance and tolerance of a skin-penetrating, gut nematode Aplectana sp. at each stage of the infection. Compared to a low resource diet, a high resource diet enhanced frog resistance to worm penetration and tolerance while worms traveled to the gut. In contrast, a low resource diet increased resistance to establishment of the infection. After the infection established and worms could access food resources in the gut, a high resource diet enhanced host tolerance of parasites. On a high resource diet, parasitized frogs consumed significantly more food than non-parasitized frogs; when food was then restricted, mass of non-parasitized frogs did not change, whereas mass of parasitized frogs decreased significantly. Thus, a high resource diet increased frog tolerance of established worms because frogs could fully compensate for energy lost to the parasites. Our study shows that host–parasite dynamics are influenced by the effect of resource availability on host resistance and tolerance, which depends on when parasites have access to food and the stage of infection.
Access options
Buy single article
Instant access to the full article PDF.
US$ 39.95
Tax calculation will be finalised during checkout.
Subscribe to journal
Immediate online access to all issues from 2019. Subscription will auto renew annually.
US$ 119
Tax calculation will be finalised during checkout.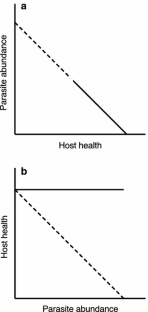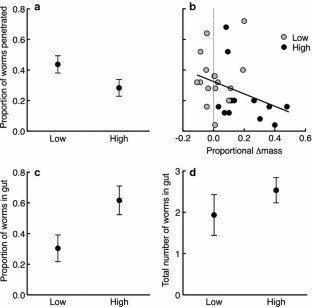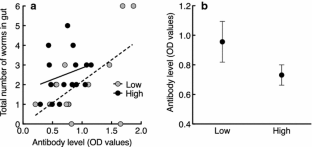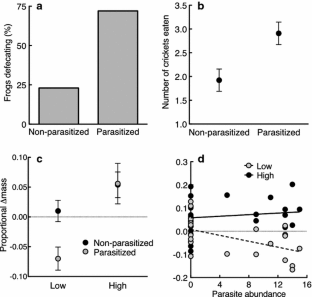 References
Adelman JS, Kirkpatrick L, Grodio JL, Hawley DM (2013) House finch populations differ in early inflammatory signaling and pathogen tolerance at the peak of Mycoplasma gallisepticum infection. Am Nat 181:674–689. doi:10.1086/670024

Anholt BR, Werner EE (1995) Interaction between food availability and predation mortality mediated by adaptive behavior. Ecology 76:2230–2234. doi:10.2307/1941696

Becker DJ, Streicker DG, Altizer S (2015) Linking anthropogenic resources to wildlife-pathogen dynamics: a review and meta-analysis. Ecol Lett 18:483–495. doi:10.1111/ele.12428

Beldomenico PM, Begon M (2010) Disease spread, susceptibility and infection intensity: vicious circles? Trends Ecol Evol. doi:10.1016/j.tree.2009.06.015

Bown MD, Poppi DP, Sykes AR (1991) The effect of post-ruminal infusion of protein or energy on the pathophysiology of Trichostrongylus colubriformis infection and body composition in lambs. Aust J Agric Res 42:253–267. doi:10.1071/AR9910253

Careau V, Thomas DW, Humphries MM (2010) Energetic cost of bot fly parasitism in free-ranging eastern chipmunks. Oecologia 162:303–312. doi:10.1007/s00442-009-1466-y

Christe P, Richner H, Oppliger A (1996) Begging, food provisioning, and nestling competition in great tit broods infested with ectoparasites. Behav Ecol 7:127–131. doi:10.1093/beheco/7.2.127

Connors VA, Nickol BB (1991) Effects of Plagiorhynchus cylindraceus (Acanthocephala) on the energy metabolism of adult starlings, Sturnus vulgaris. Parasitology 103:395–402. doi:10.1017/S0031182000059916

Cornet S, Bichet C, Larcombe S et al (2014) Impact of host nutritional status on infection dynamics and parasite virulence in a bird-malaria system. J Anim Ecol 83:256–265. doi:10.1111/1365-2656.12113

Cotter SC, Simpson SJ, Raubenheimer D, Wilson K (2011) Macronutrient balance mediates trade-offs between immune function and life history traits. Funct Ecol 25:186–198. doi:10.1111/j.1365-2435.2010.01766.x

Cressler CE, Nelson WA, Day T, McCauley E (2014) Disentangling the interaction among host resources, the immune system and pathogens. Ecol Lett 17:284–293. doi:10.1111/ele.12229

Ezenwa VO (2004) Selective defecation and selective foraging: antiparasite behavior in wild ungulates? Ethology 110:851–862. doi:10.1111/j.1439-0310.2004.01013.x

Howick VM, Lazzaro BP (2014) Genotype and diet shape resistance and tolerance across distinct phases of bacterial infection. BMC Evol Biol 14:56. doi:10.1186/1471-2148-14-56

Johnson PTJ, Townsend AR, Cleveland CC et al (2010) Linking environmental nutrient enrichment and disease emergence in humans and wildlife. Ecol Appl 20:16–29

Knutie SA, Owen JP, McNew SM et al (2016) Galápagos mockingbirds tolerate introduced parasites that affect Darwin's finches. Ecology 97:940–950. doi:10.1890/15-0119.1

Kyriazakis I, Tolkamp B, Hutchings M (1998) Towards a functional explanation for the occurrence of anorexia during parasitic infections. Anim Behav 56:265–274. doi:10.1006/anbe.1998.0761

Lochmiller RL, Deerenberg C (2000) Trade-offs in evolutionary immunology: just what is the cost of immunity? Oikos 88:87–98. doi:10.1034/j.1600-0706.2000.880110.x

McKenzie VJ, Townsend AR (2007) Parasitic and infectious disease responses to changing global nutrient cycles. EcoHealth 4:384–396. doi:10.1007/s10393-007-0131-3

Medzhitov R, Schneider D, Soares M (2012) Disease tolerance as a defense strategy. Science 335:936–941. doi:10.1126/science.1214935

Miller MR, White A, Boots M (2006) The evolution of parasites in response to tolerance in their hosts: the good, the bad, and apparent commensalism. Evolution 60:945–956. doi:10.1111/j.0014-3820.2006.tb01173.x

Murray DL, Keith LB, Cary JR (1998) Do parasitism and nutritional status interact to affect production in snowshoe hares? Ecology 79:1209–1222. doi:10.2307/176737

Ortega N, Price W, Campbell T, Rohr JR (2015) Acquired and introduced macroparasites of the invasive Cuban tree frog, Osteopilus septentrionalis. Int J Parasitol Parasites Wildl 4:379–384. doi:10.1016/j.ijppaw.2015.10.002

Owen JP, Delany ME, Cardona CJ et al (2009) Host inflammatory response governs fitness in an avian ectoparasite, the northern fowl mite (Ornithonyssus sylviarum). Int J Parasitol 39:789–799. doi:10.1016/j.ijpara.2008.12.008

Råberg L, Sim D, Read AF (2007) Disentangling genetic variation for resistance and tolerance to infectious diseases in animals. Science 318:812–814. doi:10.1126/science.1148526

Read AF, Graham AL, Råberg L (2008) Animal defenses against infectious agents: is damage control more important than pathogen control. PLoS Biol 6:2638–2641. doi:10.1371/journal.pbio.1000004

Rohr JR, Raffel TR, Hall CA (2010) Developmental variation in resistance and tolerance in a multi-host–parasite system. Funct Ecol 24:1110–1121. doi:10.1111/j.1365-2435.2010.01709.x

Sears BF, Rohr JR, Allen JE, Martin LB (2011) The economy of inflammation: when is less more? Trends Parasitol 27:382–387. doi:10.1016/j.pt.2011.05.004

Sears BF, Snyder PW, Rohr JR (2013) Infection deflection: hosts control parasite location with behaviour to improve tolerance. Proc R Soc Lond B 280:20130759. doi:10.1098/rspb.2013.0759

Sears BF, Snyder PW, Rohr JR (2015) Host life history and host–parasite syntopy predict behavioural resistance and tolerance of parasites. J Anim Ecol 84:625–636. doi:10.1111/1365-2656.12333

Sheldon BC, Verhulst S (1996) Ecological immunology: costly parasite defences and trade-offs in evolutionary ecology. Trends Ecol Evol 11:317–321. doi:10.1016/0169-5347(96)10039-2

Simms EL (2000) Defining tolerance as a norm of reaction. Evol Ecol 14:563–570. doi:10.1023/A:1010956716539

Sorci G (2013) Immunity, resistance and tolerance in bird–parasite interactions. Parasite Immunol 35:350–361. doi:10.1111/pim.12047

Sternberg ED, Lefèvre T, Li J et al (2012) Food plant derived disease tolerance and resistance in a natural butterfly-plant-parasite interactions. Evolution 66:3367–3376. doi:10.1111/j.1558-5646.2012.01693.x

Svensson E, Råberg L, Koch C, Hasselquist D (1998) Energetic stress, immunosuppression and the costs of an antibody response. Funct Ecol 12:912–919. doi:10.1046/j.1365-2435.1998.00271.x

Tripet F, Richner H (1997) Host responses to ectoparasites: food compensation by parent blue tits. Oikos 78:557–561. doi:10.2307/3545617

Vale PF, Wilson AJ, Best A et al (2011) Epidemiological, evolutionary, and coevolutionary implications of context-dependent parasitism. Am Nat 177:510–521. doi:10.1086/659002

Wise MJ, Abrahamson WG (2005) Beyond the compensatory continuum: environmental resource levels and plant tolerance of herbivory. Oikos 109:417–428. doi:10.1111/j.0030-1299.2005.13878.x

Wise MJ, Abrahamson WG (2007) Effects of resource availability on tolerance of herbivory: a review and assessment of three opposing models. Am Nat 169:443–454. doi:10.1086/512044
Acknowledgements
We thank Jeb Owen for advice on the immunoassay protocol. This research was supported by Grants from the National Science Foundation (EF-1241889), National Institutes of Health (R01GM109499, R01TW010286), US Department of Agriculture (NRI 2006-01370, 2009-35102-0543), and US Environmental Protection Agency (CAREER 83518801) to JRR and British Ecological Society Large Research Grant (5599-6643) to SAK. CNO was supported by a National Science Foundation Graduate Research Fellowship. QCW was supported by the Leadership Alliance Summer Research Early Identification Program.
Author contribution statement
SAK and CLW conceived the study and designed the experiments. CLW, SAK, QCW, and CNO conducted the experiments. SAK and JRR conducted the statistical analyses and wrote the manuscript.
Ethics declarations
Conflict of interest
All authors declare that they have no conflict of interest.
Additional information
Communicated by Jean-François Le Galliard.
About this article
Cite this article
Knutie, S.A., Wilkinson, C.L., Wu, Q.C. et al. Host resistance and tolerance of parasitic gut worms depend on resource availability. Oecologia 183, 1031–1040 (2017). https://doi.org/10.1007/s00442-017-3822-7
Received:

Accepted:

Published:

Issue Date:
Keywords
Amphibians

Disease dynamics

Ecoimmunology

Helminths

Host defense

Nematodes