Abstract
Semi-arid rangelands are important carbon (C) pools at global scales. However, the degree of net C storage or release in water-limited systems is a function of precipitation amount and timing, as well as plant community composition. In northern latitudes of western North America, C storage in cold-desert ecosystems could increase with boosts in wintertime precipitation, in which climate models predict, due to increases in wintertime soil water storage that enhance summertime productivity. However, there are few long-term, manipulative field-based studies investigating how rangelands will respond to altered precipitation amount or timing. We measured aboveground C pools and fluxes at leaf, soil, and ecosystem scales over a single growing season in plots that had 200 mm of supplemental precipitation added in either winter or summer for the past 21 years, in shrub- and exotic-bunchgrass-dominated garden plots. At our cold-desert site (298 mm precipitation during the study year), we hypothesized that increased winter precipitation would stimulate the aboveground C uptake and storage relative to ambient conditions, especially in plots containing shrubs. Our hypotheses were generally supported: ecosystem C uptake and long-term biomass accumulation were greater in winter- and summer-irrigated plots compared to control plots in both vegetation communities. However, substantial increases in the aboveground biomass occurred only in winter-irrigated plots that contained shrubs. Our findings suggest that increases in winter precipitation will enhance C storage of this widespread ecosystem, and moreso in shrub- compared to grass-dominated communities.
Access options
Buy single article
Instant access to the full article PDF.
US$ 39.95
Tax calculation will be finalised during checkout.
Subscribe to journal
Immediate online access to all issues from 2019. Subscription will auto renew annually.
US$ 119
Tax calculation will be finalised during checkout.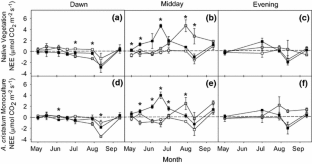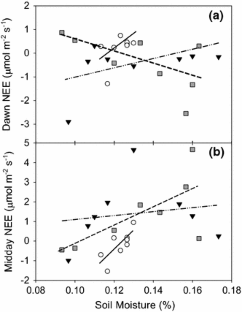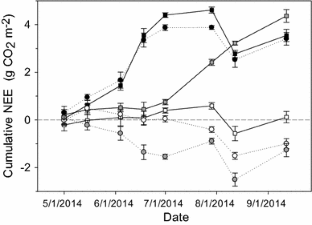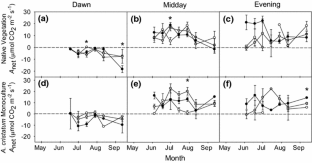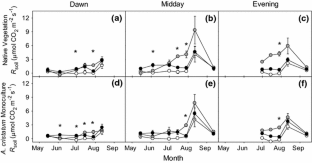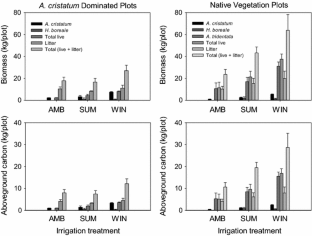 References
Aanderud ZT, Richards JH, Svejcar T, James JJ (2010) A shift in seasonal rainfall reduces soil organic carbon storage in a cold desert. Ecosystems 13:673–682

Abatzoglou JT, Kolden CA (2011) Climate change in western US deserts: potential for increased wildfire and invasive annual grasses. Rangeland Ecol Manag 64:471–478

Anderson JE, Forman AD (2002) Evapotranspiration caps for the Idaho National Engineering and Environmental Laboratory: a summary of research and recommendations. Stoller special report GSS-ESER-56. Stoller Corporation and Idaho State University, Idaho Falls, ID

Angell RF, Svejcar T, Bates J, Saliendra NZ, Johnson DA (2001) Bowen ratio and closed chamber carbon dioxide flux measurements over sagebrush steppe vegetation. Agr Forest Meteorol 108:153–161

Arnone JA, Obrist D (2003) A large daylight geodesic dome for quantification of whole-ecosystem CO2 and water vapor fluxes in arid shrublands. J Arid Environ 55:629–643. doi:10.1016/S0140-1963(02)00291-4

Bansal S, Sheley RL, Blank B, Vasquez EA (2014) Plant litter effects on soil nutrient availability and vegetation dynamics: changes that occur when annual grasses invade shrub-steppe communities. Plant Ecol 215:367–378

Barger NN, Archer SR, Campbell JL, Huang C, Morton JA, Knapp AK (2011) Woody plant proliferation in North American drylands: a synthesis of impacts on ecosystem carbon balance. J Geophys Res 116:G00K07

Bates JD, Svejcar T, Miller RF, Angell RA (2006) The effects of precipitation timing on sagebrush steppe vegetation. J Arid Environ 64:670–697

Booker K, Huntsinger L, Bartolome JW, Sayre NF, Stewart W (2013) What can ecological science tell us about opportunities for carbon sequestration on arid rangelands in the United States? Global Environ Chang 23:240–251

Bradley BA, Houghton RA, Mustard JF, Hamburg SP (2006) Invasive grass reduces aboveground carbon stocks in shrublands of the Western U.S. Global Change Biol 12:1815–1822

Cable JM, Ogle K, Lucas RW et al (2011) The temperature responses of soil respiration in deserts: a seven desert synthesis. Biogeochemistry 103:71–90. doi:10.1007/s10533-010-9448-z

Campos PX (2015) Precipitation Induced Changes in Decomposition Processes and Soil Carbon Stabilization, MS Thesis. Boise State University, Boise

Carter GA, Smith WK (1985) Influence of shoot structure on light interception and photosynthesis in conifers. Plant Physiol 79:1038–1043

Chen S, Lin G, Huang J, Jenerette GD (2009) Dependence of carbon sequestration on the differential responses of ecosystem photosynthesis and respiration to rain pulses in a semiarid steppe. Global Change Biol 15:2450–2461

Clawson KL, Start GE, Ricks NR (1989) Climatography of the Idaho National Engineering Laboratory, 2nd edn. US Department of Energy publication ID-12118

Cleary MB, Pendall E, Ewers BE (2008) Testing sagebrush allometric relationships across three fire chronosequences in Wyoming, USA. J Arid Environ 72:285–301

Evans RD, Black RA (1993) Growth, photosynthesis, and resource investment for vegetative and reproductive modules of Artemisia tridentate. Ecology 74:1516–1528

Evans TL, Gonzalez RM, Martin DW, McLendon T, Noller JS (2013) Growth, water productivity, and biomass allocation of Great Basin plants as affected by summer watering. Ecohydrology 6:713–721

Germino MJ, Reinhardt K (2014) Desert shrub responses to experimental modification of precipitation seasonality and soil depth: relationship to the two-layer hypothesis and ecohydrological niche. J Ecol 102:989–997. doi:10.1111/1365-2745.12266

Germino MJ, Stark J, Belnap J, Allen E, Rau B. (2016) Ecosystem impacts of exotic annual invaders in the genus Bromus. In: Germino MJ, Chambers JC, Brown C (eds) Exotic brome grasses in arid and semi-arid ecosystems of the Western US: Causes, consequences, and management implications. Springer, p 475

Gilmanov TG, Johnson DA, Saliendra NZ (2003) Growing season CO2 fluxes in a sagebrush-steppe ecosystem in Idaho: bowen ratio/energy balance measurements and modeling. Basic Appl Ecol 4:167–183

Gilmanov TG, Johnson DA, Saliendra NZ et al (2004) Winter CO2 fluxes above sagebrush-steppe ecosystems in Idaho and Oregon. Agr Forest Meteorol 126:73–88

Gilmanov TG, Svejcar TJ, Johnson DA et al (2006) Long-term dynamics of production, respiration, and net CO2 exchange in two sagebrush-steppe ecosystems. Rangeland Ecol Manag 59:585–599

Hooker TD, Stark JM, Norton U, Leffler AJ, Peek M (2008) Distribution of ecosystem C and N within contrasting vegetation types in a semiarid rangeland in the Great Basin, U.S.A. Biogeochemistry 90:291–308

Huxman TE, Snyder KA, Tissue D et al (2004) Precipitation pulses and carbon fluxes in semiarid and arid ecosystems. Oecologia 141:254–268. doi:10.1007/s00442-004-1682-4

IPCC (2013) Long-term climate change: projections, commitments and irreversibility. In: Stocker TF, Qin D, Plattner G, Tignor MMB et al (eds) Climate change 2013: the physical science basis. Contribution of working group I to the fifth assessment report of the Intergovernmental Panel on Climate Change. Cambridge University Press, Cambridge, pp 1078–1080

Ivans S, Hipps L, Leffler AJ, Ivans CY (2006) Response of water vapor and CO2 fluxes in semiarid lands to seasonal and intermittent precipitation pulses. J Hydrometeorol 7:995–1010

Janzen B (2009) Annual and seasonal fluctuations in community composition in response to experimental manipulations of precipitation and soil profiles. MS Thesis, Department of Biological Sciences, Idaho State University, Pocatello, Idaho, USA

Jasoni RL, Smith SD, Arnone JA III (2005) Net ecosystem CO2 exchange in Mojave Desert shrublands during the eighth year of exposure to elevated CO2. Global Change Biol 11:749–756

Johnson PS, Johnson CL, West NE (1988) Estimation of phytomass for ungrazed crested wheatgrass plants using allometric equations. J Range Manag 41:412–425

Kwon H, Pendall E, Ewers BE, Cleary M, Naithani K (2008) Spring drought regulates summer net ecosystem CO2 exchange in a sagebrush-steppe ecosystem. Agr Forest Meteorol 148:381–391

LI-COR (2004) Chapter 28: Soil CO2 flux chamber. In: Using the LI-6400 portable photosynthesis system, v 5.3. LI-COR Biosciences, Lincoln, pp 28.2–28.50

Loik ME (2007) Sensitivity of water relations and photosynthesis to summer precipitation pulses for Artemisia tridentata and Purshia tridentata. Plant Ecol 191:95–108

McGonigle TP, Chambers ML, Gregory WJ (2005) Enrichment over time of organic carbon and available phosphorus in semiarid soil. Soil Sci Soc Am J 69:1617–1626

NOAA National Climatic Data Center (2014) Climate at a Glance. http://www.ncdc.noaa.gov/cag/time-series

NOAA National Climatic Data Center (2015) Climate at a Glance. Retrieved from http://www.ncdc.noaa.gov/cag/time-series

Polley HW, Emmerich W, Bradford JA et al (2010) Precipitation regulates the response of net ecosystem CO2 exchange to environmental variation on United States shrublands. Rangeland Ecol Manag 63:176–186

Smith MD, Knapp AK, Collins SL (2009) A framework for assessing ecosystem dynamics in response to chronic resource alterations induced by global change. Ecology 90:3279–3289

Snyder KA, Donovan LA, James JJ, Tiller RL, Richards JH (2004) Extensive summer water pulses do not necessarily lead to canopy growth of Great Basin and Northern Mojave desert shrubs. Oecologia 141:325–334

Sorensen PO, Germino MJ, Feris KP (2013) Microbial community responses to 17 years of altered precipitation are seasonally dependent and coupled to co-varying effects of water content on vegetation and soil C. Soil Biol Biochem 64:155–163

Svejcar T, Angell R, Bradford AJ et al (2008) Carbon fluxes on North American rangelands. Rangeland Ecol Manag 61:465–474

Verburg PSJ, Kapitzke SE, Stevenson BA, Bisiaux M (2014) Carbon allocation in Larrea tridentata plant-soil systems as affected by elevated soil moisture and N availability. Plant Soil 378:227–238

Walter H (1973) Vegetation of the earth in relation to climate and the eco-physiological conditions. Springer, New York

Zar JH (1999) Biostatistical analysis. Pearson Education India, London
Acknowledgements
We thank Roger Blew and Amy Forman at Gonzales-Stoller Surveillance for logistical support, as well as Ryann Mata and Cassidy Howarth for help with data collection and analysis assistance in the field and lab. We also thank the three anonymous reviewers for their comments that substantially improved our original manuscript. This research was funded by Idaho EPSCoR (KR, MJG), the Northwest Climate Science Center (MJG, KR), Idaho State University (KR), the Geological Society of America (KM), as well as the M.J. Murdock Charitable Trust's Partners in Science program (AB). Any use of trade, product, or firm names is for descriptive purposes only and does not imply endorsement by the U.S. Government.
Author contribution statement
KM, KR, and MJG conceived and designed the experiments. KM, AB, and KR collected the field data. KM, KR, and AB analyzed the data. KM, KR, and AB wrote the manuscript. All authors provided editorial advice.
Additional information
Communicated by Heather Throop.
Electronic supplementary material
Below is the link to the electronic supplementary material.
About this article
Cite this article
McAbee, K., Reinhardt, K., Germino, M.J. et al. Response of aboveground carbon balance to long-term, experimental enhancements in precipitation seasonality is contingent on plant community type in cold-desert rangelands. Oecologia 183, 861–874 (2017). https://doi.org/10.1007/s00442-017-3814-7
Received:

Accepted:

Published:

Issue Date:
Keywords
Agropyron cristatum
Artemisia tridentata

Net ecosystem exchange

Photosynthesis

Respiration