Abstract
Inoculation with arbuscular mycorrhizal (AM) fungi is known to increase the species diversity of plant communities. One mechanism that can increase the likelihood of species co-existence, and thus species diversity, is a trade-off between competitive ability and the magnitude of plant growth response to AM fungal inoculation. By suppressing the growth of strong competitors while simultaneously enhancing the growth of weak competitors, this trade-off would cause the competitive hierarchy to be less pronounced in soil inoculated with AM fungi relative to non-inoculated conditions. To test whether such a trade-off exists, we quantified competitive abilities and mycorrhizal growth response (MGR) among 21 species that co-occur in old fields in southern Ontario. Competitive ability was determined by calculating competitive effect (CE), or the degree to which each species suppressed the biomass of a common phytometer species, Plantago lanceolata. Higher CE values represent stronger competitive ability. Old-field species varied in their ability to suppress the biomass of the phytometer and MGR was generally positive. There was a statistically significant negative correlation between CE in non-inoculated soil and MGR (r = −0.49, P = 0.02). In addition, variance in CE was 73% lower in soil inoculated with AM fungi compared to non-inoculated soil (P = 0.0023). These findings support the hypothesis that AM fungi weaken strong competitors while enhancing the performance of weak competitors. Because this trade-off compressed the competitive hierarchy among old-field species in soil inoculated with AM fungi, it may be a mechanism by which mycorrhizal fungi enhance species evenness and diversity.
Access options
Buy single article
Instant access to the full article PDF.
US$ 39.95
Tax calculation will be finalised during checkout.
Subscribe to journal
Immediate online access to all issues from 2019. Subscription will auto renew annually.
US$ 119
Tax calculation will be finalised during checkout.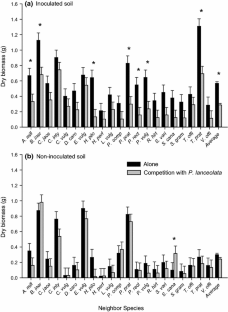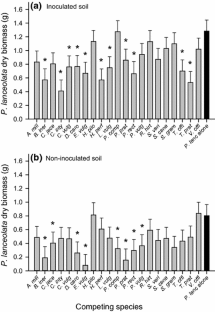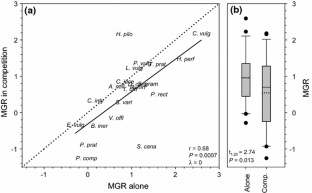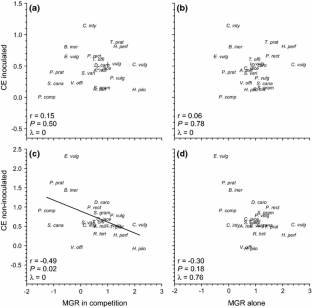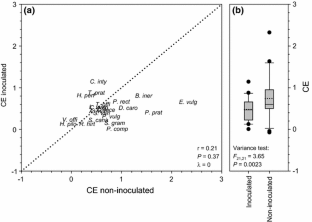 References
Aerts R (1999) Interspecific competition in natural plant communities: mechanisms, trade-offs and plant-soil feedbacks. J Exp Bot 330:29–37

Anacker BL, Klironomos JN, Maherali H, Reinhart KO, Strauss SY (2014) Phylogenetic conservatism in plant-soil feedback and its implications for plant abundance. Ecol Lett 17:1613–1621

Angiosperm Phylogeny Group (2009) An update of the Angiosperm Phylogeny Group classification for the orders and families of flowering plants: APG III. Bot J Linn Soc 161:105–121

Bever J (2002) Negative feedback within a mutualism: host-specific growth of mycorrhizal fungi reduces plant benefit. Proc R Soc Lond B 269:2595–2601

Bever J, Dickie I, Facelli E, Facelli J, Klironomos J, Moora M, Rillig M, Stock W, Tibbett M, Zobel M (2010) Rooting theories of plant community ecology in microbial interactions. Trends Ecol Evol 25:468–478

Brundrett M (2009) Mycorrhizal associations and other means nutrition of vascular plants: understanding the global diversity of host plants by resolving conflicting information and developing reliable means of diagnosis. Plant Soil 320:37–77

Buckland SM, Grime JP (2000) The effects of trophic structure and soil fertility on the assembly of plant communities: a microcosm experiment. Oikos 91:336–352

Fargione J, Tilman D (2006) Plant species traits and capacity for resource reduction predict yield and abundance under competition in nitrogen-limited grassland. Funct Ecol 20:533–540

Fraser LH, Keddy PA (2005) Can competitive ability predict structure in experimental plant communities? J Veg Sci 16:571–578

Freckleton RP, Harvey PH, Pagel M (2002) Phylogenetic analysis and comparative data: a test and review of evidence. Am Nat 160:712–726

Gaudet CL, Keddy PA (1988) A comparative approach to predicting competitive ability from plant traits. Nature 34:242–243

Gaudet CL, Keddy PA (1995) Competitive performance and species distribution in shoreline plant communities: a comparative approach. Ecology 76:280–291

Goldberg D (1996) competitive ability: definitions, contingency and correlated traits. Phil Trans R Soc Lond B 351:1377–1385

Goldberg D, Barton A (1992) Patterns and consequences of interspecific competition in natural communities: a review of field experiments with plants. Am Nat 139:771–801

Goldberg D, Landa K (1991) Competitive effect and response: hierarchies and correlated traits in the early stages of competition. J Ecol 79:1013–1030

Grime JP (1977) Evidence for the existence of three primary strategies in plants and its relevance to ecological and evolutionary theory. Am Nat 111:1169–1194

Grime JP, Mackey JML, Hillier SH, Read DJ (1987) Floristic diversity in a model system using experimental microcosms. Nature 328:420–422

Gross N, Le Bagousse-Pinguet Y, Liancourt P, Urcelay C, Catherine R, Lavorel S (2010) Trait-mediated effect of arbuscular mycorrhiza on the competitive effect and response of a monopolistic species. Funct Ecol 24:1122–1132

Harpole W, Tilman D (2006) Non-neutral patterns of species abundance in grassland communities. Ecol Lett 9:15–23

Hartnett DC, Wilson G (1999) Mycorrhizae influence plant community structure and diversity in tallgrass prairie. Ecology 80:1187–1195

Hartnett DC, Wilson GW (2002) The role of mycorrhizas in plant community structure and dynamics: lessons from grasslands. Plant Soil 244:319–331

Hartnett DC, Hetrick BAD, Wilson GWT, Gibson DJ (1993) Mycorrhizal influence on intra-and interspecific neighbour interactions among co-occurring prairie grasses. J Ecol 81:787–795

Heinze J, Sitte M, Schindhelm A, Wright J, Joshi J (2016) Plant-soil feedbacks: a comparative study on the relative importance of soil feedbacks in the greenhouse versus the field. Oecologia 181:559–569

Hetrick B, Wilson G, Hartnett D (1989) Relationship between mycorrhizal dependence and competitive ability of two tallgrass prairie grasses. Can J Bot 67:2608–2615

Hoeksema J, Chaudhary V, Gehring C, Johnson N, Karst J, Koide R, Pringle A, Zabinski C, Bever J, Moore J, Wilson G, Klironomos J, Umbanhowar J (2010) A meta-analysis of context dependency in plant response to inoculation with mycorrhizal fungi. Ecol Lett 13:394–407

Hoffmann AA, Merilä J (1999) Heritable variation and evolution under favourable and unfavourable conditions. Trends Ecol Evol 14:96–101

Holt R, Grover J, Tilman D (1994) Simple rules for interspecific dominance in systems with exploitative and apparent competition. Am Nat 144:741–771

Höpfner I, Beyschlag W, Bartelheimer M, Werner C, Unger S (2015) Role of mycorrhization and nutrient availability in competitive interactions between the grassland species Plantago lanceolata and Hieracium pilosella. Plant Ecol 216:887–899

Howard T (2001) The relationship of total and per-gram rankings in competitive effect to the natural abundance of herbaceous perennials. J Ecol 89:110–117

Howard T, Goldberg D (2001) Competitive response hierarchies for germination, growth, and survival and their influence on abundance. Ecology 82:979–990

Janos DP (2007) Plant responsiveness to mycorrhizas differs from dependence upon mycorrhizas. Mycorrhiza 17:75–91

Johnson NC (2010) Resource stoichiometry elucidates the structure and functions of arbuscular mycorrhizas across scales. New Phytol 185:631–647

Johnson NC, Graham JH, Smith FA (1997) Functioning of mycorrhizal associations along the mutualism–parasitism continuum. New Phytol 135:575–585

Keddy P, Nielsen K, Weiher E, Lawson R (2002) Relative competitive performance of 63 species of terrestrial herbaceous plants. J Veg Sci 13:5–16

Klironomos J (2003) Variation in plant response to native and exotic arbuscular mycorrhizal fungi. Ecology 84:2292–2301

Koziol L, Bever JD (2015) Mycorrhizal response trades off with plant growth rate and increases with plant successional status. Ecology 96:1768–1774

Lin G, McCormack ML, Guo D (2015) Arbuscular mycorrhizal fungal effects on plant competition and community structure. J Ecol 103:1224–1232

Maherali H, Klironomos J (2007) Influence of phylogeny on fungal community assembly and ecosystem functioning. Science 316:1746–1748

Maherali H, Klironomos J (2012) Phylogenetic and trait based-assembly of arbuscular mycorrhizal fungal communities. PLoS One 7(5):e36, 695

Mariotte P, Meugnier C, Johnson D, Thebault A, Spiegelberger T, Buttler A (2013) Arbuscular mycorrhizal fungi reduce the differences in competitiveness between dominant and subordinate plant species. Mycorrhiza 23:267–277

Marler MJ, Zabinski CA, Callaway RM (1999) Mycorrhizae indirectly enhance competitive effects of an invasive forb on a native bunchgrass. Ecology 80:1180–1186

Martins EP, Hansen TF (1997) Phylogenies and the comparative method: a general approach to incorporating phylogenetic information into the analysis of inter-specific data. Am Nat 149:646–667

McGonigle T, Miller M, Evans D, Fairchild G, Swan J (1990) A new method which gives an objective measure of colonization of roots by vesicular-arbuscular mycorrhizal fungi. New Phytol 115:68–73

Miller T, Burns J, Munguia P, Walters E, Kneitel J, Richards P, Mouquet N, Buckley H (2005) A critical review of twenty years' use of resource-ratio theory. Am Nat 165:439–448

Moora M, Zobel M (1996) Effect of arbuscular mycorrhiza on inter- and intraspecific competition of two grassland species. Oecologia 108:79–84

Orme D, Freckleton R, Thomas G, Petzoldt T, Fritz S, Isaac N, Pearse W (2013) Caper: comparative analyses of phylogenetics and evolution in R. http://CRAN.R-project.org/package=caper. Accessed 15 May 2015

Pagel M (1999) Inferring the historical patterns of biological evolution. Nature 401:877–884

Poorter H, Remkes C, Lambers H (1990) Carbon and nitrogen economy of 24 wild species differing in relative growth rate. Plant Physiol 94:621–627

R Core Team (2015) R: a language and environment for statistical computing. R Foundation for Statistical Computing, Vienna, Austria. http://www.R-project.org/. Accessed 15 May 2015

Scheublin TR, Van Logtestijn RS, van der Heijden MG (2007) Presence and identity of arbuscular mycorrhizal fungi influence competitive interactions between plant species. J Ecol 95:631–638

Schroeder-Moreno MS, Janos DP (2008) Intra-and inter-specific density affects plant growth responses to arbuscular mycorrhizas. Botany 86:1180–1193

Sherrard ME, Maherali H (2012) Local adaptation across a fertility gradient is influenced by soil biota in the invasive grass, Bromus inermis. Evol Ecol 26:529–544

Smith S, Read D (2008) The mycorrhizal symbiosis. Elsevier, Amsterdam

Snellgrove R, Splittstoesser W, Stribley D, Tinker P (1982) The distribution of carbon and the demand of the symbiont in leek plants with vesicular-arbuscular mycorrhizas. New Phytol 92:75–87

Tilman D (1982) Resource competition and community structure. Princeton University Press, Princeton

Umbanhowar J, McCann K (2005) Simple rules for the coexistence and competitive dominance of plants mediated by mycorrhizal fungi. Ecol Lett 8:247–252

Urcelay C, Diaz S (2003) The mycorrhizal dependence of subordinates determines the effect of arbuscular mycorrhizal fungi on plant diversity. Ecol Lett 6:388–391

van der Heijden M, Klironomos J, Ursic M, Moutoglis P, Streitwolf-Engel R, Boller T, Wiemken A, Sanders I (1998) Mycorrhizal fungal diversity determines plant biodiversity, ecosystem variability and productivity. Nature 396:69–72

van der Putten W, Peters B (1997) How soil-borne pathogens affect plant competition. Ecology 78:1785–1795

Vierheilig H, Coughland A, Wyss U, Piché Y (1998) Ink and vinegar, a simple staining technique for arbuscular-mycorrhizal fungi. Appl Environ Microbiol 64:5004–5007

Vogelsang KM, Reynolds HL, Bever JD (2006) Mycorrhizal fungal identity and richness determine the diversity and productivity of a tallgrass prairie system. New Phytol 172:554–562

Wagg C, Jansa J, Stadler M, Schmid B, van der Heijden MGA (2011) Mycorrhizal fungal identity and diversity relaxes plant–plant competition. Ecology 92:1303–1313

Wang P, Stieglitz T, Zhou D, Cahill J (2010) Are competitive effect and response two sides of the same coin, or fundamentally different? Funct Ecol 24:196–207

Webb CO, Ackerly DD, Kembel SW (2008) Phylocom: software for the analysis of phylogenetic community structure and trait evolution. Bioinformatics 24:2098–2100

Weiner J, Stoll P, Muller-Landau H, Jasentuliyana A (2001) The effects of density, spatial pattern, and competitive symmetry on size variation in simulated plant populations. Am Nat 158:438–450

Wikström N, Savolainen V, Chase MW (2001) Evolution of the angiosperms: calibrating the family tree. Proc Roy Soc Lond B 268:2211–2220

Zar JH (1999) Biostatistical analysis, 4th edn. Prentice Hall, Upper Saddle River
Acknowledgements
This research was funded by a Discovery grant from the Natural Sciences and Engineering Research Council of Canada (NSERC), the Ontario Ministry of Research and Innovation through the Early Researcher Award program, and the Canada Foundation for Innovation. We thank A. Bell, C.M. Caruso, P. Holm, G.T. Poon, and P.J. Vogan for assistance at various stages of the project.
Author contribution statement
SS and HM conceived and designed the experiments. SS performed the experiments. SS and HM analyzed the data. SS and HM wrote the manuscript.
Additional information
Communicated by Katherine L Gross.
Electronic supplementary material
Below is the link to the electronic supplementary material.
About this article
Cite this article
Stanescu, S., Maherali, H. Arbuscular mycorrhizal fungi alter the competitive hierarchy among old-field plant species. Oecologia 183, 479–491 (2017). https://doi.org/10.1007/s00442-016-3771-6
Received:

Accepted:

Published:

Issue Date:
Keywords
Competition

Co-existence

Hierarchy

Mycorrhizal fungi

Phytometer