Abstract
Dung beetles form an insect group that fulfils important functions in terrestrial ecosystems throughout the world. These include nutrient cycling through dung removal, soil bioturbation, plant growth, secondary seed dispersal and parasite control. We conducted field experiments at two sites in the northern hemisphere temperate region in which dung removal and secondary seed dispersal were assessed. Dung beetles were classified in three functional groups, depending on their size and dung manipulation method: dwellers, large and small tunnelers. Other soil inhabiting fauna were included as a fourth functional group. Dung removal and seed dispersal by each individual functional group and combinations thereof were estimated in exclusion experiments using different dung types. Dwellers were the most diverse and abundant group, but tunnelers were dominant in terms of biomass. All dung beetle functional groups had a clear preference for fresh dung. The ecosystem services in dung removal and secondary seed dispersal provided by dung beetles were significant and differed between functional groups. Although in absolute numbers more dwellers were found, large tunnelers were disproportionally important for dung burial and seed removal. In the absence of dung beetles, other soil inhabiting fauna, such as earthworms, partly took over the dung decomposing role of dung beetles while most dung was processed when all native functional groups were present. Our results, therefore, emphasize the need to conserve functionally complete dung ecosystems to maintain full ecosystem functioning.
Access options
Buy single article
Instant access to the full article PDF.
US$ 39.95
Tax calculation will be finalised during checkout.
Subscribe to journal
Immediate online access to all issues from 2019. Subscription will auto renew annually.
US$ 119
Tax calculation will be finalised during checkout.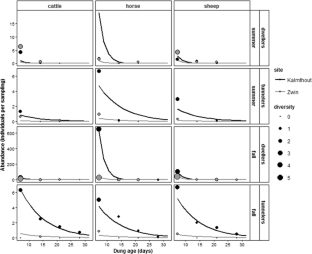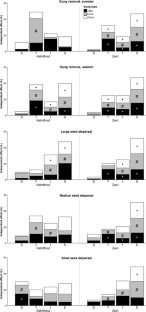 References
Andresen E (1999) Seed dispersal by monkeys and the fate of dispersed seeds in a Peruvian rain forest. Biotropica 31:145–158

Andresen E (2002a) Dung beetles in a Central Amazonian rainforest and their ecological role as secondary seed dispersers. Ecol Entomol 27:257–270

Andresen E (2002b) Primary seed dispersal by red howler monkeys and the effect of defecation patterns on the fate of dispersed seeds. Biotropica 34:261–272

Andresen E (2003) Effect of forest fragmentation on dung beetle communities and functional consequences for plant regeneration. Ecography 26:87–97

Andresen E, Feer F (2005) The role of dung beetles as secondary seed dispersers and their effect on plant regeneration in tropical rainforests. In: Forget PM, Lambert JE, Hulme PE, Vander Wall SB (eds) Seed fate. Predation, dispersal and seedling establishment. CABI, Oxon, pp 331–349

Andresen E, Levey DJ (2004) Effects of dung and seed size on secondary dispersal, seed predation, and seedling establishment of rain forest trees. Oecologia 139:45–54

Balvanera P, Pfisterer AB, Buchmann N, He JS, Nakashizuka T, Raffaelli D, Schmid B (2006) Quantifying the evidence for biodiversity effects on ecosystem functioning and services. Ecol Lett 9:1146–1156

Bang HS, Lee JH, Kwon OS, Na YE, Jang YS, Kim WH (2005) Effects of paracoprid dung beetles (Coleoptera: Scarabaeidae) on the growth of pasture herbage and on the underlying soil. Appl Soil Ecol 29:165–171

Baraud J (1992) Coléoptères Scarabaeoidea d'Europe. Fédération française des Sociétés de Sciences naturelles et Société linnéenne de Lyon

Barnosky AD, Matzke N, Tomiya S, Wogan GOU, Swartz B, Quental TB, Marshall C, McGuire JL, Lindsey EL, Maguire KC (2011) Has the earth's sixth mass extinction already arrived? Nature 471:51–57

Bates D, Mächler M, Bolker B, Walker S (2014) Fitting linear mixed-effects models using lme4. arXiv preprint arXiv:1406.5823

Bolker BM, Brooks ME, Clark CJ, Geange SW, Poulsen JR, Stevens MH, White JS (2009) Generalized linear mixed models: a practical guide for ecology and evolution. TREE 24:127–135

Borghesio L, Luzzatto M, Palestrini C (1999) Interactions between dung, plants and the dung fauna in a heathland in northern Italy. Pedobiologia 43:97–109

Braga RF, Korasaki V, Andresen E, Louzada J (2013) Dung beetle community and functions along a habitat-disturbance gradient in the Amazon: a rapid assessment of ecological functions associated to biodiversity. PLoS One 8:e57786

Brown J, Scholtz CH, Janeau JL, Grellier S, Podwojewski P (2010) Dung beetles (Coleoptera: Scarabaeidae) can improve soil hydrological properties. Appl Soil Ecol 46:9–16

Brussaard L, Visser WJF (1987) Dung exploitation of the dung beetle Typhaeus typhoeus (Coleoptera: Geotrupidae). Oecologia 72:21–27

Bryan RP (1973) The effects of dung beetles activity on the numbers of parasitic gastrointestinal helmintic larvae recovered from pasture samples. Aust J Agric Res 24:161–168

Cardinale BJ, Palmer MA, Collins SL (2002) Species diversity enhances ecosystem functioning through interspecific facilitation. Nature 415:426–429

Chevan A, Sutherland M (1991) Hierarchical partitioning. Am Stat 45:90–96

Couvreur M, Menschaert J, Sevenant M, Ronse A, Van Landuyt W, De Blust G, Antrop M, Hermy M (2004) Ecodistricten en ecoregio's als instrument voor natuurstudie en milieubeleid. Natuur Focus 3:51–58

D'hondt B, Bossuyt B, Hoffmann M, Bonte D (2008) Dung beetles as secondary seed dispersers in a temperate grassland. Basic Appl Ecol 9:542–549

Davis ALV (1996) Seasonal dung beetle activity and dung dispersal in selected South African habitats: implications for pasture improvement in Australia. Agric Ecosyst Environ 58:157–169

Dormont L, Epinat G, Lumaret JP (2004) Trophic preferences mediated by olfactory cues in dung beetles colonizing cattle and horse dung. Environ Entomol 33:370–377

Dormont L, Rapior S, McKey DB, Lumaret JP (2007) Influence of dung volatiles on the process of resource selection by coprophagous beetles. Chemoecology 17:23–30

Doube BM (1990) A functional classification for analysis of the structure of dung beetle assemblages. Ecol Entomol 15:371–383

Feer F (1999) Effects of dung beetles (Scarabaeidae) on seeds dispersed by Howler monkeys (Alouatta seniculus) in the French Guianan rain forest. J Trop Ecol 15:129–142

Fincher GT (1973) Dung beetles as biological-control agents for gastrointestinal parasites of livestock. J Parasitol 59:396–399

Fincher GT (1975) Effects of dung beetle activity on the number of nematode parasites acquired by grazing cattle. J Parasitol 61:759–762

Finn JA (2001) Ephemeral resource patches as model systems for diversity-function experiments. Oikos 92:363–366

Finn JA, Giller PS (2002) Experimental investigations of colonisation by north temperate dung beetles of different types of domestic herbivore dung. Appl Soil Ecol 20:1–13

Finn JA, Gittings T (2003) A review of competition in north temperate dung beetle communities. Ecol Entomol 28:1–13

Finn JA, Gittings T, Giller PS (1999) Spatial and temporal variation in species composition of dung beetle assemblages in southern Ireland. Ecol Entomol 24:24–36

Gittings T, Giller PS (1997) Life history traits and resource utilisation in an assemblage of north temperate Aphodius dung beetles (Coleoptera: Scarabaeidae). Ecography 20:55–66

Gittings T, Giller P (1999) Larval dynamics in an assemblage of Aphodius dung beetles. Pedobiologia 43:439–452

Gittings T, Giller PS, Stakelum G (1994) Dung decomposition in contrasting temperate pastures in relation to dung beetle and earthworm activity. Pedobiologia 38:455–474

Gregory N, Gómez A, Oliveira TMFDS, Nichols E (2015) Big dung beetles dig deeper: trait-based consequences for faecal parasite transmission. Int J Parasitol 45:101–105

Hanski I (1980) Spatial variation in the timing of the seasonal occurrence in coprophagous beetles. Oikos 34:311–321

Hanski I (1987) Nutritional ecology of dung and carrion feeding insects. In: Slanky JF, Rodriguez JG (eds) Nutritional ecology of insects, mites and spiders. Wiley, New York, pp 837–884

Hanski I, Cambefort Y (1991) Dung beetle ecology. Princeton University Press, Princeton

Hanski I, Koskela H (1979) Resource partitioning in six guilds of dung-inhabiting beetles (Coleoptera). Ann Entomol Fenn 45:1–12

Holter P (1982) Resource utilization and local coexistence in a guild of Scarabaeid dung beetles (Aphodius Spp). Oikos 39:213–227

Holter P (1983) Effect of earthworms on the disappearance rate of cattle droppings. In: Satchell JE (ed) Earthworm ecology. Springer, New York, pp 49–57

Holter P (2000) Particle feeding in Aphodius dung beetles (Scarabaeidae): old hypotheses and new experimental evidence. Funct Ecol 14:631–637

Holter P (2004) Dung feeding in hydrophilid, geotrupid and scarabaeid beetles: examples of parallel evolution. Eur J Entomol 101:365–372

Holter P, Scholtz CH (2007) What do dung beetles eat? Ecol Entomol 32:690–697

Holter P, Sommer C, Grønvold J, Madsen M (1993) Effects of ivermectin treatment on the attraction of dung beetles (Coleoptera: Scarabaeidae and Hydrophilidae) to cow pats. Bull Entomol Res 83:53–58

Horgan FG (2001) Burial of bovine dung by coprophagous dung beetle (Coleoptera: Scarabaeidae) from horse and cow grazing sites in El Salvador. Eur J Soil Biol 37:103–111

Horgan FG (2005) Effects of deforestation on diversity, biomass and function of dung beetles on the eastern slope of the Peruvian Andes. For Ecol Manag 216:117–133

Hortal J, Diniz-Filho JAF, Bini LM, Rodríguez MÁ, Baselga A, Nogués-Bravo D, Rangel TF, Hawkins BA, Lobo JM (2011) Ice age climate, evolutionary constraints and diversity patterns of European dung beetles. Ecol Lett 14:741–748

Hothorn T, Bretz F, Westfall P (2008) Simultaneous inference in general parametric models. Biom J 50:346–363

Hutton SA, Giller PS (2003) The effects of the intensification of agriculture on northern temperate dung beetle communities. J Appl Ecol 40:994–1007

Janssens A (1960) Insectes Coléoptères Lamellicornes. Institut Royal des Sciences Naturelles de Belgique, Brussels

Jessop L (1986) Dung beetles and chafers. Royal Entomological Society of London, London

Jost L (2006) Entropy and diversity. Oikos 113:363–375

Larsen TH, Forsyth A (2005) Trap spacing and transect design for dung beetle biodiversity studies. Biotropica 37:322–325

Larsen TH, Williams NM, Kremen C (2005) Extinction order and altered community structure rapidly disrupt ecosystem functioning. Ecol Lett 8:538–547

Losey JE, Vaughan M (2006) The economic value of ecological services provided by insects. Bioscience 56:311–323

Mac Nally R (2000) Regression and model-building in conservation biology, biogeography and ecology: the distinction between––and reconciliation of––'predictive' and 'explanatory' models. Biodiv Conserv 9:655–671

Millennium Ecosystem Assessment (2005) Ecosystems and Human Well-being: Opportunities and Challenges for Business and Industry. World Resources Institute, Washington, DC

Miranda CHB, Santos JC, Bianchin I (2000) The role of Digionthophagus gazella on pasture cleaning and production as a result of burial of cattle dung. Pasturas Tropicales 22:14–19

Naeem S, Wright JP (2003) Disentangling biodiversity effects on ecosystem functioning: deriving solutions to a seemingly insurmountable problem. Ecol Lett 6:567–579

Naeem S, Loreau M, Inchausti P (2002) Biodiversity and ecosystem functioning: the emergence of a synthetic ecological framework. In: Loreau M, Naeem S, Inchausti P (eds) Biodiversity and ecosystem functioning: synthesis and perspectives. Oxford University Press, Oxford, pp 3–11

Nathan R, Schurr FM, Spiegel O, Steinitz O, Trakhtenbrot A, Tsoar A (2008) Mechanisms of long-distance seed dispersal. TREE 23:638–647

Nichols E, Spector S, Louzada J, Larsen T, Amezquita S, Favila ME (2008) Ecological functions and ecosystem services provided by Scarabaeinae dung beetles. Biol Conserv 141:1461–1474

O'Hea NM, Kirwan L, Finn JA (2010) Experimental mixtures of dung fauna affect dung decomposition through complex effects of species interactions. Oikos 119:1081–1088

Ojha RB, Devkota D (2014) Earthworms:'Soil and Ecosystem Engineers'––a Review. World J Agric Res 2:257–260

Penttilä A, Slade EM, Simojoki A, Riutta T, Minkkinen K, Roslin T (2013) Quantifying beetle-mediated effects on gas fluxes from dung pats. PLoS One 8:e71454

Pinheiro J, Bates D, DebRoy S, Sarkar D, R Core Team (2015) nlme: Linear and Nonlinear Mixed Effects Models. R package version 3.1–122

R Core Team (2015) R: a language and environment for statistical computing. R Foundation for Statistical Computing, Vienna

Reiss J, Bridle JR, Montoya JM, Woodward G (2009) Emerging horizons in biodiversity and ecosystem functioning research. TREE 24:505–514

Ridsdill-Smith TJ (1993) Effects of avermectin residues in cattle dung on dung beetle (Coleoptera: Scarabaeidae) reproduction and survival. Vet Parasitol 48:127–137

Rosenlew H, Roslin T (2008) Habitat fragmentation and the functional efficiency of temperate dung beetles. Oikos 117:1659–1666

Schmid B, Hector A, Saha P, Loreau M (2008) Biodiversity effects and transgressive overyielding. J Plant Ecol 1:95–102

Schwartz MW, Brigham CA, Hoeksema JD, Lyons KG, Mills MH, Van Mantgem PJ (2000) Linking biodiversity to ecosystem function: implications for conservation ecology. Oecologia 122:297–305

Shepherd VE, Chapman CA (1998) Dung beetles as secondary seed dispersers: impact on seed predation and germination. J Trop Ecol 14:199–215

Slade EM, Mann DJ, Villanueva JF, Lewis OT (2007) Experimental evidence for the effects of dung beetle functional group richness and composition on ecosystem function in a tropical forest. J Anim Ecol 76:1094–1104

Sowig P (1997) Predation among Sphaeridium larvae: the role of starvation and size differences (Coleoptera Hydrophilidae). Ethol Ecol Evol 9:241–251

Srivastava DS, Vellend M (2005) Biodiversity-ecosystem function research: is it relevant to conservation? Annu Rev Ecol Evol Syst 36:267–294

Steuer P, Südekum KH, Müller DWH, Kaandorp J, Clauss M, Hummel J (2013) Fibre digestibility in large herbivores as related to digestion type and body mass—an in vitro approach. Comp Biochem Physiol 164:319–326

Venables W, Ripley B (2002) Modern applied statistics with S. Springer, New York

Verdú JR, Lobo JM (2008) Ecophysiology of thermoregulation in endothermic dung beetles: ecological and geographical implications. In: Fattorini S (eds) Insect Ecology and Conservation. Research Signpost. pp. 1–28

Walsh C, Mac Nally R (2013) hier.part: Hierarchical Partitioning. R package version 1.0–4

Wardhaugh KG, Mahon RJ (1991) Avermectin residues in sheep and cattle dung and their effects on dung-beetle (Coleoptera: Scarabaeidae) colonization and dung burial. Bull Entomol Res 81:333–339

Yamada D, Imura O, Shi K, Shibuya T (2007) Effect of tunneler dung beetles on cattle dung decomposition, soil nutrients and herbage growth. Grassl Sci 53:121–129

Zuur AF, Ieno EN, Walker NJ, Saveliev AA, Smith GM (2009) Mixed effects models and extensions in ecology with R. Springer, New York
Acknowledgments
This study is part of a larger pan-European multisite project supported by the ALTER-Net consortium, Europe's Ecosystem Research Network; it is co-financed within their multisite experiment programme. We thank the Flemish government and the Agency for Nature and Forest (ANB) for access to their nature reserves, the allowance to sample the dung fauna, and their foresters Koen Marechal and Karel Molenberghs for logistical help. We would like to express our gratitude to the taxonomist Geoffrey Miessen for his help in the identification of many of our dung beetle samples, and the laboratory technicians at INBO for soil texture analysis. We also thank two anonymous reviewers for their helpful comments to improve the first version of this manuscript.
Author contribution statement
TM and MH conceived and designed the experiment and developed the methodology. SQ and TVL conducted fieldwork and identified specimens. TM, SQ and TVL analysed the data. TM, SQ, TVL and MH wrote the manuscript. SQ and TVL equally contributed to the manuscript and are listed in an alphabetical order.
Additional information
Communicated by Roland A. Brandl.
Electronic supplementary material
Below is the link to the electronic supplementary material.
About this article
Cite this article
Milotić, T., Quidé, S., Van Loo, T. et al. Linking functional group richness and ecosystem functions of dung beetles: an experimental quantification. Oecologia 183, 177–190 (2017). https://doi.org/10.1007/s00442-016-3756-5
Received:

Accepted:

Published:

Issue Date:
Keywords
Dung beetles

Dung removal

Secondary seed dispersal

Functional groups