Abstract
Pollen limitation may be an important factor in accelerated decline of sparse or fragmented populations. Little is known whether hydrophilous plants (pollen transport by water) suffer from an Allee effect due to pollen limitation or not. Hydrophilous pollination is a typical trait of marine angiosperms or seagrasses. Although seagrass flowers usually have high pollen production, floral densities are highly variable. We evaluated pollen limitation for intertidal populations of the seagrass Zostera noltei in The Netherlands and found a significant positive relation between flowering spathe density and fruit-set, which was suboptimal at <1200 flowering spathes m−2 (corresponding to <600 reproductive shoots m−2). A fragmented population had ≈35 % lower fruit-set at similar reproductive density than a continuous population. 75 % of all European populations studied over a large latitudinal gradient had flowering spathe densities below that required for optimal fruit-set, particularly in Southern countries. Literature review of the reproductive output of hydrophilous pollinated plants revealed that seed- or fruit-set of marine hydrophilous plants is generally low, as compared to hydrophilous freshwater and wind-pollinated plants. We conclude that pollen limitation as found in Z. noltei may be a common Allee effect for seagrasses, potentially accelerating decline and impairing recovery even after environmental conditions have improved substantially.
Access options
Buy single article
Instant access to the full article PDF.
US$ 39.95
Tax calculation will be finalised during checkout.
Subscribe to journal
Immediate online access to all issues from 2019. Subscription will auto renew annually.
US$ 119
Tax calculation will be finalised during checkout.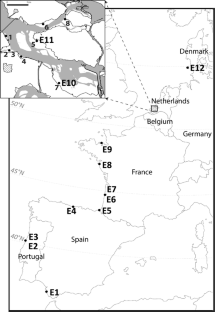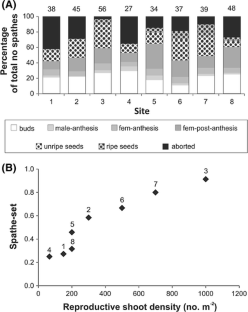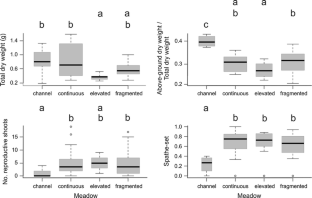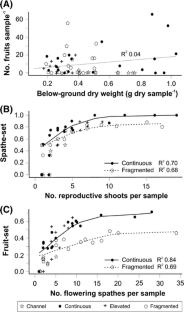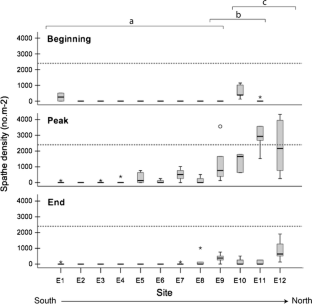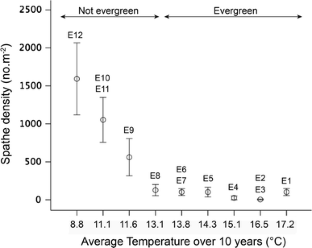 References
Ackerman JD (2006) Sexual reproduction of seagrasses: pollination in the marine context. In: Larkum AWD, Orth RJ, Duarte CM (eds) Seagrasses: biology, ecology and conservation. Springer, The Netherlands, pp 89–109

Aguilar R, Ashworth L, Galetto L, Aizen MA (2006) Plant reproductive susceptibility to habitat fragmentation: review and synthesis through a meta-analysis. Ecol Lett 9:968–980

Alexandre A, Santos R, Serrão E (2005) Effects of clam harvesting on sexual reproduction of the seagrass Zostera noltii. Mar Ecol Progr Ser 298:115–122

Alexandre A, Cabaçao Santos R, Serrão EA (2006) Timing and success of reproductive stages in the seagrass Zostera noltii. Aquat Bot 85:219–223

Apostolaki ET, Marbà N, Holmer M, Karakassis I (2009) Fish farming enhances biomass and nutrient loss in Posidonia oceanica (L.) Delile. Estuar Coast Shelf Sci 81:390–400

Ashman T-L, Knight TM, Steets JA, Amarasekare P, Burd M, Campbell DR, Dudash MR, Johnston MO, Mazer SJ, Mitchell RJ, Morgan MT, Wilson WG (2004) Pollen limitation of plant reproduction: ecological and evolutionary causes and consequences. Ecology 85:2408–2421

Auby I, Labourg P-J (1996) Seasonal dynamics of Zostera noltii Hornem. In the bay of Arcachon (France). J Sea Res 35:269–277

Balestri E, Cinelli F (2003) Sexual reproductive success in Posidonia oceanica. Aquat Bot 75:21–32

Bell SS, Robbins BD, Jensen SL (1999) Gap dynamics in a seagrass landscape. Ecosystems 2:493–504

Brun FG, Pérez-Lloréns JL, Hernández I, Vergara JJ (2003) Patch distribution and within-patch dynamics of Zostera noltii Hornem. Properties at Rio San Pedro inlet (Cádiz, Spain). Bot Mar 46:513–524

Buckel CA, Blanchette CA, Warner RR, Gaines SD (2012) Where a male is hard to find: consequences of male rarity in the surfgrass Phyllospadix torreyi. Mar Ecol Prog Ser 449:121–132

Buia MC, Mazzella L (1991) Reproductive phenology of the Mediterranean seagrasses Posidonia oceanica (L.) Delile, Cymodocea nodosa (Ucria) Aschers., and Zostera noltii Hornem. Aquat Bot 40:343–362

Burd M (1994) Bateman's principole and plant production: the role of pollen limitation in fruit and seed set. Bot Rev 60:83–139

Cabaco S, Santos R (2012) Seagrass reproductive effort as an ecological indicator of disturbance. Ecol Indic 23:116–122

Cabaço S, Machás S, Santos R (2009) Individual and population plasticity of the seagrass Zostera noltii along an intertidal gradient. Estuar Coastal Shelf Sci 82:301–308

Cabaço S, Santos R, Sprung M (2012) Population dynamics and production of the seagrass Zostera noltii in colonizing versus established meadows. Mar Ecol 33:280–289

Campey ML, Kendrick GA, Walker DI (2002) Interannual and small-scale spatial variability in sexual reproduction of the seagrasses Posidonia coriacea and Heterozostera tasmanica, southwestern Australia. Aquat Bot 74:287–297

Carr J, D'Odorico P, McGlathery K, Wiberg P (2010) Stability and bistability of seagrass ecosystems in shallow coastal lagoons: role of feedbacks with sediment resuspension and light attenuation. J Geophys Res Biogeosci 115:G03011

Churchill AC, Riner MI (1978) Anthesis and seed production in Zostera marina L. from Great South Bay, New York, U.S.A. Aquat Bot 4:83–93

Coyer JA, Diekman OE, Serrão EA, Procaccini G, Milchakova N, Pearson GA, Stam WT, Olsen JL (2004) Population genetics of dwarf eelgrass Zostera noltii throughout its biogeographic range. Mar Ecol Progr Ser 281:51–62

Davis HG, Taylor CM, Lambrinos JG, Strong DR (2004) Pollen limitation causes an Allee effect in a wind-pollinated invasive grass (Spartina alterniflora). Proc Nat Acad Sci USA 101:13804–13807

Duarte C (1989) Temporal biomass variability and production/biomass relationships of seagrass communities. Mar Ecol Prog Ser 51:269–276

Duarte CM, Dennison WC, Orth RJ, Carruthers TJ (2008) The charisma of coastal ecosystems: addressing the imbalance. Estuar Coasts 31:233–238

Eckert CG (2002) The loss of sex in clonal plants. Evol Ecol 15:501–520

Friedman J, Barrett SCH (2009) Wind of change: new insights on the ecology and evolution of pollination and mating in wind-pollinated plants. Ann Bot 103:1515–1527

Govers LL, Bouma TJ, van der Ent E, Suykerbuyk W, Godet L, Asmus RM, van der Heide T, van Katwijk MM (2014) Feedbacks and local environmental settings affect persistence and recovery dynamics of a coastal ecosystem. In: The effects of biogeochemical stressors on seagrass ecosystems, PhDThesis, Radboud University Nijmegen, chapter 4: pp 54–69

Hämmerli A, Reusch TBH (2003) Flexible mating: cross-pollination affects sex-expression in a marine clonal plant. J Evol Biol 16:1096–1105

Haynes RR (1997) Najadaceae. In: Flora of North America Editorial Committee, eds. 1993+. Flora of North America North of Mexico, New York and Oxford. FNA Vol. 22 (http://www.eFloras.org). Accessed 5 Aug 2014

Hesse E, Pannell JR (2011) Density-dependent pollen limitation and reproductive assurance in a wind-pollinated herb with contrasting sexual systems. J Ecol 99:1531–1539

Holland JN, Chamberlain SA (2007) Ecological and evolutionary mechanisms for low seed:ovule ratios: need for a pluralistic approach? Ecology 88:706–715

Hootsmans MJM, Vermaat JE, van Vierssen W (1987) Seedbank development, germination and early seedling survival of two seagrass species from the Netherlands: Zostera marina L. and Zostera noltii Hornem. Aquat Bot 28:275–285

Huang SQ, Guo YH, Robert GW, Shi YH, Sun K (2001) Mechanism of underwater pollination in Najas marina (Najadaceae). Aquat Bot 70:67–78

Hughes AR, Stachowicz JJ (2009) Ecological impacts of genotypic diversity in the clonal seagrass Zostera marina. Ecology 90:1412–1419

IPCC (2014) Climate change 2014: impacts, adaptation, and vulnerability. Part A: global and sectoral aspects. In: Field CB, Barros VR, Dokken DJ, Mach KJ, Mastrandrea MD, Bilir TE, Chatterjee M, Ebi KL, Estrada YO, Genova RC, Girma B, Kissel ES, Levy AN, MacCracken S, Mastrandrea PR, White LL (eds) Contribution of working group II to the fifth assessment report of the intergovernmental panel on climate change. Cambridge University Press, Cambridge, p 1132

Jensen HS, McGlathery KJ, Marino R, Howarth RW (1998) Forms and availability of sediment phosphorus in carbonate sand of Bermuda seagrass beds. Limnol Oceanogr 43:799–810

Knight TM, Steets JA, Vamosi JC, Mazer SJ, Burd M, Campbell DR, Dudash MR, Johnston MO, Mitchell RJ, Ashman TL (2005) Pollen limitation of plant reproduction: patterns and processes. Annu Rev Ecol Evol Syst 36:467–497

Kuo J, Long WL, Coles RG (1993) Occurrence and fruit and seed biology of Halophila tricostata Greenway (Hydrocharitaceae). Mar Freshwr Res 44:43–57

Louters T, van der Berg JH, Mulder JPM (1998) Geomorphological changes of the Oosterschelde tidal system during and after the implementation of the delta project. J Coast Res 14:1134–1151

Orth RJ, Carruthers TJB, Dennison WC, Duarte CM, Fourqurean JW, Heck KL Jr, Hughes AR, Kendrick GA, Kenworthy WJ, Olyarnik S, Short FT, Waycott M, Williams SL (2006) A global crisis for seagrass ecosystems. Bioscience 56:987–996

Ouborg NJ, Piquot Y, van Groenendael JM (1999) Population genetics, molecular markers and the study of dispersal in plants. J Ecol 87:551–568

Peralta G, Pérez-Lloréns Hernández I, Brun F, Vergara JJ, Bartual A, Gálvez JA, García CM (2000) Morphological and physiological differences between two morphotypes of Zostera noltii Hornem. from the south-western Iberian Peninsula. Helgol Mar Res 54:80–86

Peralta G, Brun FG, Hernández I, Vergara JJ, Pérez-Llorens JL (2005) Morphometric variations as acclimation mechanisms in Zostera noltii beds. Estuar Coast Shelf Sci 64:347–356

Qi L-Z, Li W-T, Zhang X-M, Nie M, Li Y (2014) Sexual reproduction and seed dispersal pattern of annual and perennial Zostera marina in a heterogeneous habitat. Wetlands Ecol Manage 22:671–682

R Core Team (2013). R: a language and environment for statistical computing. R Foundation for Statistical Computing, Vienna, Austria. ISBN 3-900051-07-0. http://www.R-project.org/. Accessed 14 Nov 2014

Reusch TBH (2001) Fitness-consequences of geitonogamous selfing in a clonal marine angiosperm (Zostera marina). J Evol Biol 14:129–138

Reusch TBH (2003) Floral neighbourhoods in the sea: how floral density, opportunity for outcrossing and population fragmentation affect seed set in Zostera marina. J Ecol 91:610–615

Ruggiero MV, Capone S, Pirozzi P, Reusch TBH, Procaccini G (2005) Mating system and clonal architecture: a comparative study in two marine angiosperms. Evol Ecol 19:487–499

Scheffer M, Carpenter S, Foley JA et al (2001) Catastrophic shifts in ecosystems. Nat 413:591–596

Shelton AO (2008) Skewed sex ratios, pollen limitation, and reproductive failure in the dioecious seagrass Phyllospadix. Ecology 89:3020–3029

Silberhorn GM, Orth RJ, Moore KA (1983) Anthesis and seed production in Zostera marina L. (eelgrass) from Chesapeake Bay. Aquat Bot 15:133–144

Silvertown J (2008) The evolutionary maintenance of sexual reproduction: evidence from the ecological distribution of asexual reproduction in clonal plants. Int J Plant Sci 169:157–168

Smith NM, Walker DI (2002) Canopy structure and pollination biology of the seagrasses Posidonia australis and P. sinuosa (Posidoniaceae). Aquat Bot 74:57–70

Suykerbuyk W, Bouma TJ, Van Der Heide T, Faust C, Govers LL, Giesen WBJT, De Jong DJ, Van Katwijk MM (2012) Suppressing antagonistic bioengineering feedbacks doubles restoration success. Ecol Appl 22:1224–1231

Suykerbuyk W, Bouma TJ, Govers LL, Giesen K, De Jong DJ, Herman P, Hendriks J, Van Katwijk MM (2015) Surviving in changing seascapes: sediment dynamics as bottleneck for long-term seagrass presence. Ecosystems 19:296–310

Valdemarsen T, Wendelboe K, Egelund JT, Kristensen E, Flindt MR (2011) Burial of seeds and seedlings by the lugworm Arenicola marina hampers eelgrass (Zostera marina) recovery. JEMBE 410:45–52

Van der Heide T, Smolders AJP, Rijkens BGA, van Nes EH, van Katwijk MM, Roelofs JGM (2008) Toxicity of reduced nitrogen in eelgrass Zostera marina is highly dependent on shoot density and pH. Oecologia 158:411–419

Van Katwijk MM, Thorhaug A, Marbà N et al (2016) Global analysis of seagrass restoration: The importance of large-scale planting. J Appl Ecol 53:567–578

Van Tussenbroek BI, Muhlia Montero M (2013) Can floral consumption by fish shape traits of seagrass flowers? Evol Ecol 27:269–284

Van Tussenbroek BI, Marquéz Guzmán J, Wong R (2009) Phenology of marine angiosperms (seagrasses): reproductive synchrony in the sea. In: Gamboa-deBuen A, Orozco-Segovia A, Cruz-Garcia F (eds) Functional approach to sexual plant reproduction. Research Signpost, India, pp 17–46

Van Tussenbroek BI, Muhlia Montero M, Wong R, Barba Santos MG, Márquez Guzmán J (2010) Pollen limitation in a dioecious seagrass: evidence from a field experiment. Mar Ecol Prog Ser 419:283–288

Verduin JJ, Backhuis JO, Walker DI (2002) Estimates of pollen dispersal and capture within Amphibolis Antarctica (Labill.) Sonder and Aschers. Ex Aschers. Meadows. Bull Mar Sc 71:563–572

Vermaat JE, Verhagen FCA (1996) Seasonal variation in the intertidal seagrass Zostera noltii Hornem.: coupling demographic and physiological patterns. Aquat Bot 52:259–281

Vermaat JE, Rollon RN, Lacap CDA, Billot C, Alberto F, Nacorda HME, Wiegman F, Terrados J (2004) Meadow fragmentation and reproductive output of the SE Asian seagrass Enhalus encoroides. J Sea Res 52:321–328

Waycott M, Duarte CM, Carruthers TJB et al (2009) Accelerating loss of seagrasses across the globe threatens coastal ecosystems. Proc Natl Acad Sci USA 106:12377–12381

Weeks SC (1993) The effects of recurrent clonal formation on clonal invasion patterns and sexual persistence: a Monte Carlo simulation of the frozen niche-variation model. Am Nat 141:409–427

Wetsteyn LPMJ, Kromkamp JC (1994) Turbidity, nutrients and phytoplankton primary production in the Oosterschelde (The Netherlands) before, during and after a large-scale coastal engineering project (1980–1990). Hydrobiologia 282:61–78

Williams S (1990) Experimental studies of Caribbean seagrass bed development. Ecol Monogr 60:449–469

Williams S (1995) Surfgrass (Phyllospadix torreyi) reproduction: reproductive phenology, resource allocation and male rarity. Ecology 76:1953–1970

Zipperle AM, Coyer JA, Reise K, Stamm WT, Olsen JL (2009a) Clonal architecture in an intertidal bed of the dwarf eelgrass Zostera noltii in the Northern Wadden Sea: persistence through extreme physical perturbation and the importance of a seed bank. Mar Biol 156:2139–2148

Zipperle AM, Coyer JA, Reise K, Stamm WT, Olsen JL (2009b) Evidence for persistent seed banks in dwarf eelgrass Zostera noltii in the German Wadden Sea. Mar Ecol Prog Ser 380:73–80

Zipperle AM, Coyer JA, Reise K, Stamm WT, Olsen JL (2011) An evaluation of small-scale genetic diversity and mating system in Zostera noltii on an intertidal sandflat in the Wadden Sea. Ann Bot 107:127–133
Acknowledgments
The first author (BIvT) received a grant for sabbatical period of Dirección General del Personal Académico of Universidad Nacional Autónoma de México. The second author (LS) was supported by the Netherlands Organisation for Scientific Research (No. 843.10.003). The authors are grateful to all students and volunteers who helped to collect samples as part of the European sampling study and to Mirjam Mooijman for help with laboratory analyses. We thank Wouter Suykerbuyk for his contribution to the artwork.
Author contribution statement
BIvT, MvK: conceived and designed and analyzed the section on pollen limitation. LS, TJB, MvK and others (FGB, GP, PGC, TFG, BO, MV, J-MG, FG, LG, JF, PK, RA): design, execution, data analysis of European sampling. BIvT, MvK, LS wrote the manuscript; other authors provided editorial advise
Additional information
Communicated by James Fourqurean.
About this article
Cite this article
Van Tussenbroek, B.I., Soissons, L.M., Bouma, T.J. et al. Pollen limitation may be a common Allee effect in marine hydrophilous plants: implications for decline and recovery in seagrasses. Oecologia 182, 595–609 (2016). https://doi.org/10.1007/s00442-016-3665-7
Received:

Accepted:

Published:

Issue Date:
Keywords
Abiotic pollination

Density dependence

Habitat fragmentation

Seed production

Zostera noltei