Abstract
Timing of precipitation is equally important as amount for determining ecosystem function, especially aboveground net primary productivity (ANPP), in a number of ecosystems. In tallgrass prairie of the Central Plains of North America, grass flowering stalks of dominant C4 grasses, such as Andropogon gerardii, can account for more than 70 % of ANPP, or almost none of it, as the number of flowering stalks produced is highly variable. Although growing season precipitation amount is important for driving variation in flowering stalk production, it remains unknown whether there are critical periods within the growing season in which sufficient rainfall must occur to allow for flowering. The effect of timing of rainfall deficit (drought) on flowering of A. gerardii, was tested by excluding rainfall during three periods within the growing season (starting in mid-April, mid-May and mid-June). Mid-summer drought (starting in mid-June) strongly reduced the flowering rate (e.g., density and biomass) of A. gerardii (e.g., as high as 94 % compared to the control), suggesting flowering is highly sensitive to precipitation at this time. This effect appeared to be related to plant water status at the time of flowering stalk initiation, rather than an indirect consequence of reduced C assimilation. Our results suggest that increased frequency of growing season drought forecast with climate change could reduce sexual reproduction in this dominant grass species, particularly if it coincides with timing of flowering stalk initiation, with important implications for ecosystem functioning.
Access options
Buy single article
Instant access to the full article PDF.
USD 39.95
Price excludes VAT (USA)
Tax calculation will be finalised during checkout.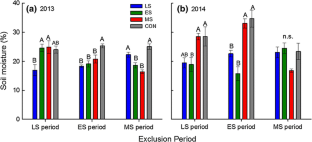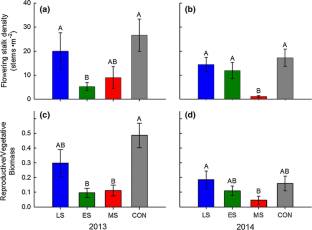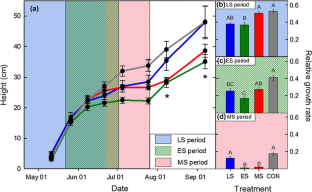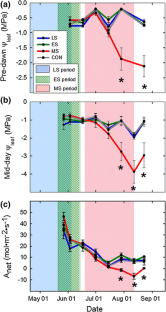 References
Benson E, Hartnett D (2006) The role of seed and vegetative reproduction in plant recruitment and demography in tallgrass prairie. Plant Ecol 187:163–178

Briggs J, Knapp A (1995) Interannual variability in primary production in tallgrass prairie: climate, soil moisture, topographic position, and fire as determinants of aboveground biomass. Am J Bot 82:1024–1030

Craine J (2013) The importance of precipitation timing for grassland productivity. Plant Ecol 214:1085–1089. doi:10.1007/s11258-013-0236-4

Craine JM, Towne EG, Nippert JB (2010) Climate controls on grass culm production over a quarter century in a tallgrass prairie. Ecology 91:2132–2140

Craine JM, Nippert JB, Elmore AJ, Skibbe AM, Hutchinson SL, Brunsell NA (2012) Timing of climate variability and grassland productivity. Proc Natl Acad Sci 109:3401–3405. doi:10.1073/pnas.1118438109

Curtis J, Partch MAX (1950) Some factors affecting flower production in Andropogon gerardi. Ecology 31:488–489

Hulbert L (1988) Causes of fire effects in tallgrass prairie. Ecology 69:46–58

Kelly D (2001) Evaluating the wind pollination benefits of mast seeding. Ecology 82:117–126

Knapp AK (1984) Water relations and growth of three grasses during wet and drought years in a tallgrass prairie. Oecologia 65:35–43. doi:10.1007/BF00384460

Knapp AK (1985) Effect of fire and drought on the ecophysiology of Andropogon gerardii and Panicum virgatum in a tallgrass prairie. Ecology 66:1309–1320

Knapp AK, Hulbert L (1986) Production, density and height of flower stalks of three grasses in annually burned and unburned eastern kansas tallgrass prairie: a 4 year record. Southwest Nat 31:235–241

Knapp AK, Seastedt TR (1986) Detritus accumulation limits productivity of tallgrass prairie. Bioscience 36:662–668

Knapp AK, Briggs JM, Koelliker JK (2001) Frequency and extent of water limitation to primary production in a mesic temperate grassland. Ecosystems 4:19–28

Knapp AK, Fay PA, Blair JM, Collins SL, Smith MD, Carlisle JD, Harper CW, Danner BT, Lett MS, McCarron JK (2002) Rainfall variability, carbon cycling, and plant species diversity in a mesic grassland. Science 298:2202–2205

Kucera CL, Ehrenreich J (1962) Some effects on annual burning on Central Missouri Prairie. Ecology 43:334

La Pierre KJ, Yuan S, Chang CC, Avolio ML, Hallett LM, Schreck T, Smith MD (2011) Explaining temporal variation in above-ground productivity in a mesic grassland: the role of climate and flowering. J Ecol 99:1250–1262. doi:10.1111/j.1365-2745.2011.01844.x

McCune B, Grace J (2002) Analysis of ecological communities. MjM Software, Bleneden Beach

Muller B, Pantin F, Génard M, Turc O, Freixes S, Piques M, Gibon Y (2011) Water deficits uncouple growth from photosynthesis, increase C content, and modify the relationships between C and growth in sink organs. J Exp Bot 62:1715–1729

NRCS (2014) NRCS web soil survey. USDA National Resources Conservation Service

Owensby C, Hyde R, Anderson K (1970) Effects of clipping and supplemental nitrogen and water on loamy upland bluestem range. J Range Manage 23:341

Owensby CE, Coyne PI, Ham JM, Auen LM, Knapp AK (1993) Biomass production in a tallgrass prairie ecosystem exposed to ambient and elevated CO2. Ecol Appl 3:644–653

Robinson TMP, La Pierre KJ, Vadeboncoeur MA, Byrne KM, Thomey ML, Colby SE (2013) Seasonal, not annual precipitation drives community productivity across ecosystems. Oikos 122:727–738. doi:10.1111/j.1600-0706.2012.20655.x

Seastedt TR, Knapp AK (1993) Consequences of nonequilibrium resource availability across multiple time scales: the transient maxima hypothesis. Am Nat 141:621–633

Selbo SM, Snow AA (2005) flowering phenology and genetic similarity among local and recently introduced populations of Andropogon gerardii in Ohio. Restor Ecol 13:441–447. doi:10.1111/j.1526-100X.2005.00055.x

Sheffield J, Wood EF (2008) Projected changes in drought occurrence under future global warming from multi-model, multi-scenario, IPCC AR4 simulations. Clim Dyn 31:79–105

Sherry RA, Zhou X, Gu S, Arnone JA III, Schimel DS, Verburg PS, Wallace LL, Luo Y (2007) Divergence of reproductive phenology under climate warming. Proc Natl Acad Sci 104:198–202. doi:10.1073/pnas.0605642104

Smith M, Knapp A (2003) Dominant species maintain ecosystem function with non-random species loss. Ecol Lett 6:509–517

Smith C, Hamrick JL, Kramer C (1990) The advantage of mast years for wind pollination. Am Nat 136:154–166

Swemmer AM, Knapp AK, Smith MD (2006) Growth responses of two dominant C4 grass species to altered water availability. Int J Plant Sci 167:1001–1010. doi:10.1086/505611

Wang Y, Li L, Ye T, Lu Y, Chen X, Wu Y (2013) The inhibitory effect of ABA on floral transition is mediated by ABI5 in Arabidopsis. J Exp Bot 64:675–684

Wilcox K, von Fischer J, Muscha J, Petersen M, Knapp A (2015) Contrasting above- and belowground sensitivity of three Great Plains grasslands to altered rainfall regimes. Glob Change Biol 21:335–344
Acknowledgments
We thank the many individuals who helped make this work possible. Fieldwork assistance was provided by Lauren Baur, Francis Chaves, Elsie Denton, Andrew Felton, Ava Hoffman, Brian Leinwetter, Whitney Mowll, and Mariah Patton. Laboratory assistance was provided by Brianna Magbual and Katie Michaels. Meghan Avolio and Sally Koerner provided help with the shelter design. Philip Turk's advice on statistical analysis was very valuable. Alan Knapp and Troy Ocheltree provided many valuable insights on overall experimental design and plant physiology. None of this work would have been possible without the Konza Prairie Biological Station and the people who work there, especially Patrick O'Neal. Support was provided by the National Science Foundation Long-term Ecological Research program.
Author contribution statement
J. D. D. and M. D. S. conceived and designed the experiment. J. D. D. executed the study, analyzed the data, made all tables and figures, and wrote the first draft of the manuscript. J. D. D. and M. D. S. contributed to revisions.
Additional information
Communicated by Rowan Sage.
About this article
Cite this article
Dietrich, J.D., Smith, M.D. The effect of timing of growing season drought on flowering of a dominant C4 grass. Oecologia 181, 391–399 (2016). https://doi.org/10.1007/s00442-016-3579-4
Received:

Accepted:

Published:

Issue Date:

DOI: https://doi.org/10.1007/s00442-016-3579-4
Keywords
Andropogon gerardii

Aboveground net primary productivity

Ecophysiology

Precipitation timing

Tallgrass prairie