Abstract
Investigating the effects of invasive species on native biodiversity is one of the most pressing challenges in ecology. Our goal in this study was to quantify the effects of invasive plants on butterfly and moth communities. In addition, we sought to elucidate the fitness consequences of non-native hosts on lepidopterans. We conducted a meta-analysis on a total of 76 studies which provided data on larval performance, survival, oviposition preference, abundance, and species richness of Lepidoptera on native and exotic plants. Overwhelmingly, we found that performance and survival were reduced for larvae developing on exotic hosts, relative to native hosts. At the community level, alien plant invasion was associated with a reduction in the overall abundance and richness of lepidopteran communities. We found that lepidopterans did not show strong oviposition preference for native hosts. This result suggests that many invasive plant species may decrease lepidopteran abundance by providing a target for oviposition where larvae have a relatively poor chance of survival. Among studies that tested both survival and preference on exotic hosts, 37.5 % found evidence for novel hosts that could function as ecological traps (the figure was 18 % when considering studies that only assayed larval performance). Thus, although the majority of novel hosts included in our analyses are not likely to act as ecological traps, the potential clearly exists for this effect, and the role of ecological traps should be considered along with other aspects of global change impacting natural communities.
This is a preview of subscription content, log in to check access.
Access options
Buy single article
Instant access to the full article PDF.
US$ 39.95
Price includes VAT for USA
Subscribe to journal
Immediate online access to all issues from 2019. Subscription will auto renew annually.
US$ 199
This is the net price. Taxes to be calculated in checkout.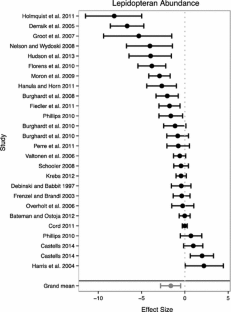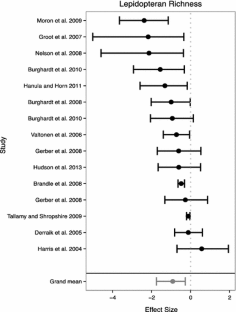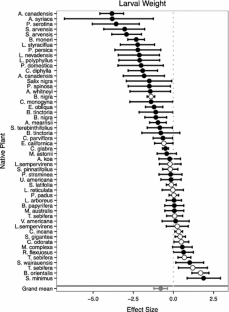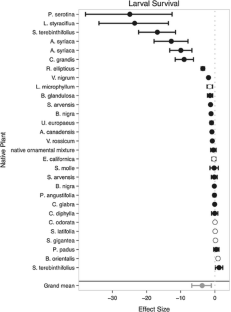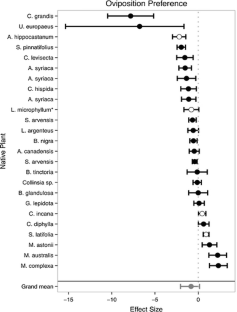 References
Agosta SJ (2006) On ecological fitting, plant–insect associations, herbivore host shifts, and host plant selection. Oikos 114:556–565

Battin J (2004) When good animals love bad habitats: ecological traps and the conservation of animal populations. Conserv Biol 18:1482–1491

Begg CB, Mazumdar M (1994) Operating characteristics of a rank correlation test for publication bias. Biometrics 50:1088–1101

Bertheau C, Brockerhoff EG, Roux-Morabito G, Lieutier F, Jactel H (2010) Novel insect–tree associations resulting from accidental and intentional biological 'invasions': a meta-analysis of effects on insect fitness. Ecol Lett 13:506–515

Bezemer TM, Harvey JA, Cronin JT (2014) Response of native insect communities to invasive plants. Annu Rev Entomol 59:119–141

Bowers DM, Stamp NE, Collinge SK (1992) Early stage of host range expansion by a specialist herbivore, Euphydryas phaeton (Nymphalidae). Ecology 73:526–536

Burghardt KT, Tallamy DW, Shriver GW (2009) Impact of native plants on bird and butterfly biodiversity in suburban landscapes. Conserv Biol 23:219–224

Burghardt KT, Tallamy DW, Phillips C, Shropshire KJ (2010) Non-native plants reduce abundance, richness, and host specialization in lepidopteran communities. Ecosphere 1:1–22

Carroll SP, Boyd C (1992) Host race radiation in the soapberry bug: natural history with the history. Evolution 46:1052–1069

Cogni R (2010) Resistance to plant invasion? A native specialist herbivore shows preference for and higher fitness on an introduced host. Biotropica 42:188–193

Davis MA, Chew MK, Hobbs RJ, Lugo AE, Ewel JJ, Vermeij GJ, Brown JH, Rosenzweig ML, Gardener MR, Carroll SP, Thompson K, Pickett ST, Stromberg JC, Tredici PD, Suding KN, Ehrenfeld JG, Grime JP, Mascaro J, Briggs JC (2011) Don't judge species on their origins. Nature 474:153–154

DiTommaso A, Losey JE (2003) Oviposition preference and larval performance of monarch butterflies (Danaus plexippus) on two invasive swallow-wort species. Entomol Exp Appl 108:205–209

Dowell RV, Scriber JM, Lederhouse RC (1990) Survival of Papilio rutulus Lucas (Lepidoptera: Papilionidae) larvae on 42 potential host plants. Pan-Pac Entomol 66:140–146

Erhardt A (1985) Diurnal Lepidoptera: sensitive indicators of cultivated and abandoned grassland. J Appl Ecol 22:849–861

Florens FBV, Mauremootoo JR, Fowler SV, Winder L, Baider C (2010) Recovery of indigenous butterfly community following control of invasive alien plants in a tropical island's wet forests. Biodivers Conserv 19:3835–3848

Forister ML, Wilson JS (2013) The population ecology of novel plant–herbivore interactions. Oikos 122:657–666

Forister ML, Nice CC, Fordyce JA, Gompert Z (2009) Host range evolution is not driven by the optimization of larval performance: the case of Lycaeides melissa (Lepidoptera: Lycaenidae) and the colonization of alfalfa. Oecologia 160:551–561

Fortuna TM, Woelke JB, Hordijk CA, Jansen JJ, Dam NM, Vet LEM, Harvey JA (2013) A tritrophic approach to the preference–performance hypothesis involving an exotic and a native plant. Biol Invasions 15:2387–2401

Gerber E, Krebs C, Murrell C, Moretti M, Rocklin R, Schaffner U (2008) Exotic invasive knotweeds (Fallopia spp.) negatively affect native plant and invertebrate assemblages in European riparian habitats. Biol Conserv 141:646–654

Gillespie M, Wratten SD (2011) Oviposition preference of Lycaena salustius for, and larval performance on, a novel host plant: an example of ecological fitting. Ecol Entomol 36:616–624

Gratton C (2006) Interactions between a native silkmoth Hemileuca sp. and an invasive wetland plant, Lythrum salicaria. Ann Entomol Soc Am 99:1182–1190

Graves SD, Shapiro AM (2003) Exotics as host plants of the California butterfly fauna. Biol Conserv 110:413–433

Gripenberg S, Mayhew PJ, Parnell M, Roslin T (2010) A meta-analysis of preference–performance relationships in phytophagous insects. Ecol Lett 13:383–393

Hanula JL, Horn S (2011) Removing an exotic shrub from riparian forests increases butterfly abundance and diversity. For Ecol Manage 262:674–680

Harris RJ, Toft RJ, Dugdale JS, Williams PA, Rees JA (2004) Insect assemblages in a native (kanuka-Kunzea ericoides) and an invasive (gorse-Ulex europaeus) shrubland. N Z J Ecol 28:35–47

Harvey JA, Biere A, Fortuna TM, Vet LEM, Engelkes T, Morrien E, Gols R, Verhoeven K, Vogel H, Macel M, Heidel-Fischer HM, Schramm K, Van Der Putten WH (2010) Ecological fits, mis-fits and lotteries involving insect herbivores on the invasive plant, Bunias orientalis. Biol Invasions 12:3045–3059

Hobbs RJ, Arico S, Aronson J, Baron JS, Bridgewater P, Cramer VA, Epstein PR, Ewel JJ, Klink CA, Lugo AE, Norton D, Ojima D, Richardson DM, Sanderson EW, Valladares F, Vila M, Zamora R, Zobel M (2006) Novel ecosystems: theoretical and management aspects of the new ecological world order. Glob Ecol Biogeogr 15:1–7

Keeler MS, Chew FS (2008) Escaping an evolutionary trap: preference and performance of a native insect on an exotic invasive host. Oecologia 156:559–568

Kicinski M (2013) Publication bias in recent meta-analyses. PLoS One 8:e81823

Knerl A, Bowers DM (2013) Incorporation of an introduced weed into the diet of a native butterfly: consequences for preference, performance and chemical defense. J Chem Ecol 39:1313–1321

Kolar CS, Lodge DM (2001) Progress in invasion biology: predicting invaders. Trends Ecol Evol 16:199–204

Koricheva J, Gurevitch J, Mengersen K (2013) Handbook of meta-analysis in ecology and evolution. Princeton University Press, Princeton

Mattila HR, Otis GW (2003) A comparison of the host preference of monarch butterflies (Danaus plexippus) for milkweed (Asclepias syriaca) over dog-strangler vine (Vincetoxicum rossicum). Entomol Exp Appl 107:193–199

Messina FJ (2004) How labile are the egg-laying preferences of seed beetles? Ecol Entomol 29:318–326

Moroń D, Lenda M, Skorka P, Szentgyorgyi H, Settele J, Woyciechowski M (2009) Wild pollinator communities are negatively affected by invasion of alien goldenrods in grassland landscapes. Biol Conserv 142:1322–1332

Nelson MS, Wydoski R (2008) Riparian butterfly (Papilionoidea and Hesperioidea) assemblages associated with tamarix-dominated, native vegetation-dominated, and tamarix removal sites along the Arkansas River, Colorado, USA. Restor Ecol 16:168–179

New TR (1997) Are Lepidoptera an effective 'umbrella group' for biodiversity conservation? J Insect Conserv 1:5–12

Philips CR (2010) Why some plants host more species of Lepidoptera than others: how natural enemies and native lineage influence lepidopteran use of native and alien plants. Master's thesis, Department of Entomology and Wildlife Ecology, University of Delaware, Newark

Plummer M (2016) rjags: Bayesian Graphical Models using MCMC. R package version 4–5. https://CRAN.R-project.org/package=rjags

R Development Core Team (2010). R: a language and environment for statistical computing. R Foundation for Statistical Computing, Vienna, Austria. https://www.R-project.org/

Reed E (2010) Bottom-up effect on top-down control in a suburban landscape. Master's thesis, Department of Wildlife Ecology, University of Delaware, Newark

Robertson BA, Hutto RL (2006) A framework for understanding ecological traps and an evaluation of existing evidence. Ecology 87:1075–1085

Ryall KL (2010) Effects of larval host plant species on fecundity of the generalist insect herbivore Ennomos subsignarius (Lepidoptera: Geometridae). Environ Entomol 39:121–126

Schlaepfer MA, Sherman PW, Blossey B, Runge MC (2005) Introduced species as evolutionary traps. Ecol Lett 8:241–246

Schooler SS, McEvoy PB, Hammond P, Coombs EM (2009) Negative per capita effects of two invasive plants, Lythrum salicaria and Phalaris arundinacea, on the moth diversity of wetland communities. Bull Entomol Res 99:229–243

Shackelford N, Hobbs RJ, Heller NE, Hallett LM, Seastedt TR (2013) Finding a middle-ground: the native/non-native debate. Biol Conserv 158:55–62

Shapiro AM (2002) The Californian urban butterfly fauna is dependent on alien plants. Divers Distrib 8:31–40

Simberloff D (2011) Non-natives: 141 scientists object. Nature 475:36–36

Singer MC (2008) Rapid natural and anthropogenic diet evolution: three examples from checkerspot butterflies. Specialization, speciation, and radiation: the evolutionary biology of herbivorous insects. University of California Press, Berkeley, pp 311–324

Stefanescu C, Jubany J, Dantart J (2006) Egg-laying by the butterfly Iphiclides podalirius (Lepidoptera, Papilionidae) on alien plants: a broadening of host range or oviposition mistakes? Anim Biodivers Conserv 29:83–90

Tallamy DW (2004) Do alien plants reduce insect biomass? Conserv Biol 18:1689–1692

Tallamy DW, Ballard M, D'Amico V (2010) Can alien plants support generalist insect herbivores? Biol Invasions 12:2285–2292

Valtonen A, Jantunen J, Saarinen K (2006) Flora and lepidoptera fauna adversely affected by invasive Lupinus polyphyllus along road verges. Biol Conserv 133:389–396

White EM, Sims NM, Clarke AR (2008) Test of the enemy release hypothesis: the native magpie moth prefers a native fireweed (Senecio pinnatifolius) to its introduced congener (S. madagascariensis). Aust Ecol 33:110–116
Acknowledgments
We would like to thank Matthew Forister and Angela Smilanich for their many helpful comments throughout the preparation of this manuscript. This work was supported by a National Science Foundation Graduate Fellowship (DGE-1447692) to S. Y. and the Department of Ecology and Evolutionary Biology at the University of Tennessee Knoxville to Q. R.
Author contribution statement
S. Y. did the literature review, extracted the data, and was responsible for preparing the manuscript. Q. R. performed the statistical analyses, wrote the Materials and methods and Results sections, and made the graphs. S. Y. wrote the first draft of the manuscript, with subsequent revisions by both S. Y. and Q. R.
Additional information
This paper represents a novel synthesis of the effects of non-native plant species on native insect herbivores. We use the latest statistical techniques available to address our questions. In addition, we synthesize community data from a geographically diverse range of ecosystems, as well as explore exotic host effects on larval fitness.
Communicated by Julia Koricheva.
Electronic supplementary material
Below is the link to the electronic supplementary material.
About this article
Cite this article
Yoon, S., Read, Q. Consequences of exotic host use: impacts on Lepidoptera and a test of the ecological trap hypothesis. Oecologia 181, 985–996 (2016). https://doi.org/10.1007/s00442-016-3560-2
Received:

Accepted:

Published:

Issue Date:
Keywords
Invasive plants

Oviposition preference

Performance

Survival

Ecological traps