Abstract
A multitude of studies confirm that species have changed their distribution ranges towards higher elevations and towards the poles, as has been predicted by climate change forecasts. However, there is large interspecific variation in the velocity of range shifts. From a conservation perspective, it is important to understand which factors explain variation in the speed and the extent of range shifts, as these might be related to the species' extinction risk. Here, we study shifts in the mean latitude of occurrence, as weighted by population density, in different groups of landbirds using 40 years of line transect data from Finland. Our results show that the velocity of such density shifts differed among migration strategies and increased with decreasing body size of species, while breeding habitat had no influence. The slower velocity of large species could be related to their longer generation time and lower per capita reproduction that can decrease the dispersal ability compared to smaller species. In contrast to some earlier studies of range margin shifts, resident birds and partial migrants showed faster range shifts, while fully migratory species were moving more slowly. The results suggest that migratory species, especially long-distance migrants, which often show decreasing population trends, might also have problems in adjusting their distribution ranges to keep pace with global warming.
Access options
Buy single article
Instant access to the full article PDF.
US$ 39.95
Tax calculation will be finalised during checkout.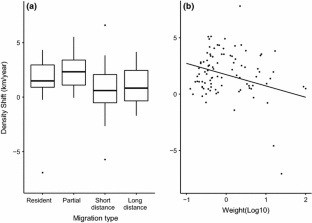 References
Angert AL, Crozier LG, Rissler LJ et al (2011) Do species' traits predict recent shifts at expanding range edges? Ecol Lett 14:677–689. doi:10.1111/j.1461-0248.2011.01620.x

Begon M, Townsend CR, Harper JL (2006) Ecology, from individuals to ecosystems, 4th edn. Blackwell, Malden

Bradshaw CJA, Brook BW, Delean S et al (2014) Predictors of contraction and expansion of area of occupancy for British birds. Proc R Soc Lond B 281:1–9. doi:10.1098/rspb.2014.0744

Brommer JE (2008) Extent of recent polewards range margin shifts in Finnish birds depends on their body mass and feeding ecology. Ann Zool Fenn 85:109–117

Brommer JE, Møller AP (2010) Range margins, climate change and ecology. Oxford University Press, Oxford

Brommer JE, Lehikoinen A, Valkama J (2012) The breeding ranges of central European and arctic bird species move poleward. PLoS ONE 7:e43648. doi:10.1371/journal.pone.0043648

Burnham KP, Anderson DR (2002) Model selection and multimodel inference, 2nd edn. Springer, New York. doi:10.1007/b97636

Burrows MT, Schoeman DS, Richardson AJ et al (2014) Geographical limits to species-range shifts are suggested by climate velocity. Nature. doi:10.1038/nature12976

Chapman BB, Brönmark C, Nilsson J-Å, Hansson L-A (2011) The ecology and evolution of partial migration. Oikos 120:1764–1775. doi:10.1111/j.1600-0706.2011.20131.x

Chen I-C, Hill JK, Ohlemüller R et al (2011) Rapid range shifts of species associated with high levels of climate warming. Science 333:1024–1026. doi:10.1126/science.1206432

Cramp S, Simmons KEL, Perrins CM (1977) Handbook of the birds of Europe, Middle East and North America: birds of the Western Palaearctic. Oxford University Press, Oxford

Deinet S, Chirstina I, McRae L et al (2013) The wildlife comeback in Europe. The recovery of selected mammal and bird species. Final report to Rewilding Europe by ZSL, BirdLife International and the European Bird Census Council. ZSL, London

Devictor V, Julliard R, Couvet D, Jiguet F (2008) Birds are tracking climate warming, but not fast enough. Proc R Soc Lond B 275:2743–2748. doi:10.1098/rspb.2008.0878

Devictor V, van Swaay C, Brereton T et al (2012) Differences in the climatic debts of birds and butterflies at a continental scale. Nat Clim Change 2:121–124. doi:10.1038/nclimate1347

Fransson T, Hall-Karlsson S (2008) Svensk ringmärkningsatlas, 3rd edn. Naturhistoriska riksmuseet, Stockholm

Fransson T, Österblom H, Hall-Karlsson S (2008) Svensk ringmärkningsatlas, 2nd edn. Naturhistoriska riksmuseet, Stockholm

Hickling R, Roy DB, Hill JK et al (2006) The distributions of a wide range of taxonomic groups are expanding polewards. Glob Change Biol 12:450–455. doi:10.1111/j.1365-2486.2006.01116.x

Hogstad O (2015) Rank-related response in foraging site selection and vigilance behaviour of a small passerine to different winter weather conditions. Ornis Fenn 92:53–62

Howard C, Stephens PAA, Pearce-Higgins JW et al (2015) The drivers of avian abundance: patterns in the relative importance of climate and land use. Glob Ecol Biogeogr 24:1249–1260. doi:10.1111/geb.12377

IPCC (2014) Climate Change 2014: Synthesis Report. Contribution of Working Groups I, II and III to the Fifth Assessment Report of the Intergovernmental Panel on Climate Change. IPCC, Geneva

Järvinen O (1976) Estimating relative densities of breeding birds by the line transect method. II. Comparison between two methods. Ornis Scand 7:43–48

Järvinen O, Väisänen RA (1975) Estimating relative densities of breeding birds by the line transect method. Oikos 26:316–322

Järvinen O, Väisänen RA (1976) Finnish line transect censuses. Ornis Fenn 53:115–118

Järvinen O, Väisänen RA (1981) Methodology for censusing landbird faunas in large regions. Stud Avian Biol 6:146–151

Järvinen O, Väisänen RA (1983) Correction coefficients for line transect censuses of breeding birds. Ornis Fenn 60:97–104

Järvinen O, Koskimies P, Väisänen RA (1991) Line transect census of breeding landbirds. In: Koskimies P, Väisänen RA (eds) Monitoring bird populations: a manual of methods applied in Finland, Zoological Museum, Helsinki, pp 33–40

Kujala H, Vepsäläinen V, Zuckerberg B, Brommer JE (2013) Range margin shifts of birds revisited—the role of spatiotemporally varying survey effort. Glob Change Biol 19:420–430. doi:10.1111/gcb.12042

La Sorte FA, Thompson FRI (2007) Poleward shifts in winter ranges of North American birds. Ecology 88:1803–1812. doi:10.1890/06-1072.1

Laaksonen T, Lehikoinen A (2013) Population trends in boreal birds: continuing declines in agricultural, northern, and long-distance migrant species. Biol Conserv 168:99–107. doi:10.1016/j.biocon.2013.09.007

Lehikoinen A (2013) Climate change, phenology and species detectability in a monitoring scheme. Popul Ecol 55:315–323. doi:10.1007/s10144-012-0359-9

Lehikoinen A, Jaatinen K, Vähätalo AV et al (2013) Rapid climate driven shifts in wintering distributions of three common waterbird species. Glob Change Biol 19:2071–2081. doi:10.1111/gcb.12200

Maclean IMD, Austin GE, Rehfisch MM et al (2008) Climate change causes rapid changes in the distribution and site abundance of birds in winter. Glob Change Biol 14:2489–2500. doi:10.1111/j.1365-2486.2008.01666.x

Ministry of Environment, Finland (2006) Competitiveness, welfare and eco-efficiency. Perspectives for spatial structure and land use in Finland. The Finnish Environment, Helsinki

Nakagawa S, Schielzeth H (2013) A general and simple method for obtaining R2 from generalized linear mixed-effects models. Methods Ecol Evol 4:133–142. doi:10.1111/j.2041-210x.2012.00261.x

Newton I (2003) Speciation and biogeography of birds. Academic, London

Paradis E, Baillie SR, Sutherland WJ, Gregory RD (1998) Patterns of natal and breeding dispersal in birds. J Anim Ecol 67:518–536. doi:10.1046/j.1365-2656.1998.00215.x

Parmesan C (2006) Ecological and evolutionary responses to recent climate change. Annu Rev Ecol Evol Syst 37:637–669. doi:10.1146/annurev.ecolsys.37.091305.110100

Pavón-Jordán D, Fox AD, Clausen P et al (2015) Climate-driven changes in winter abundance of a migratory waterbird in relation to EU protected areas. Divers Distrib. doi:10.1111/ddi.12300

Pearce-Higgins JW, Green RE (2014) Effects of climate change on distributions and communities. Birds and Climate Change. Cambridge University Press, Cambridge

Perry AL, Low PJ, Ellis JR, Reynolds JD (2005) Climate change and distribution shifts in marine fishes. Science 308:1912–1915. doi:10.1126/science.1111322

Piha M (2007) Spatial and temporal determinants of Finnish farmlandbird populations. PhD thesis, University of Helsinki

Pöyry J, Luoto M, Heikkinen RK et al (2009) Species traits explain recent range shifts of Finnish butterflies. Glob Change Biol 15:732–743. doi:10.1111/j.1365-2486.2008.01789.x

Pulido F, Widmer M (2005) Are long-distance migrants constrained in their evolutionary response to environmental change? Causes of variation in the timing of autumn migration in a blackcap (S. atricapilla) and two garden warbler (Sylvia borin) populations. Ann N Y Acad Sci 1046:228–241. doi:10.1196/annals.1343.020

Pulido F, Berthold P, van Noordwijk AJ (1996) Frequency of migrants and migratory activity are genetically correlated in a bird population: evolutionary implications. Proc Natl Acad Sci USA 93:14642–14647. doi:10.1073/pnas.93.25.14642

Rainio K, Laaksonen T, Ahola M, Vähätalo AV, Lehikoinen E (2006) Climatic responses in spring migration of boreal and arctic birds in relation to wintering area and taxonomy. J Avian Biol 27:507–515. doi:10.1111/j.0908-8857.2006.03740.x

Reif J, Telenský T, Šťastný K et al (2010) Relationships between winter temperature and breeding bird abundance on community level: importance of interspecific differences in diet. Folia Zool 59:313–322

Robb Gillian N, McDonald RA, Chamberlain DE, Bearhop S (2008) Food for thought: supplementary feeding as a driver of ecological change in avian populations. Front Ecol Environ 6:476–484. doi:10.1890/060152

Robinson RA, Baillie SR, Crick HQP (2007) Weather-dependent survival: implications of climate change for passerine population processes. Ibis 149:357–364. doi:10.1111/j.1474-919X.2006.00648.x

Rundle SD, Bilton DT, Abbott JC, Foggo A (2007) Range size in North American Enallagma damselflies correlates with wing size. Freshw Biol 52:471–477. doi:10.1111/j.1365-2427.2006.01712

Sanderson FJ, Donald PF, Pain DJ et al (2006) Long-term population declines in Afro-Palearctic migrant birds. Biol Conserv 131:93–105. doi:10.1016/j.biocon.2006.02.008

Saurola P, Valkama J, Velmala W (2013) The Finnish bird ringing atlas, vol 1, 1st edn. Finnish Museum of Natural History, Helsinki

Thingstad PG, Hogstad O, Speed JDM (2015) The influence of climatic conditions in breeding grounds and migratory flyways on a subalpine Norwegian Willow Warbler (Phylloscopus trochilus) population. Ornis Fenn 92:23–33

Thomas CD, Lennon JJ (1999) Birds extend their ranges northwards. Nature 399:213. doi:10.1038/20335

Tiainen J (2001) The Finnish agricultural environments. In: Pitkänen M, Tiainen J (eds) Biodiversity of agricultural landscapes in Finland. BirdLife Finl Conserv Ser No. 3: 9–12

Väisänen RA (2008) Talviruokintapaikkojen lintujen seuranta 1989–2007. Linnut-vuosikirja 2007:60–79

Väisänen RA, Lammi E, Koskimies P (1998) Muuttuva pesimälinnusto. Otava

Valkama J, Vepsäläinen V, Lehikoinen A (2011) The third Finnish breeding bird atlas. Finnish Museum Nat Hist & Minist Environ 7. ISBN:978-952-10-7145-419

Valkama J, Saurola P, Lehikoinen A et al (2014) The Finnish bird ringing atlas, vol II. Finnish Museum of Natural History and Ministry of Environment, Helsinki

Vickery JA, Ewing SR, Smith KENW et al (2014) The decline of Afro-Palaearctic migrants and an assessment of potential causes. Ibis 156:1–22

Virkkala R, Lehikoinen A (2014) Patterns of climate-induced density shifts of species: poleward shifts faster in northern boreal birds than in southern birds. Glob Change Biol 20:2995–3003. doi:10.1111/gcb.12573

Weatherhead P, Forbes MRL (1994) Natal philopatry in passerine birds: genetic or ecological influences? Behav Ecol 12:426–463

Wittwer T, O'Hara RB, Caplat P et al (2015) Long-term population dynamics of a migrant bird suggests interaction of climate change and competition with resident species. Oikos 124:1151–1159. doi:10.1111/oik.01559

Zuur AF, Ieno EN, Walker NJ et al (2009) Mixed effects models and extensions in ecology with R. Springer, Berlin
Acknowledgments
We are very grateful to the hundreds of birdwatchers who have participated in data collection. The Finnish Ministry of Environment has economically supported line transect censuses. Thanks also to Raimo Virkkala for discussion related to the paper and to the two anonymous reviewers for good feedback. K.V. received funding from the Kone Foundation (Decision No. 46-1097), and A.Le. from the Academy of Finland (Decision No. 275606).
Author contribution statement
A.Le and K.V. had the original idea. K.V. and A.Li analyzed the data. K.V., A.Le and A.Li wrote the manuscript.
Ethics declarations
Conflict of interest
The authors declare that they have no conflict of interest.
Additional information
Communicated by Christopher Whelan.
Electronic supplementary material
Below is the link to the electronic supplementary material.
About this article
Cite this article
Välimäki, K., Lindén, A. & Lehikoinen, A. Velocity of density shifts in Finnish landbird species depends on their migration ecology and body mass. Oecologia 181, 313–321 (2016). https://doi.org/10.1007/s00442-015-3525-x
Received:

Accepted:

Published:

Issue Date:
Keywords
Range shifts

Global change

Climate change

Ecological traits

Habitat