Abstract
The deserts of the southwestern US are experiencing rapid warming, and climate models predict declining winter precipitation. The combined effects of higher air temperatures and drought are a reduction in productivity, which may importantly impact reproduction in consumers. Here, we investigate the effects of warming and drought on the reproductive timing and output in loggerhead shrikes (Lanius ludovicianus) in central New Mexico from 2007 to 2012. We found increases in air temperature of 3 °C during the breeding season (March–July) and highly variable winter and annual precipitation. With increasing spring temperatures, shrikes advanced nesting phenology by 20 days over 6 years, a much higher rate than is reported for any other bird species. During this period, the number of breeding pairs also increased from 25 to 37, and clutch size and the number offspring produced per successful nest did not vary. Nest success, however, was often very low and ranged from 11 to 46 %. Although our models indicated that low nest success was driven by precipitation and temperature, it was mediated indirectly through increased predation rates during the hot and dry periods.
This is a preview of subscription content,
to check access.
Access this article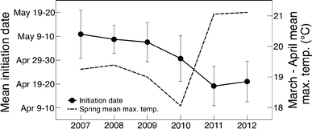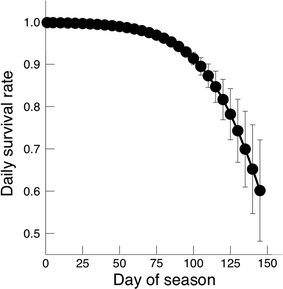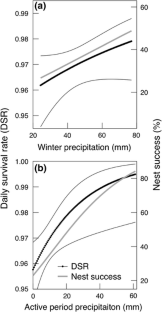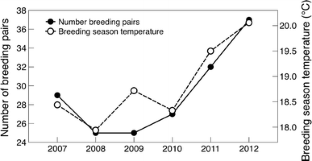 References
Akaike H (1973) Information theory and an extension of the maximum likelihood principle. In: Petran BN, Csaki F (eds) International Symposium on Information Theory, 2nd edn. Akademiai Kiado, Budapest, pp 267–281

Anderson WL, Duzan RE (1978) DDE residues and eggshell thinning in loggerhead shrikes. Wilson Bull 90:215–220

Anderson DR, Burnham KP, White GC (1998) Comparison of Akaike information criterion and consistent Akaike information criterion for model selection and statistical inference from capture to recapture studies. J Appl Stat 25:263–282

Arcese P, Smith JNM, Hochachka WM, Rogers CM, Ludwig D (1992) Stability, regulation, and the determination of abundance in an insular song sparrow population. Ecology 73:805–822

Beane JC (2013) Dietary records for the eastern coachwhip Masticophis flagellum flagellum (Shaw, 1758), in the Southeastern US. Herpetol Notes 6:285–287

Boal CW, Estabrook TS, Duerr AE (2003) Productivity and breeding habitat of loggerhead shrikes in a southwestern urban environment. Southwest Nat 48:557–562. doi:10.1894/0038-4909(2003)

Bolger DT, Patten MA, Bostock DC (2005) Avian reproductive failure in response to an extreme climatic event. Oecologia 142:398–406. doi:10.1007/s00442-004-1734-9

Both C, Visser ME (2001) Adjustment to climate change is constrained by arrival date in a long-distance migrant bird. Nature 411:296–298. doi:10.1038/35077063

Both C, Bouwhuis S, Lessells CM, Visser ME (2006) Climate change and population declines in a long-distance migratory bird. Nature 441:81–83. doi:10.1038/nature04539

Brooks BL, Temple SA (1990) Dynamics of a loggerhead shrike population in Minnesota. Wilson Bull 102:441–450

Brown JL, Li SH, Bhagabati N (1999) Long-term trend toward earlier breeding in an American bird: a response to global warming? Proc Natl Acad Sci USA 96:5565–5569

Cade TJ, Woods CP (1997) Changes in distribution and abundance of the loggerhead shrike. Conserv Biol 11:21–31. doi:10.1046/j.1523-1739.1997.95279.x

Chabot AA, Bird DM, Titman RD (2001) Breeding biology and nesting success of loggerhead shrikes in Ontario. Wilson Bull 113:285–289. doi:10.1676/0043-5643(2001)

Charmantier A, McCleery RH, Cole LR, Perrins C, Kruuk LEB, Sheldon BC (2008) Adaptive phenotypic plasticity in response to climate change in a wild bird population. Science 320:800–803. doi:10.1126/science.1157174

Collister DM, Wilson S (2007) Contributions of weather and predation to reduced breeding success in a threatened northern loggerhead shrike population. Avian Conserv Ecol 2:12

Cox WA, Thompson FR, Reidy JL (2013) The effects of temperature on nest predation by mammals, birds, and snakes. Auk 130:784–790. doi:10.1525/auk.2013.13033

Cunningham SJ, Kruger AC, Nxumalo MP, Hockey PAR (2013) Identifying biologically meaningful hot-weather events using threshold temperatures that affect life-history. PLoS One 8:11. doi:10.1371/journal.pone.0082492

Dawson RD, Lawrie CC, O'Brien EL (2005) The importance of microclimate variation in determining size, growth and survival of avian offspring: experimental evidence from a cavity nesting passerine. Oecologia 144:499–507. doi:10.1007/s00442-005-0075-7

DeGregorio BA, Chiavacci SJ, Weatherhead PJ, Willson JD, Benson TJ, Sperry JH (2014) Snake predation on North American bird nests: culprits, patterns and future directions. J Avian Biol 45:325–333. doi:10.1111/jav.00364

Dick-Peddie WA (1993) New Mexico vegetation: past, present, and future. University of New Mexico Press, Albuquerque

Diller LV, Johnson DR (1988) Food habits, consumption rates, and predation rates of western rattlesnakes and gopher snakes in southwestern Idaho. Herpetologica 44:228–233

Dunn P (2004) Breeding dates and reproductive performance. Adv Ecol Res 35:69–87

Dunn PO, Winkler DW, Whittingham LA, Hannon SJ, Robertson RJ (2011) A test of the mismatch hypothesis: how is timing of reproduction related to food abundance in an aerial insectivore? Ecology 92:450–461. doi:10.1890/10-0478.1

Ezard THG, Becker PH, Coulson T (2006) The contributions of age and sex to variation in common tern population growth rate. J Anim Ecol 75:1379–1386. doi:10.1111/j.1365-2656.2006.01162.x

George TL, Fowler AC, Knight RL, McEwen LC (1992) Impacts of a severe drought on grassland birds in western North Dakota. Ecol Appl 2:275–284. doi:10.2307/1941861

Gordo O (2007) Why are bird migration dates shifting? A review of weather and climate effects on avian migration phenology. Clim Res 35:37–58

Gullett P, Evans KL, Robinson RA, Hatchwell BJ (2014) Climate change and annual survival in a temperate passerine: partitioning seasonal effects and predicting future patterns. Oikos 123:389–400. doi:10.1111/j.1600-0706.2013.00620.x

Hudgens BR, Johnson NN, Bradley JE, Bridges AS (2009) Benefits of supplemental feeding are climate dependent in the san clemente loggerhead shrike. In: Damiani CC, Garcelon DK (eds) Proceedings of the 7th California Islands Symposium. Institute for Wildlife Studies, Arcata, pp 315–325

Jehle G, Adams AAY, Savidge JA, Skagen SK (2004) Nest survival estimation: a review of alternatives to the Mayfield estimator. Condor 106:472–484. doi:10.1650/7411

Keynan O, Yosef R (2010) Annual precipitation affects reproduction of the southern grey shrike (Lanius meridionalis). Wilson J Ornithol 122:334–339. doi:10.1676/09-148.1

Li SH, Brown JL (1999) Influence of climate on reproductive success in Mexican jays. Auk 116:924–936

MacCracken JG, Hansen RM (1987) Coyote feeding strategies in southeastern Idaho: optimal foraging by an opportunistic predator? J Wildl Manage 51:278–285

Martin TE (1987) Food as a limit on breeding birds: a life history perspective. Annu Rev Ecol Syst 18:453–487. doi:10.1146/annurev.ecolsys.18.1.453

Martin TE (1988) Processes organizing open-nesting bird assemblages: competition or nest predation? Evol Ecol 2:37–50

Martin TE (1992) Breeding productivity considerations: what are the appropriate habitat features for management? In: Hagan JM, III, Johnston DW (eds) Ecology and conservation of neotropical migrant landbirds. Smithsonian Institution Press, pp 455–473

Martin TE (2007) Climate correlates of 20 years of trophic changes in a high-elevation riparian system. Ecology 88:367–380

Martin TE, Roper JJ (1988) Nest predation and nest-site selection of a western population of the hermit thrush. Condor 90:51–57. doi:10.2307/1368432

Martin TE, Paine CR, Conway CJ, Hockachka WM, Allen P, Jenkins W (1997) BBIRD field protocol montana cooperative wildlife reseach unit. University of Montana, Missoula

Mayfield HF (1961) Nesting success calculated from exposure. Wilson Bull 73:255–261

Mayfield HF (1975) Suggestions for calculating nest success. Wilson Bull 87:456–466

McCreedy C, van Riper CI (2015) Drought-caused delay in nesting of Sonoran Desert birds and its facilitation of parasite- and predator-mediated variation in reproductive success. Auk Ornithol Adv 132:235–247. doi:10.1642/AUK-13-253.1

McKechnie AE, Wolf BO (2010) Climate change increases the likelihood of catastrophic avian mortality events during extreme heat waves. Biol Lett 6:253–256. doi:10.1098/rsbl.2009.0702

McShea WJ (2000) The influence of acorn crops on annual variation in rodent and bird populations. Ecology 81:228–238. doi:10.1890/0012-9658(2000)

Monadjem A, Bamford AJ (2009) Influence of rainfall on timing and success of reproduction in Marabou storks Leptoptilos crumeniferus. Ibis 151:344–351. doi:10.1111/j.1474-919X.2009.00912.x

Morrison SA, Bolger DT (2002) Variation in a sparrow's reproductive success with rainfall: food and predator-mediated processes. Oecologia 133:315–324. doi:10.1007/s00442-002-1040-3

Muldavin EH, Moore DI, Collins SL, Wetherill KR, Lightfoot DC (2008) Aboveground net primary production dynamics in a northern Chihuahuan desert ecosystem. Oecologia 155:123–132. doi:10.1007/s00442-007-0880-2

Noy-Meir I (1973) Desert ecosystems: environment and producers. Annu Rev Ecol Syst 4:25–51

Nur N, Holmes AL, Geupel GR (2004) Use of survival time analysis to analyze nesting success in birds: an example using loggerhead shrikes. Condor 106:457–471. doi:10.1650/7336

Parmesan C (2007) Influence of species, latitudes and methodologies on estimates of phenological response to global warming. Glob Change Biol 13:1860–1872. doi:10.1111/j.1365-2486.2007.01404.x

Parmesan C, Yohe G (2003) A globally coherent fingerprint of climate change impacts across natural systems. Nature 421:37–42. doi:10.1038/nature01286

Pearce-Higgins JW, Yalden DW, Whittingham MJ (2005) Warmer springs advance the breeding phenology of golden plovers Pluvialis apricaria and their prey (Tipulidae). Oecologia 143:470–476. doi:10.1007/s00442-004-1820-z

Perdeck AC, Visser ME, van Balen JH (2000) Great tit Parus major survival and the beech-crop cycle. Ardea 88:99–106

Peterson CL, Gibson AR, Dorcas ME (1993) Snake thermal ecology: the causes and consequences of body-temperature variation. In: Seigal RA, Collins JT (eds) Snakes: ecology and behavior. McGraw-Hill, New York, pp 241–314

Porter DK, Strong MA, Giezentanner JB, Ryder RA (1975) Nest ecology, productivity, and growth of the Loggerhead Shrike on the shortgrass prairie. Southwest Nat 19:429–436

Pruitt L (2000) Loggerhead shrike status assessment. US Fish and Wildlife Services, Bloomington

Rastogi AD, Zanette L, Clinchy M (2006) Food availability affects diurnal nest predation and adult antipredator behaviour in song sparrows, Melospiza melodia. Anim Behav 72:933–940

Rodriguez C, Bustamante J (2003) The effect of weather on lesser kestrel breeding success: can climate change explain historical population declines? J Anim Ecol 72:793–810

Rodriguez-Robles JA (2002) Feeding ecology of North American gopher snakes (Pituophis catenifer, Colubridae). Biol J Linn Soc 77:165–183

R Core Team (2013) R: a language and environment for statistical computing. R Foundation for Statistical Computing, Vienna

Romero-Lankao P et al (2014) Climate change 2014: impacts, adaptation, and vulnerability. Part B. Regional aspects. In: Barros VR, Field CB, Dokken DJ, Mastrandrea MD, Mach KJ, Bilir TE, Chatterjee M, Ebi KL, Estrada YO, Genova RC, Girma B, Kissel ES, Levy AN, MacCracken S, Mastrandrea PR, White LL (eds) Contribution of Working Group II to the Fifth Assessment Report of the Intergovernmental Panel on Climate Change. Cambridge, United Kingdom, New York

Root TL, Price JT, Hall KR, Schneider SH, Rosenzweig C, Pounds JA (2003) Fingerprints of global warming on wild animals and plants. Nature 421:57–60. doi:10.1038/nature01333

Rotella JJ, Taper ML, Hansen AJ (2000) Correcting nesting-success estimates for observer effects: maximum-likelihood estimates of daily survival rates with reduced bias. Auk 117:92–109. doi:10.1642/0004-8038(2000)

Saether BE, Tufto J, Engen S, Jerstad K, Rostad OW, Skatan JE (2000) Population dynamical consequences of climate change for a small temperate songbird. Science 287:854–856

Saino N et al (2011) Climate warming, ecological mismatch at arrival and population decline in migratory birds. Proc R Soc B Biol Sci 278:835–842. doi:10.1098/rspb.2010.1778

Sauer JR, Hines JE, Fallon JE, Pardieck KL, Ziolkowski DJJ, Link WA (2014) The North American breeding bird survey, results and analysis 1966–2012. Version 02.19.2014. USGS Patuxent Wildlife Research Center, Laurel

Schaper SV, Dawson A, Sharp PJ, Gienapp P, Caro SP, Visser ME (2012) Increasing temperature, not mean temperature, is a cue for avian timing of reproduction. Am Nat 179:E55–E69. doi:10.1086/663675

Seager R et al (2007) Model projections of an imminent transition to a more arid climate in Southwestern North America. Science 316:1181–1184

Sherry TW, Holmes RT (1996) Winter habitat quality, population limitation, and conservation of Neotropical Nearctic migrant birds. Ecology 77:36–48. doi:10.2307/2265652

Skagen SK, Yackel Adams AA (2012) Weather effects on avian breeding performance and implications of climate change. Ecol Appl 22:1131–1145

State of New Mexico (2005) Potential effects of climate change on New Mexico. Agency Technical Work Group, New Mexico

Tanaka LK, Tanaka SK (1982) Rainfall and seasonal-changes in arthropod abundance on a tropical oceanic island. Biotropica 14:114–123. doi:10.2307/2387740

Vickery PD, Hunter ML, Wells JV (1992) Evidence of incidental nest predation and its effects on nests of threatened grassland birds. Oikos 63:281–288. doi:10.2307/3545389

Visser ME, Holleman LJM, Caro SP (2009) Temperature has a causal effect of avian timing of reproduction. Proc R Soc B Biol Sci 276:2323–2331

Vleck CM (1981) Energetic cost of incubation in the zebra finch. Condor 83:229–237. doi:10.2307/1367313

Walk JW, Kershner EL, Warner RE (2006) Low nesting success of loggerhead shrikes in an agricultural landscape. Wilson J Ornithol 118:70–74

Walther GR et al (2002) Ecological responses to recent climate change. Nature 416:389–395. doi:10.1038/416389a

Weatherhead PJ, Carfagno GLF, Sperry JH, Brawn JD, Robinson SK (2010) Linking snake behavior to nest predation in a Midwestern bird community. Ecol Appl 20:234–241

White GC, Burnham KP (1999) Program MARK: survival estimation from populations of marked animals. Bird Study 46:120–139

Whiting MJ, Greene BD, Dixon JR, Mercer AL, Eckerman CC (1992) Observations on the foraging ecology of the western coachwhip snake, Masticophis flagellum testaceus. Snake 24:157–160

Wolf BO, Walsberg GE (1996) Respiratory and cutaneous evaporative water loss at high environmental temperatures in a small bird. J Exp Biol 199:451–457

Yosef R (1994) The effects of fencelines on the reproductive success of loggerhead shrikes. Conserv Biol 8:281–285. doi:10.1046/j.1523-1739.1994.08010281.x

Yosef R (1996) Loggerhead shrikes (Lanius ludovicianus). In: Poole A, Gill F (eds) The birds of North America, vol 231. Academy of Natural Sciences American Ornithologists' Union, Philadelphia

Yosef R (2001) Nesting ecology of resident loggerhead shrikes in southcentral Florida. Wilson Bull 113:279–284. doi:10.1676/0043-5643(2001)

Zar JH (2010) Biostatistical analysis, 5th ed. Pearson Educational International, Upper Saddle River, NJ
Acknowledgments
We thank the US Department of Defense, Kirtland Air Force Base and Natural Resource Managers C. Finley and D. Akins for financial and logistical support with this project. M. Wootten, O. Cruz, and K. Cruz-McDonnell provided invaluable support and guidance, and this project was only possible through tireless field efforts from V. Bailey and K. Babcock. Bird banding activities were permitted through the US Fish and Wildlife Service (permit no. 23250) and the New Mexico Department of Game and Fish (authorization no. 3332). We thank T. E. Martin for insightful comments on an earlier draft of this manuscript, and H. White, J. Davis and M. Gould for their assistance with program MARK. We also thank two anonymous reviewers whose comments greatly improved this manuscript. B. O. W. received support for this research through the National Science Foundation (IOS-1122228). Any opinions, findings and conclusions or recommendations expressed in this material are those of the author(s) and do not necessarily reflect the views of the National Science Foundation.
Author contribution statement
C. C. B. designed this study, collected data and performed the data analysis. B. O. W. provided advice for the project design and aided in the preparation of this manuscript.
Additional information
Communicated by Scott McWilliams.
Electronic supplementary material
Below is the link to the electronic supplementary material.
About this article
Cite this article
Borgman, C.C., Wolf, B.O. The indirect effects of climate variability on the reproductive dynamics and productivity of an avian predator in the arid Southwest. Oecologia 180, 279–291 (2016). https://doi.org/10.1007/s00442-015-3456-6
Received:

Accepted:

Published:

Issue Date:

DOI: https://doi.org/10.1007/s00442-015-3456-6
Keywords