Abstract
Changes in habitat structure constitute a major factor explaining responses of reptiles to fire. However, few studies have examined habitat factors that covary with fire-history variables to explain reptile responses. We hypothesise that more complex habitats should support richer reptile communities, and that species-specific relative abundance should be related to particular habitat features. From spring 2012–2014, twenty-five transects were surveyed in the Albera Region (north-east Iberia). The vegetation structure was measured and the extent of habitat types in a 1000-m buffer around each transect calculated. Reptile-community metrics (species richness and reptile abundance) were related to fire history, vegetation structure, and habitat types, using generalized additive models. These metrics correlated with habitat-structure variables but not with fire history. The number of species increased with more complex habitats but decreased with pine-plantation abundance in the 1000-m buffer. We found contrasting responses among reptiles in terms of time since fire and those responses differed according to vegetation variables and habitat types. An unplanned fire in August 2012 provided the opportunity to compare reptile abundance values between pre-fire and the short term (1–2 years) after the fire. Most species exhibited a negative short-term response to the 2012 fire except Tarentola mauritanica, a gecko that inhabits large rocks, as opposed to other ground-dwelling species. In the reptiles studied, contrasting responses to time since fire are consistent with the habitat–accommodation model of succession. These differences are linked to specific microhabitat preferences and suggest that functional traits can be used to predict species-specific responses to fire.
Access options
Buy single article
Instant access to the full article PDF.
USD 39.95
Price includes VAT (USA)
Tax calculation will be finalised during checkout.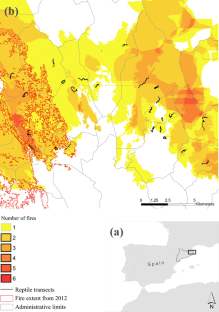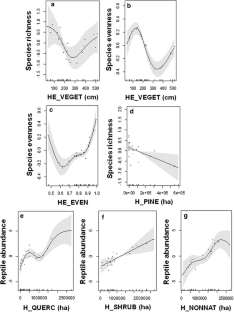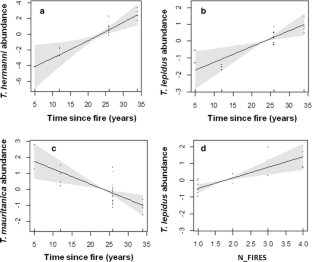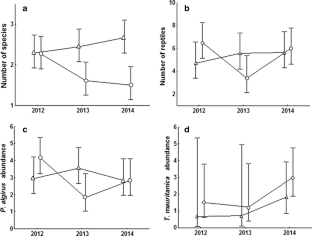 References
Alvarado J (2002) El negoci del suro a l'Alt EmpordÀ. Museu del Suro de Paslafrugell, Giona

Arnan X, Cerdá X, Rodrigo A, Retana J (2013) Response of ant functional composition to fire. Ecography 36:1182–1192

Azor JS, Santos X, Pleguezuelos JM (2015) Conifer-plantation thinning restores reptile biodiversity in Mediterranean landscapes. For Ecol Manage 354:185–189

Blondel J, Aronson J, Bodiou JY, Boeuf W (2010) The Mediterranean region. Biological biodiversity in space and time. Oxford University Press, Oxford

Bond WJ, Woodward FI, Midgley GF (2005) The global distribution of ecosystems in a world without fire. New Phytol 165:525–538

Briani DC, Palma ART, Vieira EM, Henriques RPB (2004) Post-fire succession of small mammals in the Cerrado of central Brazil. Biodiv Conserv 13:1023–1037

Brotons L, Herrando S, Pons P (2008) Wildfires and the expansion of threatened farmland birds: the ortolan bunting, Emberiza hortulana, in Mediterranean landscapes. J Appl Ecol 45:1059–1066

Couturier T, Cheylan M, Guérette E, Besnard A (2011) Impacts of a wildfire on the mortality rate and small-scale movements of a Hermann's tortoise Testudo hermanni hermanni population in southeastern France. Amph Reptil 32:541–545

Couturier T, Besnard A, Bertolero A, Bosc V, Astruc G, Cheylan M (2014) Factors determining the abundance and occurrence of Hermann's tortoise Testudo hermanni in France and Spain: fire regime and landscape changes as the main drivers. Biol Conserv 170:177–187

Driscoll DA, Henderson MK (2008) How many common reptile species are fire specialists? A replicated natural experiment highlights the predictive weakness of a fire succession model. Biol Conserv 141:460–471

Driscoll DA, Smith AL, Blight S, Maindonald J (2012) Reptile responses to fire and the risk of post-disturbance sampling bias. Biodiv Conserv 21:1607–1625

ESRI (2011) ArcGIS Desktop: Release 10. Environmental Systems Research Institute, Redlands

Farnsworth LM, Nimmo DG, Kelly LK, Bennett AF, Clarke MF (2014) Does pyrodiversity beget alpha, beta or gamma diversity? A case study using reptiles from semi-arid Australia. Divers Distrib 20:663–673

Fèlix J, Capalleras X, Budó J, Farré M (1989) Estructura de una población de tortuga mediterránea (Testudo hermanni robertmertensis, Wermuth), antes y después de un incendio forestal. Treb Soc Cat Ictiol Herpetol 2:210–223

Filzmoser P, Garrett RG, Reimann C (2005) Multivariate outlier detection in exploration geochemistry. Computers Geosci 31:579–587

Fox BJ (1982) Fire and mammalian secondary succession in an Australian coastal heath. Ecology 63:1332–1341

Hailey A (2000) The effects of fire and mechanical habitat destruction on survival of the tortoise Testudo hermanni in northern Greece. Biol Conserv 92:321–333

Hu Y, Urlus J, Gillespie G, Letnic M, Jessop TS (2013) Evaluating the role of fire disturbance in structuring small reptile communities in temperate forests. Biodiv Conserv 22:1949–1963

Huey RB (1982) Temperature, physiology, and the ecology of reptiles. In: Gans C, Pough FH (eds) Biology of the reptilia, vol 12. Academic Press, London, pp 25–91

Letnic M, Dickman CR, Tischler MK, Tamayo B, Beh C-L (2004) The responses of small mammals and lizards to post-fire succession and rainfall in arid Australia. J Arid Environ 59:85–114

Lindenmayer DB, Wood JT, MacGregor C, Michael DR, Cunningham RB, Crane M, Montague-Drake R, Brown D, Muntz R, Driscoll DA (2008) How predictable are reptile responses to wildfire? Oikos 117:1086–1097

Lindenmayer DB, Blanchard W, McBurney L, Blair D, Banks SC, Driscoll DA, Smith AL, Gill AM (2014) Complex responses of birds to landscape-level fire extent, fire severity and environmental drivers. Divers Distrib 20:467–477

Llorente GA, Montori A, Santos X, Carretero MA (1995) Atlas dels amfibis i rèptils de Catalunya i, Andorra edn. El Brau, Figueres

Madden EM, Hansen AJ, Murphy RK (1999) Influence of prescribed fire history on habitat and abundance of passerine birds in northern mixed-grass prairie. Can Field Nat 113:627–640

Mateos E, Santos X, Pujade-Villar J (2011) Taxonomic and functional responses to fire and post-fire management of a Mediterranean Hymenoptera community. Environ Manage 48:1000–1012

McKenzie D, Gedalof Z, Peterson DL, Mote P (2004) Climatic change, wildfire, and conservation. Conserv Biol 18:890–902

Moretti M, Duelli P, Obrist MK (2006) Biodiversity and resilience of arthropod communities after fire disturbance in temperate forests. Oecologia 149:312–327

Moretti M, de Bello F, Roberts SPM, Potts SG (2009) Taxonomical vs. functional responses of bee communities to fire in two contrasting climatic regions. J Anim Ecol 78:98–108

Moritz MA, Parisien M-A, Batllori E, Krawchuk MA, Van Dorn J, Ganz DJ, Hayhoe K (2012) Climate change and disruptions to global fire activity. Ecosphere 3(6):49

Nimmo DG, Kelly LT, Spence-Bailey LM, Watson SJ, Haslem A, White JG (2012) Predicting the century-long post-fire responses of reptiles. Glob Ecol Biogeogr 21:1062–1073

Nimmo DG, Kelly LT, Spence-Bailey LM, Watson SJ, Taylor RS, Clarke MF (2013) Fire mosaics and reptile conservation in a fire-prone region. Conserv Biol 27:345–353

Nimmo DG, Kelly LT, Farnsworth LM, Watson SJ, Bennett AF (2014) Why do some species have geographically varying responses to fire history? Ecography 37

Pastro LA, Dickman CR, Letnic M (2013) Effects of wildfire, rainfall and region on desert lizard assemblages: the importance of multi-scale processes. Oecologia 173:603–614

Pianka ER, Goodyear SE (2012) Lizard responses to wildfire in arid interior Australia: long-term experimental data and commonalities with other studies. Aust Ecol 37:1–11

Pinheiro JC, Bates DM (2000) Mixed-effects models in S and S-PLUS. Springer

Quantum GIS Development Team (2011) Quantum GIS geographic information system. Open Source Geospatial Foundation Project. http://qgis.osgeo.org

R Core Team (2014) R: a language and environment for statistical computing. R Foundation for Statistical Computing, Vienna. http://www.R-project.org/. Accessed 20 September 2014

Ribeiro R, Santos X, Sillero N, Carretero MA, Llorente GA (2009) Biodiversity and land uses: is agriculture the biggest threat in reptiles' assemblages? Acta Oecol 35:327–334

Santos X, Cheylan M (2013) Taxonomic and functional response of a Mediterranean reptile assemblage to a repeated fire regime. Biol Conserv 168:90–98

Santos X, Poquet JM (2010) Ecological succession and habitat attributes affect the post-fire response of a Mediterranean reptile community. Eur J Wildl Res 56:895–905

Santos X, Bros V, Miño A (2009) Recolonization of a burnt Mediterranean area by terrestrial gastropods. Biodiv Conserv 18:3153–3165

Santos X, Mateos E, Bros V, Brotons V, de Mas E, Herraiz JA, Herrando S, Miño A, Olmo-Vidal JM, Quesada J, Ribes J, Sabaté S, Sauras-Yera T, Serra A, Vallejo VR, Viñolas A (2014) Is response to fire influenced by dietary specialization and mobility? A comparative study with multiple animal assemblages. PLoS One 9(2):e88224

Sillero N, Brito JC, Skidmore AK, Toxopeus B (2009) Biogeographical patterns derived from remote sensing variables: the amphibians and reptiles of the Iberian Peninsula. Amphib Reptil 30:185–206

Smith A, Meulders B, Bull CM, Driscoll D (2012) Wildfire-induced mortality of Australian reptiles. Herpetol Notes 5:233–235

Smith AL, Bull CM, Driscoll DA (2013) Successional specialization in a reptile community cautions against widespread planned burning and complete fire suppression. J Appl Ecol 50:1178–1186

Torre I, Bros V, Santos X (2014) Assessing the impact of reforestation on the diversity of Mediterranean terrestrial Gastropoda. Biodiv Conserv 23:2579–2589

Valentine LE, Schwarzkopf L (2008) Effects of weed-management burning on reptile assemblages in Australian tropical savannas. Conserv Biol 23:103–113

Valentine LE, Reaveley A, Johnson B, Fisher R, Wilson BA (2012) Burning in Banksia woodlands: how does the fire-free period influence reptile communities? PLoS One 7(4):e34448

Venables WN, Ripley BD (2002) Modern applied statistics with S. Springer

Wickham H (2009) ggplot2: elegant graphics for data analysis—use R! Springer, New York

Wood SN (2013) A simple test for random effects in regression models. Biometrika 100:1005–1010

Zuur AF, Ieno EN, Elphick CS (2010) A protocol for data exploration to avoid common statistical problems. Methods Ecol Evol 1:3–14
Acknowledgments
We are especially grateful to Joan Budó, Xavier Caparelles, and Albert Vilardell from the Centre de Reproducció de Tortugues for their valuable logistic support and transmission of historic information of the herpetofauna, vegetation, and economic development of the Albera region; Leonardo Bejarano (Generalitat de Catalunya) for supplying the GIS shapefiles from the habitat types for the study area and Núria Nadal (Forestal Catalana), who supplied information on the fire history within the project Pla de Prevenció d'Incendis Forestals del Massís de l'Albera granted by the Departament d'Agricultura, Ramaderia, Pesca, Alimentació i Medi Natural (Generalitat de Catalunya). Two anonymous reviewers gave helpful comments which improved the text. Philip Wheeler and Melanie Coull are thanked for their improvements to the English version of this manuscript. David Nesbitt corrected the English style. Xavier Santos was funded by a post-doctoral grant (SFRH/BPD/73176/2010) from Fundação para a Ciência e a Tecnologia (Portugal) and Cátia Matos was funded by a doctoral grant from Natural England (UK).
Author contribution statement
X. S. conceived of and designed the fieldwork experiment; X. S. and A. B. conducted the fieldwork; X. S. and C. M. analysed data; X. S. wrote the manuscript, and the other authors provided editorial advice.
Additional information
Communicated by Lin Schwarzkopf.
Electronic supplementary material
Below is the link to the electronic supplementary material.
About this article
Cite this article
Santos, X., Badiane, A. & Matos, C. Contrasts in short- and long-term responses of Mediterranean reptile species to fire and habitat structure. Oecologia 180, 205–216 (2016). https://doi.org/10.1007/s00442-015-3453-9
Received:

Accepted:

Published:

Issue Date:
Keywords
Disturbance

Repeated-fire regime

Reptiles

Habitat–accommodation model

Microhabitat preferences