Abstract
Our study investigated the carbon:nitrogen:phosphorus (C:N:P) stoichiometry of mangrove island of the Mesoamerican Barrier Reef (Twin Cays, Belize). The C:N:P of abiotic and biotic components of this oligotrophic ecosystem was measured and served to build networks of nutrient flows for three distinct mangrove forest zones (tall seaward fringing forest, inland dwarf forests and a transitional zone). Between forest zones, the stoichiometry of primary producers, heterotrophs and abiotic components did not change significantly, but there was a significant difference in C:N:P, and C, N, and P biomass, between the functional groups mangrove trees, other primary producers, heterotrophs, and abiotic components. C:N:P decreased with increasing trophic level. Nutrient recycling in the food webs was highest for P, and high transfer efficiencies between trophic levels of P and N also indicated an overall shortage of these nutrients when compared to C. Heterotrophs were sometimes, but not always, limited by the same nutrient as the primary producers. Mangrove trees and the primary tree consumers were P limited, whereas the invertebrates consuming leaf litter and detritus were N limited. Most compartments were limited by P or N (not by C), and the relative depletion rate of food sources was fastest for P. P transfers thus constituted a bottleneck of nutrient transfer on Twin Cays. This is the first comprehensive ecosystem study of nutrient transfers in a mangrove ecosystem, illustrating some mechanisms (e.g. recycling rates, transfer efficiencies) which oligotrophic systems use in order to build up biomass and food webs spanning various trophic levels.
This is a preview of subscription content, log in to check access.
Access options
Buy single article
Instant access to the full article PDF.
US$ 39.95
Tax calculation will be finalised during checkout.
Subscribe to journal
Immediate online access to all issues from 2019. Subscription will auto renew annually.
US$ 199
Tax calculation will be finalised during checkout.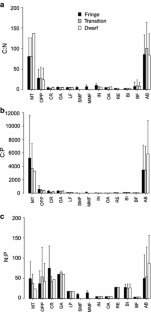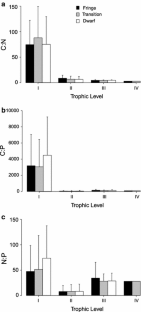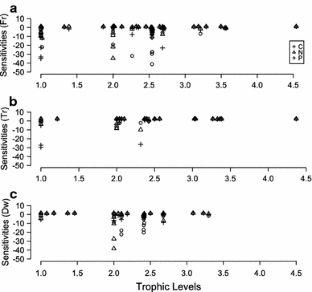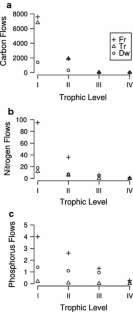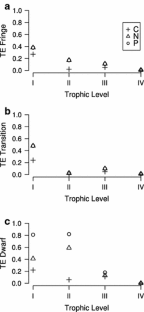 References
Allen AP, Gillooly JF (2009) Towards an integration of ecological stoichiometry and the metabolic theory of ecology to better understand nutrient cycling. Ecol Lett 12:369–384

Allesina S, Bondavalli C (2004) WAND: an ecological network analysis user-friendly tool. Environ Model Softw 19:337–340

Alongi DM (1988) Bacterial productivity and microbial biomass in tropical mangrove sediments. Microb Ecol 15:59–79

Alongi DM, Wattayakorn G, Pfitzner J et al (2001) Organic carbon accumulation and metabolic pathways in sediments of mangrove forests in southern Thailand. Mar Geol 179:85–103

Andersen T, Elser JJ, Hessen DO (2004) Stoichiometry and population dynamics. Ecol Lett 7:884–900

Anderson DM, Glibert PM, Burkholder JM (2014) Nutrient sources, harmful algal blooms and eutrophication: composition, and consequences. Estuaries 25:704–726

Aspila K, Agemian H, Chau A (1976) A semi-automated method for the determination of inorganic, organic and total phosphatein sediments. Analyst 101:186–197

ATLSS (across trophic levels system simulation). http://www.cbl.umces.edu/~atlss/ATLSSdetail.html. Accessed July 2010

Baird D, Asmus H, Asmus R (2008) Nutrient dynamics in the Sylt-Rømø Bight ecosystem, German Wadden Sea: an ecological network analysis approach. Estuar Coast Shelf Sci 80:339–356

Bradshaw C, Kautsky U, Kumblad L (2012) Ecological stoichiometry and multi-element transfer in a coastal ecosystem. Ecosystems 15:591–603

Carter MD, Suberkropp K (2004) Respiration and annual fungal production associated with decomposing leaf litter in two streams. Freshwater Biol 49:1112–1122

Cintrón G, Schaeffer Novelli Y (1984) Methods for studying mangrove structure. In: Snedaker SC, Snedaker JG (eds) Mangrove ecosystem: research methods. UNESCO/SCOR, Paris, pp 91–113

Clark KB, DeFreese D (1987) Population ecology of Caribbean Ascoglossa (Mullusca: Opisthobranchia): a study of specialized algal herbivores. Am Malacol Bull 5:259–280

Coma R, Ribes M, Gili J-M, Zabala M (1998) An energectic approach tot he study of life-history traits of two modular colonial benthic invertebrates. Mar Ecol Prog Ser 162:89–103

Cross WF, Benstead JP, Rosemond AD, Bruce Wallace J (2003) Consumer-resource stoichiometry in detritus-based streams. Ecol Lett 6:721–732

Cross WF, Benstead JP, Frost PC, Thomas SA (2005) Ecological stoichiometry in freshwater benthic systems: recent progress and perspectives. Freshwater Biol 50:1895–1912

Diaz H, Conde JE (1998) On the food sources for the mangrove tree crab Aratus pisonii (Brachyura: Grapsidae). Biotropica 20:348–350

Ellison AM, Farnsworth EJ (1992) The ecology of Belizean mangrove-root fouling communities: patterns of epibiont distribution and abundance, and effects on root growth. Hydrobiologia 247:87–98

Evans-White MA, Stelzer RS, Lamberti GA (2005) Taxonomic and regional patterns in benthic macroinvertebrate elemental composition in streams. Freshwater Biol 50:1786–1799

Feller IC (2002) The role of herbivory by wood-boring insects in mangrove ecosystems in Belize. Oikos 97:167–176

Feller IC, Chamberlain A (2007) Herbivore responses to nutrient enrichment and landscape heterogeneity in a mangrove ecosystem. Oecologia 153:607–616

Feller IC, Mathis WN (1997) Primary herbivory by wood-boring insects along an architectural gradient of Rhizophora mangle. Biotropica 29:440–451

Feller IC, McKee KL, Whigham DF, O'Neill JP (2002) Nitrogen vs. phosphorus limitation across an ecotonal gradient in a mangrove forest. Biogeochemistry 62:145–175

Finn JT (1980) Flow analysis of models of the Hubbard Brook ecosystem. Ecology 61:562–571

Fogel ML, Wooller MJ, Cheeseman J et al (2008) Unusually negative nitrogen isotopic compositions (δ15N) of mangroves and lichens in an oligotrophic, microbially-influenced ecosystem. Biogeosciences 5:1693–1704

Gili J-M, Coma R (1998) Benthic suspension feeders: their paramount role in littoral marine food webs. Trends Ecol Evol 13:316–321

Hillebrand H, Borer ET, Bracken MES et al (2009) Herbivore metabolism and stoichiometry each constrain herbivory at different organizational scales across ecosystems. Ecol Lett 12:516–527

Hirata H, Ulanowicz RE (1984) Information theoretical analysis of ecological networks. Int J Syst Sci 3:261–270

Jin-Eong O, Khoon G, Clough B (1995) Structure and productivity of a 20-year-old stand of Rhizophora apiculata Bl. mangrove forest. J Biogeogr 22:417–424

Jørgensen LA, Jørgensen SE, Nielsen SN (1991) ECOTOX: ecological modelling and ecotoxicology. Elsevier

Joye SB, Lee RY (2004) Benthic microbial mats: Important sources of fixed nitrogen and carbon to the Twin Cays, Belize ecosystem. Atoll Res Bull 528:1–24. doi:10.5479/si.00775630.528.1

Kathiresan K, Bingham BL (2001) Biology of mangroves and mangrove ecosystems. Adv Mar Biol 40:81–251

Kensley B, Schotte M (1989) Guide to the marine isopod crustaceans of the Caribbean

Koch V, Wolff M (2002) Energy budget and ecological role of mangrove epibenthos in the Caeté estuary, North Brazil. Mar Ecol Prog Ser 228:119

Kohlmeyer J, Bebout B (1986) On the occurrence of marine fungi in the diet of Littorina angulifera and observations on the behavior of the periwinkle. Mar Ecol 7:333–343

Koltes KH, Tschirky JJ, Feller IC (1998) Carrie bow Cay, Belize. In: Kjerfve B (ed) CARICOMP—Caribb. coral reef, Seagrass mangrove sites. UNESCO, Paris, pp 79–94

Lange OL, Büdel B, Meyer A et al (2000) Lichen carbon gain under tropical conditions: water relations and CO2 exchange of three Leptogium species of a lower montane rainforest in Panama. Flora 195:172–190

Lapointe BE, Littler MM, Littler DS (1992) Nutrient availability to marine macroalgae in siliclastic versus carbonate-rich coastal waters. Estuaries 15:75–82

Lee RY (2006) Primary production, nitrogen cycling and the ecosystem role of mangrove microbial mats on Twin Cays, Belize

Lee R, Joye S (2006) Seasonal patterns of nitrogen fixation and denitrification in oceanic mangrove habitats. Mar Ecol Prog Ser 307:127–141

Lee RY, Porubsky WP, Feller IC et al (2008) Porewater biogeochemistry and soil metabolism in dwarf red mangrove habitats (Twin Cays, Belize). Biogeochemistry 87:181–198

Liebig JJ (1840) Chemistry and its application to agriculture and physiology. Taylor and Walton, London

Littler MM, Taylor PR, Littler DS et al (1985) The distribution, abundance and primary productivity of submerged macrophytes in a Belize barrier-reef mangrove system. Atoll Res Bull 289:1–22. doi:10.5479/si.00775630.289.1

Machiwa JF, Hallberg RO (2002) An empirical model of the fate of organic carbon in a mangrove forest partly affected by anthropogenic activity. Ecol Modell 147:69–83

MacIntyre IG, Toscano MA, Lighty RG, Bond GB (2004) Holocene history of the mangrove islands of Twin Cays, Belize, Central America. Atoll Res Bull 510:1–18

McClanahan TR (1998) Predation and the distribution and abundance of tropical sea urchin population. J Exp Mar Bio Ecol 221:231–255

McKee KL (1995) Mangrove species distribution and propagule predation in Belize: an exception to the dominance predation hypothesis. Biotropica 27:334–345

McKee KL (2011) Biophysical controls on accretion and elevation change in Caribbean mangrove ecosystems. Estuar Coast Shelf Sci 91:475–483

McKee KL, Cahoon DR, Feller IC (2007) Caribbean mangroves adjust to rising sea level through biotic controls on change in soil elevation. Glob Ecol Biogeogr 16:545–556

McKeon CS, Feller IC (2004) The supratidal fauna of Twin Cays, Belize. Atoll Res Bull 526:1–22. doi:10.5479/si.00775630.526.1

Middleton BA, McKee KL (2001) Degradation of mangrove tissues and implications for peat formation in Belizean island forests. J Ecol 89:818–828

Miller M, Palojärvi A, Rangger A et al (1998) The use of fluorogenic substrates to measure fungal presence and activity in soil. Appl Environ Microbiol 64:613–617

Mitten S, McKeon CS, Feller IC (2004) Winter and summer bird communities of Twin Cays, Belize. Atoll Res Bull 527:1–20. doi:10.5479/si.00775630.527.1

Modlin RF (1996) Contributions to the ecology of Paranebalia belizensis from the waters off central Belize, Central America. J Crustac Biol 16:529–534

Nordhaus I (2004) Feeding ecology of the semi-terrestrial crab Ucides cordatus cordatus (Decapoda: Brachyura) in a mangrove forest in northern Brazil. Thesis, Zentrum für Tropenökologie, University of Bremen

Perry DM (1988) Effects of associated fauna on growth and productivity in the red mangrove. Ecology 69:1064–1075

Persson J, Fink P, Goto A et al (2010) To be or not to be what you eat: regulation of stoichiometric homeostasis among autotrophs and heterotrophs. Oikos 119:741–751

Redfield AC (1934) On the proportions of organic derivatives in sea water and their relation to the composition of plankton. In: Laboratory LS-F (ed) James Johnstone memorial volume. University Press, Liverpool, pp 176–192

Rodriguez W, Feller IC (2004) Mangrove landscape characterization and change in Twin Cays, Belize, using aerial photography and Ikonos satellite data. Atoll Res Bull 513:1–24. doi:10.5479/si.00775630.513.1

Scharler U (2012) Whole food-web studies: mangroves. In: Wolanski E, McLusky DS (eds) Treatise on estuarine coastal science. Academic Press, Waltham, pp 271–286

Schwinghamer P, Hargrave B, Peer D, Hawkins CM (1986) Partitioning of production and respiration among size groups of organisms in an intertidal benthic community. Mar Ecol Prog Ser 31:131–142

Smith VH, Tilman GD, Nekola JC (1999) Eutrophication: impacts of excess nutrient inputs on freshwater, marine, and terrestrial ecosystems. Environ Pollut 100:179–196

Sterner RW, Elser JJ (2002) Ecological stoichiometry: the biology of elements from molecules to the biosphere. Princeton University Press, Princeton

Sterner RW, George NB (2000) Carbon, nitrogen, and phosphorus stoichiometry of cyprinid fishes. Ecology 81:127–140

Taylor PR, Littler MM, Littler DS (1986) Escapes from herbivory in relation to the structure of mangrove island macroalgal communities. Oecologia 69:481–490

Ulanowicz RE (1986) Growth and development

Ulanowicz RE, Abarca-Arenas LG (1997) An informational synthesis of ecosystem structure and function. Ecol Modell 95:1–10

Ulanowicz RE, Baird D (1999) Nutrient controls on ecosystem dynamics: the Chesapeake mesohaline community. J Mar Syst 19:159–172

Ulanowicz RE, Kay JJ (1991) A package for the analysis of ecosystem flow networks. Environ Softw 6:131–143

Ulanowicz RE, Scharler UM (2008) Least-inference methods for constructing networks of trophic flows. Ecol Model 210:278–286

Ulanowicz RE, Bondavalli C, Heymans JJ, Egnotovich MS (1999) Network analysis of trophic dynamics in South Florida Ecosystem, FY 98: the mangrove ecosystem. http://www.cbl.umces.edu/~atlss/mngrv701.html. Accessed Nov 2012

Vanni MJ (2002) Nutrient cycling by animals in freshwater ecosystems. Annu Rev Ecol Syst 33:341–370

Vanni MJ, Flecker S, Hood JM (2002) Stoichiometry of nutrient recycling by vertebrates in a tropical stream: linking species identity and ecosystem processes. Ecol Lett 5:285–293

Wooller M, Smallwood B, Jacobson M, Fogel M (2003) Carbon and nitrogen stable isotopic variation in Laguncularia racemosa (L.) (white mangrove) from Florida and Belize: implications for trophic level studies. Hydrobiologia 499:13–23

Zhang J, Liu SM, Ren JL et al (2007) Nutrient gradients from the eutrophic Changjiang (Yangtze River) Estuary to the oligotrophic Kuroshio waters and re-evaluation of budgets for the East China Sea Shelf. Prog Oceanogr 74:449–478

Zhang Z-S, Song X-L, Lu X-G, Xue Z-S (2013) Ecological stoichiometry of carbon, nitrogen, and phosphorus in estuarine wetland soils: influences of vegetation coverage, plant communities, geomorphology, and seawalls. J Soils Sediments 13:1043–1051

Zuccarello GC, Yeates PH, Wright JT, Bartlett J (2001) Population structure and physiological differentiation of haplotypes of Caloglossa leprieurii (Rhodophyta) in a mangrove intertidal zone. J Phycol 37:235–244
Acknowledgments
Funding for this study was provided by a US-National Science Foundation Biocomplexity grant (DEB-998 1483). Fieldwork was conducted on the Carrie Bow Cay field station of the Smithsonian Institute. M. Carpenter and A. Chamberlain, Q. Roberts, V. Brenneis, B. Smallwood and D. Thornton are gratefully acknowledged for assistance in the field. Q. Roberts, V. Brenneis and P. Zelanko helped with C and N elemental analysis at the Geophysical Laboratory, Carnegie institution of Washington. M. F. and M. J. W. gratefully acknowledge support from the Smithsonian Institution's Loeb Fellowship and the Carnegie Institution of Washington, M. E. J. M. gratefully acknowledges the laboratory of D. Capone for material and instrumental support. Any use of trade, product, or firm names is for descriptive purposes only and does not imply endorsement by the US government.
Additional information
Communicated by Michael Madritch.
Electronic supplementary material
Below is the link to the electronic supplementary material.
About this article
Cite this article
Scharler, U.M., Ulanowicz, R.E., Fogel, M.L. et al. Variable nutrient stoichiometry (carbon:nitrogen:phosphorus) across trophic levels determines community and ecosystem properties in an oligotrophic mangrove system. Oecologia 179, 863–876 (2015). https://doi.org/10.1007/s00442-015-3379-2
Received:

Accepted:

Published:

Issue Date:
Keywords
Oligotrophic environment

Recycling

Nutrient limitation

Mangrove food web

Transfer efficiency