Abstract
We investigated the interaction between larvae of two anuran amphibian species (Rana temporaria and Bufo bufo) to test models of two-species competition. The study had a response surface experimental design with four replicates, each consisting of 24 density combinations. Larval performance—and, by assumption, change in population size—was defined by a linear combination of survival, growth, and development. We fit six competition models from the literature and discovered that density dependence was strongly non-linear, with the highest support for the Hassel–Comins model. Rana temporaria was competitively superior to B. bufo; the impacts of both species on growth and development were about five- to tenfold greater than those on survival. Isocline analysis predicted a stable configuration, which agrees with the observation that these two species are syntopic in nature. The results of this study confirm competition theory by identifying a model structure that agrees with data and making predictions that are broadly supportive of the observations.
Access options
Buy single article
Instant access to the full article PDF.
US$ 39.95
Tax calculation will be finalised during checkout.
Subscribe to journal
Immediate online access to all issues from 2019. Subscription will auto renew annually.
US$ 119
Tax calculation will be finalised during checkout.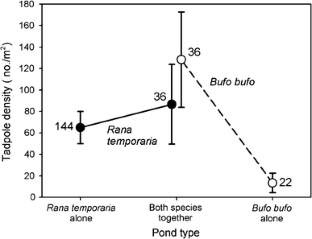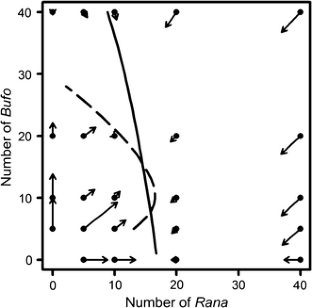 References
Altwegg R (2003) Multistage density dependence in an amphibian. Oecologia 136:46–50

Altwegg R, Reyer HU (2003) Patterns of natural selection on size at metamorphosis in water frogs. Evolution 57:872–882

Ayala FJ, Gilpin ME, Ehrenfeld JG (1973) Competition between species: theoretical models and experimental tests. Theor Popul Biol 4:331–356

Babik W, Rafinski J (2001) Amphibian breeding site characteristics in the Western Carpathians, Poland. Herp J 11:41–51

Behm JE, Edmonds DA, Harmon JP, Ives AR (2013) Multilevel statistical models and the analysis of experimental data. Ecology 94:1479–1486

Berven KA (1990) Factors affecting population fluctuations in larval and adult stages of the wood frog (Rana sylvatica). Ecology 71:1599–1608

Berven KA (2009) Density dependence in the terrestrial stage of wood frogs: evidence from a 21-years population study. Copeia 2009:328–338

Berven KA, Gill DE (1983) Interpreting geographic variation in life-history traits. Am Zool 23:85–97

Burnham KP, Anderson DR (1998) Model selection and inference: a practical information-theoretic approach. Springer, New York

Connell JH (1983) On the prevalence and relative importance of interspecific competition: evidence from field experiments. Am Nat 122:661–696

Dunson WA, Travis J (1991) The role of abiotic factors in community organization. Am Nat 138:1067–1091

Gascon C (1992) Aquatic predators and tadpole prey in central Amazonia: field data and experimental manipulations. Ecology 73:971–980

Goldberg DE, Landa K (1991) Competitive effect and response: hierarchies and correlated traits in the early stages of competition. J Ecol 79:1013–1030

Gosner K (1960) A simplified table for staging anuran embryos and larvae with notes on identification. Herpetologica 16:183–190

Hamer AJ, Parris KM (2011) Local and landscape determinants of amphibian communities in urban ponds. Ecol Appl 21:378–390

Hart SP, Marshall DJ (2012) Environmental stress, facilitation, competition, and coexistence. Ecology 94:2719–2731

Hassell MP, Comins HN (1976) Discrete time models for two-species competition. Theor Pop Biol 9:202–221

Hibbing ME, Fuqua C, Parsek MR, Peterson SB (2010) Bacterial competition: surviving and thriving in the microbial jungle. Nat Rev Microbiol 8:15–25

Inouye BD (1999) Estimating competition coefficients: strong competition among three species of frugivorous flies. Oecologia 120:588–594

Inouye BD (2001) Response surface experimental designs for investigating interspecific competition. Ecology 82:2696–2706

Joly P, Miaud C, Lehmann A, Grolet O (2001) Habitat matrix effects on pond occupancy in newts. Conservation Biol 15:239–248

Kaplan I, Denno RF (2007) Interspecific interactions in phytophagous insects revisited: a quantitative assessment of competition theory. Ecol Lett 10:977–994

Kim TN, Underwood N, Inouye BD (2013) Insect herbivores change the outcome of plant competition through both inter- and intraspecific processes. Ecology 94:1753–1763

Lawton JH, Hassell MP (1981) Asymmetrical competition in insects. Nature 289:793–795

May RM (1975) Stability and complexity in model ecosystems. Princeton University Press, Princeton

McPeek MA (1990) Determination of species composition in the Enallagma damselfly assemblages of permanent lakes. Ecology 71:83–98

Moll JD, Brown JS (2008) Competition and coexistence with multiple life-history stages. Am Nat 171:839–843

Morin PJ, Johnson EA (1988) Experimental studies of asymmetric competition among anurans. Oikos 53:398–407

Nöllert A, Nöllert C (1992) Die Amphibien Europas: Bestimmung, Gefährdung, Schutz. Franckh-Kosmos Verlag, Stuttgart

Paini DR, Funderburk JE, Reitz SR (2008) Competitive exclusion of a worldwide invasive pest by a native: quantifying competition between two phytophagous insects on two host plant species. J Anim Ecol 77:184–190

Pearman PB (2002) Interactions between Ambystoma salamander larvae: evidence for competitive asymmetry. Herpetologica 58:156–165

Pechmann JHK (1995) Use of large field enclosures to study the terrestrial ecology of pond-breeding amphibians. Herpetologica 51:434–450

Prout T, McChesney F (1985) Competition among immatures affects their adult fertility: population dynamics. Am Nat 126:521–558

R Core Team (2014) R: a language and environment for statistical computing. R Foundation for Statistical Computing, Vienna

Richter-Boix A, Llorente GA, Montori A (2004) Responses to competition effects of two anuran tadpoles according to life-history traits. Oikos 106:39–50

Ricker WE (1954) Stock and recruitment. J Fish Res Board Can 11:559–623

Schmitz O, Suttle K (2001) Effects of top predator species on direct and indirect interactions in a food web. Ecology 82:2072–2081

Schoener TW (1983) Field experiments on interspecific competition. Am Nat 122:240–285

Scott DE (1994) The effect of larval density on adult demographic traits in Ambystoma opacum. Ecology 75:1383–1396

Semlitsch RD, Scott DE, Pechmann JHK (1988) Time and size at metamorphosis related to adult fitness in Ambystoma talpoideum. Ecology 69:184–192

Simberloff D, Dayan T (1991) The guild concept and the structure of ecological communities. Annu Rev Ecol Syst 22:115–143

Smith DC (1987) Adult recruitment in chorus frogs: effects of size and date at metamorphosis. Ecology 68:344–350

Smith DC, Van Buskirk J (1995) Phenotypic design, plasticity, and ecological performance in two tadpole species. Am Nat 145:211–233

Sokal RR, Rohlf FJ (1981) Biometry, 2nd edn. W. H. Freeman, San Francisco

Thurnheer S, Reyer HU (2001) Spatial distribution and survival rate of waterfrog tadpoles in relation to biotic and abiotic factors: a field experiment. Amphib Reptil 22:21–32

Van Buskirk J (2003) Habitat partitioning of European and North American pond-breeding frogs and toads. Div Dist 9:399–410

Van Buskirk J (2005) Local and landscape influence on amphibian occurrence and abundance. Ecology 86:1936–1947

Vandermeer JH (1969) The competitive structure of communities: an experimental approach with protozoa. Ecology 50:362–371

Venzon DJ, Moolgavkar SH (1988) A method for computing profile-likelihood based confidence intervals. Appl Stat 37:87–94

Wellborn GA (2002) Trade-off between competitive ability and antipredator adaptation in a freshwater amphipod species complex. Ecology 83:129–136

Werner EE (1998) Ecological experiments and a research program in ecology. In: Resetarits WJ, Bernardo J (eds) Experimental ecology. Oxford University Press, New York, pp 3–26

Werner EE, Skelly DK, Relyea RA, Yurewicz KL (2007a) Amphibian species richness along environmental gradients. Oikos 116:1697–1712

Werner EE, Yurewicz KL, Skelly DK, Relyea RA (2007b) Turnover in an amphibian metacommunity: the role of local and regional factors. Oikos 116:1713–1725

Wilbur HM (1977) Density-dependent aspects of growth and metamorphosis in Bufo americanus. Ecology 58:196–200

Wilbur HM (1980) Complex life cycles. Annu Rev Ecol Syst 11:67–93

Wilbur HM (1987) Regulation of structure in complex systems: experimental temporary pond communities. Ecology 68:1437–1452

Woodward BD (1983) Predator–prey interactions and breeding-pond use of temporary-pond species in a desert anuran community. Ecology 64:1549–1555

Wootton JT (1994) The nature and consequences of indirect effects in ecological communities. Annu Rev Ecol Syst 25:443–466

Yoshida T, Hairston NG, Ellner SP (2004) Evolutionary trade-off between defence against grazing and competitive ability in a simple unicellular alga, Chlorella vulgaris. Proc R Soc Lond B 271:1947–1953
Acknowledgments
Funding came from the Swiss NSF and the Erasmus Student Placement Program.
Ethical approval
All applicable institutional and/or national guidelines for the care and use of animals were followed. Ethics permits were provided by the Veterinary Office of Canton Zurich, and permits to collect the animals came from the Canton's Office for Landscape and Nature.
Additional information
Communicated by Steven Kohler.
Electronic supplementary material
Below is the link to the electronic supplementary material.
About this article
Cite this article
Gazzola, A., Van Buskirk, J. Isocline analysis of competition predicts stable coexistence of two amphibians. Oecologia 178, 153–159 (2015). https://doi.org/10.1007/s00442-015-3273-y
Received:

Accepted:

Published:

Issue Date:
Keywords
Amphibian

Coexistence

Competition

Isoclines

Response surface modeling