Abstract
Common buckthorn (Rhamnus cathartica L.) is one of the most abundant and ecologically harmful non-native plants in forests of the Upper Midwest United States. At the same time, European earthworms are invading previously glaciated areas in this region, with largely anecdotal evidence suggesting they compound the negative effects of buckthorn and influence the invasibility of these forests. Germination and seedling establishment are important control points for colonization by any species, and manipulation of the conditions influencing these life history stages may provide insight into why invasive species are successful in some environments and not others. Using a greenhouse microcosm experiment, we examined the effects of important biotic and abiotic factors on the germination and seedling establishment of common buckthorn. We manipulated light levels, leaf litter depth and earthworm presence to investigate the independent and interactive effects of these treatments on buckthorn establishment. We found that light and leaf litter depth were significant predictors of buckthorn germination but that the presence of earthworms was the most important factor; earthworms interacted with light and leaf litter to increase the number and biomass of buckthorn across all treatments. Path analysis suggested both direct and moisture-mediated indirect mechanisms controlled these processes. The results suggest that the action of earthworms may provide a pathway through which buckthorn invades forests of the Upper Midwest United States. Hence, researchers and managers should consider co-invasion of plants and earthworms when investigating invasibility and creating preemptive or post-invasion management plans.
Access options
Buy single article
Instant access to the full article PDF.
US$ 39.95
Tax calculation will be finalised during checkout.
Subscribe to journal
Immediate online access to all issues from 2019. Subscription will auto renew annually.
US$ 119
Tax calculation will be finalised during checkout.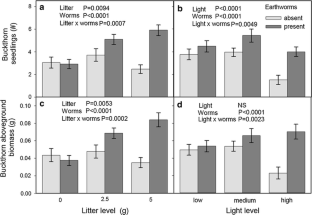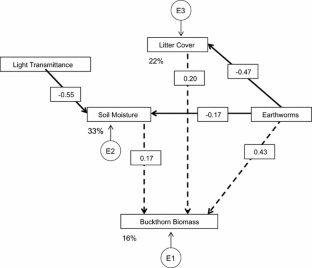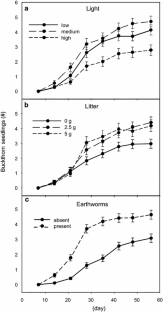 References
Arbuckle JL (2012) IMB SPSS Amos 19 user's guide. Amos, Crawfordville

Azcarate FM, Peco B (2006) Effects of seed predation by ants on Mediterranean grassland related to seed size. J Veg Sci 17:353–360

Baskin JM, Baskin CC (1992) Seed germination biology of the weedy biennial Alliaria petiolata. Nat Area J 12:191–197

Bellard C, Thuiller W, Leroy B, Genovesi P, Bakkenes M, Courchamp F (2013) Will climate change promote future invasions? Glob Change Biol 19:3740–3748

Benton TG, Solan M, Travis JMJ, Sait SM (2007) Microcosm experiments can inform global ecological problems. Trends Ecol Evol 22:516–521

Bisikwa J (2005) Establishment and management of European buckthorn (Rhamnus cathartica L.). Dissertation, University of Minnesota

Bohlen PJ, Groffman PM, Fahey TJ, Fisk MC, Suarez E, Pelletier DM, Fahey RT (2004) Ecosystem consequences of exotic earthworm invasion of north temperate forests. Ecosystems 7:1–12

Carpenter SR (1996) Microcosm experiments have limited relevance for community and ecosystem ecology. Ecology 77:677–680

Cintra R (1997) Leaf litter effects on seed and seedling predation of the palm Astrocaryum murumuru and the legume tree Dipteryx micrantha in Amazonian forest. J Trop Ecol 13:709–725

Costello DM, Lamberti GA (2008) Biological and physical effects of non-native earthworms on nitrogen cycling in riparian soils. Soil Biol Biochem 41:2230–2235

Dávalos A, Nuzzo V, Stark J, Blossey B (2013) Unexpected earthworm effects on forest understory plants. BMC Ecol 13:48. doi:10.1186/1472-6785-13-48

Davis MA, Grime JP, Thompson K (2000) Fluctuating resources in plant communities: a general theory of invasibility. J Ecol 88:528–534

Davis MA, Thompson K, Grime JP (2005) Invasibility: the local mechanism driving community assembly and species diversity. Ecography 28:696–704

Drake JA, Huxel GR, Hewitt CL (1996) Microcosms as models for generating and testing community theory. Ecology 77:670–677

Drouin M, Bradley R, Lapointe L, Whalen J (2014) Non-native anecic earthworms (Lumbricus terrestris L.) reduce seed germination and seedling survival of temperate and boreal trees species. App Soil Ecol 75:145–149

Eisenhauer N, Scheu S (2008) Invasibility of experimental grassland communities: the role of earthworms, plant functional group identity and seed size. Oikos 117:1026–1036. doi:10.1111/j.2008.0030-1299.16812.x

Eisenhauer N, Partsch S, Parkinson D, Scheu S (2007) Invasion of a deciduous forest by earthworms: changes in soil chemistry, microflora, microarthropods and vegetation. Soil Biol Biochem 39:1099–1110

Eisenhauer N, Butenschoen O, Radsick S, Scheu S (2010) Earthworms as seedling predators: importance of seeds and seedlings for earthworm nutrition. Soil Biol Biochem 42:1245–1252

Eisenhauer N, Schlaghamersky J, Reich PB, Frelich LE (2011) The wave towards a new steady state: effects of earthworm invasion on soil microbial functions. Biol Invasions 13:2191–2196

Eisenhauer N, Fisichelli NA, Frelich LE, Reich PB (2012) Interactive effects of global warming and 'global worming' on the initial establishment of native and exotic herbaceous plant species. Oikos 121:1121–1133

Elton CS (1958) The ecology of invasions by animals and plants. Methuen, London

Eschtruth AK, Battles JJ (2009) Assessing the relative importance of disturbance, herbivory, diversity, and propagule pressure in exotic plant invasion. Ecol Monogr 79:265–280

Fagan M, Peart D (2004) Impact of the invasive shrub glossy buckthorn (Rhamnus frangula L.) on juvenile recruitment by canopy trees. For Ecol Manage 194:95–107. doi:10.1016/j.foreco.2004.02.015

Frelich L, Reich P (2009) Wilderness Conservation in an era of global warming and invasive species: a case study from Minnesota's Boundary Waters Canoe Area Wilderness. Nat Area J 29:385–393

Frelich L, Hale C, Scheu S et al (2006) Earthworm invasion into previously earthworm-free temperate and boreal forests. Biol Invasions 8:1235–1245. doi:10.1007/s10530-006-9019-3

Frelich LE, Peterson RO, Dovciak M, Reich PB, Vucetich JA, Eisenhauer N (2012) Trophic cascades, invasive species and body-size hierarchies interactively modulate climate change responses of ecotonal temperate-boral forest. PNAS 367:2955–2961

Fridley JD, Stachowicz JJ, Naeem S, Sax DF, Seabloom EW, Smith MD, Stohlgren TJ, Tilman DE, Von Holle B (2007) The invasion paradox: reconciling pattern and process in species invasions. Ecology 88:3–17

Funk JL, Vitousek PM (2007) Resource-use efficiency and plant invasion in low-resource systems. Nature 446:1079–1081

Gassman A, Tosevsky I (2014) Biological control of Rhamnus cathartica: is it feasible? A revies of work done in 2002–2012. J Appl Entomol 138:1–13

Gill D, Marks P (1991) Tree and shrub seedling colonization of old fields in central New York. Ecol Monogr 61:183–205

Gilliam FS (2006) Response of the herbaceous layer of forest ecosystems to excess nitrogen deposition. J Ecol 94:1176–1191

Gourley LC (1985) A study of the ecology and spread of Buckthorn (Rhamnus cathartica L.) with particular reference to the University of Wisconsin Arboretum. Dissertation, University of Wisconsin, Madison

Gourley LC, Howell E (1984) Factors in buckthorn invasion documented; control measures checked (Wisconsin). Restor Manage Notes 2:87

Grace JB (2006) Structural equation modeling and natural systems. Cambridge University Press, Cambridge

Griffith B, Turke M, Weisser WW, Eisenhauer N (2013) Herbivore behavior in the anecic earthworm species Lumbricus terrestris L.? Eur J Soil Biol 55:62–65

Groffman PM, Bohlen PJ, Fisk MC, Fahey TJ (2004) Exotic earthworm invasion and microbial biomass in temperate forest soils. Ecosystems 7:45–54

Grubb P, Lee W, Kollmann J, Wilson J (1996) Interaction of irradiance and soil nutrient supply on growth of seedlings of ten European tall-shrub species and Fagus sylvatica. J Ecol 84:827–840

Gundale MJ (2002) Influence of exotic earthworms on the soil organic horizon and the rare fern Botrychium mormo. Conserv Biol 16:1555–1561

Hale CM, Frelich LE, Reich PB (2005) Exotic European earthworm invasion dynamics in northern hardwood forests of Minnesota, USA. Ecol Appl 15:848–860

Hale CM, Frelich LE, Reich PB (2006) Changes in hardwood forest understory plant communities in response to European earthworm invasion. Ecology 87:1637–1649

Hale CM, Frelich LE, Reich PB (2008) Exotic earthworm effects on hardwood forest floor, nutrient availability and native plants: a mesocosm study. Oecologia 155:509–518

Hartman KM, McCarthy BC (2004) Restoration of a forest understory after the removal of an invasive shrub, amur honeysuckle (Lonicera maackii). Restor Ecol 12:154–165. doi:10.1111/j.1061-2971.2004.00368.x

Heimpel GE, Frelich LE, Landis DA et al (2010) European buckthorn and Asian soybean aphid as components of an extensive invasional meltdown in North America. Biol Invasions 12:2913–2931. doi:10.1007/s10530-010-9736-5

Heneghan L, Clay C, Brundage C (2002) Rapid decomposition of buckthorn litter may change soil nutrient levels. Ecol Restor 20:108–111

Heneghan L, Rauschenberg C, Fatemi F, Workman M (2004) European buckthorn and its effects on some ecosystem properties in an urban woodland. Ecol Restor 22:275–280

Heneghan L, Fatemi F, Umek L et al (2006) The invasive shrub European buckthorn (Rhamnus cathartica L.) alters soil properties in Midwestern U.S. woodlands. Appl Soil Ecol 32:142–148. doi:10.1016/j.apsoil.2005.03.009

Heneghan L, Steffen J, Fagen K (2007) Interactions of an introduced shrub and introduced earthworms in an Illinois urban woodland: impact on leaf litter decomposition. Pedobiologia 50:543–551. doi:10.1016/j.pedobi.2006.10.002

Holdsworth AR, Frelich LE, Reich PB (2007) Effects of earthworm invasion on plant species richness in northern hardwood forests. Conserv Biol 21:997–1008

Holdsworth A, Frelich L, Reich P (2008) Litter decomposition in earthworm-invaded northern hardwood forests: role of invasion degree and litter chemistry. Ecoscience 15:536–544. doi:10.2980/15-4-3151

Holdsworth AR, Frelich LE, Reich PB (2012) Leaf litter disappearance in earthworm-invaded northern hardwood forests: role of tree species and the chemistry and diversity of litter. Ecosys 15:913–926

Huenneke LF, Hamburg SP, Koide R, Mooney HA, Vitousek PM (1990) Effects of soil resources on plant invasion and community structure in Californian serpentine grassland. Ecology 71:478–491

Invasive Species Program (2012) Invasive species of aquatic plants and wild animals in Minnesota: annual report for 2012. Minnesota Department of Natural Resources, St Paul

Kennedy TA, Naeem S, Howe KM, Knops JMH, Tilman D, Reich P (2002) Biodiversity as a barrier to ecological invasion. Nature 417:636–638

Klionsky SM, Amatangelo KL, Waller DM (2011) Above- and belowground impacts of european buckthorn (Rhamnus cathartica) on four native forbs. Restor Ecol 19:728–737. doi:10.1111/j.1526-100X.2010.00727.x

Knight KS (2006) Factors that influence invasion success of two woody invaders of forest understories. Dissertation, University of Minnesota

Knight KS, Kurylo JS, Endress AG et al (2007) Ecology and ecosystem impacts of common buckthorn (Rhamnus cathartica): a review. Biol Invasions 9:925–937. doi:10.1007/s10530-007-9091-3

Kollman J, Grubb PJ (1999) Recruitment of fleshy-fruited species under different shrub species: control by under-canopy environment. Ecol Res 14:9–21

Kurylo J, Endress A (2012) Rhamnus cathartica: notes on Its early history in North America. Northeast Nat 19:601–610

Kurylo J, Knight K (2007) Rhamnus cathartica: native and naturalized distribution and habitat preferences. J Torrey Bot Soc 134:420–430

Larson ER, Kipfmueller KF, Hale CM, Frelich LE, Reich PB (2010) Tree rings detect earthworm invasions and their effects in northern hardwood forests. Biol Invasion 12:1053–1066

Lawrence B, Fisk MC, Fahey TJ, Suarez ER (2003) Influence of nonnative earthworms on mycorrhizal colonization of sugar maple (Acer saccharum). New Phytol 157:145–153

Levine JM, Adler PB, Yelenik SG (2004) A meta-analysis of biotic resistance to exotic plant invasions. Ecol Lett 7:975–989

Lodge DM (1993) Biological invasions—lessons for ecology. Trends Ecol Evol 8:133–137

Mack RN, Simberloff D, Lonsdale WM, Evans H, Clout M, Bazzaz FA (2000) Biotic invasions: causes, epidemiology, global consequences, and control. Ecol App 10:689–710

McCormick MK, Parker KL, Szlavecz K, Whigham DF (2013) Native and exotic earthworms affect orchid seed loss. AoB Plant. doi:10.1093/aobpla/plt018

McKinney AM, Goodell K (2010) Shading by invasive shrub reduces seed production and pollinator services in a native herb. Biol Invasions 12:2751–2763. doi:10.1007/s10530-009-9680-4

Milcu A, Schumacher J, Scheu S (2006) Earthworms (Lumbricus terrestris) affects plant seedling recruitment and microhabitat heterogeneity. Funct Ecol 20:261–268

Murphy GEP, Romanuk TN (2014) A meta-analysis of declines in local species richness from human disturbances. Ecol Evol 4:91–103

Pimentel D, Zuniga R, Morrison D (2005) Update on the environmental and economic costs associated with alien-invasive species in the United States. Ecol Econ 52:273–288

Polgar C, Gallinat A, Primack RB (2014) Drivers of leaf-out phenology and their implications for species invasions: insights from Thoreau's Concord. New Phytol 202:106–115

Prati D, Bossdorf O (2004) Allelopathic inhibition of germination by Alliaria petiolata (Brassicaceae). Am J Bot 91:285–288

Regnier E, Harrison SK, Liu J et al (2008) Impact of an exotic earthworm on seed dispersal of an indigenous US weed. J Appl Ecol 45:1621–1629

Richardson DM, Pysek P, Rejmanek M, Barbour MG, Panetta FD, West CJ (2000) Naturalization and invasion of alien plants: concepts and definitions. Divers Distrib 6:93–107

Sacerdote AB, King RB (2014) Direct effects of an invasive European buckthorn metabolite on embryo survival and development in Xenopus laevis and Pseudacris triseriata. J Herpetol 48:51–58

Sackett TE, Smith SM, Basiliko N (2013) Indirect and direct effects of exotic earthworms on soil nutrient and carbon pools in North American temperate forests. Siol Biol Biochem 57:459–476

Schindler DW (1998) Replication versus realism: the need for ecosystem-scale experiments. Ecosystems 1:323–334

Schmidt K, Whelan C (1999) Effects of exotic Lonicera and Rhamnus on songbird nest predation. Conserv Biol 13:1502–1506

Schramm JW, Ehrenfeld JG (2010) Leaf litter and understory canopy shade limit the establishment, growth and reproduction of Microstegium vimineum. Biol Invasion 12:3195–3204

Seltzner S, Eddy TL (2003) Allelopathy in Rhamnus cathartica, European Buckthorn. Mich Bot 42:51–61

Stewart JR, Graves WR (2004) Photosynthesis and growth of Rhamnus caroliniana during drought and flooding : comparisons to the invasive Rhamnus cathartica. HortScience 39:1280–1284

Stinson KA, Campbell SA, Powell JR, Wolfe BR, Callaway RM, Thelen GC, Hallett SG, Prati D, Klironomos JN (2006) Invasive plant suppresses the growth of native tree seedlings by disrupting belowground mutualisms. PLoS Biol. doi:10.1371/journal.pbio.0040140

Theoharides KA, Dukes JS (2007) Plant invasion across space and time: factors affecting nonindigenous species success during four stages of invasion. New Phytol 176:256–273

Traba J, Azcarate FM, Peco B (2004) From what depth do seeds emerge? A soil seed bank experiment with Mediterranean grassland species. Seed Sci Res 14:297–303

USDA, NRCS (2014) The PLANTS database (http://plants.usda.gov). National Plant Data Team, Greensboro

Vitousek PM, D'Antonio CM, Loope LL, Westbrooks R (1996) Biological invasions as global environmental change. Am Sci 84:468–478

Warren RJ, Bahn V, Bradford MA (2012) The interaction between propagule pressure, habitat suitability and density-dependent reproduction in species invasion. Oikos 121:874–881

Whitfeld TJS, Lodge AG, Roth AM, Reich PB (2014a) Community phylogenetic diversity and abiotic site characteristics influence abundance of the invasive plant Rhamnus cathartica L. J Plant Ecol 7:202–209

Whitfeld TJS, Roth AM, Lodge AG, Eisenhauer N, Frelich LE, Reich PB (2014b) Resident plant diversity and introduced earthworms have contrasting effects on the success of invasive plants. Biol Invasion. doi:10.1007/s10530-014-0657-6

Williamson M, Fitter A (1996) The varying success of invaders. Ecology 77:1661–1666

Wyckoff PH, Jansen R, Patten R (2005) The European buckthorn (Rhamnus cathartica) invasion in west central Minnesota. USDA Forest Service, St. Paul. Report no. FHTET-2005-09

Wyckoff PH, Greiman R, Krueger A, Luce L (2012) Forest dynamics at Minnesota's prairie-forest border driven by invasive buckthorn (Rhamnus cathartica) and native bur oak (Quercus macrocarpa). J Torrey Bot Soc 139:311–322

Yeo HHT, Chong KY, Yee ATK, Giam X, Corlett RT, Tan HTW (2014) Leaf litter depth as an important factor inhibiting seedlings establishment of an exotic palm in tropical secondary forest patches. Biol Invasion 16:381–392
Acknowledgments
We thank the staff at Warner Nature Center for allowing us to collect soil and leaf litter for the experiment. We thank Cindy Buschena and Susan Barrott for their help throughout the experiment. We also thank the undergraduate student workers in the Reich lab for help planting and harvesting the experiment. Funding for this project was provided by the Minnesota Environment and Natural Resources Trust Fund as recommended by the Legislative-Citizen Commission on Minnesota Resources (LCCMR). Support was also provided by the Integrative Graduate Education and Research Traineeship: Risk Analysis for Introduced Species and Genotypes (NSF DGE-0653827); University of Minnesota Graduate School; the Wilderness Research Foundation; and the Dayton Fund of the Bell Museum of Natural History. N. E. gratefully acknowledges funding by the Deutsche Forschungsgemeinschaft (Ei 862/1, Ei 862/2).
Additional information
Communicated by Stefan Scheu.
Electronic supplementary material
Below is the link to the electronic supplementary material.
About this article
Cite this article
Roth, A.M., Whitfeld, T.J.S., Lodge, A.G. et al. Invasive earthworms interact with abiotic conditions to influence the invasion of common buckthorn (Rhamnus cathartica). Oecologia 178, 219–230 (2015). https://doi.org/10.1007/s00442-014-3175-4
Received:

Accepted:

Published:

Issue Date:
Keywords
Light

Leaf litter

Invasibility

Lumbricus terrestris
Rhamnus cathartica