Abstract
A few studies have reported a recent and rapid decline in NO3 − deposition in eastern North America. Whether this trend can be observed at remote boreal sites with low rates of N deposition and how it could impact canopy uptake (CU) of N remain unknown. Here we report trends between 1997/1999 and 2012 for precipitation, throughfall N deposition as well as inorganic N CU for two boreal forest sites of Quebec, Canada, with contrasted N deposition rates and tree species composition. NO3 − bulk deposition declined by approximately 50 % at both sites over the studied period while no change was observed for NH4 +. As a result, the contribution of NH4 + to inorganic N deposition changed from ~33 % to more than 50 % during the study period. On average, 52–59 % of N deposition was intercepted by the canopy, the retention being higher for NH4 + (60–67 %) than for NO3 – (45–54 %). The decrease in NO3 – bulk deposition and the increase in the NH4 +:NO3 − ratio had important impacts on N–canopy interactions. The contribution of NH4 + CU to that of total inorganic N CU increased at both sites but the trend was significant only at Tirasse (lowest N deposition). At this site, absolute NO3 − CU significantly decreased (as did total N CU) during the study period, a consequence of the strong relationship (r 2 = 0.88) between NO3 − bulk deposition and NO3 − CU. Our data suggest that N interactions with forest canopies may change rapidly with changes in N deposition as well as with tree species composition.
Access options
Buy single article
Instant access to the full article PDF.
USD 39.95
Price includes VAT (USA)
Tax calculation will be finalised during checkout.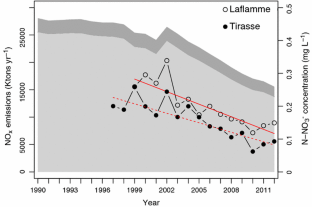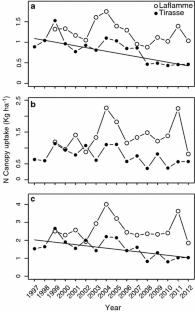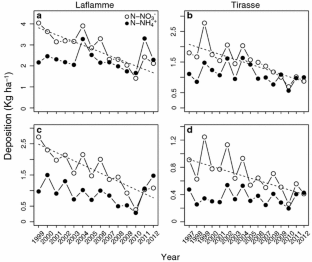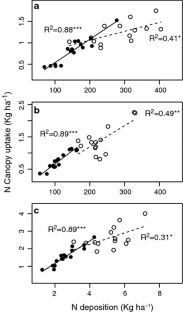 References
Aber J, Nadelhoffer K, Steudler P, Melillo J (1989) Nitrogen saturation in northern forest ecosystems. Bioscience 39:378–386

Aber J, Mcdowell W, Nadelhoffer K et al (1998) Nitrogen saturation in temperate forest ecosystems: hypotheses revisited. Bioscience 48:921–934

Adriaenssens S, Staelens J, Wuyts K et al (2011) Foliar nitrogen uptake from wet deposition and the relation with leaf wettability and water storage capacity. Water Air Soil Pollut 219:43–57

Adriaenssens S, Staelens J, Wuyts K et al (2012) Retention of dissolved inorganic nitrogen by foliage and twigs of four temperate tree species. Ecosystems 15:1093–1107

Betlach M, Tiedje J, Firestone R (1981) Assimilatory nitrate uptake in Pseudomonas fluorescens studied using N-15. Arch Microbiol 129:135–140

Bobbink R, Hicks K, Galloway J et al (2010) Global assessment of nitrogen deposition effects on terrestrial plant diversity: a synthesis. Ecol Appl 20:30–59

Brumme R, Leimcke U, Matzner E (1992) Interception and uptake of NH4 and NO3 from wet deposition by above-ground parts of young beech (Fagus silvatica L.) trees. Plant Soil 142:273–279

Canadian Soil Survey Commitee (1992) The Canadian system of soil classification

Clark CM, Hobbie SE, Venterea R, Tilman D (2009) Long-lasting effects on nitrogen cycling 12 years after treatments cease despite minimal long-term nitrogen retention. Glob Change Biol 15:1755–1766

Dail DB, Hollinger DY, Davidson EA et al (2009) Distribution of nitrogen-15 tracers applied to the canopy of a mature spruce-hemlock stand, Howland, Maine, USA. Oecologia 160:589–599

Duchesne L, Houle D (2006) Base cation cycling in a pristine watershed of the Canadian boreal forest. Biogeochemistry 78:195–216

Duchesne L, Houle D (2008) Investigating the impact of nutrient cation removal through harvesting on the long term sustainability of the boreal forest. Ecol Appl 18(7):1642–1651

Emmett B (2007) Nitrogen saturation of terrestrial ecosystems: some recent findings and their implications for our conceptual framework. Water Air Soil Pollut 1:99–109

Eshleman KN, Sabo RD, Kline KM (2013) Surface water quality is improving due to declining atmospheric N deposition. Environ Sci Technol 47:12193–12200

Fenn ME, Ross CS, Schilling SL et al (2013) Atmospheric deposition of nitrogen and sulfur and preferential canopy consumption of nitrate in forests of the Pacific Northwest, USA. For Ecol Manage 302:240–253

Gaige E, Dail DB, Hollinger DY et al (2007) Changes in canopy processes following whole-forest canopy nitrogen fertilization of a mature spruce-hemlock forest. Ecosystems 10:1133–1147

Gundale MJ, Deluca TH, Nordin A (2011) Bryophytes attenuate anthropogenic nitrogen inputs in boreal forests. Glob Chang Biol 17:2743–2753

Gundale MJ, From F, Bach LH, Nordin A (2014) Anthropogenic nitrogen deposition in boreal forests has a minor impact on the global carbon cycle. Glob Chang Biol 20:276–286

Houle D, Carignan R, Roberge J (2004) The transit of 35SO4 2− and 3H2O added in situ to soil in a boreal coniferous forest. Water Air Soil Pollut 4:501–516

Houle D, Marty C, Duchesne L, Gagnon C (2014a) Humus layer is the main locus of secondary SO4 production in boreal forests. Geochim Cosmochim Acta 126:18–29

Houle D, Moore J, Ouimet R, Marty C (2014b) Tree species partition N uptake by soil depth in boreal forests. Ecology 95:1127–1133

Kothawala DN, Watmough SA, Futter MN et al (2011) Stream nitrate responds rapidly to decreasing nitrate deposition. Ecosystems 14:274–286

Lovett GM, Goodale CL (2011) A new conceptual model of nitrogen saturation based on experimental nitrogen addition to an oak forest. Ecosystems 14:615–631

Marty C, Houle D, Duchesne L, Gagnon C (2012) Canopy interaction with precipitation and sulphur deposition in two boreal forests of Quebec, Canada. Environ Pollut 162:354–360

Moldan F, Kjonaas O, Stuanes A, Wright R (2006) Increased nitrogen in runoff and soil following 13 years of experimentally increased nitrogen deposition to a coniferous-forested catchment at Gardsjon, Sweden. Environ Pollut 144:610–620

Monks PS, Granier C, Fuzzi S et al (2009) Atmospheric composition change—global and regional air quality. Atmos Environ 43:5268–5350

Morris DM, Gordon AG, Gordon A (2003) Patterns of canopy interception and throughfall along a topographic sequence for black spruce dominated forest ecosystems in northwestern Ontario. Can J For Res Can Rech For 33:1046–1060

Mustajarvi K, Merila P, Derome J et al (2008) Fluxes of dissolved organic and inorganic nitrogen in relation to stand characteristics and latitude in Scots pine and Norway spruce stands in Finland. Boreal Environ Res 13:3–21

Nadelhoffer KJ, Downs MR, Fry B et al (1995) The fate of 15N-labelled nitrate additions to a northern hardwood forest in eastern Maine, USA. Oecologia 103:292–301

Nadelhoffer KJ, Downs MR, Fry B et al (1999) Controls on N retention and exports in a forested watershed. Environ Monit Assess 55:187–210

Nadelhoffer K, Colman B, Currie W et al (2004) Decadal-scale fates of 15N tracers added to oak and pine stands under ambient and elevated N inputs at the Harvard Forest (USA). For Ecol Manage 196:89–107

Nordin A, Strengbom J, Ericson L (2006) Responses to ammonium and nitrate additions by boreal plants and their natural enemies. Environ Pollut 141:167–174

Pardo LH, Templer PH, Goodale CL et al (2006) Regional assessment of N saturation using foliar and root delta N-15. Biogeochemistry 80:143–171

Pelster DE, Kolka RK, Prepas EE (2009) Overstory vegetation influence nitrogen and dissolved organic carbon flux from the atmosphere to the forest floor: Boreal Plain, Canada. For Ecol Manage 259:210–219

Piirainen S, Finer L, Starr M (1998) Canopy and soil retention of nitrogen deposition in a mixed boreal forest in eastern Finland. Water Air Soil Pollut 105:165–174

R Development Core Team (2008) R: a language and environment for statistical computing

Schwarz MT, Bischoff S, Blaser S et al (2014) More efficient aboveground nitrogen use in more diverse Central European forest canopies. For Ecol Manage 313:274–282

Sheppard LJ, Leith ID, Mizunuma T et al (2014) Inertia in an ombrotrophic bog ecosystem in response to 9 years' realistic perturbation by wet deposition of nitrogen, separated by form. Glob Chang Biol 20:566–580

Sievering H, Tomaszewski T, Torizzo J (2007) Canopy uptake of atmospheric N deposition at a conifer forest. Part I. Canopy N budget, photosynthetic efficiency and net ecosystem exchange. Tellus Ser B-Chem Phys Meteorol 59:483–492

Soil Survey Staff (1998) Keys to soil taxonomy, 8th edn. USDA Natural Resources Conservation Service

Sparks JP (2009) Ecological ramifications of the direct foliar uptake of nitrogen. Oecologia 159:1–13

Ste-Marie C, Houle D (2006) Forest floor gross and net nitrogen mineralization in three forest types in Quebec, Canada. Soil Biol Biochem 38:2135–2143

Strock KE, Nelson SJ, Kahl S et al (2014) Decadal trends reveal recent acceleration in the rate of recovery from acidification in the Northeastern US. Environ Sci Technol 48(9):4681–4689

Vet R, Brook J, Ro C et al (2004) Atmospheric response to past emission control programs. Can Acid Depos Sci Assess
Acknowledgments
D. H. and L. D. conceived and designed the experiments. C. M. analyzed the data. D. H. and C. M. wrote the manuscript; L. D. provided editorial advice.
Additional information
Communicated by Hormoz BassiriRad.
Electronic supplementary material
Below is the link to the electronic supplementary material.
About this article
Cite this article
Houle, D., Marty, C. & Duchesne, L. Response of canopy nitrogen uptake to a rapid decrease in bulk nitrate deposition in two eastern Canadian boreal forests. Oecologia 177, 29–37 (2015). https://doi.org/10.1007/s00442-014-3118-0
Received:

Accepted:

Published:

Issue Date:
Keywords
Nitrogen deposition

Canopy uptake

Boreal forest

Stream water

Throughfall