Abstract
In northern forests, large amounts of missing N that dominate N balances at scales ranging from small watersheds to large regional drainage basins may be related to N-gas production by soil microbes. We measured denitrification rates in forest soils in northeastern North America along a N deposition gradient to determine whether N-gas fluxes were a significant fate for atmospheric N inputs and whether denitrification rates were correlated with N availability, soil O2 status, or forest type. We quantified N2 and N2O fluxes in the laboratory with an intact-core method and monitored soil O2, temperature and moisture in three forests differing in natural and anthropogenic N enrichment: Turkey Lakes Watershed, Ontario; Hubbard Brook Experimental Forest, New Hampshire; and Bear Brook Watershed, Maine (fertilized and reference plots in hardwood and softwood stands). Total N-gas flux estimates ranged from <1 in fertilized hardwood uplands at Bear Brook to >100 kg N ha−1 year−1 in hardwood wetlands at Turkey Lakes. N-gas flux increased systematically with natural N enrichment from soils with high nitrification rates (Bear Brook < Hubbard Brook < Turkey Lakes) but did not increase in the site where N fertilizer has been added since 1989 (Bear Brook). Our results show that denitrification is an important and underestimated term (1–24 % of atmospheric N inputs) in N budgets of upland forests in northeastern North America, but it does not appear to be an important sink for elevated anthropogenic atmospheric N deposition in this region.
Access options
Buy single article
Instant access to the full article PDF.
US$ 39.95
Tax calculation will be finalised during checkout.
Subscribe to journal
Immediate online access to all issues from 2019. Subscription will auto renew annually.
US$ 119
Tax calculation will be finalised during checkout.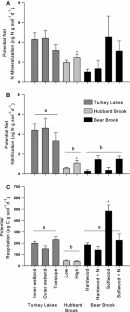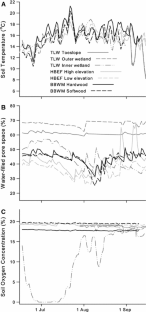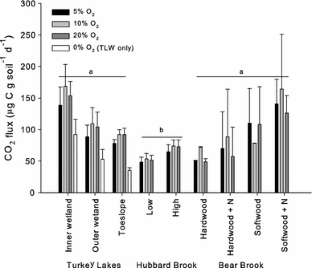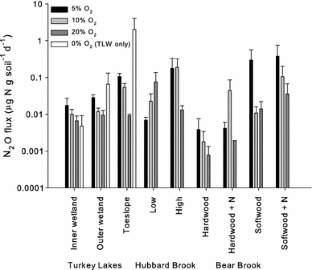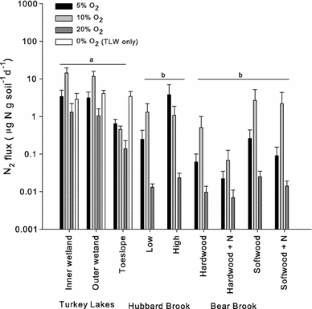 References
Aber J, McDowell W, Nadelhoffer K, Magill A, Berntson G, Kamakea M, McNulty S, Currie W, Rustad L, Fernandez I (1998) Nitrogen saturation in temperate forest ecosystems—hypotheses revisited. Bioscience 48:921–934

Baron JS, Driscoll CT, Stoddard JL, Richer EE (2011) Empirical critical loads of atmospheric nitrogen deposition for nutrient enrichment and acidification of sensitive US lakes. Bioscience 61:602–613

Bernal S, Hedin LO, Likens GE, Gerber S, Buso DC (2012) Complex response of the forest nitrogen cycle to climate change. Proc Natl Acad Sci 109:3406–3411

Bowden W (1986) Gaseous nitrogen emissions from undisturbed terrestrial ecosystems: an assessment of their impacts on local and global nitrogen budgets. Biogeochemistry 2:249–279

Boyer EW, Alexander RB, Parton WJ, Li CS, Butterbach-Bahl K, Donner SD, Skaggs RW, Del Gross SJ (2006) Modeling denitrification in terrestrial and aquatic ecosystems at regional scales. Ecol Appl 16:2123–2142

Burgin A, Groffman P (2012) Soil O2 controls denitrification rates and N2O yield in a riparian wetland. J Geophys Res 117:G01010

Burgin A, Groffman P, Lewis D (2010) Factors regulating denitrification in a riparian wetland. Soil Sci Soc Am J 74:1826–1833

Burns DA, Blett T, Haeuber R, Pardo LH (2008) Critical loads as a policy tool for protecting ecosystems from the effects of air pollutants. Front Ecol Environ 6:156–159

Butterbach-Bahl K, Willibald G, Papen H (2002) Soil core method for direct simultaneous determination of N2 and N2O emissions from forest soils. Plant Soil 240:105–116

Creed IF, Beall FD (2009) Distributed topographic indicators for predicting nitrogen export from headwater catchments. Water Resour Res 45:W10407

Dannenmann M, Butterbach-Bahl K, Gasche R, Willibald G, Papen H (2008) Dinitrogen emissions and the N2:N2O emission ratio of a Rendzic Leptosol as influenced by pH and forest thinning. Soil Biol Biochem 40:2317–2323

Davidson EA, David MB, Galloway JN, Goodale CL, Haeuber R, Harrison JA, Howarth RW, Jaynes DB, Lowrance RR, Nolan BT, Peel JL, Pinder RW, Porter E, Snyder CS, Townsend AR, Ward MH (2012) Excess nitrogen in the US environment: trends, risks, and solutions. Issues Ecol 15:1–16

Driscoll CT, Whitall D, Aber J, Boyer E, Castro M, Cronan C, Goodale CL, Groffman P, Hopkinson C, Lambert K (2003) Nitrogen pollution in the northeastern United States: sources, effects, and management options. Bioscience 53:357–374

Duncan JM, Groffman PM, Band LE (2013) Towards closing the watershed nitrogen budget: spatial and temporal scaling of denitrification. J Geophys Res Biogeosci 118:1105–1119

Durán J, Rodríguez A, Morse JL, Groffman PM (2013) Winter climate change effects on soil C and N cycles in urban grasslands. Glob Change Biol 19:2826–2837

Environment Canada (2012) Canada-United States air quality agreement progress report

Fatemi F, Fernandez I, Szillery J, Norton S, Rustad L (2012) Soil solution chemical response to two decades of experimental acidification at the Bear Brook watershed in Maine. Water Air Soil Pollut 223:6171–6186

Fernandez I, Adams M, SanClements M, Norton S (2010) Comparing decadal responses of whole-watershed manipulations at the Bear Brook and Fernow experiments. Environ Monit Assess 171:149–161

Firestone MK, Davidson EA (1989) Microbiological basis of NO and N2O production and consumption in soil. In: Andreae MO, Schimel D (eds) Exchange of trace gases between terrestrial ecosystems and the atmosphere. Wiley, New York, pp 7–21

Foster N, Spoelstra J, Hazlett P, Schiff S, Beall F, Creed I, David C (2005) Heterogeneity in soil nitrogen within first-order forested catchments at the Turkey Lakes Watershed. Can J For Res 35:797–805

Galloway JN, Dentener FJ, Capone DG, Boyer EW, Howarth RW, Seitzinger SP, Asner GP, Cleveland CC, Green PA, Holland EA, Karl DM, Michaels AF, Porter JH, Townsend AR, Vorosmarty CJ (2004) Nitrogen cycles: past, present, and future. Biogeochemistry 70:153–226

Goodale CL, Aber JD, Vitousek PM (2003) An unexpected nitrate decline in New Hampshire streams. Ecosystems 6:0075–0086

Groffman PM (1991) Ecology of nitrification and denitrification in soil evaluated at scales relevant to atmospheric chemistry. In: Rogers JE, Whitman WB (eds) Microbial production and consumption of greenhouse gases: methane, nitrogen Oxides, and halomethanes. American Society for Microbiology, Washington, pp 201–217

Groffman PM (2008) Nitrogen balances at ecosystem, landscape, regional and global scales. In: Schepers J, Raun W (eds) Nitrogen in agricultural soils. Soil Science Society of America, Madison, pp 731–758

Groffman PM, Altabet MA, Bohlke JK, Butterbach-Bahl K, David MB, Firestone MK, Giblin AE, Kana TM, Nielsen LP, Voytek MA (2006a) Methods for measuring denitrification: diverse approaches to a difficult problem. Ecol Appl 16:2091–2122

Groffman PM, Fisk MC, Driscoll CT, Likens GE, Fahey TJ, Eagar C, Pardo LH (2006b) Calcium additions and microbial nitrogen cycle processes in a northern hardwood forest. Ecosystems 9:1289–1305

Groffman PM, Butterbach-Bahl K, Fulweiler RW, Gold AJ, Morse JL, Stander EK, Tague C, Tonitto C, Vidon P (2009) Challenges to incorporating spatially and temporally explicit phenomena (hotspots and hot moments) in denitrification models. Biogeochemistry 93:49–77

Hazlett PW, Curry JM, Weldon TP (2011) Assessing decadal change in mineral soil cation chemistry at the Turkey Lakes watershed. Soil Sci Soc Am J 75:287–305

Holtan-Hartwig L, Dörsch P, Bakken LR (2002) Low temperature control of soil denitrifying communities: kinetics of N2O production and reduction. Soil Biol Biochem 34:1797–1806

Jefts S, Fernandez IJ, Rustad LE, Dail BD (2004) Decadal responses in soil N dynamics at the Bear Brook Watershed in Maine, USA. For Ecol Manage 189:189–205

Jenkinson DS, Powlson DS (1976) The effects of biocidal treatments on metabolism in soil. V. A method for measuring soil biomass. Soil Biol Biochem 8:209–213

Kreutzer K, Butterbach-Bahl K, Rennenberg H, Papen H (2009) The complete nitrogen cycle of an N-saturated spruce forest ecosystem. Plant Biol 11:643–649

Kulkarni MV, Groffman PM, Yavitt JB (2008) Solving the global nitrogen problem: it's a gas! Front Ecol Environ 6:199–206

Kulkarni MV, Burgin AJ, Groffman PM, Yavitt JB (2013) Direct flux and 15N tracer methods for measuring denitrification in forest soils. Biogeochemistry 1–15

Liptzin D, Silver W, Detto M (2011) Temporal dynamics in soil oxygen and greenhouse gases in two humid tropical forests. Ecosystems 14:171–182

Lovett GM, Mitchell MJ (2004) Sugar maple and nitrogen cycling in the forests of eastern North America. Front Ecol Environ 2:81–88

Lovett GM, Weathers KC, Arthur MA (2002) Control of nitrogen loss from forested watersheds by soil carbon: nitrogen ratio and tree species composition. Ecosystems 5:712–718

Magill AH, Aber JD, Currie WS, Nadelhoffer KJ, Martin ME, McDowell WH, Melillo JM, Steudler P (2004) Ecosystem response to 15 years of chronic nitrogen additions at the Harvard Forest LTER, Massachusetts, USA. For Ecol Manage 196:7–28

Martin C, Driscoll C, Fahey T (2000) Changes in streamwater chemistry after 20 years from forested watersheds in New Hampshire, USA. Can J For Res 30:1206–1213

McClain ME, Boyer EW, Dent CL, Gergel SE, Grimm NB, Groffman PM, Hart SC, Harvey JW, Johnston CA, Mayorga E, McDowell WH, Pinay G (2003) Biogeochemical hot spots and hot moments at the interface of terrestrial and aquatic ecosystems. Ecosystems 6:301–312

Morse JL, Bernhardt ES (2013) Using 15N tracers to estimate N2O and N2 emissions from nitrification and denitrification in coastal plain wetlands under contrasting land-uses. Soil Biol Biochem 57:635–643

Morse JL, Werner SF, Gillin C, Bailey SW, McGuire KJ, Groffman PM (2014) Searching for biogeochemical hotspots in three dimensions: soil C and N cycling in hydropedologic units in a northern hardwood forest. J Geophys Res Biogeosci 119:1596–1607

Morse JL, Durán J, Groffman PM (accepted) Denitrification and greenhouse gas fluxes in a northern hardwood forest: the importance of snowmelt and implications for ecosystem N budgets. Ecosystems

Nadelhoffer KJ, Emmett BA, Gundersen P, Kjønaas OJ, Koopmans CJ, Schleppi P, Tietema A, Wright RF (1999) Nitrogen deposition makes a minor contribution to carbon sequestration in temperate forests. Nature 398:145–148

Nelson DW, Sommers LE, Bigham JM (1986) Total carbon, organic carbon, and organic matter. Soil Sci Soc Am, Madison

Pardo LH, Fenn ME, Goodale CL, Geiser LH, Driscoll CT, Allen EB, Baron JS, Bobbink R, Bowman WD, Clark CM, Emmett B, Gilliam FS, Greaver TL, Hall SJ, Lilleskov EA, Liu L, Lynch JA, Nadelhoffer KJ, Perakis SS, Robin-Abbott MJ, Stoddard JL, Weathers KC, Dennis RL (2011) Effects of nitrogen deposition and empirical nitrogen critical loads for ecoregions of the United States. Ecol Appl 21:3049–3082

Parkin TB, Sexstone AJ, Tiedje JM (1985) Adaptation of denitrifying populations to low soil pH. Appl Environ Microbiol 49:1053–1056

Philippot L, Andert J, Jones CM, Bru D, Hallin S (2011) Importance of denitrifiers lacking the genes encoding the nitrous oxide reductase for N2O emissions from soil. Glob Change Biol 17:1497–1504

Porter E, Bowman W, Clark C, Compton J, Pardo L, Soong J (2013) Interactive effects of anthropogenic nitrogen enrichment and climate change on terrestrial and aquatic biodiversity. Biogeochemistry 114:93–120

R Development Core Team (2009) R: a language and environment for statistical computing. R Foundation for Statistical Computing, Vienna

Ravishankara AR, Daniel JS, Portmann RW (2009) Nitrous oxide (N2O): the dominant ozone-depleting substance emitted in the 21st century. Science 326:123–125

Rustad LE, Kahl JS, Norton SA, Fernandez IJ (1994) Underestimation of dry deposition by throughfall in mixed northern hardwood forests. J Hydrol 162:319–336

Schlesinger WH (2009) On the fate of anthropogenic nitrogen. Proc Natl Acad Sci 106:203–208

Schwarz PA, Fahey TJ, McCulloch CE (2003) Factors controlling spatial variation of tree species abundance in a forested landscape. Ecology 84:1862–1878

Seitzinger S, Harrison JA, Bohlke JK, Bouwman AF, Lowrance R, Peterson B, Tobias C, Van Drecht G (2006) Denitrification across landscapes and waterscapes: a synthesis. Ecol Appl 16:2064–2090

Sexstone AJ, Revsbech NP, Parkin TB, Tiedje JM (1985) Direct measurement of oxygen profiles and denitrification rates in soil aggregates. Soil Sci Soc Am J 49:645–651

Silver WL, Lugo AE, Keller M (1999) Soil oxygen availability and biogeochemistry along rainfall and topographic gradients in upland wet tropical forest soils. Biogeochemistry 44:301–328

Simek M, Cooper JE (2002) The influence of soil pH on denitrification: progress towards the understanding of this interaction over the last 50 years. Eur J Soil Sci 53:345–354

Soil Survey Staff (2006) Keys to soil taxonomy, 10th edn. US Department of Agriculture, Natural Resources Conservation Service, Washington

Spoelstra J, Schiff SL, Elgood RJ, Semkin RG, Jeffries DS (2001) Tracing the sources of exported nitrate in the Turkey Lakes watershed using 15N/14N and 18O/16O isotopic ratios. Ecosystems 4:536–544

Van Breemen N, Boyer EW, Goodale CL, Jaworski NA, Paustian K, Seitzinger SP, Lajtha K, Mayer B, Van Dam D, Howarth RW, Nadelhoffer KJ, Eve M, Billen G (2002) Where did all the nitrogen go? Fate of nitrogen inputs to large watersheds in the northeastern USA. Biogeochemistry 57:267–293

Van den Heuvel RN, Bakker SE, Jetten MSM, Hefting MM (2011) Decreased N2O reduction by low soil pH causes high N2O emissions in a riparian ecosystem. Geobiology 9:294–300

Weathers KC, Simkin SM, Lovett GM, Lindberg SE (2006) Empirical modeling of atmospheric deposition in mountainous landscapes. Ecol Appl 16:1590–1607

Webster KL, Creed IF, Bourbonnière RA, Beall FD (2008) Controls on the heterogeneity of soil respiration in a tolerant hardwood forest. J Geophys Res Biogeosci 113:G03018

Wheeler B (2010) Permutation tests for linear models, 1.1–2 edn. The Comprehensive R Archive Network

Yanai RD, Vadeboncoeur MA, Hamburg SP, Arthur MA, Fuss CB, Groffman PM, Siccama TG, Driscoll CT (2013) From missing source to missing sink: long-term changes in the nitrogen budget of a northern hardwood forest. Environ Sci Technol 47(20):11440–11448
Acknowledgments
We thank Don Buso, Tammy Wooster, Nick Grant, Alexandra Rodríguez, Neil Bettez, Lisa Martel, Kate Shepard, Erica Morgan, Robin Schmidt, and Madeleine Mineau for excellent field, laboratory, and data analysis work. This research was supported by the Northeastern States Research Cooperative and the National Science Foundation (DEB no. 0949664 and DEB no. 0919047). This research was conducted in part at the Hubbard Brook Experimental Forest, which is operated by the Northeastern Research Station, USDA Forest Service, Newtown Square, Pennsylvania. This paper is a contribution to the Hubbard Brook Ecosystem Study.
Additional information
Communicated by Hormoz BassiriRad.
Electronic supplementary material
Below is the link to the electronic supplementary material.
About this article
Cite this article
Morse, J.L., Durán, J., Beall, F. et al. Soil denitrification fluxes from three northeastern North American forests across a range of nitrogen deposition. Oecologia 177, 17–27 (2015). https://doi.org/10.1007/s00442-014-3117-1
Received:

Accepted:

Published:

Issue Date:
Keywords
Nitrification

Northern forests

Nitrogen deposition

Nitrous oxide

Nitrogen enrichment

Soil oxygen