Abstract
Tree species diversity has been reported to increase forest ecosystem above-ground biomass and productivity, but little is known about below-ground biomass and production in diverse mixed forests compared to single-species forests. For testing whether species richness increases below-ground biomass and production and thus complementarity between forest tree species in young stands, we determined fine root biomass and production of trees and ground vegetation in two experimental plantations representing gradients in tree species richness. Additionally, we measured tree fine root length and determined species composition from fine root biomass samples with the near-infrared reflectance spectroscopy method. We did not observe higher biomass or production in mixed stands compared to monocultures. Neither did we observe any differences in tree root length or fine root turnover. One reason for this could be that these stands were still young, and canopy closure had not always taken place, i.e. a situation where above- or below-ground competition did not yet exist. Another reason could be that the rooting traits of the tree species did not differ sufficiently to support niche differentiation. Our results suggested that functional group identity (i.e. conifers vs. broadleaved species) can be more important for below-ground biomass and production than the species richness itself, as conifers seemed to be more competitive in colonising the soil volume, compared to broadleaved species.
This is a preview of subscription content, log in to check access.
Access options
Buy single article
Instant access to the full article PDF.
US$ 39.95
Price includes VAT for USA
Subscribe to journal
Immediate online access to all issues from 2019. Subscription will auto renew annually.
US$ 199
This is the net price. Taxes to be calculated in checkout.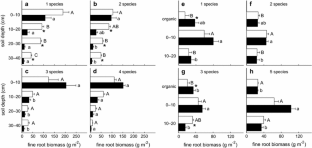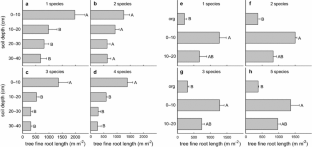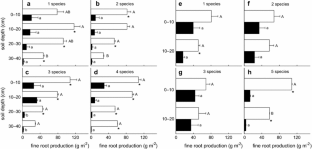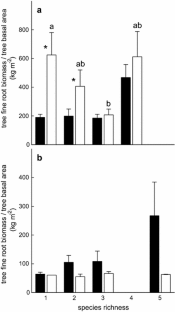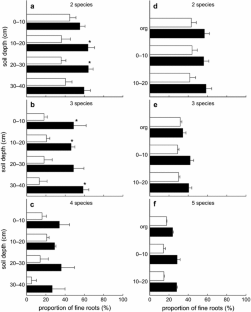 References
Aulen M, Shipley B, Bradely R (2012) Prediction of in situ root decomposition rates in an interspecific context from chemical and morphological traits. Ann Bot 109:287–297. doi:10.1093/aob/mcr259

Bauhus J, Khanna PK, Menden N (2000) Aboveground and belowground interactions in mixed plantations of Eucalyptus globulus and Acaria mearnsii. Can J For Res 30:1886–1894. doi:10.1139/x00-141

Beyer F, Hertel D, Jung K, Fender AC, Leuschner C (2013) Competition effects on fine root survival of Fagus sylvatica and Fraxinus excelsior. For Ecol Manage 302:14–22. doi:10.1016/j.foreco.2013.03.020

Bolte A, Villanueava I (2006) Interspecific competition impacts on the morphology and distribution of fine roots in European beech (Fagus sylvatica L.) and Norway spruce (Picea abies (L.) Karst). Eur J For Res 125:15–26. doi:10.1007/s10342-005-0075-5

Brassard BW, Chen HYH, Bergeron Y, Paré D (2011) Differences in fine root productivity between mixed- and single species stands. Funct Ecol 25:238–246. doi:10.1111/j.1365-2435.2010.01769.x

Brassard BW, Chen HYH, Cavard X, Lahanière J, Reich PB, Bergeron Y, Paré D, Yian Z (2013) Tree species diversity increases fine root productivity through increased soil volume filling. J Ecol 101:210–219. doi:10.1111/1365-2745.12023

Cardinale BJ, Wright JP, Cadotte MW, Carroll IT, Hector A, Srivastava DS, Loreau M, Weis JJ (2007) Impacts of plant diversity on biomass production increase through time because of species complementarity. PNAS 104:18123–18128. doi:10.1073/pnas.0709069104

Casper BB, Jackson RB (1997) Plant competition underground. Annu Rev Ecol Syst 28: 545–570. http://www.jstor.org/stable/2952504

Chen W, Zhang Q, Cihlar J, Bauhus J, Price DT (2004) Estimating fine-root biomass and production of boreal and cool temperate forests using aboveground measurements: a new approach. Plant Soil 265:31–46. doi:10.1007/s11104-005-8503-3

de Kroon H, Hendriks M, van Ruijiven J, Ravenek J, Padilla FM, Jongejans E, Visser EJW, Mommer L (2012) Root responses to nutrients and soil biota: drivers of species coexistence and ecosystem productivity. J Ecol 100:6–15. doi:10.1111/j.1365-2745.2011.01906.x

Erskine PD, Lamb D, Bristow M (2006) Tree species diversity and ecosystem function: can tropical multi-species plantations generate greater productivity? For Ecol Manage 233:205–210. doi:10.1016/j.foreco.2006.05.013

Esbensen KH (2001) Multivariate data analysis—in practice. An introduction to multivariate data analysis and experimental design, 5th edn. Camo Process, Oslo

Finér L, Helmisaari H-S, Lõhmus K, Majdi H, Brunner I, Børja I, Eldhuset T, Godbold D, Grebenc T, Konopka B, Kraigher H, Möttönen M, Ohashi M, Oleksyn J, Ostonen I, Uri V, Vanguelova E (2007) Variation in fine root biomass of three European tree species: beech (Fagus sylvatica L.), Norway spruce (Picea abies L. Karst.), and Scots pine (Pinus sylvestris L.). Plant Biosyst 141:394–405. doi:10.1080/11263500701625897

Finér L, Ohashi M, Noghuchi K, Hirano Y (2011a) Factors causing variation in fine root biomass in forest ecosystems. For Ecol Manage 261:265–277. doi:10.1016/j.foerco.2010.10.016

Finér L, Ohashi M, Noghuchi K, Hirano Y (2011b) Fine root production and turnover in forest ecosystems in relation to stand and environmental characteristics. For Ecol Manage 262:2008–2023. doi:10.1016/j.foreco.2011.08.042

Gamfeldt L, Snäll T, Bagchi R, Jonsson M, Gustafsson L, Kjellander P, Ruiz-Jaen MC, Fröberg M, Stendahl J, Philipson CD, Mikusiński G, Andersson E, Westerlund B, Andrén H, Moberg F, Moen J, Bengtsson J (2013) Higher levels of multiple ecosystem services are found in forest with more tree species. Nat Commun 4:1340. doi:10.1038/ncomms2328

Griffin JN, Méndez V, Johnson AF, Jenkins S, Foggo A (2009) Functional diversity predicts overyielding effect of species combination on primary productivity. Oikos 118:37–44. doi:10.1111/j.1600-0706.2008.16960.x

Gruselle M-C, Bauhus J (2010) Assessment of the species composition of forest floor horizons in mixed spruce-beech stands by near infrared reflectance spectrospcopy (NIRS). Soil Biol Biochem 42:1347–1354. doi:10.1016/j.soilbio.2010.03.011

Hector A, Bazeley-White E, Loreau M, Otway S, Schmid B (2002) Overyielding in grassland communities: testing the sampling effect hypothesis with replicated biodiversity experiments. Ecol Lett 5:502–511. doi:10.1046/j.1461-0248.2002.00337.x

Helmisaari HS, Makkonen K, Kellomäki S, Valtonen E, Mälkönen E (2002) Below- and aboveground biomass, production and nitrogen use in Scots pine stands in eastern Finland. For Ecol Manage 165:317–326. doi:10.1016/S0378-1127(01)00648-X

Hooper DU, Chapin FS, Ewel JJ, Hector A, Inchausti P, Lavorel S, Lawton JH, Lodge DM, Loreau M, Naeem S, Schmid B, Setälä H, Symstad AJ, Vandermeer J, Wardle DA (2005) Effects of biodiversity on ecosystem functioning: a consensus of current knowledge. Ecol Monogr 75:3–35. doi:10.1890/04-0922

Isbell F, Calcagno V, Hector A, Connolly J, Harpole WS, Reich PB, Scherer-Lorenzen M, Schmid B, Tilman D, van Ruijven J, Weigelt A, Wilsey BJ, Zavaleta ES, Loreau M (2011) High plant diversity is needed to maintain ecosystem services. Nature 477:199–202. doi:10.1038/nature10282

Jacob A, Hertel D, Leuschner C (2013) On the significance of belowground overyielding in temperate mixed forests: separating species identity and species diversity effects. Oikos 122:463–473. doi:10.1111/jj.1600-0706.2012.20476.x

Kalela EK (1950) Männiköiden ja kuusikoiden juurisuhteista. Summary: on the horizontal roots in pine and spruce stand. Acta For Fenn 57:69–79

Kalela EK (1955) Über Veränderungen in den Wurzelverhältnissen der Kiefernbestände im Laufe der Vegetationsperiode. Acta For Fenn 65:1–42

Kalliokoski T, Nygren P, Sievänen R (2008) Coarse root architecture of three boreal tree species growing in mixed stands. Silva Fenn 233: 195–204. http://urn.fi/URN:NBN:fi:ELE-1401065

Keyes MR, Grier CC (1981) Above- and belowground production in 40-year-old Douglas-fir stands on low and high productivity sites. Can J For Res 11:599–605. doi:10.1139/x81-082

Laitakari E (1935) Koivun juuristo. Summary: the root system of birch (Betula verrucosa and odorata). Acta For Fenn 41:168

Lei P, Bauhus J (2010) Use of near-infrared reflectance spectroscopy to predict species composition in tree fine-root mixtures. Plant Soil 333:93–103. doi:10.1007/s11104-010-0325-2

Lei P, Scherer-Lorenzen M, Bauhus J (2012a) Belowground facilitation and competition in young tree species mixtures. For Ecol Manage 265:191–200. doi:10.1016/j.foreco.2011.10.033

Lei P, Scherer-Lorenzen M, Bauhus J (2012b) The effect of tree species diversity on fine-root production in a young temperate forest. Oecologia 169:1105–1115. doi:10.1007/s00442-012-2259-2

Martens HA, Dardenne P (1998) Validation and verification of regression in small data sets. Chemom Intell Lab 44:99–121. doi:10.1016/S0169-7439(98)00167-1

Matejovic I (1993) Determination of carbon, hydrogen, and nitrogen in soils by automated element analysis (dry combustion method). Commun Soil Sci Plant Anal 24:2213–2222. doi:10.1080/00103629309368950

McKay HM, Malcolm DC (1988) A comparison of the fine root component of a pure and a mixed coniferous stand. Can J For Res 18:1416–1426. doi:10.1139/x88-220

Meinen C, Hertel D, Leuschner C (2009) Biomass and morphology of fine roots in temperate broad-leaved forests differing in tree species diversity: is there evidence of below-ground overyielding? Oecologia 161:99–111. doi:10.1007/s00442-009-1352-7

Moron A, Cozzolino D (2004) Determination of potentially mineralizable nitrogen and nitrogen in particulate organic matter fractions in soil by visible and near-infrared reflectance spectroscopy. J Agric Sci 142:335–343. doi:10.1017/S0021859604004290

Oliveira MRG, Van Noordwijk M, Gaze SR, Brouwer G, Bona S, Mosca G, Hairiah K (2000) Auger sampling, ingrowth cores and pinboard methods. In: Smit AL, Bengough AG, Engels C, Van Noordwijk M, Pellerin S, Van de Geijn SC (eds) Root methods: a handbook. Springer, Berlin, pp 175–210. doi:10.1007/978-3-662-04188-8_6

Ostonen I, Püttsepp Ü, Biel C, Albertson O, Bakker MR, Lõhmus K, Majdi H, Metcalfe D, Olsthoorn AFM, Pronk A, Vanguelova E, Weih M, Brunner I (2007) Specific root length as an indicator of environmental change. Plant Biosyst 141:426–442. doi:10.1080/11263500701626069

Paquette A, Messier C (2013) The effect of biodiversity on tree productivity: from temperate to boreal forests. Glob Ecol Biogeogr 20:170–180. doi:10.1111/j.1466-8238.2010.00592.x

Picon-Cochard C, Pilon R, Revaillot S, Jestin M, Dawson L (2009) Use of near-infrared reflectance spectroscopy to predict the percentage of dead versus living grass roots. Plant Soil 317:309–320. doi:10.1007/s11104-008-9810-2

Rewald B, Leuschner C (2009) Belowground competition in a broad-leaved temperate mixed forest: pattern analysis and experiments in a four-species stand. Eur J For Res 128:387–398. doi:10.1007/s10342-009-0276-4

Roumet C, Picon-Cochard C, Dawson LA, Joffre R, Mayes R, Blanchard A, Brewer MJ (2006) Quantifying species composition in root mixtures using two methods: near-infrared reflectance spectroscopy and plant wax markers. New Phytol 170:631–638. doi:10.1111/j.1469-8137.2006.01698.x

Scherer-Lorenzen M, Schulze E-D, Don A, Schumacher J, Weller E (2007) Exploring the functional significance of forest diversity: a new long-term experiment with temperate tree species (BIOTREE). Perspect Plant Ecol Evol Syst 9:53–70. doi:10.1016/j.ppees.2007.08.002

Schmid B, Hector A, Saha P, Loreau M (2008) Biodiversity effects and transgressive overyielding. J Plant Ecol 1:95–102. doi:10.1093/jpe/rtn011

Stone M (1974) Cross-validatory choice and assessment of statistical predictions (with discussion). J R Stat Soc B 36:111–147

Tamminen P, Starr M (1994) Bulk density of forested mineral soils. Silva Fenn 28:53–60

Tilman D, Reich PB, Knops J, Wedin D, Mielke T, Lehman C (2001) Diversity and productivity in a long-term grassland experiment. Science 294:843–845. doi:10.1126/science.1060391

Vávřová P, Stenberg B, Karsisto M, Kitunen V, Tapania T, Laiho R (2008) Near infrared reflectance spectroscopy for characterization of plant litter quality: towards a simpler way of predicting carbon turnover in Peatlands? In: Vymazal J (ed) Wastewater treatment, plant dynamics and management in constructed and natural wetlands. Springer, New York, pp 65–87. doi:10.1007/978-1-4020-8235-1_7

Viro PJ (1952) Kivisyyden määrittämisestä. Summary: On the determination of stoniness. Commun Inst For Fenn 40(3): 23 p

Vogt KA, Moore EE, Vogt DJ, Redlin MJ, Edmonds RL (1983) Conifer fine root and mycorrhizal root biomass within the forest floors of Douglas-fir stands of different ages and site productivities. Can J For Res 13:429–437. doi:10.1139/x83-065

Vogt KA, Vogt DJ, Moore EE, Fataga BA, Redlin MR, Edmonds RL (1987) Conifer and angiosperm fine-root biomass in relation to stand age and site productivity in Douglas-fir forests. J Ecol 75:857–870. http://www.jstor.org/stable/2260210

Vogt KA, Vogt DJ, Palmiotto PA, Boon P, O'Hara J, Asbjornsen H (1996) Review of root dynamics grouped by climate, climatic forest type and species. Plant Soil 187:159–219. doi:10.1007/BF00017088
Acknowledgments
We would like to sincerely thank Ms. Sigrid Berger, Ms. María Martínez Otero, Mr. Raino Lievonen, Mr. Arto Saari and Mr. Ilkka Jussila for field assistance, as well as Ms. Eija Koljonen, Ms. Seija Repo, Ms. Anita Pussinen, Ms. Niina-Maria Erola, Ms. Sanna Kykkänen, Ms. Tiina Turunen, Ms. Heini Savola, Ms. Helena Tanskanen, Mr. Janne Hakkarainen, Mr. Miika Nokelainen, Mr. Tuomas Silvonen and Mr. Tapio Laakso for help in the laboratory. The research leading to these results has been conducted as part of the FunDivEUROPE project, which received funding from the European Union Seventh Framework Programme (FP7/2007–2013) under grant agreement no. 265171.
Additional information
Communicated by Stephan Hattenschwiler.
Electronic supplementary 1material
Below is the link to the electronic supplementary material.
About this article
Cite this article
Domisch, T., Finér, L., Dawud, S.M. et al. Does species richness affect fine root biomass and production in young forest plantations?. Oecologia 177, 581–594 (2015). https://doi.org/10.1007/s00442-014-3107-3
Received:

Accepted:

Published:

Issue Date:
Keywords
Biodiversity

Competition

Complementarity

Soil

Tree diversity