Abstract
We used live-trapping and foraging to test for the effect of habitat selection and diet on structuring a community of six small mammals and one bird within the Soutpansberg, South Africa. We established grids that straddled adjacent habitats: woodland, rocky hillside, and grassland. Trapping and foraging were used to estimate abundance, habitat use, and species-specific foraging costs. The species with the highest abundance and foraging activity in a habitat, activity time, or food was considered the most efficient and presumed to have a competitive advantage. All species exhibited distinct patterns of spatial and temporal habitat preference which provided the main mechanism of coexistence, followed by diet selection. The study species were organized into three assemblages (α diversity): grassland, Rhabdomys pumilio, Dendromus melanotis, and Mus minutoides.; woodland, Aethomys ineptus and Micaelamys namaquensis; and rock-dwelling, M. namaquensis and Elephantulus myurus. Francolinus natalensis foraged in open rocky areas and under wooded islands within the grassland. Species organization across the habitats suggested that feeding opportunities are available within all habitats; however, distinct habitat preferences resulted from differing foraging aptitudes and efficiencies of the competing species. At Lajuma, species distribution and coexistence are promoted through distinct habitat preferences that were shaped by competition and species-specific foraging costs. The combination of trapping and foraging provided a mechanistic approach that integrates behavior into community ecology by 'asking' the animal to reveal its perspective of the environment. Using spatial and temporal foraging decisions—as behavioral indicators—enables us to guide our understanding for across-taxa species coexistence.
Access options
Buy single article
Instant access to the full article PDF.
US$ 39.95
Tax calculation will be finalised during checkout.
Subscribe to journal
Immediate online access to all issues from 2019. Subscription will auto renew annually.
US$ 119
Tax calculation will be finalised during checkout.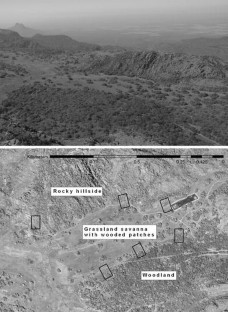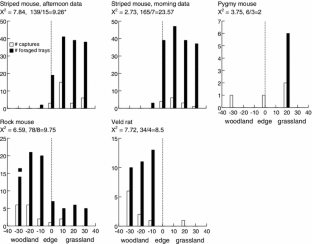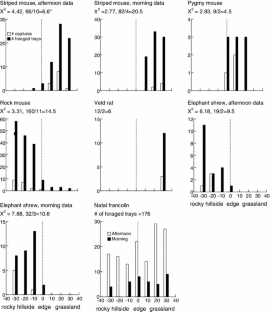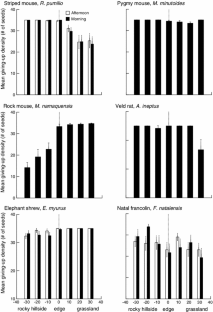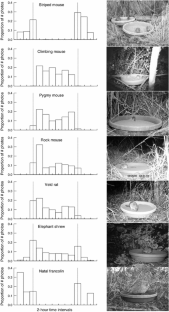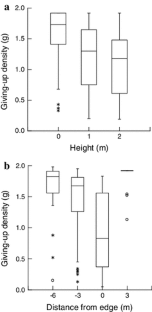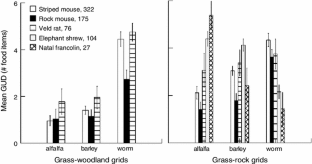 References
Abu Baker MA, Brown JS (2010) Islands of fear: effects of wooded patches on habitat suitability of the striped mouse in a South African grassland. Funct Ecol 24:1313–1322

Abu Baker MA, Brown JS (2011) Variation of within-day foraging costs in the striped mouse, Rhabdomys pumilio. Mammal Biol 76:654–656

Abu Baker MA, Brown JS (2012) Patch use behavior of Elephantulus myurus and Micaelamys namaquensis: the role of diet, foraging substrates, and escape substrates. Afr J Ecol 50:167–175

Avenant NL, Nel JAJ (2002) Among habitat variation in prey availability and use by caracal Felis caracal. Mammal Biol 67:18–33

Barret GW, Peles JD (1999) Landscape ecology of small mammals. Springer, New York Berlin Heidelberg

Brown JS (1988) Patch use as an indicator of habitat preference, predation risk, and competition. Behav Ecol Sociobiol 22:27–47

Brown JS (1989) The structure of desert rodent community: a test of four mechanisms of coexistence. Ecol Monogr 59:1–20

Brown JS (2000) Foraging ecology of animals in response to heterogeneous environments. In: Hutchings J, Stewart A (eds) The ecological consequences of environmental heterogeneity. Blackwell Scientific, Oxford, pp 181–215

Brown JS, Kotler BP (2004) Hazardous duty pay and the foraging cost of predation. Ecol Lett 7:999–1014

Brown JS, Arel Y, Abramsky Z, Kotler BP (1992) Patch use by gerbils (Gerbillus allenbyi) in sandy and rocky habitats. J Mammal 73:821–829

Brown JS, Kotler BP, Mitchell WA (1994) Foraging theory, patch use and the structure of a Negev desert granivore community. Ecology 75:2286–2300

Brown JS, Kotler BP, Mitchell WA (1997) Competition between birds and mammals: a comparison of giving up densities between crested larks and gerbils. Evol Ecol 11:757–771

Churchfield S (1987) A note on the diet of the rock elephant shrew, Elephantulus myurus, in Zimbabwe. J Zool 213:743–745

Fuller JA, Perrin MR (2001) Habitat assessment of small mammals in the Umvoti Vlei Conservancy, Kwazulu-Nata, South Africa. S Afr J Wildl Res 31:1–12

Gliwicz J (1987) Niche segregation in a rodent community of African dry savanna. J Mammal 68:169–172

Guerra B, Vickery WL (1998) How do red squirrels, Tanziasciurus hudsonicus, and eastern chipmunks, Tarnias striatus, coexist? Oikos 83:139–144

Herholdt JJ (1986) Diet of the barn owl at a riverine roost in the Central Orange Free State. Ostrich 57:185–187

Jones M, Mandelik Y, Dayan T (2001) Coexistence of temporally partitioned spiny mice: roles of habitat structure and foraging behavior. Ecology 82:2164–2176

Kelt DA, Meserve PL, Nabors LK, Forister ML, Gutie′rrez JR (2004) Foraging ecology of small mammals in semiarid Chile: the interplay of biotic and abiotic effects. Ecology 85:383–397

Kerley GI (1992) Trophic status of small mammals in the semi-arid Karoo, South Africa. J Zool 226:563–572

Kerley GIH, Knight MH, Erasmus T (1990) Small mammal microhabitat use and diet in the southern Kalahari, South Africa. S Afr J Wildl Res 20:123–126

Kotler BP, Brown JS (1988) Environmental heterogeneity and the coexistence of desert rodents. Annu Rev Ecol Syst 19:281–307

Kotler BP, Brown JS (1999) Mechanisms of coexistence of optimal foragers as determinants of the local abundance and distribution of desert granivores. J Mammal 80:361–374

Kotler BP, Brown JS (2007) Community ecology. In: Stephens DW, Brown JS, Ydenberg RC (eds) Foraging: behavior and ecology. University of Chicago Press, Chicago, pp 397–434

Kotler BP, Brown JS, Oldfield A, Thorson J, Cohen D (2001) Foraging substrate and escape substrate: patch use by three species of gerbils. Ecology 82:1781–1790

Kotler BP, Brown JS, Subach A (1993) Mechanisms of species coexistence of optimal foragers: temporal partitioning by two species of sand dune gerbils. Oikos 67:548–556

Lima SL, Bednekoff PA (1999) Temporal variation in danger drives antipredator behavior: the predation risk allocation hypothesis. Am Nat 153:649–659

Manson RH, Ostfeld RS, Canham CD (1999) Responses of a small mammal community to heterogeneity along forest-old-field edges. Landsc Ecol 14:355–367

Miljutin A (2006) African climbing mice (Dendromus, Muroidea) and Palaearctic birch mice (Sicista, Dipodoidea): an example of parallel evolution among rodents. Acta Zool Lituan 16:84–92

Moermond TC (1986) A mechanistic approach to the structure of animal communities: anolis lizards and birds. Am Zool 26:23–37

Moermond TC (1990) A functional approach to foraging: morphology, behavior, and the capacity to exploit. In: Morrison ML, Ralph CJ, Verner J, Jehl JR (eds) Avian foraging: theory, methodology, and applications. Studies in avian biology number, vol 13. Allen, Martinstown, pp 427–430

Monadjem A (1997) Stomach contents of 19 species of small mammals from Swaziland. S Afr J Zool 32:23–26

Morris DW (1992) Scale and costs of habitat selection in heterogeneous landscapes. Evol Ecol 6:412–432

Morris DW, Davidson DL (2000) Optimally foraging mice match patch use with habitat differences in fitness. Ecology 81:2061–2066

Morris DW, Kotler BP, Brown JS, Sundararaj V, Ale S (2009) Behavioral indicators for conserving mammal diversity. The year in ecology and conservation. Ann N Y Acad Sci 1162:334–356

Mourik AA, van Langevelde F, van Tellingen E, Heitkönig IMA, Gaigher I (2007) Stability of wooded patches in a South African nutrient-poor grassland: do nutrients, fire or herbivores limit their expansion? J Trop Ecol 23:529–537

Perrin MR, Kotler BP (2005) A test of five mechanisms of species coexistence between rodents in a southern African savanna. Afr Zool 40:55–61

Rickart EA (1981) Demography and activity patterns of some small mammals from the Cape Province, South Africa. J Mammal 62:646–649

Ritchie M (2010) Scale, heterogeneity, and the structure and diversity of ecological communities. Monographs in population biology, vol 45. Princeton University Press, Princeton

Rosenzweig ML (1991) Habitat selection and population interactions: the search for mechanisms. Am Nat 137:S5–S28

Rosenzweig ML, Abramsky Z (1997) Two gerbils of the Negev: a long-term investigation of optimal habitat selection and its consequences. Evol Ecol 11:733–756

Rowe-Rowe D (1986) Stomach contents of small mammals from Drakensburg, South Africa. S Afr J Wildl Res 16:32–35

Schoener TW (1974) Resource partitioning in ecological communities. Science 185:27–39

Shochat E, Lerman SB, Katti M, Lewis DB (2004) Linking optimal foraging behavior to bird community structure in an urban-desert landscape: field experiments with artificial food patches. Am Nat 164:232–243

Skinner JD, Chimimba CT (2005) The mammals of the Southern African subregion. Cambridge University Press, Cambridge

Smithers RHN (1983) The mammals of the Southern African subregion. The University of Pretoria Press, Pretoria

SPSS (2000) SYSTAT version 10. SPSS, Chicago

Stephens DW, Brown JS, Ydenberg RC (2007) Foraging: behavior and ecology. University of Chicago Press, Chicago

Vernon CJ (1972) An analysis of owl pellets collected in Southern Africa. Ostrich 43:109–123

Wester P (2010) Sticky snack for sengis: the Cape rock elephant-shrew, Elephantulus edwardii (Macroscelidea), as a pollinator of the pagoda lily, Whiteheadia bifolia (Hyacinthaceae). Naturwissenschaften 97:1107–1112

Whelan CJ (2001) Foliage structure influences foraging of insectivorous forest birds: an experimental study. Ecology 82:219–231

Wirminghaus JO, Perrin MR (1992) Diets of small mammals in a Southern African temperate forest. Isr J Zool 38:353–361

Wolf M, Batzli G (2004) Forest edge—high or low quality habitat for white-footed mice (Peromyscus leucopus)? Ecology 85:756–769

Yunger JA, Meserve PL, Gutie′rrez JR (2002) Small mammal foraging behavior: mechanisms for coexistence and implication for population dynamics. Ecol Monogr 72:561–577

Ziv Y, Abramsky Z, Kotler BP, Subach A (1993) Interference competition and temporal and habitat partitioning in two gerbil species. Oikos 66:237–246
Acknowledgments
We are grateful to Ian and Retha Gaigher for providing access to the site and for logistical support. Sara Emerson, Merriam Brown, and Mukundi Mukundamago (University of Venda) assisted in the field. Burt Kotler, Gordon McNickle, Douglas Morris, Bruce Patterson, and Chris Whalen provided insightful comments and discussions. Funding was provided by a grant from the Committee for Research and Exploration, National Geographic Society (grant no. 8527-08). The work was approved by the Office of Animal Care and Institutional Biosafety Committee of the University of Illinois at Chicago (protocol no. 08-016). Janne Sundell, Jana Eccard, and an anonymous reviewer provided comments that greatly improved the manuscript.
Additional information
Communicated by Janne Sundell.
About this article
Cite this article
Abu Baker, M.A., Brown, J.S. Foraging in space and time structure an African small mammal community. Oecologia 175, 521–535 (2014). https://doi.org/10.1007/s00442-014-2926-6
Received:

Accepted:

Published:

Issue Date:
Keywords
Africa

Community structure

Foraging

Giving-up density

Species coexistence