Abstract
Large herbivore grazing is a widespread disturbance in mesic savanna grasslands which increases herbaceous plant community richness and diversity. However, humans are modifying the impacts of grazing on these ecosystems by removing grazers. A more general understanding of how grazer loss will impact these ecosystems is hampered by differences in the diversity of large herbivore assemblages among savanna grasslands, which can affect the way that grazing influences plant communities. To avoid this we used two unique enclosures each containing a single, functionally similar large herbivore species. Specifically, we studied a bison (Bos bison) enclosure at Konza Prairie Biological Station, USA and an African buffalo (Syncerus caffer) enclosure in Kruger National Park, South Africa. Within these enclosures we erected exclosures in annually burned and unburned sites to determine how grazer loss would impact herbaceous plant communities, while controlling for potential fire-grazing interactions. At both sites, removal of the only grazer decreased grass and forb richness, evenness and diversity, over time. However, in Kruger these changes only occurred with burning. At both sites, changes in plant communities were driven by increased dominance with herbivore exclusion. At Konza, this was caused by increased abundance of one grass species, Andropogon gerardii, while at Kruger, three grasses, Themeda triandra, Panicum coloratum, and Digitaria eriantha increased in abundance.
Access options
Buy single article
Instant access to the full article PDF.
USD 39.95
Price excludes VAT (USA)
Tax calculation will be finalised during checkout.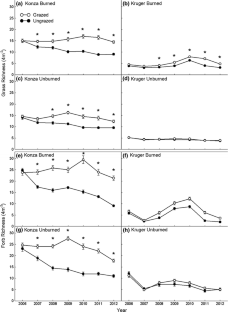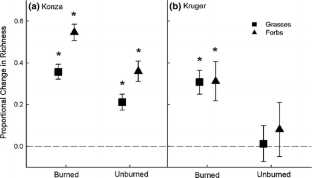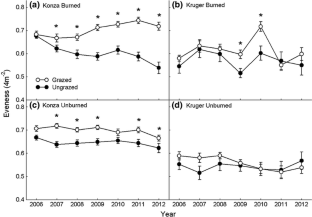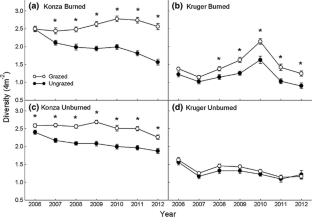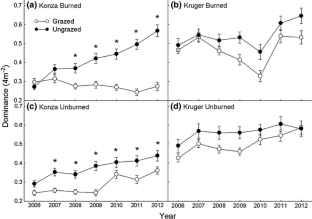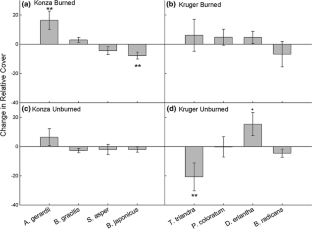 References
Anderson TM, Ritchie ME, McNaughton SJ (2007) Rainfall and soils modify plant community response to grazing in serengeti national park. Ecology 88:1191–1201

Archer S (1989) Have southern texas savannas been converted to woodlands in recent history? Am Nat 134:545–561

Bakker ES, Olff H (2003) Impact of different-sized herbivores on recruitment opportunities for subordinate herbs in grasslands. J Veg Sci 14:465–474

Bakker ES, Ritchie ME, Olff H, Milchunas DG, Knops JMH (2006) Herbivore impact on grassland plant diversity depends on habitat productivity and herbivore size. Ecol Lett 9:780–788

Collins SL (1987) Interaction of disturbances in tallgrass prairie: a field experiment. Ecology 68:1243–1250

Collins SL, Calabrese LB (2012) Effects of fire, grazing and topographic variation on vegetation structure in tallgrass prairie. J Veg Sci 23:563–575

Collins SL, Smith MD (2006) Scale-dependent interaction of fire and grazing on community heterogeneity in tallgrass prairie. Ecology 87:2058–2067

Collins SL, Glenn SM, Gibson DJ (1995) Experimental analysis of intermediate disturbance and initial floristic composition: decoupling cause and effect. Ecology 76:486–492

Collins SL, Knapp AK, Briggs JM, Blair JM, Steinauer EM (1998) Modulation of diversity by grazing and mowing in native tallgrass prairie. Science 280:745–747

Frank DA (2005) The interactive effects of grazing ungulates and aboveground production on grassland diversity. Oecologia 143:629–634

Freeman CC (1998) The flora of Konza prairie: a historical review and contemporary patterns. In: Knapp AK, Briggs JM, Hartnett DC, Collins CL (eds) Grassland dynamics: long-term ecological research in tallgrass prairie. Oxford University Press, New York, pp 69–80

Fynn R, Morris C, Ward D, Kirkman K (2011) Trait–environment relations for dominant grasses in South African mesic grassland support a general leaf economic model. J Veg Sci 22:528–540. doi:10.1111/j.1654-1103.2011.01268.x:

Gibson DJ, Hulbert LC (1987) Effects of fire, topography and year-to-year climatic variation on species composition in tallgrass prairie. Vegetatio 72:175–185

Hartnett DC, Hickman KR, Walter LEF (1996) Effects of bison grazing, fire, and topography on floristic diversity in tallgrass prairie. J Range Manag 49:413–420

Hofmann RR, Stewart DRM (1972) Grazer or browser: a classification based on the stomach-structure and feeding habits of east African ruminants. Mammalia 36:226–240

Knapp AK, Briggs JM, Blair JM, Turner CL (1998) Patterns and controls of aboveground net primary production in tallgrass prairie. In: Knapp AK, Briggs JM, Hartnett DC, Collins CL (eds) Grassland dynamics: long-term ecological research in tallgrass prairie. Oxford University Press, New York, pp 193–221

Knapp A, Blair J, Briggs J, Collins S, Hartnett D, Johnson L, Towne E (1999) The keystone role of bison in North American tallgrass prairie. Bioscience 49:39–50

Koerner SE, Burkepile DE, Fynn RWS, Burns CE, Eby S, Govender N, Hagenah N, Matchett KJ, Thompson DI, Wilcox KR, Collins SL, Kirkman KP, Knapp AK, Smith MD (2014) Plant community response to loss of large herbivores differs between North American and South African savanna grasslands. Ecology (in press)

McNaughton SJ (1976) Serengeti migratory wildebeest: facilitation of energy flow by grazing. Science 191:92–94

McNaughton SJ (1985) Ecology of a grazing ecosystem: the serengeti. Ecol Monogr 55:259–294

Milchunas DG, Sala OE, Lauenroth WK (1988) A generalized model of the effects of grazing by large herbivores on grassland community structure. Am Nat 132:87–106

Olff H, Ritchie ME (1998) Effects of herbivores on grassland plant diversity. TREE 13:261–265

Olofsson J, Hulme PE, Oksanen L, Suominen O (2004) Importance of large and small mammalian herbivores for the plant community structure in the forest tundra ecotone. Oikos 106:324–334

Peden DG, Dyne GMV, Rice RW, Hansen RM (1974) The trophic ecology of Bison bison L. On shortgrass plains. J Appl Ecol 11:489–497

Pfeiffer KE, Steuter AA (1994) Preliminary response of sandhills prairie to fire and bison grazing. J Range Manag 47:395–397

Porensky L, Wittman S, Riginos C, Young T (2013) Herbivory and drought interact to enhance spatial patterning and diversity in a savanna understory. Oecologia 173:591–602

Rueda M, Rebollo S, GarcÃa-Salgado G (2013) Contrasting impacts of different-sized herbivores on species richness of mediterranean annual pastures differing in primary productivity. Oecologia 172:449–459

Savadogo P, Sawadogo L, Tiveau D (2007) Effects of grazing intensity and prescribed fire on soil physical and hydrological properties and pasture yield in the savanna woodlands of Burkina Faso. Agric Ecosyst Environ 118:80–92

Savadogo P, Tiveau D, Sawadogo L, Tigabu M (2008) Herbaceous species responses to long-term effects of prescribed fire, grazing and selective tree cutting in the savanna-woodlands of West Africa. Perspect Plant Ecol Evol Syst 10:179–195

Scholes RJ, Archer SR (1997) Tree-grass interactions in savannas. Annu Rev Ecol Syst 28:517–544

Sinclair ARE, Fryxell JM (1985) The Sahel of Africa: ecology of a disaster. Can J Zool 63:987–994

Smet M, Ward D (2005) A comparison of the effects of different rangeland management systems on plant species composition, diversity and vegetation structure in a semi-arid savanna. Afr J Range Forage Sci 22:59–71

Titshall LW, O'Connor TG, Morris CD (2000) Effect of long-term exclusion of fire and herbivory on the soils and vegetation of sour grassland. Afr J Range Forage Sci 17:70–80

Trollope WSW, Potgieter ALF (1986) Estimating grass fuel loads with a disc pasture meter in the Kruger national park. J Grassl Soc South Afr 3:148–152

van Langevelde F, van de Vijver C, Kumar L, van de Koppel J, de Ridder N, van Andel J, Skidmore A, Hearne J, Stroosnijder L, Bond W (2003) Effects of fire and herbivory on the stability of savanna ecosystems. Ecology 84:337–350

van Oudtshoorn F (2012) Guide to grasses of southern Africa, 3rd edn. Brizia Publications, Pretoria, South Africa

Venter FJ, Scholes RJ, Eckhardt HC (2003) The abiotic template and its associated vegetation pattern. In: Du Toit JT, Rogers KH, Biggs HC (eds) The Kruger experience: ecology and management of savanna heterogeneity. Island Press, Washington, pp 83–129

Vermeire LT, Mitchell RB, Fuhlendorf SD, Gillen RL (2004) Patch burning effects on grazing distribution. J Range Manag 57:248–252

Vinton MA, Hartnett DC (1992) Effects of bison grazing on Andropogon gerardii and Panicum virgatum in burned and unburned tallgrass prairie. Oecologia 90:374–382
Acknowledgments
Thanks to H. Archibald, E. Amendola, M. Avolio, L. Calabrese, A. Chamberlain, C. Chang, K. Duffy, L. Ladwig, K. La Pierre, A. Lease, K. Murphy, T. Nelson, T. Schreck, A. Walters, J. Taylor, L. Zeglin, and A. Zinn for assisting in the field. Thanks to J. M. Blair, Konza Prairie LTER, Kruger National Park, L. Woolley, and SAEON for logistical support. Earlier drafts of this manuscript benefitted from comments by T. Young and two anonymous reviewers. The experiments comply with the current laws of South Africa where the research was performed. This research was supported by grants to M. Smith from the NSF Ecosystem Studies and Geography and Regional Science Program (DEB-0841917) and the Andrew W. Mellon Foundation.
Additional information
Communicated by Truman Young.
Electronic supplementary material
Below is the link to the electronic supplementary material.
About this article
Cite this article
Eby, S., Burkepile, D.E., Fynn, R.W.S. et al. Loss of a large grazer impacts savanna grassland plant communities similarly in North America and South Africa. Oecologia 175, 293–303 (2014). https://doi.org/10.1007/s00442-014-2895-9
Received:

Accepted:

Published:

Issue Date:

DOI: https://doi.org/10.1007/s00442-014-2895-9
Keywords