Abstract
Cloud immersion can provide a potentially important moisture subsidy to plants in areas of frequent fog including the threatened spruce-fir communities of the southern Appalachian Mountains (USA). These mountaintop communities grow only above ~1,500 m elevation, harbor the endemic Abies fraseri, and have been proposed to exist because of frequent cloud immersion. While several studies have demonstrated the importance of cloud immersion to plant water balance, no study has evaluated the proportion of plant water derived from cloud moisture in this ecosystem. Using the isotopic mixing model, IsoSource, we analyzed the isotopic composition of hydrogen and oxygen for water extracted from ground water, deep soil, shallow soil, fog, and plant xylem at the upper and lower elevational limits both in May (beginning of the growing season) and October (end of the growing season). Cloud-immersion water contributed up to 31 % of plant water at the upper elevation sites in May. High-elevation plants of both species also experienced greater cloud immersion and had greater cloud water absorption (14–31 %) compared to low-elevation plants (4–17 %). Greater cloud water uptake occurred in May compared to October, despite similar rainfall and cloud-immersion frequencies. These results demonstrate the important water subsidy that cloud-immersion water can provide. With a warming climate leading potentially to increases in the ceiling of the cloud base and, thus, less frequent cloud immersion, persistence of these relic mountaintop forests may depend on the magnitude of these changes and the compensating capabilities of other water sources.
Access options
Buy single article
Instant access to the full article PDF.
USD 39.95
Price excludes VAT (USA)
Tax calculation will be finalised during checkout.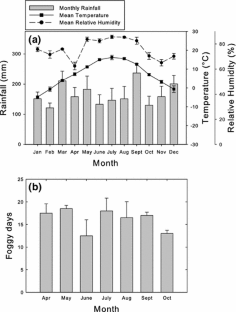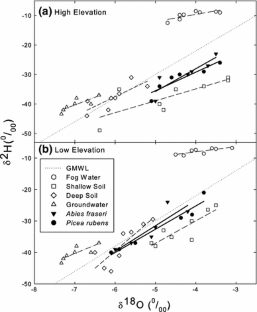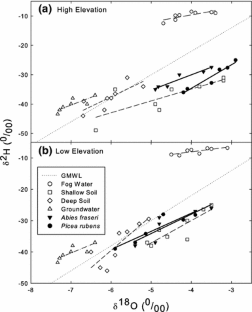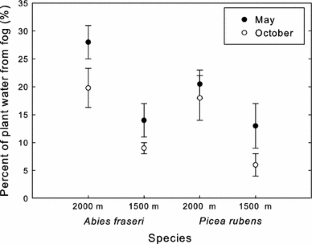 References
Berry ZC, Smith WK (2012) Cloud pattern and water relations in Picea rubens and Abies fraseri, southern Appalachian Mountains, USA. Agric For Meteorol 162:27–34

Berry ZC, Smith WK (2013a) Ecophysiological importance of cloud immersion in a relic spruce-fir forest at elevational limits, southern Appalachian Mountains, USA. Oecologia. doi:10.1007/s00442-013-2653-4

Berry ZC, Smith WK (2013b) Experimental cloud immersion and foliar water uptake in saplings of Abies fraseri and Picea rubens. Trees. doi:10.1007/s00468-013-0934-5

Boucher JF, Munson AD, Bernier PY (1995) Foliar absorption of dew influences shoot water potential and root growth in Pinus strobus seedlings. Tree Physiol 15:819–823

Braun EL (1964) Deciduous forests of eastern North America. Hafner, New York

Breshears DD, McDowell NG, Goddard KL, Dayem KE, Martens SN, Meyer CW, Brown KM (2008) Foliar absorption of intercepted rainfall improves woody plant water status most during drought. Ecology 89:41–47

Bruck RI, Robarge WP (1988) Change in forest structure in the boreal montane ecosystem of Mount Mitchell, North Carolina. Eur J For Pathol 18:357–366

Bruijnzeel LA (2001) Hydrology of tropical montane cloud forests: a reassessment. Land Use Water Resour Res 1:1–18

Bruijnzeel LA, Mulligan M, Scatena FN (2011) Hydrometeorology of tropical montane cloud forests: emerging patterns. Hydrol Process 25:465–498

Burgess SSO, Dawson TE (2004) The contribution of fog to the water relations of Sequoia sempervirens (D. Don): foliar uptake and prevention of dehydration. Plant Cell Environ 27:1023–1034

Caldwell MM, Richards JH (1989) Hydraulic lift: water efflux from upper roots improves effectiveness of water uptake by deep roots. Oecologia 79:1–5

Cogbill CV, White PS (1991) The latitude-elevation relationship for spruce-fir and treeline along the Appalachian mountain chain. Vegetatio 94:153–175

Crandall DL (1958) Ground vegetation patterns of the spruce-fir area of the Great Smoky Mountains National Park. Ecol Monogr 28:337–360

Dawson TE (1998) Fog in the California redwood forest: ecosystem inputs and use by plants. Oecologia 117:476–485

Dawson TE, Pate JS (1996) Seasonal water uptake and movement in root systems of Australian phraeatophytic plants of dimorphic root morphology: a stable isotope investigation. Oecologia 107:13–20

Delcourt HR, Delcourt PA (1984) Late-Quarternary history of the spruce-fir ecosystem in the southern Appalachian Mountain region. In: White PS (ed) The Southern Appalachian spruce-fir ecosystem: its biology and threats. Research/resource management report SER-71. USDI, National Park Service, Southeast Regional Office, Atlanta, GA, pp 22–35

Delcourt PA, Delcourt HR (1998) Late Quarternary paleoclimates and biotic responses in eastern North America and the western North Atlantic Ocean. Palaeogeogr. Palaeoclimatol. Palaeoecol 48:263–284

Ehleringer JR, Roden J, Dawson TE (2000) Assessing ecosystem-level water relations through stable isotope ratio analyses. In: Sala O, Jackson R, Mooney HA, Howarth R (eds) Methods in ecosystem science. Springer, New York, pp 181–198

Eller CB, Lima AL, Oliviera RS (2013) Foliar uptake of fog water and transport belowground alleviates drought effects in the cloud forest tree species, Drimys brasiliensis. New Phytol 199:151–162

Goelz JCG, Burk TE, Zedaker SM (1999) Long-term growth trends of red spruce and Fraser fir at Mt. Rogers, Virginia and Mt. Mitchell, North Carolina. For Ecol Manage 115:49–59

Gouvra E, Grammatikopoulos G (2003) Beneficial effects of direct foliar water uptake on shoot water potential of five chasmophytes. Can J Bot 81:1280–1286

Holder CD (2007) Leaf water repellency of species in Guatemala and Colorado (USA) and its significance to forest hydrology studies. J Hydrol 336:147–154

IPCC (2007) Climate Change 2007: the physical science basis. Contribution of Working Group I to the Fourth Assessment Report of the Intergovernmental Panel on Climate Change. In: Solomon S, Qin D, Manning M, Chen Z, Marquis M, Avery KB, Tignor M, Miller HL (eds). Cambridge University Press, Cambridge

Johnson DM, Smith WK (2006) Low clouds and cloud immersion enhance photosynthesis in understory species of a southern Appalachian spruce-fir forest (USA). Am J Bot 93:1625–1632

Juvik JO, Nullet D (1995) Comments on "A proposed standard fog collector for use in high-elevation regions". J Appl Meteorol 34:2108–2110

Limm EB, Dawson TE (2010) Polystichum munitum (Dryopteridaceae) varies geographically in its capacity to absorb fog water by foliar uptake within the redwood forest ecosystem. Am J Bot 97:1121–1128

Limm EB, Simonin KA, Bothman AG, Dawson TE (2009) Foliar water uptake: a common water acquisition strategy for plants of the redwood forest. Oecologia 161:449–459

Martin CE, von Willert DJ (2000) Leaf epidermal hydathodes and the ecophysiological consequences of foliar water uptake in species of Crassula from the Namib Desert in Southern Africa. Plant Biol 2:229–242

Meinzer FC, Andrade JL, Goldstein G, Holbrook NM, Cavelier J, Wright SJ (1999) Partitioning of soil water among canopy trees in a seasonally dry tropical forest. Oecologia 121:293–301

Mohnen VA (1992) Atmospheric deposition and pollutant exposure of eastern U.S. forests. Ecol Stud 96:64–124

North Carolina Department of Environment and Natural Resources (NCDENR) (2010) North Carolina climate change ecosystem assessment report. http://www.climatechange.nc.gov/pages/ClimateChange/CC_Ecosystem_Assessment.html. Accessed 10 Feb 2013

Oosting HJ, Billings WD (1951) A comparison of virgin spruce-fir forest in the northern and southern Appalachian system. Ecology 32:84–103

Phillips DL, Gregg JW (2003) Source partitioning using stable isotopes: coping with too many sources. Oecologia 136:261–269

Pittillo JD, Smathers GA (1979) Phytogeography of the Balsam Mountains and Pisgah Ridge, southern Appalachian Mountains. Ver Geobot 68:206–245

Ramseur GS (1960) The vascular flora of high mountain communities of the southern Appalachians. J Elisha Mitch Sci S 76:81–112

Reinhardt K, Smith WK (2008a) Impacts of cloud immersion on microclimate, photosynthesis, and water relations of Abies fraseri (Pursh.) Poiret in a temperate mountain cloud forest. Oecolgia 158:229–238

Reinhardt K, Smith WK (2008b) Leaf gas exchange of understory spruce-fir saplings in relict cloud forests, southern Appalachian Mountains, USA. Tree Physiol 28:113–122

Ryel RJ, Caldwell MM, Yoder CK, Or D, Leffler AJ (2002) Hydraulic redistribution in a stand of Artemisia tridentata: evaluation of benefits to transpiration assessed with a simulation model. Oecologia 130:173–184

Sinai G, Zaslavsky D, Golany P (1981) The effect of soil surface curvature on moisture and yield—Beer Sheba observation. Soil Sci 132:367–375

Thompson JC, Moore RD (1996) Relations between topography and water table depth in a shallow forest soil. Hydrol Process 10:1513–1525

Tinker PB, Nye PH (2000) Solute movement in the rhizosphere. Oxford University Press, New York

Weathers KC (1999) The importance of cloud and fog in the maintenance of ecosystems. Trends Ecol Evol 14:214–215

White PS (1984) The southern Appalachian spruce-fir ecosystem, an introduction. In: White PS (ed) The Southern Appalachian spruce-fir ecosystem: its biology and threats. Research/resource management report SER-71. USDI, National Park Service, Southeast Regional Office, Atlanta, GA, pp 1–21

Yates DJ, Hutley LB (1995) Foliar uptake of water by wet leaves of Sloanea woollsii, an Australian subtropical rain-forest tree. Aust J Bot 43:157–167

Zar JH (1999) Biostatistical analysis. Prentice-Hall, Upper Saddle River
Acknowledgments
Support was provided through a grant from the National Science Foundation (IOS 1122092), plus a Vecellio grant to Z. C. Berry through the Biology Department, Wake Forest University. Thanks to L. Crane and B. Wilder of Mount Mitchell State Park for project insight and cooperation, to K. H. Berry for field assistance, B. Robb for lab assistance, and to J. White and N. Yavit for manuscript advice.
Additional information
Communicated by Evan H. DeLucia.
About this article
Cite this article
Berry, Z.C., Hughes, N.M. & Smith, W.K. Cloud immersion: an important water source for spruce and fir saplings in the southern Appalachian Mountains. Oecologia 174, 319–326 (2014). https://doi.org/10.1007/s00442-013-2770-0
Received:

Accepted:

Published:

Issue Date:

DOI: https://doi.org/10.1007/s00442-013-2770-0
Keywords