Abstract
Declines in large vertebrate populations are widespread but difficult to detect from monitoring data and hard to understand due to a multiplicity of plausible biological explanations. In parts of Scotland, harbour seals (Phoca vitulina) have been in decline for 10 years. To evaluate the contributions of different proximate causes (survival, fecundity, observation artefacts) to this decline, we collated behavioural, demographic and population data from one intensively studied population in part of the Moray Firth (north-east Scotland). To these, we fit a state-space model comprising age-structured dynamics and a detailed account of observation errors. After accounting for culling (estimated by our model as 14 % of total mortality), the main driver of the historical population decline was a decreasing trend in survival of young individuals combined with (previously unrecognised) low levels of pupping success. In more recent years, the model provides evidence for considerable increases in breeding success and consistently high levels of adult survival. However, breeding success remains the most volatile demographic component of the population. Forecasts from the model indicate a slow population recovery, providing cautious support for recent management measures. Such investigations of the proximate causes of population change (survival, fecundity and observation errors) provide valuable short-term support for the management of population declines, helping to focus future data collection on those ultimate causal mechanisms that are not excluded by the demographic evidence. The contribution of specific ultimate drivers (e.g. shooting mortality or competitors) can also be quantified by including them as covariates to survival or fecundity.
Access options
Buy single article
Instant access to the full article PDF.
USD 39.95
Price excludes VAT (USA)
Tax calculation will be finalised during checkout.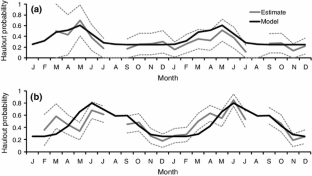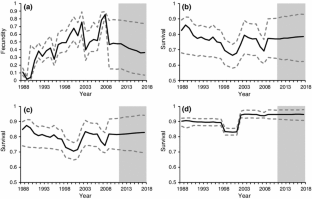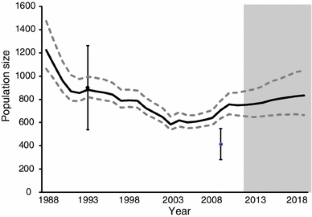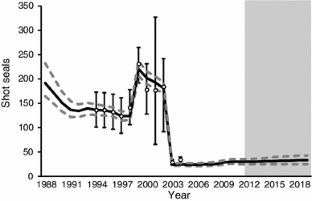 References
Blaustein AR, Kiesecker JM (2002) Complexity in conservation: lessons from the global decline of amphibian populations. Ecol Lett 5:597–608

Brooks SP, King R, Morgan BJT (2004) A Bayesian approach to combining animal abundance and demographic data. Anim Biodiv Conserv 27:515–529

Butler JRA, Middlemas SJ, McKelvey SA, McMyn I, Leyshon B, Walker I, Thompson PM, Boyd IL, Duck C, Armstrong JD, Graham IM, Baxter JM (2008) The Moray Firth Seal Management Plan: an adaptive framework for balancing the conservation of seals, salmon, fisheries and wildlife tourism in the UK. Aquat Conserv Mar Freshwater Ecosys 18:1025–1038

Caswell H (2006) Matrix population models: construction, analysis and interpretation. Sinauer, Sunderland

Caughley G (1994) Directions in conservation research. J Anim Ecol 63:215–244

Clark JS (2007) Models for ecological data: an introduction. Princeton University Press, Princeton

Clark JS, Gelfand AE (2006) Hierarchical modelling for the environmental sciences. Oxford University Press, Oxford

Connor EF, Simberloff D (1986) Competition, scientific method and null models in ecology: because field experiments are difficult to perform, ecologists often rely on evidence that is non-experimental and that therefore needs to be rigorously evaluated. Am Sci 71:155–162

Cordes L (2011) Demography and breeding phenology of a marine top predator. Ph.D. thesis. University of Aberdeen, UK

Cordes LS, Thompson PM (2013) Variation in breeding phenology provides insights into drivers of long-term population change in harbour seals. Proc R Soc B 280:20130847. http://dx.doi.org/10.1098/rspb.2013.0847

Cordes LS, Duck CD, Mackey BL, Hall AJ, Thompson PM (2011) Long-term patterns in harbour seal site-use and the consequences for managing protected areas. Anim Conserv 14:430–438

Fay G, Punt AE (2006) Modelling spatial dynamics of steller sea lions (Eumetopias jubatus) using maximum likelihood and Bayesian methods: evaluating causes for population decline. In: Trites AW, Atkinson SK, DeMaster DP, Fritz LW, Gelatt TS, Rea LD, Wynne KM (eds) Sea lions of the world. University of Alaska Fairbanks, Alaska Sea Grant College Program, pp 405–434

Fewster RM, Buckland ST, Siriwardena GM, Baillie SR, Wilson JD (2000) Analysis of population trends for farmland birds using generalised additive models. Ecology 81:1970–1984

Guénette S, Heymans SJJ, Christensen V, Trites AW (2006) Ecosystem models show combined effects of fishing, predation, competition, and ocean productivity on Steller sea lions (Eumetopias jubatus) in Alaska. Can J Fish Aquat Sci 63:2495–2517

Härkönen T, Harding KC (2001) Spatial structure of harbour seal populations and the implications thereof. Can J Zool 79:2115–2127

Härkönen T, Heide-Jørgensen M-P (1990) Comparative life histories of east Atlantic and other harbour seal populations. Ophelia 32:211–235

Härkönen T, Harding KC, Lunneryd SG (1999) Age- and sex-specific behaviour in harbour seals Phoca vitulina leads to biased estimates of vital population parameters. J Appl Ecol 36:825–841

Hastings KK, Small RJ, Pendleton GW (2012) Sex- and age-specific survival of harbour seals (Phoca vitulina) from Tugidak Island, Alaska. J Mamm 93:1368–1379

Hilborn R, Stearns SC (1982) On inference in ecology and evolutionary biology: the problem of multiple causes. Acta Biotheor 31:145–164

Kuparinen A, Mantyniemi, Hutchings JA, Kuikka S (2012) Increasing biological realism of fisheries stock assessment: towards hierarchical Bayesian methods. Environ Rev 20:135–151

Lonergan M, Duck CD, Thompson D, Mackey BL, Cunningham L, Boyd IL (2007) Using sparse survey data to investigate the declining abundance of British harbour seals. J Zool 271:261–269

Mackey BL, Durban JW, Middlemas SJ, Thompson PM (2008) A Bayesian estimate of harbour seal survival using sparse photo-identification data. J Zool 274:18–27

Newman KB, Fernandez C, Thomas L, Buckland ST (2009) Monte Carlo inference for state-space models of wild animal populations. Biometrics 65:572–583

Potts SG, Biesmeijer JC, Kremen C, Neumann P, Schweiger O, Kunin W (2010) Global pollinator declines: trends, impacts and drivers. Trends Ecol Evol 25:345–353

Robinson RA, Green RE, Baillie SR, Peach WJ, Thompson DL (2004) Demographic mechanisms of the population decline of the song thrush Turdus philomelos in Britain. J Anim Ecol 73:670–682

Schaub M, Gimenez O, Sierro A, Arlettaz R (2007) Use of integrated modelling to enhance estimates of population dynamics obtained from limited data. Conserv Biol 21:945–955

Scheffer M, Carpenter S, de Young Brad (2005) Cascading effects of overfishing marine systems. Trends Ecol Evol 20:579–581

Sea Mammal Research Unit (2010) Scientific advice on matters related to the management of seal populations. Report to the NERC Special Committee On Seals (SCOS)

Thompson P, Rothery P (1987) Age and sex differences in the timing of moult in the colony seal, Phoca vitulina. J Zool 212:597–603

Thompson PM, McConnell BJ, Tollit DJ, Mackay A, Hunter C, Pacey P (1996) Comparative distribution, movements and diet of harbour and grey seals from the Moray Firth, N.E. Scotland. J Appl Ecol 33:1572–1584

Thompson PM, Tollit DJ, Wood D, Corpe HM, Hammond PS, Mackay A (1997) Estimating harbour seal abundance and status in an estuarine habitat in north-east Scotland. J Appl Ecol 34:43–52

Thompson D, Lonergan M, Duck C (2005) Population dynamics of harbour seals Phoca vitulina in England: monitoring growth and catastrophic declines. J Appl Ecol 43:638–648

Thompson PM, Mackey B, Barton TR, Duck C, Butler JRA (2007) Assessing the potential impact of salmon fisheries management on the conservation status of harbour seals (Phoca vitulina) in north east Scotland. Anim Conserv 10:48–56

Winship AJ, Trites AW (2006) Risk of extirpation of Steller sea lions in the Gulf of Alaska and Aleutian islands: a population viability analysis based on alternative hypotheses for why sea lions declined in western Alaska. Mar Mamm Sci 22:124–155

Wolf N, Mangel M (2008) Multiple hypothesis testing and the declining-population paradigm in Steller sea lions. Ecol Appl 18:1932–1955
Acknowledgments
Advice on this work was provided by I. L. Boyd, L. Thomas, I. Graham, I. McMyn, M. Lonergan, E. J. Milner-Gulland, M. Mangel, D. Bowen, M. Frederiksen and members of the United Kingdom Special Committee on Seals (2008–2011).
Additional information
Communicated by Helene Marsh.
Electronic supplementary material
Below is the link to the electronic supplementary material.
About this article
Cite this article
Matthiopoulos, J., Cordes, L., Mackey, B. et al. State-space modelling reveals proximate causes of harbour seal population declines. Oecologia 174, 151–162 (2014). https://doi.org/10.1007/s00442-013-2764-y
Received:

Accepted:

Published:

Issue Date:

DOI: https://doi.org/10.1007/s00442-013-2764-y
Keywords
Aerial surveys

Conservation

Demography

Monitoring data

Markov chain Monte Carlo