Abstract
We have explored species–specific preferences for nitrate (NO3 −) and ammonium (NH4 +) as an alternative niche separation in ecosystems where nitrogen (N) is present mostly in inorganic forms. The Patagonian steppe is dominated by shrubs and grasses. Shrubs absorb water and nutrients from deep soil layers, which are poor in N, while grasses have the opposite pattern, absorbing most of their water and nutrients from the upper layers of the soil. We hypothesized that the preferences of shrub and grass for inorganic N forms are different and that the rate of potential N uptake is greater in shrubs than in grasses. To test this hypothesis, we grew individuals of six dominant species in solutions of different NH4 +:NO3 − concentration ratios. Nitrate uptake was found to be higher in shrubs, while ammonium uptake was similar between plant functional types. The NH4 +:NO3 − uptake ratio was significantly lower for shrubs than grasses. Shrubs, which under field conditions have deeper rooting systems than grasses, showed a higher N absorption capacity than grasses and a preference for the more mobile N form, nitrate. Grasses, which had lower N uptake rates than shrubs, preferred ammonium over nitrate. These complementary patterns between grasses and shrubs suggest a more thorough exploitation of resources by diverse ecosystems than those dominated by just one functional type. The loss of one plant functional group or a significant change in its abundance would therefore represent a reduction in resource use efficiency and ecosystem functioning.
Access options
Buy single article
Instant access to the full article PDF.
US$ 39.95
Tax calculation will be finalised during checkout.
Subscribe to journal
Immediate online access to all issues from 2019. Subscription will auto renew annually.
US$ 119
Tax calculation will be finalised during checkout.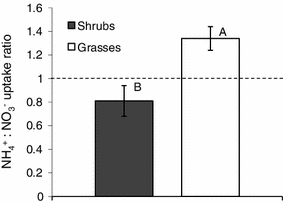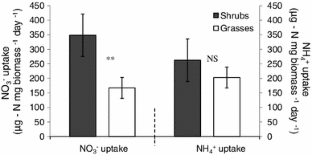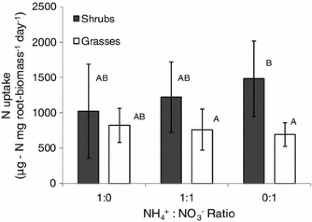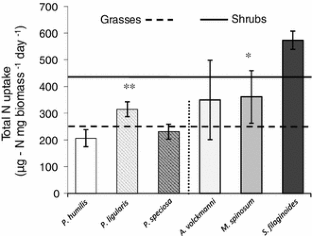 References
Aerts R, Chapin FS III (2000) The mineral nutrition of wild plants revisited: a re-evaluation of processes and patterns. Adv Ecol Res 30:2–45

Armas C, Pugnaire FI, Sala OE (2008) Patch structure dynamics and mechanisms of cyclical succession in a Patagonian Steppe (Argentina). J Arid Environ 72:1552–1561

Bloom AJ, Sukrapanna SS, Warner RL (1992) Root respiration associated with ammonium and nitrate absorption and assimilation by barley. Plant Physiol 99:1294–1301

Britto DT, Kronzucker HJ (2002) NH4 + toxicity in higher plants: a critical review. J Plant Physiol 159:567–584

Chapin FS, Matson PA, Mooney HA (eds) (2002) Principles of terrestrial ecosystem ecology. Springer, New York

Eldridge D, Bowker M, Maestre F, Roger E, Reynolds J, Whitford W (2011) Impacts of shrub encroachment on ecosystem structure and functioning; towards a global synthesis. Ecol Lett 14:709–722

Elser JJ,Bracken MES, Cleland EE, Gruner DS,Harpole WS, Hillebrand H, Ngai JT, Seabloom EW, Shurin JB, SmithElser JE (2007) Global analysis of nitrogen and phosphorus limitation of primary producers in freshwater, marine and terrestrial ecosystems. Ecol Lett 10:1135–1142

Golluscio RA, Sala OE (1993) Plant functional types and ecological strategies in Patagonian forbs. J Veg Sci 4:839–846

Golluscio R, Faigón A, Tanke M (2006) Spatial distribution of roots and nodules, and δ15 N evidence of nitrogen fixation in Adesmia volckmanni, a Patagonian leguminous shrub. J Arid Environ 67:328–335

Harris GA (1977) Root phenology as a factor of competition among grass seedlings. J Range Manag 30:172–177

Harrison KA, Bol R, Bardgett RD (2007) Preferences for different nitrogen forms by coexisting plant species and soil microbes. Ecology 88:989–999

Hoffmann WA, Poorter H (2002) Avoiding bias in calculations of relative growth rate. Ann Bot 90:37–42

Imsande J, Touraine B (1994) N demand and the regulation of nitrate uptake. Plant Physiol 105:3–7

Jackson R, Caldwell M (1996) Integrating resource heterogeneity and plant plasticity: modeling nitrate and phosphate uptake in a patchy soil environment. J Ecol 84:891–903

Jobbagy EG, Jackson RB (2001) The distribution of soil nutrients with depth: global patterns and the imprint of plants. Biogeochemistry 53:51–77

Levang-Brilz N, Biondini ME (2003) Growth rate, root development and nutrient uptake of 55 plant species from the Great Plains Grasslands, USA. Plant Ecol 165:117–144

McKane RB, Grigal DF, Russelle MP (1990) Spatiotemporal differences in 15N uptake and the organization of an old-field plant community. Ecology 71:1126–1132

McKane RB, Johnson LC, Shaver GR,Nadelhoffer KJ, Rastetter EB, Fry B, Giblin AE,Kielland K, Kwiatkowski BL, Laundre JA, Murray G (2002) Resource-based niches provide a basis for plant species diversity and dominance in arctic tundra. Nature 415:68–71

Miller AE, Bowman WD (2003) Alpine plants show species-level differences in the uptake of organic and inorganic nitrogen. Plant Soil 250:283–292

Moore KJ, Moser LE, Vogel KP, Waller SS, Johnson BE, Pedersen JF (1991) Describing and quantifying growth stages of perennial forage grasses. Agron J 83:1073–1077

Nadelhoffer K, Shaver G, Fry B, Giblin A, Johnson L, McKane R (1996) 15N natural abundances and N use by tundra plants. Oecologia 107:386–394

Noy-Meir I (1973) Desert ecosystems: environment and producers. Annu Rev Ecol Syst 4:25–52

Paul EA (2007) Soil microbiology, ecology, and biochemistry, 3rd edn. Academic Press, Burlington

R Development Core Team (2012) R: a language and environment for statistical computing, version: 2.14.2 edn. R Foundation for Statistical Computing, Vienna

Raab TK, Lipson DA, Monson RK (1996) Non-mycorrhizal uptake of amino acids by roots of the alpine sedge Kobresia myosuroides: implications for the alpine nitrogen cycle. Oecologia 108:488–494

Reynolds HL, Packer A, Bever JD, Clay K (2003) Grassroots ecology: plant-microbe-soil interactions as drivers of plant community structure and dynamics. Ecology 84:2281–2291

Sala OE, Paruelo JM (1997) Ecosystem services in grasslands. In: Daily GC (ed) Nature's services: societal dependence on natural ecosystems. Island Press, Washington D.C., pp 237–252

Sala OE, Golluscio RA, Lauenroth WK, Soriano A (1989) Resource partitioning between shrubs and grasses in the Patagonian Steppe. Oecologia 81:501–505

Sala OE, Lauenroth WK, Golluscio RA (1993) Arid and semiarid plant functional types. In: Smith TM, Shugart HH, Woodward FI (eds) Plant functional types. Cambridge University Press, Cambridge, pp 217–233

Sala OE, Golluscio RA, Lauenroth WK, Roset PA (2012) Contrasting nutrient-capture strategies in shrubs and grasses of a patagonian arid ecosystem. J Arid Environ 82:130–135

Schimel JP, Bennett J (2004) Nitrogen mineralization: challenges of a changing paradigm. Ecology 85:591–602

Schimel D, Parton W (1986) Microclimatic controls of nitrogen mineralization and nitrification in shortgrass steppe soils. Plant Soil 93:347–357

Schlesinger WH (1997) Biogeochemistry: an analysis of global change. Academic Press, San Diego

Soriano A, Golluscio RA, Satorre E (1987) Spatial heterogeneity of the root system of grasses in the Patagonian arid steppe. Bull Torrey Bot Club 114:103–108

Soriano A, Sala OE, Perelman SB (1994) Patch structure and dynamics in a patagonian arid steppe. Vegetatio 111:127–135

Ulibarri E (1986) Species of Adesmia of the series Microphyllae (Leguminosae, Papilionoideae). Darwiniana 27:315–388

Weigelt A, King R, Bol R, Bardgett RD (2003) Inter-specific variability in organic nitrogen uptake of three temperate grassland species. J Plant Nutr Soil Sci 166:606–611

Weigelt A, Bol R, Bardgett RD (2005) Preferential uptake of soil nitrogen forms by grassland plant species. Oecologia 142:627–635

Yahdjian L, Sala OE (2006) Vegetation structure constrains primary production response to increased water availability in the Patagonian Steppe. Ecology 87:952–962

Yahdjian L, Sala OE (2010) Size of precipitation pulses controls nitrogen transformation and losses in an arid Patagonian ecosystem. Ecosystems 13:575–585

Yahdjian L, Sala OE, Austin AT (2006) Differential controls of water input on litter decomposition and nitrogen dynamics in the Patagonian Steppe. Ecosystems 9:128–141

Yahdjian L, Gherardi L, Sala OE (2011) Nitrogen limitation in arid-subhumid ecosystems: a meta-analysis of fertilization studies. J Arid Environ 75:675–680
Acknowledgments
We would like to thank Prof. Hermann Heilmeier and two anonymous reviewers for excellent suggestions that significantly improved this manuscript. We also thank P.I. Araujo, M. Roldán, G. Durán, I. Romero, G.A. Gil, and R.A. Gambarte for field assistance, R.C.A. Gucho and L. Candelaria for their help in setting up the hydroponic system, and to L.G. Reichmann, P. Rojas, and P. Flombaum for laboratory technique comments and assistance. Special thanks are extended to INTA and IFEVA for their logistic support and to the Marwil family for accommodations. This work was funded by Arizona State University and the National Science Foundation (DEB 0917668).
Additional information
Communicated by Russell Monson.
About this article
Cite this article
Gherardi, L.A., Sala, O.E. & Yahdjian, L. Preference for different inorganic nitrogen forms among plant functional types and species of the Patagonian steppe. Oecologia 173, 1075–1081 (2013). https://doi.org/10.1007/s00442-013-2687-7
Received:

Accepted:

Published:

Issue Date:
Keywords
N economy

Ammonium–nitrate uptake

Niche partitioning

Arid ecosystems

Grass–shrub competition