Abstract
In order to predict which ecosystem functions are most at risk from biodiversity loss, meta-analyses have generalised results from biodiversity experiments over different sites and ecosystem types. In contrast, comparing the strength of biodiversity effects across a large number of ecosystem processes measured in a single experiment permits more direct comparisons. Here, we present an analysis of 418 separate measures of 38 ecosystem processes. Overall, 45 % of processes were significantly affected by plant species richness, suggesting that, while diversity affects a large number of processes not all respond to biodiversity. We therefore compared the strength of plant diversity effects between different categories of ecosystem processes, grouping processes according to the year of measurement, their biogeochemical cycle, trophic level and compartment (above- or belowground) and according to whether they were measures of biodiversity or other ecosystem processes, biotic or abiotic and static or dynamic. Overall, and for several individual processes, we found that biodiversity effects became stronger over time. Measures of the carbon cycle were also affected more strongly by plant species richness than were the measures associated with the nitrogen cycle. Further, we found greater plant species richness effects on measures of biodiversity than on other processes. The differential effects of plant diversity on the various types of ecosystem processes indicate that future research and political effort should shift from a general debate about whether biodiversity loss impairs ecosystem functions to focussing on the specific functions of interest and ways to preserve them individually or in combination.
Access options
Buy single article
Instant access to the full article PDF.
USD 39.95
Price excludes VAT (USA)
Tax calculation will be finalised during checkout.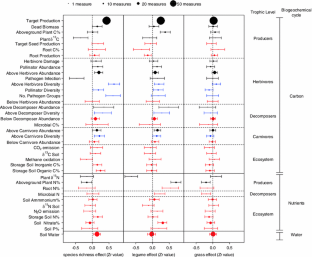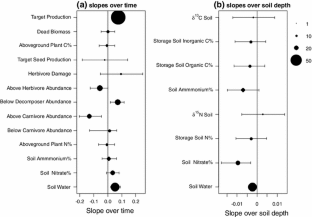 References
Allan E, van Ruijven J, Crawley MJ (2010) Foliar fungal pathogens and grassland biodiversity. Ecology 91:2572–2582

Allan E, Weisser W, Weigelt A, Roscher C, Fischer M, Hillebrand H (2011) More diverse plant communities have higher functioning over time due to turnover in complementary dominant species. Proc Natl Acad Sci USA 108:17034–17039

Baayen RH, Davidson DJ, Bates DM (2008) Mixed-effects modeling with crossed random effects for subjects and items. J Mem Lang 59:390–412

Balvanera P, Pfisterer AB, Buchmann N, He J, Nakashizuka T, Raffaelli D, Schmid B (2006) Quantifying the evidence for biodiversity effects on ecosystem functioning and services. Ecol Lett 9:1146–1156

Bates D, Maechler M, Bolker BM (2011) Lme4: linear mixed-effects models using S4 classes 0.999375-42

Bessler H, Temperton VM, Roscher C, Buchmann N, Schmid B, Schulze E, Weisser WW, Engels C (2009) Aboveground overyielding in grassland mixtures is associated with reduced biomass partitioning to belowground organs. Ecology 90:1520–1530

Blüthgen N, Klein A (2011) Functional complementarity and specialisation: the role of biodiversity in plant–pollinator interactions. Basic Appl Ecol 12:282–291

Borer ET, Seabloom EW, Tilman D (2012) Plant diversity controls arthropod biomass and temporal stability. Ecol Lett 15:1457–1464

Cardinale BJ, Srivastava DS, Duffy JE, Wright JP, Downing AL, Sankaran M, Jouseau C (2006) Effects of biodiversity on the functioning of trophic groups and ecosystems. Nature 443:989–992

Cardinale BJ, Wright JP, Cadotte MW, Carroll IT, Hector A, Srivastava DS, Loreau M, Weis JJ (2007) Impacts of plant diversity on biomass production increase through time because of species complementarity. Proc Natl Acad Sci USA 104:18123–18128

Cardinale BJ, Matulich KL, Hooper DU, Byrnes JE, Duffy E, Gamfeldt L, Balvanera P, O'Connor MI, Gonzalez A (2011) The functional role of producer diversity in ecosystems. Am J Bot 98:572–592

Carson WP, Cronin JP, Long ZT (2004) A general rule for predicting when insects will have strong top-down effects on plant communities: on the relationship between insect outbreaks and host concentration. In: Weisser WW, Siemann E (eds) Insects and ecosystem function. Springer, Berlin

Craine JM, Tilman D, Wedin D, Reich P, Tjoelker M, Knops J (2002) Functional traits, productivity and effects on nitrogen cycling of 33 grassland species. Funct Ecol 16:563–574

Crawley MJ (2007) The R book. Wiley, Chichester

de Deyn GB, van der Putten WH (2005) Linking aboveground and belowground diversity. Trends Ecol Evol 20:625–633

de Kroon H, Hendriks M, van Ruijven J, Ravenek J, Padilla FM, Jongejans E, Visser EJ, Mommer L (2012) Root responses to nutrients and soil biota: drivers of species coexistence and ecosystem productivity. J Ecol 100:6–15

Eisenhauer N, Beßler H, Engels C, Gleixner G, Habekost M, Milcu A, Partsch S, Sabais AC, Scherber C, Steinbeiss S, Weigelt A, Weisser WW, Scheu S (2010) Plant diversity effects on soil microorganisms support the singular hypothesis. Ecology 91:485–496

Eisenhauer N, Milcu A, Sabais AC, Bessler H, Brenner J, Engels C, Klarner B, Maraun M, Partsch S, Roscher C, Schonert F, Temperton VM, Thomisch K, Weigelt A, Weisser WW, Scheu S (2011) Plant diversity surpasses plant functional groups and plant productivity as driver of soil biota in the long term. PLoS ONE 6:e16055

Fornara DA, Tilman D (2008) Plant functional composition influences rates of soil carbon and nitrogen accumulation. J Ecol 96:314–322

Gurevitch J, Hedges LV (1999) Statistical issues in ecological meta-analyses. Ecology 80:1142–1149

Haddad NM, Crutsinger GM, Gross K, Haarstad J, Knops JM, Tilman D (2009) Plant species loss decreases arthropod diversity and shifts trophic structure. Ecol Lett 12:1029–1039

Hector A, Bagchi R (2007) Biodiversity and ecosystem multifunctionality. Nature 448:188–190

Hector A, Schmid B, Beierkuhnlein C, Caldeira MC, Diemer M, Dimitrakopoulos PG, Finn JA, Freitas H, Giller PS, Good J, Harris R, Hogberg P, Huss-Danell K, Joshi J, Jumpponen A, Korner C, Leadley PW, Loreau M, Minns A, Mulder CP, O'Donovan G, Otway SJ, Pereira JS, Prinz A, Read DJ, Scherer-Lorenzen M, Schulze ED, Siamantziouras AS, Spehn EM, Terry AC, Troumbis AY, Woodward FI, Yachi S, Lawton JH (1999) Plant diversity and productivity experiments in European grasslands. Science 286:1123–1127

Hirose T, Werger MJ (1995) Canopy structure and photon flux partitioning among species in a herbaceous plant community. Ecology 76:466–474

Hooper DU, Vitousek PM (1998) Effects of plant composition and diversity on nutrient cycling. Ecol Monogr 68:121–149

Hooper DU, Chapin FS, Ewel JJ, Hector A, Inchausti P, Lavorel S, Lawton JH, Lodge DM, Loreau M, Naeem S, Schmid B, Setala H, Symstad AJ, Vandermeer J, Wardle DA (2005) Effects of biodiversity on ecosystem functioning: a consensus of current knowledge. Ecol Monogr 75:3–35

Hooper DU, Adair EC, Cardinale BJ, Byrnes JE, Hungate BA, Matulich KL, Gonzalez A, Duffy JE, Gamfeldt L, O'Connor MI (2012) A global synthesis reveals biodiversity loss as a major driver of ecosystem change. Nature 486:105–108

Isbell F, Calcagno V, Hector A, Connolly J, Harpole WS, Reich PB, Scherer-Lorenzen M, Schmid B, Tilman D, van Ruijven J, Weigelt A, Wilsey BJ, Zavaleta ES, Loreau M (2011) High plant diversity is needed to maintain ecosystem services. Nature 477:199–202

Jackson RB, Canadell J, Ehleringer JR, Mooney HA, Sala OE, Schulze ED (1996) A global analysis of root distributions for terrestrial biomes. Oecologia 108:389–411

Loreau M, Naeem S, Inchausti P, Bengtsson J, Grime JP, Hector A, Hooper DU, Huston MA, Raffaelli D, Schmid B, Tilman D, Wardle DA (2001) Biodiversity and ecosystem functioning: current knowledge and future challenges. Science 294:804–808

Manning P, Newington JE, Robson HR, Saunders M, Eggers T, Bradford MA, Bardgett RD, Bonkowski M, Ellis RJ, Gange AC, Grayston SJ, Kandeler E, Marhan S, Reid E, Tscherko D, Godfray HC, Rees M (2006) Decoupling the direct and indirect effects of nitrogen deposition on ecosystem function. Ecol Lett 9:1015–1024

Maron JL, Marler M, Klironomos JN, Cleveland CC (2010) Soil fungal pathogens and the relationship between plant diversity and productivity. Ecol Lett 14:36–41

Marquard E, Weigelt A, Roscher C, Gubsch M, Lipowsky A, Schmid B (2009) Positive biodiversity–productivity relationship due to increased plant density. J Ecol 97:696–704

Oelmann Y, Wilcke W, Temperton VM, Buchmann N, Roscher C, Schumacher J, Schulze ED, Weisser WW (2007) Soil and plant nitrogen pools as related to plant diversity in an experimental grassland. Soil Sci Soc Am J 71:720–729

Oelmann Y, Buchmann N, Gleixner G, Habekost M, Roscher C, Rosenkranz S, Schulze E, Steinbeiss S, Temperton VM, Weigelt A, Weisser WW, Wilcke W (2011) Plant diversity effects on aboveground and belowground N pools in temperate grassland ecosystems: development in the first 5 years after establishment. Glob Biogeochem Cycles 25:GB2014

Pacala SW, Kinzig A (2001) Introduction to theory and the common ecosystem model. In: Kinzig A, Pacala S, Tilman D (eds) The functional consequences of biodiversity: empirical progress and theoretical extensions. Princeton University Press, Princeton, pp 169–174

Palmborg C, Scherer-Lorenzen M, Jumpponen A, Carlsson G, Huss-Danell K, Hogberg P (2005) Inorganic soil nitrogen under grassland plant communities of different species composition and diversity. Oikos 110:271–282

Proulx R, Wirth C, Voigt W, Weigelt A, Roscher C, Attinger S, Baade J, Barnard RL, Buchmann N, Buscot F, Eisenhauer N, Fischer M, Gleixner G, Halle S, Hildebrandt A, Kowalski E, Kuu A, Lange M, Milcu A, Niklaus PA, Oelmann Y, Rosenkranz S, Sabais A, Scherber C, Scherer-Lorenzen M, Scheu S, Schulze E, Schumacher J, Schwichtenberg G, Soussana J, Temperton VM, Weisser WW, Wilcke W, Schmid B (2010) Diversity promotes temporal stability across levels of ecosystem organization in experimental grasslands. PLoS ONE 5:e13382

R Development Core Team (2010) R: a language and environment for statistical computing. R Foundation for Statistical Computing, Vienna

Reich PB, Tilman D, Isbell F, Mueller K, Hobbie SE, Flynn DF, Eisenhauer N (2012) Impacts of biodiversity loss escalate through time as redundancy fades. Science 336:589–592

Roscher C, Schumacher J, Baade J, Wilcke W, Gleixner G, Weisser WW, Schmid B, Schulze ED (2004) The role of biodiversity for element cycling and trophic interactions: an experimental approach in a grassland community. Basic Appl Ecol 5:107–121

Roscher C, Kutsch WL, Schulze E (2011) Light and nitrogen competition limit Lolium perenne in experimental grasslands of increasing plant diversity. Plant Biol 13:134–144

Rosenberg M, Adams D, Gurevitch J (2000) Metawin 2.0 user's manual: statistical software for meta-analysis. Sinauer, Sunderland

Rosenkranz S, Wilcke W, Eisenhauer N, Oelmann Y (2012) Net ammonification as influenced by plant diversity in experimental grasslands. Soil Biol Biochem 48:78–87

Rzanny M, Voigt W (2012) Complexity of multitrophic interactions in a grassland ecosystem depends on plant species diversity. J Anim Ecol 81:614–627

Scherber C, Eisenhauer N, Weisser WW, Schmid B, Voigt W, Fischer M, Schulze E, Roscher C, Weigelt A, Allan E, Beszler H, Bonkowski M, Buchmann N, Buscot F, Clement LW, Ebeling A, Engels C, Halle S, Kertscher I, Klein A, Koller R, Konig S, Kowalski E, Kummer V, Kuu A, Lange M, Lauterbach D, Middelhoff C, Migunova VD, Milcu A, Muller R, Partsch S, Petermann JS, Renker C, Rottstock T, Sabais A, Scheu S, Schumacher J, Temperton VM, Tscharntke T (2010) Bottom-up effects of plant diversity on multitrophic interactions in a biodiversity experiment. Nature 468:553–556

Scherer-Lorenzen M, Palmborg C, Prinz A, Schulze ED (2003) The role of plant diversity and composition for nitrate leaching in grasslands. Ecology 84:1539–1552

Schmid B, Balvanera P, Cardinale BJ, Godbold J, Pfisterer AB, Raffaelli D, Solan M, Srivastava DS (2009) Consequences of species loss for ecosystem functioning: meta-analyses of data from biodiversity experiments. In: Naeem S, Bunker D, Hector A, Loreau M, Perrings C (eds) Biodiversity, ecosystem functioning, and human wellbeing an ecological and economic perspective. Oxford University Press, Oxford

Schnitzer SA, Klironomos JN, Hille Ris Lambers J, Kinkel LL, Reich PB, Xiao K, Rillig MC, Sikes BA, Callaway RM, Mangan SA, van Nes EH, Scheffer M (2011) Soil microbes drive the classic plant diversity–productivity pattern. Ecology 92:296–303

Schulze ED, Zwölfer H (1994) Fluxes in Ecosystems. In: Schulze ED (ed) Flux control in biological systems: from enzymes to populations and ecosystems. Academic, London

Siemann E (1998) Experimental tests of effects of plant productivity and diversity on grassland arthropod diversity. Ecology 79:2057–2070

Steinbeiss S, BeßLer H, Engels C, Temperton VM, Buchmann N, Roscher C, Kreutziger Y, Baade J, Habekost M, Gleixner G (2008) Plant diversity positively affects short-term soil carbon storage in experimental grasslands. Glob Change Biol 14:2937–2949

Temperton VM, Mwangi PN, Scherer-Lorenzen M, Schmid B, Buchmann N (2007) Positive interactions between nitrogen-fixing legumes and four different neighbouring species in a biodiversity experiment. Oecologia V151:190–205

Tilman D, Wedin D, Knops J (1996) Productivity and sustainability influenced by biodiversity in grassland ecosystems. Nature 379:718–720

Tilman D, Reich PB, Knops J, Wedin D, Mielke T, Lehman C (2001) Diversity and productivity in a long-term grassland experiment. Science 294:843–845

Tilman D, Reich PB, Isbell F (2012) Biodiversity impacts ecosystem productivity as much as resources, disturbance, or herbivory. Proc Natl Acad Sci USA 109:10394–10397

Vitousek PM, Howarth RW (1991) Nitrogen limitation on land and in the sea: how can it occur? Biogeochemistry 13:87–115

von Felten S, Hector A, Buchmann N, Niklaus PA, Schmid B, Scherer-Lorenzen M (2009) Belowground nitrogen partitioning in experimental grassland plant communities of varying species richness. Ecology 90:1389–1399
Acknowledgments
We would like to thank Volker Kummer (supervised by M.F.), Peter Mwangi, Maike Habekost (supervised by G.G.), Yvonne Kreutziger (supervised by W.W. and Y.O.) and Ramona Müller (supervised by W.V.) for contributing data. The gardeners and technical staff who have worked on the Jena Experiment, for maintaining the site, weeding, mowing and data collection: Steffen Eismann, Steffen Ferber, Silke Hengelhaupt, Sylvia Junghans, Ute Köber, Katja Kunze, Heike Scheffler and Sylvia Creutzburg, Jens Kirchstein, Olaf Kolle, Gerlinde Kratzsch, Anett Oswald, and Ulrike Wehmeier. We would also like to thank a large number of student helpers who were involved in the weeding of the experiment, Cornelius Middelhoff and Jens Schumacher for maintaining the database and Jean-Francois Soussana and Tania Jenkins for comments on earlier drafts of the manuscript. This project was funded by the Deutsche Forschungsgemeinschaft DFG with additional contributions from the Swiss National Science Foundation (Grant 31003A-107531 to B.S.).
Additional information
Communicated by Roland Brandl.
Electronic supplementary material
Below is the link to the electronic supplementary material.
About this article
Cite this article
Allan, E., Weisser, W.W., Fischer, M. et al. A comparison of the strength of biodiversity effects across multiple functions. Oecologia 173, 223–237 (2013). https://doi.org/10.1007/s00442-012-2589-0
Received:

Accepted:

Published:

Issue Date:

DOI: https://doi.org/10.1007/s00442-012-2589-0
Keywords
Bottom-up effects

Carbon cycling

Ecological synthesis

Ecosystem processes

Grasslands

Jena experiment

Nitrogen cycling