Abstract
Changes in frequency and intensity of drought events are anticipated in many areas of the world. In pasture, drought effects on soil nitrogen (N) cycling are spatially and temporally heterogeneous due to N redistribution by grazers. We studied soil N cycling responses to simulated summer drought and N deposition by grazers in a 3-year field experiment replicated in two grasslands differing in climate and management. Cattle urine and NH4NO3 application increased soil NH4 + and NO3 − concentrations, and more so under drought due to reduced plant uptake and reduced nitrification and denitrification. Drought effects were, however, reflected to a minor extent only in potential nitrification, denitrifying enzyme activity (DEA), and the abundance of functional genes characteristic of nitrifying (bacterial and archaeal amoA) and denitrifying (narG, nirS, nirK, nosZ) micro-organisms. N2O emissions, however, were much reduced under drought, suggesting that this effect was driven by environmental limitations rather than by changes in the activity potential or the size of the respective microbial communities. Cattle urine stimulated nitrification and, to a lesser extent, also DEA, but more so in the absence of drought. In contrast, NH4NO3 reduced the activity of nitrifiers and denitrifiers due to top-soil acidification. In summary, our data demonstrate that complex interactions between drought, mineral N availability, soil acidification, and plant nutrient uptake control soil N cycling and associated N2O emissions. These interactive effects differed between processes of the soil N cycle, suggesting that the spatial heterogeneity in pastures needs to be taken into account when predicting changes in N cycling and associated N2O emissions in a changing climate.
Access options
Buy single article
Instant access to the full article PDF.
USD 39.95
Price excludes VAT (USA)
Tax calculation will be finalised during checkout.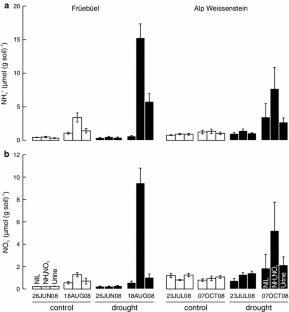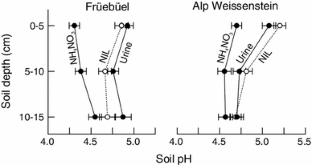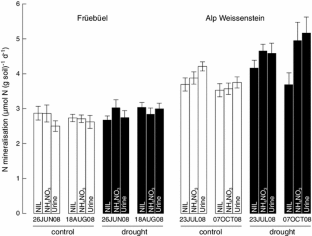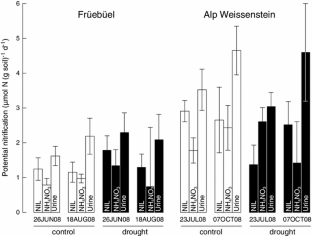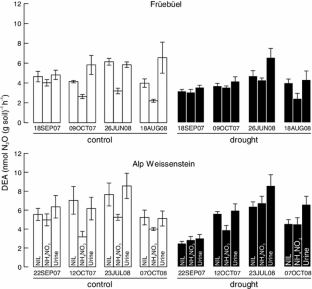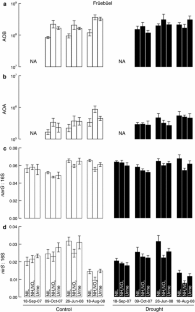 References
Bolan NS, Hedley MJ, White RE (1991) Processes of soil acidification during nitrigen cycling with ephasis on legume based pastures. Plant Soil 134:53–63

Booth MS, Stark JM, Rastetter E (2005) Controls on nitrogen cycling in terrestrial ecosystems: a synthetic analysis of literature data. Ecol Monogr 75:139–157

Borken W, Matzner E (2009) Reappraisal of drying and wetting effects on C and N mineralization and fluxes in soils. Glob Change Biol 15:808–824

Conrad R (1996) Soil microorganisms as controllers of atmospheric trace gases (H2, CO, CH4, OCS, N2O, and NO). Microbiol Rev 60:609–640

Dalal RC, Wang WJ, Robertson GP, Parton WJ (2003) Nitrous oxide emission from Australian agricultural lands and mitigation options: a review. Aust J Soil Res 41:165–195

Davidson EA (1992) Sources of nitric-oxide and nitrous-oxide following wetting of dry soil. SSSA J 56:95–102

Della-Marta PM, Haylock MR, Luterbacher J, Wanner H (2007) Doubled length of western European summer heat waves since 1880. J Geophys Res-Atmos, 112:D15103

Fischer EM, Schär C (2010) Consistent geographical patterns of changes in high-impact European heatwaves. Nat Geosci 3:398–403

Fisk MC, Schmidt SK, Seastedt TR (1998) Topographic patterns of above- and belowground production and nitrogen cycling in Alpine tundra. Ecology 79:2253–2266

Frank DA, Groffman PM (1998) Denitrification in a semi-arid grazing ecosystem. Oecologia 117:564–569

Groffman PM, Axelrod EA, Lemunyon JL, Sullivan WM (1991) Denitrification in grass and forest vegetated filter strips. J Environ Qual 20:671–674

Hartmann AA, Niklaus PA (2012) Effects of simulated drought and nitrogen fertilizer on plant productivity and nitrous oxide (N2O) emissions of two pastures. Plant Soil 361:411–426

Hartmann AA, Buchmann N, Niklaus PA (2011) A study of soil methane sink regulation in two grasslands exposed to drought and N fertilization. Plant Soil 342:265–275

Haynes RJ, Williams PH (1992) Changes in soil solution composition and pH in urine affected areas of pasture. J Soil Sci 43:323–334

Henry S, Bru D, Stres B, Hallet S, Philippot L (2006) Quantitative detection of the nosZ gene, encoding nitrous oxide reductase, and comparison of the abundances of 16S rRNA, narG, nirK, and nosZ genes in soils. Appl Environ Microbiol 72:5181–5189

IPCC (2007) Climate change 2007: the physical science basis. Contribution of working group I to the fourth assessment report of the intergovernmental panel on climate change. Cambridge University Press, Cambridge

Keil D, Meyer A, Berner D, Poll C, Schützenmeister A, Piepho H-P, Vlasenko A, Philippot L, Schloter M, Kandeler E, Marhan S (2011) Influence of land-use intensity on spatial distribution of N-cycling microorganisms in grassland soils. FEMS Microbol Ecol 77:95–106

Linn DM, Doran JW (1984) Effect of water-filled pore-space on carbon-oxide and nitrous-oxide production in tilled and nontilled soils. Soil Sci Soc Am J 48:1267–1272

Murray RE, Parsons LL, Smith MS (1990) Aerobic and anaerobic growth of rifampin-resistant denitrifying bacteria in soil. Appl Environ Microbiol 56:323–328

Nicol GW, Leininger S, Schleper C, Prosser JI (2008) The influence of soil pH on the diversity, abundance and transcriptional activity of ammonia oxidizing archaea and bacteria. Environ Microbiol 10:2966–2978

Niklaus PA, Wardle DA, Tate KR (2006) Effects of plant species diversity and composition on nitrogen cycling and the trace gas balance of soils. Plant Soil 282:83–98

Page KL, Allen DE, Dalal RC, Slattery W (2009) Processes and magnitude of CO2, CH4, and N2O fluxes from liming of Australian acidic soils: a review. Aust J Soil Res 47:747–762

Persson T, Wiren A (1995) Nitrogen mineralization and potential nitrification at different depths in acid forest soils. Plant Soil 168:55–65

Peterjohn WT (1991) Denitrification: enzyme content and activity in desert soils. Soil Biol Biochem 23:845–855

Pilbeam CJ, Mahapatra BS, Wood M (1993) Soil matric potential effects on gross rates of nitrogen mineralization in an orthic ferralsol from Kenya. Soil Biol Biochem 25:1409–1413

Prosser JI (1989) Autotrophic nitrification in bacteria. Adv Microbiol Physiol 30:125–181

Ravishankara AR, Daniel JS, Portmann RW (2009) Nitrous oxide (N2O): the dominant ozone-depleting substance emitted in the 21st century. Science 326:123–125

Regan K, Kammann C, Hartung K, Lenhart K, Müller C, Philippot L, Kandeler E, Marhan S (2011) Can differences in microbial abundances help explain enhanced N2O emissions in a permanent grassland under elevated atmospheric CO2? Glob Change Biol 17:3176–3186

Robertson GP (1989) Nitrification and denitrification in humid tropical ecosystems. In: Proctor J (ed) Mineral nutrients in tropical forest and savanna ecosystems. Blackwell, Cambridge, pp 55–70

Schär C, Vidale PL, Lüthi D, Frei C, Häberli C, Liniger MA, Appenzeller C (2004) The role of increasing temperature variability in European summer heatwaves. Nature 427:332–336

Simek M, Cooper JE (2002) The influence of soil pH on denitrification: progress towards the understanding of this interaction over the last 50 years. Eur J Soil Sci 53:345–354

Smith MS, Tiedje JM (1979) Phases of denitrification following oxygen depletion in soil. Soil Biol Biochem 11:261–267

Stark JM, Firestone MK (1995) Mechanisms for soil-moisture effects on activity of nitrifying bacteria. Appl Environ Microbiol 61:218–221

Stehfest E, Bouwman L (2006) N2O and NO emission from agricultural fields and soils under natural vegetation: summarizing available measurement data and modeling of global annual emissions. Nutr Cycl Agroecosys 74:207–228

Ste-Marie C, Pare D (1999) Soil, pH and N availability effects on net nitrification in the forest floors of a range of boreal forest stands. Soil Biol Biochem 31:1579–1589

Stiehl-Braun PA, Hartmann AA, Kandeler E, Buchmann N, Niklaus PA (2011) Interactive effects of drought and N fertilisation on the spatial distribution of methane assimilation in grassland soils. Glob Change Biol 17:2629–2639

Tiedje JM, Simkins S, Groffman PM (1989) Perspectives on measurement of denitrification in the field including recommended protocols for acetylene based methods. Plant Soil 115:261–284

Yamulki S, Jarvis SC, Owen P (1998) Nitrous oxide emissions from excreta applied in a simulated grazing pattern. Soil Biol Biochem 30:491–500

Zeeman MJ, Hiller R, Gilgen AK, Michna P, Plüss P, Buchmann N, Eugster W (2010) Management and climate impacts on net CO2 fluxes and carbon budgets of three grasslands along an elevational gradient in Switzerland. Agr For Meteorol 150:519–530

Zumft WG (1997) Cell biology and molecular basis of denitrification. Microbiol Molec Biol Rev 61:533–616
Acknowledgments
We are indebted to Annika Lenz, Peter Plüss and Patrick Flütsch for technical support. We further thank Anna Gilgen, Samuel Schmid and Petra Stiehl-Braun for their help with setting up of the rain exclusion roofs. This project was funded by Swiss National Science Foundation grant 315230-112681 to P.A.N.
Additional information
Communicated by Russell Monson.
Electronic supplementary material
Below is the link to the electronic supplementary material.
About this article
Cite this article
Hartmann, A.A., Barnard, R.L., Marhan, S. et al. Effects of drought and N-fertilization on N cycling in two grassland soils. Oecologia 171, 705–717 (2013). https://doi.org/10.1007/s00442-012-2578-3
Received:

Accepted:

Published:

Issue Date:

DOI: https://doi.org/10.1007/s00442-012-2578-3
Keywords
Climate change

Enzyme activities

Functional genes

Quantitative PCR

Nitrification and denitrification

N2O fluxes