Abstract
Invasive plants have the potential to reduce native plant abundance through both direct and indirect interactions. Direct interactions, such as competition for soil resources, and indirect interactions, such as competition for shared pollinators, have been shown to influence native plant performance; however, we know much less about how these interactions influence native plant abundance in the field. While direct competitive interactions are often assumed to drive declines in native abundance, an evaluation of their influence relative to indirect mechanisms is needed to more fully understand invasive plant impacts. We quantified the direct effects of resource competition by the invasive perennial forb, Euphorbia esula (Euphorbiaceae), on the recruitment, subsequent performance, and ultimate adult abundance of the native annual, Clarkia pulchella (Onagraceae). We contrast these direct effects with those that indirectly resulted from competition for shared pollinators. Although E. esula dramatically reduced pollinator visitation to C. pulchella, plants were only weakly pollen-limited. Pollen supplementation increased the number of seeds per fruit from 41.28 to 46.38. Seed addition experiments revealed that the impacts of ameliorating pollen limitation only increased potential recruitment by 12.3 %. In contrast, seed addition experiments that ameliorated direct competition with E. esula resulted in an increase in potential future recruitment of 574 %. Our results show that, while the indirect effects of competition for pollinators can influence plant abundance, its effects are dwarfed by the magnitude of direct effects of competition for resources.
Access options
Buy single article
Instant access to the full article PDF.
USD 39.95
Price excludes VAT (USA)
Tax calculation will be finalised during checkout.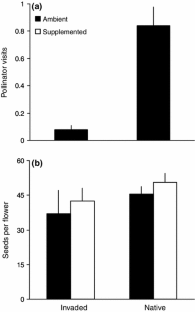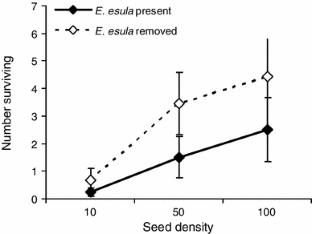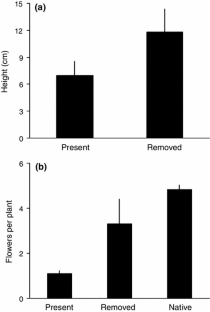 References
Alpert P (2010) Amending invasion with carbon: after fifteen years, a partial success. Rangelands 32:12–15

Ashman T-L et al (2004) Pollen limitation of plant reproduction: ecological and evolutionary causes and consequences. Ecology 85:2408–2421

Bartomeus I, Vila M, Steffan-Dewenter I (2010) Combined effects of Impatiens glandulifera invasion and landscape structure on native plant pollination. J Ecol 2010:440–450

Bates D, Maechler M, Bolker B (2011) lme4: linear mixed-effects models using S4 classes. R package version 0.999375-42. http://www.CRAN.R-project.org/package=lme4

Biggerstaff MS, Beck CW (2007) Effects of method of English ivy removal and seed addition on regeneration of vegetation in a southeastern Piedmont forest. Am Midl Nat 158:206–220

Bjerknes A-L, Totland O, Hegland SJ, Nielsen A (2007) Do alien plant invasions really affect pollination success in native plant species? Biol Conserv 138:1–12

Blumenthal DM, Norton AP, Seastedt TR (2010) Restoring competitors and natural enemies for long-term control of plant invaders. Rangelands 32:16–20

Bronstein JL (1994) Our current understanding of mutualism. Q Rev Biol 69:31–51

Brown BJ, Mitchell RJ, Graham SA (2002) Competition for pollination between an invasive species (purple loosestrife) and a native congener. Ecology 83:2328–2336

Burd M (1994) Bateman's Principle and plant reproduction: the role of pollen limitation in fruit and seed set. Bot Rev 60:83–139

Burkle LA, Irwin RE (2008) The effects of nutrient addition on floral characters and pollination in two subalpine plants, Ipomopsis aggregata and Linum lewisii. Plant Ecol 203:83–98

Campbell DR (1985) Pollinator sharing and seed set of Stellaria pubera: competition for pollination. Ecology 66:544–553

Campbell DR, Halama KJ (1993) Resource and pollen limitations to lifetime seed production in a natural plant population. Ecology 74:1043–1051

Cariveau DP, Norton AP (2009) Spatially contingent interactions between and exotic and native plant mediated through flower visitors. Oikos 118:107–114

Chittka L, Schürkens S (2001) Successful invasion of a floral market: an exotic Asian plant has moved in on Europe's river-banks by bribing pollinators. Nature 411:653

Cipollini KA, McClain GY, Cipollini D (2008) Separating above- and belowground effects of Allaria petiolata and Lonicera maackii on the performance of Impatiens capensis. Am Midl Nat 160:117–128

Coleman HM, Levine JM (2007) Mechanisms underlying the impacts of exotic annual grasses in a coastal California meadow. Biol Invasions 9:65–71

Combs JK, Reichard SH, Groom MJ, Wilderman DL, Camp PA (2011) Invasive competitor and native seed predators contribute to rarity of the narrow endemic Astragalus sinuatus Piper. Ecol Appl 21:2498–2509

D'Antonio CM, Mahall BE (1991) Root profiles and competition between the invasive, exotic perennial, Carpobrotus edulis, and two native shrub species in California coastl scrub. Am J Bot 78:885–894

D'Antonio CM, Vitousek PM (1992) Biological invasions by exotic grasses, the grass/fire cycle and global change. Annu Rev Ecol Syst 23:63–87

Denoth M, Myers JH (2007) Competition between Lythrum salicaria and a rare species: combining evidence from experiments and long-term monitoring. Plant Ecol 191:153–161

Feldman TS, Morris WF (2011) Higher survival at low density counteracts lower fecundity to obviate Allee effects in a perennial plant. J Ecol 99:1162–1170

Fishman L, Wyatt R (1999) Pollinator-mediated competition, reproductive character displacement, and the evolution of selfing in Arenaria uniflora (Caryophyllaceae). Evolution 53:1558–1565

Flanagan RJ, Mitchell RJ, Karron JD (2010) Increased relative abundance of an invasive competitor for pollination, Lythrum salicaria, reduces seed number in Mimulus ringens. Oecologia 164:445–454

Ghazoul J (2006) Floral diversity and the facilitation of pollination. Oikos 105:197–207

Gorchov DL, Trisel DE (2003) Competitive effects of the invasive shrub, Lonicera maackii (Rupr.) Herder (Caprifoliaceae), on the growth and survival of native tree seedlings. Plant Ecol 166:13–24

Groom MJ (1998) Allee effects limit population viability of an annual plant. Am Nat 151:487–496

Haig D, Westoby M (1988) On limits to seed production. Am Nat 131:757–759

Horvitz CC, Ehrlén J, Matlaga D (2011) Context-dependent pollinator limitation in stochastic environments: can increased seed set overpower the cost of reproduction in an understory herb? J Ecol 98:268–278

Kaiser-Bunbury CN, Valentin T, Mougal J, Matatiken D, Ghazoul J (2011) The tolerance of island plant-pollinator networks to alien plants. J Ecol 99:202–213

Kandori I, Hirae T, Matsunaga S, Kurosaki T (2009) An invasive dandelion unilaterally reduces the reproduction of a native congener through competition for pollination. Oecologia 159:559–569

Klironomos JN (2002) Feedback with soil biota contributes to plant rarity and invasiveness in communities. Nature 217:67–70

Knight TM (2003) Floral density, pollen limitation, and reproductive success in Trillium grandiflorum. Oecologia 442:557–563

Knight TM (2004) The effects of herbivory and pollen limitation on a declining population of Trillium grandiflorum. Ecol Appl 14:915–928

Knight TM, Steets JA, Ashman T-L (2006) A quantitative synthesis of pollen supplementation experiments highlights the contribution of resource reallocation to estimates of pollen limitation. Am J Bot 93:271–277

Levin DA (1972) Competition for pollinator service: a stimulus for the evolution of autogamy. Evolution 26:674–688

Levin DA, Anderson WW (1970) Competition for pollinators between simultaneously flowering species. Am Nat 160:452–467

Levine JM, Vila M, D'Antonio CM, Dukes JS, Grigulis K, Lavorel S (2003) Mechanisms underlying the impacts of exotic plant invasions. Proc R Soc Lond B 270:775–781

Lewis H (1953) The mechanisms of evolution in the genus Clarkia. Evolution 7:1–20

MacDougall AS, Turkington R (2005) Are invasive species the drivers or passengers of chagne in degraded ecosystems? Ecology 86:42–55

Mack RN, Simberloff D, Lonsdale WM, Evans H, Clout M, Bazzaz FA (2000) Biotic invasions: causes, epidemiology, global consequences, and control. Ecol Appl 10:689–710

Maron JL, Marler M (2008) Field-based competitive impacts between invaders and natives at varying resource supply. J Ecol 96:1187–1197

McKinney AM, Goodell K (2011) Plant-pollinator interactions between and invasive and native plant vary between sites with different flowering phenology. Plant Ecol 212:1025–1035

Meiners SJ (2007) Apparent competition: an impact of exotic shrub invasion on tree regeneration. Biol Invasions 9:849–855

Melgoza G, Nowak RS, Tausch RJ (1990) Soil water exploitation after fire: competition between Bromus tectorum (cheatgrass) and two native species. Oecologia 83:7–13

Moeller DA (2004) Facilitative interactions among plants via shared pollinators. Ecology 1985:3289–3301

Moeller DA, Geber MA (2005) Ecological context of the evolution of self-pollination in Clarkia xantiana: population size, plant communities, and reproductive assurance. Evolution 59:786–799

Moragues E, Traveset A (2005) Effect of Carpobrotus spp.on the pollination success of native plant species of the Balearic Islands. Biol Conserv 122:611–619

Morales CL, Traveset A (2008) Interspecific pollen transfer: magnitude, prevalence and consequences for plant fitness. Crit Rev Plant Sci 27:221–238

Morales CL, Traveset A (2009) A meta-analysis of impacts of alien vs. native plants on pollinator visitation and reproductive success of co-flowering native plants. Ecol Lett 12:716–728

Munoz AA, Cavieres LA (2008) The presence of a showy invasive plant disrupts pollinator service and reproductive output in native alpine species only at high densities. J Ecol 96:459–467

Munoz AA, Celedon-Neghme C, Cavieres LA, Arroyo M (2005) Bottom-up effects of nutrient availability on flower production, pollinator visitation, and seed output in a high-Andean shrub. Oecologia 143:126–135

Ne'eman G, Ne'eman R, Ellison AM (2006) Limits to reproductive success of Sarracenia purpurea (Sarraceniaceae). Am J Bot 93:1660–1666

Newman D, Pilson D (1997) Increased probability of extinction due to decreased genetic effective population size: experimental populations of Clarkia pulchella. Evolution 51:354–362

Orrock JL, Witter MS, Reichman OJ (2008) Apparent competition with an exotic plant reduces native plant establishment. Ecology 89:1168–1174

Palmer TM, Stanton ML, Young TP (2003) Competition and coexistence: exploring mechanisms that restrict and maintain diversity within mutualist guilds. Am Nat 162:S63–S79

Pinheiro J, Bates D, DebRoy S, Sarkar D, R Development Core Team (2011) nlme: linear and nonlinear mixed effects models. R package version 3.1–102

Price MV, Cambell DR, Waser NM, Brody AK (2008) Bridging the generation gap in plants: pollination, parental fecundity, and offspring demography. Ecology 89:1596–1604

R Development Core Team (2011) R: a language and environment for statistical computing. R Foundation for Statistical Computing, Vienna, Austria. ISBN 3-900051-07-0. http://www.R-project.org/

Rathcke B (1983) Competition and facilitation among plants for pollination. In: Real L (ed) Pollination biology. Academic, New York, pp 305–329

Sala OE, Chapin FS III, Armesto JJ, Berlow E, Bloomfield J (2000) Global biodiversity scenarios for the year 2100. Science 287:1770–1774

Stinson KA, Campbell SA, Powell JR, Wolfe BE, Callaway RM, Thelen GC, Hallett SG, Prati D, Klironomos JN (2006) Invasive plant suppresses the growth of native tree seedlings by disrupting belowground mutualisms. Plos Biol 4:727–731

Takakura K-I, Matsumoto T, Nishida T, Nishida S (2011) Effective range of reproductive interference exerted by an alien dandelion, Taraxacum officinale, on a native congener. J Plant Res 124:269–276

Vilá M, Weiner J (2004) Are invasive plant species better competitors than native plant species?: evidence from pair-wise experiments. Oikos 105:229–238

Vilá M et al (2011) Ecological impacts of invasive alien plants: a meta-analysis of their effects on species, communities and ecosystems. Ecol Lett 14:702–708

Waser NM (1983) Competittion for pollination and floral character differences among sympatric plant species: a review of evidence. In: Jones CE, Little RJ (eds) Handbook of experimental pollination biology. Van Nostrand Reinhold, New York

Waser NM, Chittka MV, Price MV, Williams NM, Ollerton J (1996) Generalization in pollination systems, and why it matters. Ecology 77:1043–1060

White EM, Wilson JC, Clarke AR (2006) Biotic indirect effects: a neglected concept in invasion biology. Divers Distrib 12:443–455

Williams JL, Crone EE (2006) The impact of invasive grasses on the populatoin growth of Anemone patens, a long-lived native forb. Ecology 87:3200–3208

Wooten JT (1994) The nature and consequences of indirect effects in ecological communities. Annu Rev Ecol Syst 25:443–466

Wyatt R (1983) Pollinator-plant interactions and the evolution of breeding systems. In: Real L (ed) Pollination biology. Academic Press, Orlando, pp 51–95

Zimmerman M (1983) Plant reproduction and optimal foraging: experimental nectar manipulation in Delphinium nelsonii. Oikos 41:57–63

Zimmerman M, Pyke GH (1988) Experimental manipulations of Polemonium foliosissimum: effects on subsequent nectar production, seed production and growth. J Ecol 76:777–789
Acknowledgments
We thank E. Edgley, M. Mullins, S. Prado-Irwin, A. Tracy, K. Shelkey, L. Stoffel, and D. Venturella for field assistance. Research was supported by an EPA-STAR fellowship, the John W. Marr Ecology Fund, Prairie Biotic Research, Inc., and the Montana Native Plant Society (all to J. Palladini) and by grants from the National Research Initiative of the USDA Cooperative State Research, Education and Extension Service (grant number 2005-35101-16040) and the National Science Foundation (DEB-0915409) to J.L. Maron and Research Experience for Undergraduates Grant (DBI-0755560 & 1157101). The experiments comply with current laws of the country (USA) in which the experiments were performed.
Additional information
Communicated by Christina Caruso.
Electronic supplementary material
Below is the link to the electronic supplementary material.
About this article
Cite this article
Palladini, J.D., Maron, J.L. Indirect competition for pollinators is weak compared to direct resource competition: pollination and performance in the face of an invader. Oecologia 172, 1061–1069 (2013). https://doi.org/10.1007/s00442-012-2556-9
Received:

Accepted:

Published:

Issue Date:

DOI: https://doi.org/10.1007/s00442-012-2556-9
Keywords
Clarkia pulchella

Competition

Euphorbia esula

Exotic plants

Pollination