Abstract
Separating plastic from ontogenetic and growth-limiting responses of plants to changes in resource availability can be challenging because there are a total of eight combinations of these three types of responses. These can, however, be uniquely distinguished on plots of root:shoot ratios against total biomass through time. We used this approach to separate ontogenetic, plastic, and growth-limiting responses of wild rice (Zizania palustris L.) to changes in nitrogen, phosphorus, and light availabilities. Relative growth rate was limited primarily by nitrogen but responded to increased light and phosphorus after nitrogen limitations were alleviated. Nitrogen addition increased relative growth rate because it simultaneously increased unit leaf rate, specific leaf area, and leaf weight ratio. Increased light did not change relative growth rate because decreased specific leaf area and leaf weight ratio compensated the increased unit leaf rate. Phosphorus did not change either relative growth rate or its underlying components. Plants responded ontogenetically to increased nitrogen and light availabilities by accelerating their developmental rate, and plastically by decreasing or increasing their root:shoot ratios, respectively. Plants did not respond either ontogenetically or plastically to increased phosphorus availability. Ontogenetic changes in growth can be separated from plastic and growth-limiting responses by plotting root:shoot ratio against total biomass in the context of the eight possible responses identified above, and also by examining how the underlying components of relative growth rate respond.
Access options
Buy single article
Instant access to the full article PDF.
USD 39.95
Price excludes VAT (USA)
Tax calculation will be finalised during checkout.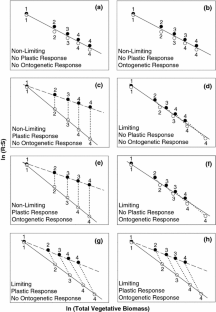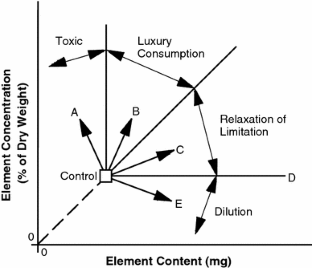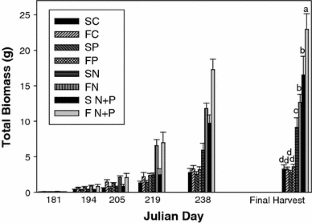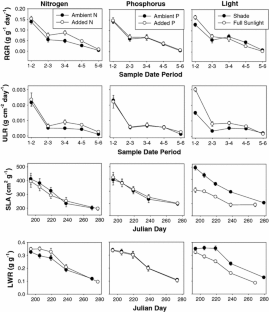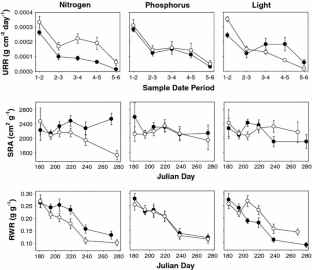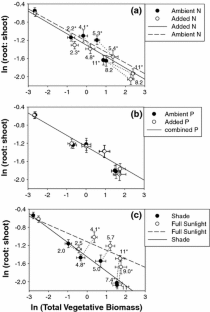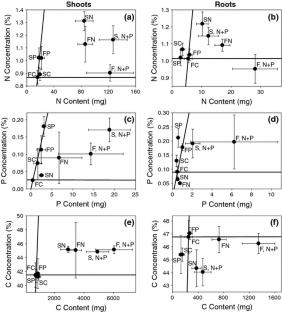 References
Aiken SG, Lee PF, Punter D, Stewart JM (1988) Wild rice in Canada. Agriculture Canada, Canada

Archibold OW, Good AG, Sutherland JM (1989) Annual variation in wild rice (Zizania palustris L.) growth and potential yield in Saskatchewan. Can J Plant Sci 69:653–665

Bloom AJ, Chapin FS, Mooney HA (1985) Resource limitation in plants—an economic analogy. Annu Rev Ecol Syst 16:363–392

Chapin FS III (1980) The mineral nutrition of wild plants. Annu Rev Ecol Syst 11:233–260

Clay SA, Oelke EA (1987) Effects of giant burreed (Spaganium eurycarpum) and shade on wild rice (Zizania palustris). Weed Sci 35:640–646

Day WR, Lee PF (1989) Ecological relationships of wild rice, Zizania aquatica. 8. Classification of sediments. Can J Bot 67:1381–1386

Evans GC (1972) The quantitative analysis of plant growth. Blackwell, Oxford

Gedroc JJ, McConnaughay KDM, Coleman JS (1996) Plasticity in root/shoot partitioning: optimal, ontogenetic, or both? Funct Ecol 10:44–50

Grava J, Raisanen KA (1978) Growth and nutrient accumulation and distribution in wild rice. Agron J 70:1077–1081

Harmon ME, Lajtha K (1999) Analysis of detritus and organic horizons for mineral and organic constituents. In: Robertson GP, Coleman DC, Bledsoe CS, Sollins P (eds) Standard soil methods for long-term ecological research. Oxford University Press, New York, pp 148–150

Hunt R (1990) Basic growth analysis. Unwin Hyman, London

Keenan TJ, Lee PF (1988) Ecological relationships of wild rice, Zizania aquatica. 7. Sediment nutrient depletion following introduction of wild rice to a shallow boreal lake. Can J Bot 66:236–241

Larcher W (1995) Physiological plant ecology, 3rd edn. Springer, Berlin

McConnaughay KDM, Coleman JS (1998) Can plants track changes in nutrient availability via changes in biomass partitioning? Plant Soil 202:201–209

McConnaughay KDM, Coleman JS (1999) Biomass allocation in plants: ontogeny or optimality? A test along three resource gradients. Ecology 80:2581–2593

Meziane D, Shipley B (1999) Interacting components of interspecific relative growth rate: constancy and change under different conditions of light and nutrient supply. Funct Ecol 13:611–622

Miner BG, Sultan SE, Morgan SG, Padilla DK, Relyea RA (2005) Ecological consequences of phenotypic plasticity. Trends Ecol Evol 20:685–692

Mooney HA (1972) The carbon balance of plants. Annu Rev Ecol Syst 3:315–346

Oelke EA, Grava J, Noetzel D, Barron B, Percich J, Schertz C, Strait J, Stucker R (1982) Wild rice production in Minnesota. University of Minnesota Extension Bulletin 464, St. Paul, MN

Poorter H, Nagel O (2000) The role of biomass allocation in the growth response of plants to different levels of light, CO2, nutrients and water: a quantitative review. Aust J Plant Physiol 27:595–607

Rubio G, Zhu J, Lynch JP (2003) A critical test of the two prevailing theories of plant response to nutrient availabilities. Am J Bot 90:143–152

Ryser P, Eek L (2000) Consequences of phenotypic plasticity vs. interspecific differences in leaf and root traits for acquisition of aboveground and belowground resources. Am J Bot 87:402–411

Shipley B, Meziane M (2002) The balanced-growth hypothesis and the allometry of leaf and root biomass allocation. Funct Ecol 16:326–331

Taub DR (2002) Analysis of interspecific variation in plant growth responses to nitrogen. Can J Bot 80:34–41

Tilman D (1988) Plant strategies and the dynamics and structure of plant communities. Princeton University Press, Princeton

Timmer VR, Stone EL (1978) Comparative foliar analysis of young balsam fir fertilized with nitrogen, phosphorus, potassium and lime. Soil Sci Soc Am J 42:125–130

Walker RD, Pastor J, Dewey BW (2010) Litter quantity and nitrogen immobilization cause oscillations in productivity of wild rice (Zizania palustris L.) in Northern Minnesota. Ecosystems 13:485–498

Weiner J (2004) Allocation, plasticity and allometry in plants. Perspect Plant Ecol Evol Syst 6(4):207–215

Weir CE, Dale HM (1960) A developmental study of wild rice, Zizania aquatica L. Can J Bot 38:719–739

Wilson JB (1988) A review of evidence on the control of shoot:root ratio, in relation to models. Ann Bot 61:433–449

Zhao X, Zhang Z, Yang F, Wang X (2004) Studies on leaf photosynthetic temperature characteristics of wild rice. J Jilin Agric Univ 26:488–490
Acknowledgments
This research was supported by a grant from the National Science Foundation's Ecosystems Ecology Program. We are grateful to the Fond du Lac Band of Lake Superior Chippewa, especially Nancy Schuldt and Tom House, for their assistance, support, and supply of sediment for this project. We thank two anonymous reviews for helpful comments.
Additional information
Communicated by Kouki Hikosaka.
About this article
Cite this article
Sims, L., Pastor, J., Lee, T. et al. Nitrogen, phosphorus and light effects on growth and allocation of biomass and nutrients in wild rice. Oecologia 170, 65–76 (2012). https://doi.org/10.1007/s00442-012-2296-x
Received:

Accepted:

Published:

Issue Date:

DOI: https://doi.org/10.1007/s00442-012-2296-x
Keywords
Allometry

Growth analysis

Resource availability

Zizania palustris