Abstract
Increases in woody vegetation and declines in grasses in arid and semi-arid ecosystems have occurred globally since the 1800s, but the mechanisms driving this major land-cover change remain uncertain and controversial. Working in a shrub-encroached grassland in the northern Chihuahuan Desert where grasses and shrubs typically differ in leaf-level nitrogen allocation, photosynthetic pathway, and root distribution, we asked if differences in leaf-level ecophysiology could help explain shrub proliferation. We predicted that the relative performance of grasses and shrubs would vary with soil moisture due to the different morphological and physiological characteristics of the two life-forms. In a 2-year experiment with ambient, reduced, and enhanced precipitation during the monsoon season, respectively, the encroaching C3 shrub (honey mesquite Prosopis glandulosa) consistently and substantially outperformed the historically dominant C4 grass (black grama Bouteloua eriopoda) in terms of photosynthetic rates while also maintaining a more favorable leaf water status. These differences persisted across a wide range of soil moisture conditions, across which mesquite photosynthesis was decoupled from leaf water status and moisture in the upper 50 cm of the soil profile. Mesquite's ability to maintain physiologically active leaves for a greater fraction of the growing season than black grama potentially amplifies and extends the importance of physiological differences. These physiological and phenological differences may help account for grass displacement by shrubs in drylands. Furthermore, the greater sensitivity of the grass to low soil moisture suggests that grasslands may be increasingly susceptible to shrub encroachment in the face of the predicted increases in drought intensity and frequency in the desert of the southwestern USA.
This is a preview of subscription content,
to check access.
Access this article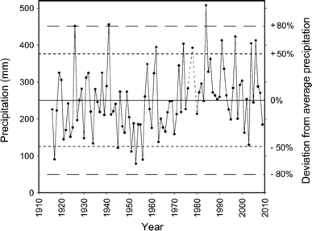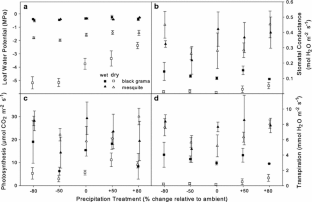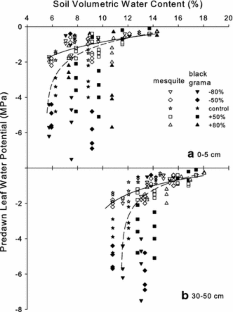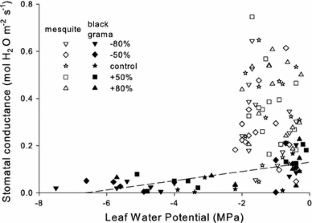 Similar content being viewed by others
References
Ansley RJ, Jacoby PW, Cuomo GJ (1990) Water relations of honey mesquite following severing of lateral roots: influence of location and amount of subsurface water. J Range Manag 43:436–442

Ansley RJ, Dugas WA, Heuer ML, Kramp BA (2002) Bowen ratio/energy balance and scaled leaf measurements of CO2 flux over burned Prosopis savanna. Ecol Appl 12:948–961

Archer S (1994) Woody plant encroachment into southwestern grasslands and savannas: rates, patterns and proximate causes. In: Vavra M, Laycock W, Pieper R (eds) Ecological implications of livestock herbivory in the West. Society for Range Management, Denver, pp 13–68

Archer S (2010) Rangeland conservation and shrub encroachment: new perspectives on an old problem. In: du Toit J, Kock R, Deutsch J (eds) Wild rangelends: conserving wildlife while maintaining livestock in semi-arid ecosystems. Wiley-Blackwell, Oxford, pp 53–97

Archer S, Schimel DS, Holland EA (1995) Mechanisms of shrubland expansion: land use, climate, or CO2? Clim Change 29:91–99

Barger NN, Archer SR, Campbell JL, Huang CH, Morton JA, Knapp AK (2011) Woody plant proliferation in North American drylands: a synthesis of impacts on ecosystem carbon balance. J Geophys Res Biogeosci 117:GOOKO7. doi:10.1029/2010JG001506

Breshears DD, Whicker JJ, Zou CB, Field JP, Allen CD (2009) A conceptual framework for dryland aeolian sediment transport along the grassland-forest continuum: Effects of woody plant canopy cover and disturbance. Geomorphology 105:28–38

Brown JR, Archer S (1990) Water relations of a perennial grass and seedlings vs adult woody plants in a subtropical savanna, Texas. Oikos 57:366–374

Campbell BD, Stafford Smith DM (2000) A synthesis of recent global change research on pasture and range production: reduced uncertainties and their management implications. Agric Ecosyst Environ 82:39–55

Conley W, Conley MR, Kart TR (1992) A computational study of episodic events and historical context in long-term ecological processes: climate and grazing in the northern Chihuahuan Desert. Coenoses 7:55–60

de Soyza AG, Killingbeck KT, Whitford WG (2004) Plant water relations and photosynthesis during and after drought in a Chihuahuan desert arroyo. J Arid Environ 59:27–39. doi:10.1016/j.jaridenv.2004.01.011

Delauney AJ, Verma DPS (1993) Proline biosynthesis and osmoregulation in plants. Plant J 42:215–223

Drewa PB (2003) Effects of fire season and intensity on Prosopis glandulosa Torr. var. glandulosa. Int J Wildland Fire 12:147–157

Drewa PB, Peters DPC, Havstad KM (2006) Population and clonal level responses of a perennial grass following fire in the northern Chihuahuan Desert. Oecologia 150:29–39

Eggemeyer KD, Awada T, Harvey FE, Wedin DA, Zhou X, Zanner CW (2009) Seasonal changes in depth of water uptake for encroaching trees Juniperus virginiana and Pinus ponderosa and two dominant C4 grasses in a semiarid grassland. Tree Physiol 29:157–169

Eldridge DJ, Bowker MA, Maestre FT, Roger E, Reynolds JF, Whitford WG (2011) Impacts of shrub encroachment on ecosystem structure and functioning: towards a global synthesis. Ecol Lett 14:709–722. doi:10.1111/j.1461-0248.2011.01630.x

Field CB, Behrenfeld MJ, Randerson JT, Falkowski P (1998) Primary production of the biosphere: integrating terrestrial and oceanic components. Science 281:237–240

Fredrickson E, Havstad KM, Estell R (1998) Perspectives on desertification: south-western United States. J Arid Environ 39:191–207

Gibbens RP, Lenz JM (2001) Root systems of some Chihuahuan Desert plants. J Arid Environ 49:221–263

Gibbens RP, McNeely RP, Havstad KM, Beck RF, Nolen B (2005) Vegetation changes in the Jornada Basin from 1858 to 1998. J Arid Environ 61:651–668

Goedhart C, Pataki D, Billings S (2010) Seasonal variations in plant nitrogen relations and photosynthesis along a grassland to shrubland gradient in Owens Valley, California. Plant Soil 327:213–223. doi:10.1007/s11104-009-0048-4

Huenneke L, Anderson J, Remmenga M, Schlesinger W (2002) Desertification alters patterns of aboveground net primary production in Chihuahuan ecosystems. Glob Change Biol 8:247–264

Hultine KR, Scott RL, Cable WL, Goodrich DC, Williams DG (2004) Hydraulic redistribution by a dominant, warm-desert phreatophyte: seasonal patterns and response to precipitation pulses. Funct Ecol 18:530–538

Jackson RB, Canadell J, Ehleringer JR, Mooney HA, Sala OE, Schulze ED (1996) A global analysis of root distributions for terrestrial biomes. Oecologia 108:389–411

Kemp PR (1983) Phenological patterns of Chihuahuan Desert plants in relation to the timing of water availability. J Ecol 71:427–436

Knapp AK et al (2008) Shrub encroachment in North American grasslands: shifts in growth form dominance rapidly alters control of ecosystem carbon inputs. Glob Change Biol 14:615–623. doi:10.1111/j.1365-2486.2007.01512.x

Knoop WT, Walker BH (1985) Interactions of woody and herbaceous vegetation in a Southern African Savanna. J Ecol 73:235–253

Lajtha K, Schlesinger WH (1986) Plant response to variations in nitrogen availability in a desert shrubland community. Biogeochemistry 2:29–37

Marshall JD, Brooks JR, Lajtha K (2007) Sources of variation in the stable isotopic composition of plants. In: Michener R, Lajtha K (eds) Stable isotopes in ecology and environmental science. Blackwell, Malden, pp 22–60

McCarron JK, Knapp AK (2001) C3 woody plant expansion in a C4 grassland: Are grasses and shrubs functionally distinct? Am J Bot 88:1818–1823

Morgan JA, LeCain DR, Pendall E, Blumenthal DM, Kimball BA et al (2011) C4 grasses prosper as carbon dioxide eliminates desiccation in warmed semi-arid grassland. Nature 476:202–205. doi:10.1038/nature10274

Naito AT, Cairns DM (2011) Patterns and processes of global shrub expansion. Prog Phys Geog 35:423–442. doi:10.1177/0309133311403538

Patrick LD, Ogle K, Bell CW, Zak J, Tissue D (2009) Physiological responses of two contrasting desert plant species to precipitation variability are differentially regulated by soil moisture and nitrogen dynamics. Glob Change Biol 15:1214–1229

Reich PB, Oleksyn J (2004) Global patterns of plant leaf N and P in relation to temperature and latitude. Proc Natl Acad Sci USA 101:11001–11006. doi:10.1073/pnas.0403588101

Reich PB, Kloeppel BD, Ellsworth DS, Walters MB (1995) Different photosynthesis-nitrogen relations in evergreen conifers and deciduous hardwood tree species. Oecologia 104:24–30

Safriel U, Adeel Z (2005) Dryland systems. In: Hassan R, Scholes R, Ash N (eds) Ecosystems and human well-being: Current state and trends. Island Press, Washington D.C., pp 623–662

Sage RF, Monson RK (1999) C4 plant biology. Academic Press, San Diego

Sala OE, Golluscio RA, Lauenroth WK, Soriano A (1989) Resource partitioning between shrubs and grasses in the Patagonian steppe. Oecologia 81:501–505

Sala OE, Lauenroth WK, Parton WJ (1992) Long term soil water dynamics in the shortgrass steppe. Ecology 73:1175–1181

Sala OE, Lauenroth WK, Golluscio RA (1997) Plant functional types in temperate semi-arid regions. In: Smith TM, Shugart HH, Woodward FI (eds) Plant functional types. Cambridge University Press, Cambridge, pp 217–233

Scheiter S, Higgins S (2009) Impacts of climate change on the vegetation of Africa: an adaptive dynamic vegetation modelling approach. Glob Change Biol 15:2224–2246

Scott R, Cable W, Hultine K (2008) The ecohydrologic significance of hydraulic redistribution in a semiarid savanna. Water Resour Res 44:W02440. doi:10.1029/2007WR006149

Seager R, Ting M, Held I, Kushnir Y, Lu J et al (2007) Model projections of an imminent transition to a more arid climate in southwestern North America. Science 316:1181–1184

Senock RS, Devine DL, Sisson WB, Donart GB (1994) Ecophysiology of three C4 perennial grasses in the northern Chihuahuan Desert. Southwest Nat 39:122–127

Solomon SD, Qin M, Manning Z, Chen M, Marquis KB, Tignor AM. Miller HL (eds) (2007) IPCC Fourth Assessment Report 2007: climate change 2007: The physical science basis. Contribution of Working Group I to the Fourth Assessment Report of the Intergovernmental Panel on Climate Change. Cambridge University Press, Cambridge

Wainwright J (2006) Climate and climatological variations in the Jornada Basin. In: Havstad K, Huenneke L, Schlesinger W (eds) Structure and function of the Chihuahuan Desert ecosystem. Oxford University Press, Oxford, pp 44–80

Wainwright J, Parsons AJ, Abrahams AD (2000) Plot-scale studies of vegetation, overland flow and erosion interactions: case studies from Arizona and New Mexico. Hydrol Process 14:2921–2943

Walter H (1971) Ecology of tropical and subtropical vegetation (Burnett J, ed). Oliver and Boyd, Edinburgh

Yahdjian L, Sala OE (2002) A rainout shelter design for intercepting different amounts of rainfall. Oecologia 133:95–101

Yahdjian L, Gherardi L, Sala OE (2011) Nitrogen limitation in arid-subhumid ecosystems: a meta-analysis of fertilization studies. J Arid Environ 75:675–680

Yuan Z, Chen HYH (2009) Global trends in senesced-leaf nitrogen and phosphorus. Glob Ecol Biogeogr 18:532–542

Zitzer SF, Archer SR, Boutton TW (1996) Spatial variability in the potential for symbiotic N2 fixation by woody plants in a subtropical savanna ecosystem. J Appl Ecol 33:1125–1136

Zou C, Barnes P, Archer S, McMurtry C (2005) Soil moisture redistribution as a mechanism of facilitation in savanna tree-shrub clusters. Oecologia 145:32–40. doi:10.1007/s00442-005-0110-8
Acknowledgments
We thank D.B. Hewins, N. Pierce, E. Johnson, L. Ebbs, and G.A. Gil for field assistance and K. Havstad, D. Peters, and the personnel of the Jornada Experimental Range site for logistical support. SRA and OES thank M.J. Trlica for introducing them many years ago and consequently providing the opportunity of working together. This work was supported by NSF grants to Arizona State University (DEB 09-17668), the University of Arizona (DEB 05-31691), and the Jornada LTER (DEB 06-18210) program, and by USDA-NRI 2008-35320-18684 to New Mexico State University.
Additional information
Communicated by Jim Ehleringer.
About this article
Cite this article
Throop, H.L., Reichmann, L.G., Sala, O.E. et al. Response of dominant grass and shrub species to water manipulation: an ecophysiological basis for shrub invasion in a Chihuahuan Desert Grassland. Oecologia 169, 373–383 (2012). https://doi.org/10.1007/s00442-011-2217-4
Received:

Accepted:

Published:

Issue Date:

DOI: https://doi.org/10.1007/s00442-011-2217-4
Keywords