Abstract
In young temperate zone fishes, conflicting energy demands lead to variability in growing season and winter survival. Growing season survival is driven by size-dependent predation risk whereas winter survival is constrained by autumn body size, energy storage and winter duration. We developed a model of the seasonality of energetics coupled to empirical measures of resource availability, size-dependent predation and temperature seasonality for rainbow trout (Oncorhynchus mykiss) in two sets of lakes in British Columbia, Canada, representing endpoints of a gradient of temperature, growing season duration and winter duration. This model was used to determine the energy allocation strategy which maximized first-year survival across these gradients. Survival was sensitive to the timing of the switch from somatic to storage strategies in cold, short growing season, low resource environments. A broader range of energy allocation strategies were viable in warmer, longer growing season and higher resource lakes. We used empirical observations of autumn energy storage and our modeled values for size-dependent minimal lipid levels needed to survive winter in each system to estimate winter survival for juvenile rainbow trout. Winter survival estimates were 6% in cold lakes with low resources, 82% in warm, lakes with low resources and 100% in warm lakes with high resources. Fish in warm lakes with ample resources allocated substantially more to storage than the minimum required to survive winter generated from our model, suggesting additional selection pressures for increased storage when there was ample surplus energy. We concluded that growth–survival trade-offs, modified by seasonality of the environment, influenced the growing season energy allocation strategies for young-of-the-year fish, and suggested this may be important for understanding population viability across environmental gradients.
Access options
Buy single article
Instant access to the full article PDF.
USD 39.95
Price excludes VAT (USA)
Tax calculation will be finalised during checkout.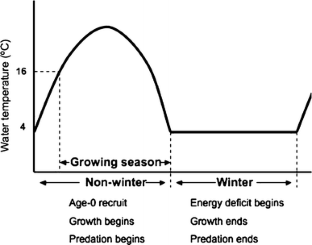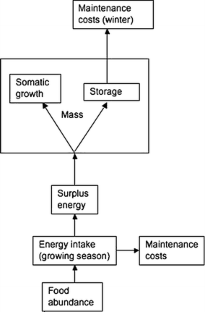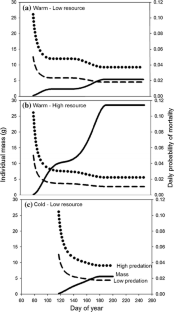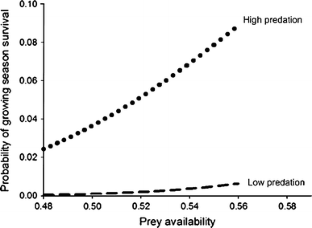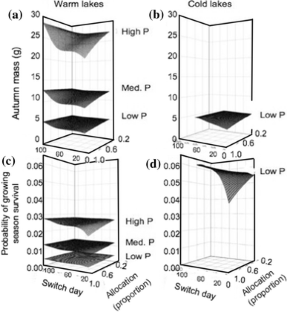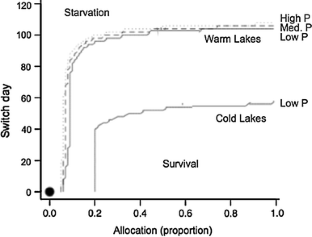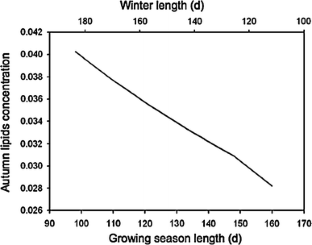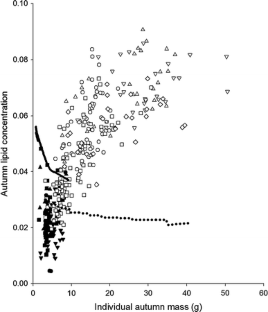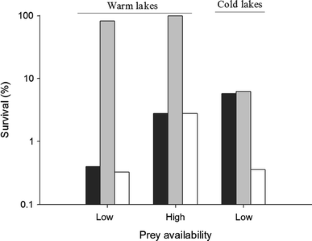 References
Arts MT, Evans MS (1991) Optical-digital measurements of energy reserves in calanoid copepods: intersegmental distribution and seasonal patterns. Limnol Oceanogr 36:289–298. doi:10.4319/lo.1991.36.2.0289

Berg OK, Finstad AG, Solem Ø, Ugedal O, Forseth T, Niemelä E, Arnekleiv JV, Lohrmann A, Næsje TF (2009) Pre-winter lipid stores in young-of-year Atlantic salmon along a north–south gradient. J Fish Biol 74:1383–1393. doi:10.1111/j.1095-8649.2009.02193.x

Biro PA, Morton AE, Post JR, Parkinson EA (2004) Over-winter lipid depletion and mortality of age-0 rainbow trout (Oncorhynchus mykiss). Can J Fish Aquat Sci 61:1513–1519. doi:10.1139/f04-083

Biro PA, Post JR, Abrahams MV (2005) Ontogeny of energy allocation reveals selective pressure promoting risk-taking behaviour in young fish cohorts. Proc R Soc Lond B 272:1443–1448. doi:10.1098/rspb.2005.3096

Biro PA, Abrahams MV, Post JR, Parkinson EA (2006) Behavioural trade-offs between growth and mortality explain evolution of submaximal growth rates. J Anim Ecol 75:1165–1171. doi:10.1111/j.1365-2656.2006.01137.x

Biro PA, Post JR, Booth DJ (2007) Mechanisms for climate-induced mortality of fish populations in whole-lake experiments. Proc Natl Acad Sci USA 104:9715–9719. doi:10.1073/pnas.0701638104

Borcherding J, Hermasch B, Murawski P (2007) Field observations and laboratory experiments on growth and lipid content of young-of-the-year perch. Ecol Freshwat Fish 16:198–209. doi:10.1111/j.1600-0633.2007.00212.x

Brett JR, Groves TDD (1979) Physiological energetics. In: Hoar WS, Brett JR, Randall DJ (eds) Fish physiology. Academic, New York, pp 279–352

Brodin A (2007) Theoretical models of adaptive energy management in small wintering birds. Philos Trans R Soc Lond B 362:1857–1871. doi:10.1098/rstb.2006.1812

Bull CD, Metcalfe MN, Mangel M (1996) Seasonal matching of foraging to anticipated energy requirements in anorexic juvenile salmon. Proc R Soc Lond B 263:13–18. doi:10.1098/rspb.1996.0003

Carlson SM, Olsen EM, Vollestad LA (2008) Seasonal mortality and the effect of body size: a review and an empirical test using individual data on brown trout. Funct Ecol 22:663–673. doi:10.1111/j.1365-2435.2008.01416.x

Deegan LA (1986) Changes in body composition and morphology of young-of-the-year gulf menhaden, Brevoortia patronus goode, in Fourleague Bay Louisiana. J Fish Biol 29:403–415. doi:10.1111/j.1095-8649.1986.tb04956.x

Derickson WK (1976) Lipid storage and utilization in reptiles. Integr Comp Biol 16:711–723. doi:10.1093/icb/16.4.711

Dratnal E, Reddy DC, Biernacka B, Davies RW (1993) Facultative physiological adaptation and compensation to winter stresses in the predatory leech Nephelopsis obscura. Funct Ecol 7:91–96. doi:10.2307/2389871

Finstad AG, Berg OK, Forseth T, Ugedal O, Naesje TF (2010) Adaptive winter survival strategies: defended energy levels in juvenile Atlantic salmon along a latitudinal gradient. Proc R Soc Lond B 277:1113–1120. doi:10.1098/rspb.2009.1874

Fitzpatrick LC (1976) Life history patterns of storage and utilization of lipids for energy in amphibians. Integr Comp Biol 16:725–732. doi:10.1093/icb/16.4.725

Garvey JE, Marschall EA (2003) Understanding latitudinal trends in fish body size through models of optimal seasonal energy allocation. Can J Fish Aquat Sci 60:938–948. doi:10.1139/f03-083

Gentle LK, Gosler AG (2001) Fat reserves and perceived predation risk in the great tit, Parus major. Proc R Soc Lond B 268:487–491. doi:10.1098/rspb.2000.1405

Henderson PA, Holmes RHA, Bamber RN (1988) Size-selective overwintering mortality in the sand smelt, Atherina boyeri risso, and its role in population regulation. J Fish Biol 33:221–233. doi:10.1111/j.1095-8649.1988.tb05465.x

Heulett S, Weeks S, Meffe G (1995) Lipid dynamics and growth relative to resource level in juvenile eastern mosquitofish (Gambusia holbrooki: Poeciliidae). Copeia 1995:97–104. doi:10.2307/1446803

Hurst TP (2007) Causes and consequences of winter mortality in fishes. J Fish Biol 71:315–345. doi:10.1111/j.1095-8649.2007.01596.x

Hurst TP, Conover DO (2003) Seasonal and interannual variation in the allometry of energy allocation in juvenile striped bass. Ecology 84:3360–3369. doi:10.1890/02-0562

Huss M, Byström P, Strand Å, Eriksson LO, Persson L (2008) Influence of growth history on the accumulation of energy reserves and winter mortality in young fish. Can J Fish Aquat Sci 65:2149–2156. doi:10.1139/F08-115

Jonsson N, Jonsson B (1998) Body composition and life-history stage of brown trout. J Fish Biol 53:1306–1316. doi:10.1006/jfbi.1998.0796

Jonsson N, Jonsson B (2003) Energy allocation among developmental stages, age groups, and types of atlantic salmon (Salmo salar) spawners. Can J Fish Aquat Sci 60:506–516. doi:10.1139/f03-042

Jönsson KI, Herczeg G, O'Hara RB, Söderman F, Ter Schure AFH, Larsson P, Merilä J (2009) Sexual patterns of prebreeding energy reserves in the common frog Rana temporaria along a latitudinal gradient. Ecography 32:831–839. doi:10.1111/j.1600-0587.2009.05352.x

Lampo M, Medialdea V (1996) Energy allocation patterns in Bufo marinus from two habitats in Venezuela. J Trop Ecol 12:321–331. doi:10.1017/S0266467400009500

Macleod R, Clark J, Cresswell W (2008) The starvation-predation risk trade-off, body mass and population status in the common starling Sturnus vulgaris. Ibis 150:199–208. doi:10.1111/j.1474-919X.2008.00820.x

McNamara JM (2008) A theoretical investigation of the effect of latitude on avian life histories. Am Nat 172:331–345. doi:10.1086/589886

McNamara JM, Houston AI (2008) Optimal annual routines: behaviour in the context of physiology and ecology. Philos Trans R Soc Lond B 363:301–319. doi:10.1098/rstb.2007.2141

Morgan IJ, McCarthy ID, Metcalfe NB (2002) The influence of life-history strategy on lipid metabolism in overwintering juvenile atlantic salmon. J Fish Biol 60:674–686. doi:10.1111/j.1095-8649.2002.tb01693.x

Myrick CA, Cech JJ (2000) Temperature influences on California rainbow trout physiological performance. Fish Physiol Biochem 22:245–254. doi:10.1023/A:1007805322097

Parkinson EA, Post JR, Cox SP (2004) Linking the dynamics of harvest effort to recruitment dynamics in a multistock, spatially structured fishery. Can J Fish Aquat Sci 61:1658–1670. doi:10.1139/f04-101

Paul MJ, Zucker I, Schwartz WJ (2008) Tracking the seasons: the internal calendars of vertebrates. Philos Trans R Soc Lond B 363:341. doi:10.1098/rstb.2007.2143

Persson L, Andersson J, Wahlström E, Eklöv P (1996) Size-specific interactions in lake systems: predator gape limitation and prey growth rate and mortality. Ecology 77:900–911. doi:10.2307/2265510

Polo V, Carrascal LM, Metcalfe NB (2007) The effects of latitude and day length on fattening strategies of wintering coal tits Periparus ater (L.): a field study and aviary experiment. Ecology 76:866–872. doi:10.1111/j.1365-2656.2007.01270.x

Post JR, Evans DO (1989) Size-dependent overwinter mortality of young-of-the-year yellow perch (Perca flavicans): laboratory, in situ enclosure and field experiments. Can J Fish Aquat Sci 46:1958–1968. doi:10.1139/f89-246

Post JR, Parkinson EA (2001) Energy allocation strategy in young fish: allometry and survival. Ecology 82:1040–1051. doi:10.230712679901

Post JR, Parkinson EA, Johnston NT (1999) Density-dependent processes in structured fish populations: interaction strengths in whole-lake experiments. Ecol Monogr 69:155–175. doi:10.230712657235

Rikardsen A, Elliott J (2000) Variations in juvenile growth, energy allocation and life-history strategies of two populations of arctic charr in north norway. J Fish Biol 56:328–346. doi:10.1111/jfbi.1999.1153

Schultz ET, Conover DO (1997) Latitudinal differences in somatic energy storage: adaptive responses to seasonality in an estuarine fish (atherinidae: Menidia menidia). Oecologia 109:516–529. doi:10.1007/s004420050112

Scott DE, Casey ED, Donovan MF, Lynch TK (2007) Amphibian lipid levels at metamorphosis correlate to post-metamorphic terrestrial survival. Oecologia 153:521–532. doi:10.1007/s00442-007-0755-6

Shuter BJ, Post JR (1990) Climate, population viability, and the zoogeography of temperate fishes. Trans Am Fish Soc 119:314–336. doi:10.1577/1548

Shuter BJ, Schlesinger DA, Zimmerman AP (1983) Empirical predictors of annual surface water temperature cycles in North American lakes. Can J Fish Aquat Sci 40:1838–1845. doi:10.1139/f83-213

Sogard SM (1997) Size-selective mortality in the juvenile stage of teleost fishes: a review. Bull Mar Sci 60:1129–1157

Sogard S, Spencer MV (2004) Energy allocation in juvenile sablefish: effects of temperature, ration and body size. J Fish Biol 64:726–738. doi:10.1111/j.1095-8649.2004.00342.x

Taborsky B (2006) The influence of juvenile and adult environments on life-history trajectories. Proc R Soc Lond B 273:741–750. doi:10.1098/rspb.2005.3347

Takahashi MK, Pauley TK (2010) Resource allocation and life history traits of Plethodon cinereus at different elevations. Am Midl Nat 163:87–94. doi:10.1674/0003-0031-163.1.87

Tracy CR (1999) Differences in body size among chuckwalla (Sauromalus obesus) populations. Ecology 80:259–271. doi:10.2307/176995

Varpe Ø, Jørgensen C, Tarling GA, Fiksen Ø (2009) The adaptive value of energy storage and capital breeding in seasonal environments. Oikos 118:363–370. doi:10.111/j.1600-0706.2008.17036.x
Acknowledgments
This research was funded by a Natural Sciences and Engineering Research Council of Canada Discovery Grant to J.R.P. S.M. was partially supported by a University of Calgary Program for the Undergraduate Research Experience (PURE) award. We also acknowledge Eric Parkinson of British Columbia Ministry of Environment and the Freshwater Fisheries Society of British Columbia for funding and access to the experimental lakes.
Additional information
Communicated by Øyvind Fiksen.
Electronic supplementary material
Below is the link to the electronic supplementary material.
About this article
Cite this article
Mogensen, S., Post, J.R. Energy allocation strategy modifies growth–survival trade-offs in juvenile fish across ecological and environmental gradients. Oecologia 168, 923–933 (2012). https://doi.org/10.1007/s00442-011-2164-0
Received:

Accepted:

Published:

Issue Date:

DOI: https://doi.org/10.1007/s00442-011-2164-0
Keywords
Energy allocation trade-offs

Lipid storage

Size-dependent predation

Survival

Winter starvation