Abstract
Predation and food resources can strongly affect small mammal population dynamics directly by altering vital rates or indirectly by influencing behaviors. Fire may also strongly influence population dynamics of species inhabiting fire-adapted habitats because fire can alter food and cover availability. We used capture–mark–recapture and radio-telemetry studies to experimentally examine how supplemental feeding, mammalian predator exclusion, and prescribed fire affected survival, abundance, and reproduction of hispid cotton rats (Sigmodon hispidus) in southwestern Georgia, USA. Prescribed fire reduced survival, abundance, and rates of transitions to reproductive states. Food supplementation increased survival, transitions to reproductive states, and abundance, but was not sufficient to prevent post-fire declines in any of these parameters. Mammalian predator exclusion did not strongly affect any of the considered parameters. Our results show that fire strongly influenced cotton rat populations in our study site, primarily by reducing cover and increasing predation risk from non-mammalian predators.
This is a preview of subscription content,
to check access.
Access this article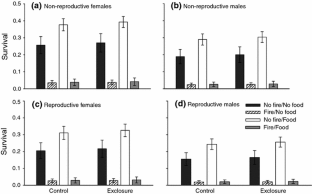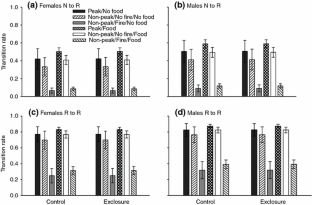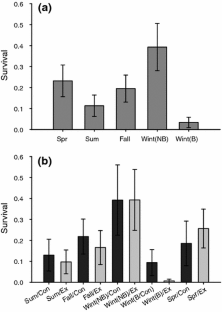 Similar content being viewed by others
References
Abrams PA (1984) Foraging time optimization and interactions in food webs. Am Nat 124:80–96

Allison PD (1995) Survival analysis using SAS: a practical guide. SAS Press, Cary

Arata AA (1959) Effects of burning on vegetation and rodent populations in a longleaf pine turkey oak association in north central Florida. Q J Fla Acad Sci 22:94–104

Arthur AD, Pech RP, Dickman CR (2004) Habitat structure mediates the non-lethal effects of predation on enclosed populations of house mice. J Anim Ecol 73:867–877

Atkinson JB, Brock J, Smith R (1996) Operational longleaf pine management at Ichauway. The Longleaf Pine Alliance Annual Meeting, Mobile

Bergstrom BJ, Rose RK (2004) Comparative life histories of Georgia and Virginia cotton rats. J Mammal 85:1077–1086

Bock CE, Bock JH (1978) Response of birds, small mammals, and vegetation to burning sacaton grasslands in southeastern Arizona. J Range Manag 31:296–300

Boutin S (1990) Food supplementation experiments with terrestrial vertebrates: patterns, problems, and the future. Can J Zool 68:203–220

Campbell MT, Slade NA (1995) The effect of maternal mass on litter size and offspring survival in the hispid cotton rat (Sigmodon hispidus). Can J Zool 73:133–140

Clark BK, Kaufman DW (1990) Short-term response of small mammals to experimental fire in tallgrass prairie. Can J Zool 68:2450–2454

Clark CW, Mangel M (2000) Dynamic state variable models in ecology. Oxford University Press, New York

Conner LM, Rutledge JC, Smith LL (2010) Effects of mesopredators on nest survival of shrub-nesting birds. J Wildl Manag 74:73–80

Cox DR (1972) Regression models and life tables. J R Stat Soc B 34:187–220

Derrick AM (2007) Small mammal responses to prescribed fire and simulated mammal removal in a longleaf pine ecosystem. Master thesis, University of Georgia, Athens

Desy EA, Batzli GO (1989) Effects of food availability and predation on prairie vole demography: a field experiment. Ecology 70:411–421

Gannon WL, Sikes RS, Animal Care and Use Committee of the American Society of Mammalogists (2007) Guidelines of the American Society of Mammalogists for the use of wild mammals in research. J Mammal 88:809–823

Goertz JW (1964) The influence of habitat quality upon density of cotton rat populations. Ecol Monogr 34:359–381

Guthery FS, Beasom SL (1977) Responses of game and non-game wildlife to predator control in south Texas. J Range Manag 30:404–409

Hik DS (1995) Does risk of predation influence population dynamics? Evidence from the cyclic decline of snowshoe hares. Wildl Res 22:115–129

Hubbs AH, Boonstra R (1997) Population limitation in Arctic ground squirrels: effects of food and predation. J Anim Ecol 66:527–541

Krebs CJ, Boutin S, Boonstra R, Sinclair ARE, Smith JNM, Dale MRT, Martin K, Turkington R (1995) Impact of food and predation on the snowshoe hare cycle. Science 269:1112–1115

Laake J, Rexstad E (2008) RMark: an alternative approach to building linear models in MARK. In: Cooch E, White GC (eds) Program MARK: a gentle introduction, 7th edn. http://www.phidot.org/software/mark/docs/book. Accessed 13 March, 2010. pp C1–C115

Layne JN (1974) Ecology of small mammals in a flatwoods habitat in north central Florida with emphasis on the cotton rat (Sigmodon hispidus). Am Mus Novit 2544:1–48

Lima SL, Dill LM (1989) Behavioral decisions made under the risk of predation: a review and prospectus. Can J Zool 68:619–640

Masters RE, Wilson CW, Cram DS, Bukenhofer GA, Lochmiller RL (2002) Influence of ecosystem restoration for red-cockaded woodpeckers on breeding bird and small mammal communities. In: Ford MW, Russel KR, Moorman CE (eds) Proceedings: the role of fire for non-game wildlife management and community restoration: traditional uses and new directions. General Technical Report NE-288. US Department of Agriculture, Forest Service, Northeastern Research Station, Newton Square: 73–90

McNamara JM, Houston AI (1987) Starvation and predation as factors limiting population size. Ecology 68:1515–1519

Miller DA, Thill RE, Melchiors MA, Wigley TB, Tappe PA (2004) Small mammal communities of streamside management zones in intensively managed pine forests of Arkansas. For Ecol Manag 203:381–393

Morris G (2010) Effects of mammalian predator exclusion, supplemental feeding, and prescribed fire on small mammal populations in a longleaf pine ecosystem. Master thesis, University of Florida, Gainesville

Oli MK (2003) Population cycles of small rodents are caused by specialist predators: or are they? Trends Ecol Evol 18:105–107

Peckarsky BL, Abrams PA, Bolnick DI, Dill LM, Grabowski JH, Luttbeg B, Orrock JL, Peacor SD, Preisser EL, Schmitz OJ, Trussell GC (2008) Revisiting the classics: considering nonconsumptive effects in textbook examples of predator–prey interactions. Ecology 89:2416–2425

Perrin MR, Johnson SJ (1999) The effect of supplemental food and cover availability on a population of the striped mice. S Afr J Wildl Res 29:15–18

Pollock KH (1982) A capture-recapture design robust to unequal probability of capture. J Wildl Manag 46:757–760

R Development Core Team (2009) R: a language and environment for statistical computing; http://www.R-project.org R, accessed 13 March, 2010. Foundation for Statistical Computing, Vienna, Austria

Rehmeier RL, Kaufman GA, Kaufman DW, McMillan BR (2005) Long-term study of abundance of the hispid cotton rat in native tallgrass prairie. J Mammal 86:670–676

Salo P, Banks PB, Dickman CR, Korpimäki E (2010) Predator manipulation experiments: impacts on populations of terrestrial vertebrate prey. Ecol Monogr 80:531–546

SAS Institute (2004) SAS/STAT user's guide, Version 9.1. SAS Institute, Cary

Schabenberger O, Pierce FJ (2002) Contemporary statistical models for the plant and soil sciences. CRC Press, New York

Sulok M, Slade NA, Doonan TJ (2004) Effects of supplemental food on movements of cotton rats (Sigmodon hispidus) in northeastern Kansas. J Mammal 85:1102–1105

Taitt MJ, Krebs CJ (1983) Predation, cover, and food manipulations during a spring decline of Microtus townsendii. J Anim Ecol 52:837–848

Van Lear DH, Carroll WD, Kapeluck PR, Johnson R (2005) History and restoration of the longleaf pine-grassland ecosystem: implications for species at risk. For Ecol Manag 211:150–165

West SD (1982) Dynamics of colonization and abundance in central Alaskan populations of the northern red-backed vole, Clethrionomys rutilus. J Mammal 63:128–143

Whitaker JO Jr, Hamilton WJ Jr (1998) Mammals of the eastern United States, 3rd edn. Cornell University Press, Ithaca

White GC (2002) Discussion comments on: the use of auxiliary variables in capture-recapture modeling. J Appl Stat 29:103–106

White GC, Burnham KP (1999) Program MARK: survival estimation from populations of marked animals. Bird Study 46(Suppl):120–138

Wiegert RG (1972) Avian versus mammalian predation on a population of cotton rats. J Wildl Manag 36:1322–1327

Yunger JA (2004) Movement and spatial organization of small mammals following vertebrate predator exclusions. Oecologia 139:647–651
Acknowledgments
We thank the Joseph W. Jones Ecological Research Center and the University of Florida for providing funding, manpower, and equipment. We thank the many technicians who assisted with data collection, entry, and proofing. For executing burns, we thank J. Atkinson, S. Smith, C. Eddins, and B. Williamson. J. Brock and M. Simmons assisted with GIS and database management, respectively. Thanks to B. Bass for providing burn evaluation data. Special thanks to J. Rutledge for assistance with fieldwork, logistics, and more. We also thank P. Banks and two anonymous reviewers for comments on an earlier version of this manuscript. Our study complies with the current laws of the USA.
Additional information
Communicated by Peter Banks.
Electronic supplementary material
Below is the link to the electronic supplementary material.
About this article
Cite this article
Morris, G., Hostetler, J.A., Mike Conner, L. et al. Effects of prescribed fire, supplemental feeding, and mammalian predator exclusion on hispid cotton rat populations. Oecologia 167, 1005–1016 (2011). https://doi.org/10.1007/s00442-011-2053-6
Received:

Accepted:

Published:

Issue Date:

DOI: https://doi.org/10.1007/s00442-011-2053-6
Keywords