Abstract
Drought stress is known to limit plant performance in Mediterranean-type ecosystems. We have investigated the dynamics of the hydraulics, gas exchange and morphology of six co-existing Mediterranean woody species growing under natural field conditions during a drought that continued during the entire summer. Based on the observed minimum leaf water potentials, our results suggest that the six co-existing species cover a range of plant hydraulic strategies, from isohydric to anisohydric. These differences are remarkable since the selected individuals grow within several meters of each other, sharing the same environment. Surprisingly, whatever the leaf water potentials were at the end of the dry period, stomatal conductance, photosynthesis and transpiration rates were relatively similar and low across species. This result contradicts the classic view that anisohydric species are able to maintain gas exchange for longer periods of time during drought stress. None of the plants showed the expected structural acclimation response to the increasing drought (reduction of leaf-to-sapwood area ratio), thereby rejecting the functional equilibrium hypothesis for our study system. Instead, three of the six species increased photosynthetic area at the branch level. The observed dissimilar patterns of gas exchange, hydraulics and morphology across species seem to be equally successful given that photosynthesis at the leaf level was maintained at similar rates over the whole dry period.
Access options
Buy single article
Instant access to the full article PDF.
US$ 39.95
Tax calculation will be finalised during checkout.
Subscribe to journal
Immediate online access to all issues from 2019. Subscription will auto renew annually.
US$ 119
Tax calculation will be finalised during checkout.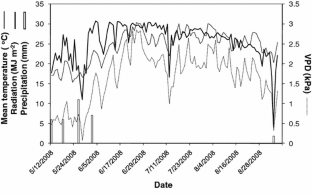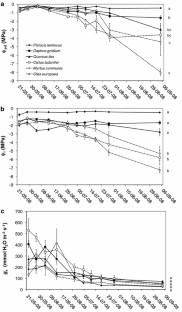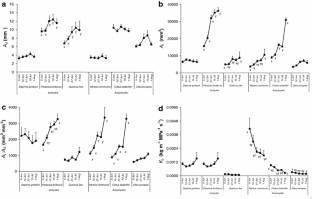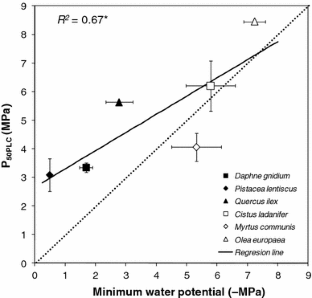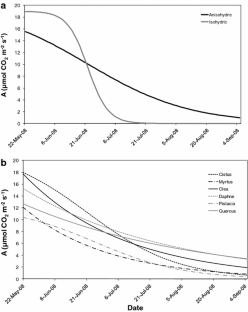 Abbreviations
A :

Photosynthetic rate per area (μmol CO2 m−2 s−1)

A L :

Branch leaf area (mm2)

A S :

Cross-sectional stem area (mm2)

GSF:

Global site factor (unitless)

g s :

Stomatal conductance per area (mmol H2O m−2 s−1)

E :

Transpiration rate per area (mmol H2O m−2 s−1)

K h :

Maximum conductivity (kg m MPa−1 s−1)

K L :

Leaf-specific hydraulic conductivity (kg m−1 MPa−1 s−1)

K S :

Specific hydraulic conductivity (kg m−1 MPa−1 s−1)

P 50PLC :

Pressure causing 50% loss of K h (MPa)

PPFD:

Photosynthetic photon flux density (μmol m−2 s−1)

Ψl :

Leaf water potential (MPa)

Ψpd :

Predawn leaf water potential (MPa)
References
Acherar M, Rambal S (1992) Comparative water relations of four Mediterranean oak species. Vegetatio 99(100):177–184

Archibold OW (1995) Ecology of world vegetation. Chapman & Hall, London

Bhaskar R, Ackerly DD (2006) Ecological relevance of minimum seasonal water potentials. Physiol Plant 127:353–359

Bhaskar R, Valiente-Banuet A, Ackerly DD (2007) Evolution of hydraulic traits in closely related species pairs from Mediterranean and non-Mediterranean environments of North America. New Phytol 176:718–726

Bonal D, Guehl JM (2001) Contrasting patterns of leaf water potential and gas exchange responses to drought in seedlings of tropical rainforest species. Funct Ecol 15:490–496

Brouwer R (1962) Nutritive influences on the distribution of dry matter in the plant. Neth J Agric Sci 10:399–408

Cannell MGR, Dewar RC (1994) Carbon allocation in trees, a review of concepts for modelling. Adv Ecol Res 20:59–104

Corcuera L, Camarero JJ, Gil-Pelegrín E (2004) Effects of a severe drought on Quercus ilex radial growth and xylem anatomy. Trees Struct Funct 18:83–92

Di Castri F (1981) Mediterranean-type shrubland of the world. In: di Castri F, Goodall DW, Specht RL (eds) Mediterranean-type shrublands ecosystems of the world, vol 11. Elsevier, Amsterdam, pp 1–52

Donovan LA, Grise DJ, West JB, Pappert RA, Alder NN, Richards JH (1999) Predawn disequilibrium between plant and soil water potentials in two cold-desert shrubs. Oecologia 120:209–217

Donovan LA, Richards JH, Linton MJ (2003) Magnitude and mechanisms of disequilibrium between predawn plant and soil water potentials. Ecology 84:463–470

Ennajeh M, Tounekti T, Vadel AM, Khemira H, Cochard H (2008) Water relations and drought-induced embolism in two olive (Olea europaea L.) varieties 'Meski' and 'Chemlali' under severe drought conditions. Tree Physiol 28:971–976

Gee GW, Bauder JW (1986) Particle size analysis. In: Klute A (ed) Methods of soil analysis. Part I. Agronomy monograph, vol 9, 2nd edn. ASA and SSSA, Madison, pp 383–411

Haase P, Pugnaire FI, Clark SC, Incoll LD (1999) Diurnal and seasonal changes in cladode photosynthetic rate in relation to canopy age structure in the leguminous shrub Retama sphaerocarpa. Funct Ecol 13:640–649

Howard AR, Van Iersel MW, Richards JH, Donovan LA (2009) Night-time transpiration can decrease hydraulic redistribution. Plant Cell Environ 32:1060–1070

Iovi K, Kolovou C, Kyparissis A (2009) An ecophysiological approach of hydraulic performance for nine Mediterranean species. Tree Physiol 29:889–900

Jacobsen AL, Pratt RB, Ewers FW, Davis SD (2007) Cavitation resistance among twenty-six chaparral species of southern California. Ecol Monogr 77:99–115

Joffre R, Rambal S, Damesin C (1999) Functional attributes in Mediterranean-type ecosystems. In: Pugnaire FI, Valladares F (eds) Handbook of functional plant ecology. Marcel Dekker, New York, pp 347–380

Jones HG (1998) Stomatal control of photosynthesis and transpiration. J Exp Bot 49:387–398

Lebrija-Trejos E (2009) Tropical dry forest recovery, processes and causes of change. PhD thesis. University of Wageningen, Wageningen

Levitt J (1980) Response of plants to environmental stresses, vol 1, 2nd edn. Academic Press, New York

Lillis De, Federici FM (1993) Gas exchange and resource-use patterns along a Mediterranean successional gradient. J Veg Sci 4:269–272

Martínez-Vilalta J, Prat E, Oliveras I, Piñol J (2002) Xylem hydraulic properties of roots and stems of nine Mediterranean woody species. Oecologia 133:19–29

Martínez-Vilalta J, Cochard H, Mencuccini M, Sterck F, Herrero A, Korhonen JFJ, Llorens P, Nikinmaa E, Nolé A, Poyatos R, Ripullone F, Sass-Klaassen U, Zweifel R (2009) Hydraulic adjustment of scots pine across Europe. New Phytol 184:353–364

Maseda PH, Fernandez RJ (2006) Stay wet or else three ways in which plants can adjust hydraulically to their environment. J Exp Bot 57:3963–3977

McDowell N, Pockman WT, Allen CD, Breshears DD, Cobb N, Kolb T, Plaut J, Sperry J, West A, Williams DG, Yepez EA (2008) Mechanisms of plant survival and mortality during drought, why do some plants survive while others succumb to drought? New Phytol 178:719–739

Medrano H, Flexas J, Galmes J (2009) Variability in water use efficiency at the leaf level among Mediterranean plants with different growth forms. Plant Soil 317:17–29

Miranda JD, Padilla FM, Martínez-Vilalta J, Pugnaire FI (2007) Woody species of a semi-arid community are only moderately resistant to cavitation. Funct Plant Biol 37:828–839

Munné-Bosch S, Jubany-Mari T, Alegre L (2003) Enhanced photo- and antioxidative protection, and hydrogen peroxide accumulation in drought-stressed Cistus clusii and Cistus albidus plants. Tree Physiol 23:1–12

Pammenter NW, Vander Willigen C (1998) A mathematical and statistical analysis of the curves illustrating vulnerability of xylem to cavitation. Tree Physiol 18:589–593

Phillips N, Bond BJ, Mc Dowell NG, Ryan MG (2002) Canopy and hydraulic conductance in young mature and old Douglas-fir trees. Tree Physiol 22:205–211

Pockman WT, Sperry JS (2000) Vulnerability of xylem cavitation and the distribution of Sonora desert vegetation. Am J Bot 87:1287–1299

Quero JM (2007) Parque Natural Sierra de Cardeña y Montoro 1989–2005. Servicio de Publicaciones de la Universidad de Córdoba y Consejería de Medio Ambiente de la Junta de Andalucía, Córdoba

Quero JL, Villar R, Marañon T, Zamora R (2006) Interactions of drought and shade effects on seedlings of four Quercus species, physiological and structural leaf responses. New Phytol 170:819–834

Quero JL, Gómez-Aparicio L, Zamora R, Maestre FT (2008a) Shifts in the regeneration niche of an endangered tree (Acer opalus ssp granatense) during ontogeny, using an ecological concept for application. Basic Appl Ecol 9:635–644

Quero JL, Villar R, Marañón T, Murillo A, Zamora R (2008b) Plastic response to light and water in four Mediterranean Quercus species (Fagaceae). Rev Chil H Nat 81:373–385

Resco V, Ewers BE, Sun W, Huxman TE, Weltzin JF, Williams DG (2009) Drought-induced hydraulic limitations constrain leaf gas exchange recovery after precipitation pulses in the C3 woody legume, Prosopis velutina. New Phytol 181:672–682

Rogiers SY, Greer DH, Hutton RJ, Landsberg JJ (2009) Does night-time transpiration contribute to anisohydric behaviour in a Vitis vinifera cultivar? J Exp Bot 60:3751–3763

Ryan MG (2002) Canopy processes research. Tree Physiol 22:1035–1043

Sala A, Tenhnunen JD (1994) Site-specific water relations and stomatal response of Quercus ilex L. in a Mediterranean watershed. Tree Physiol 14:601–617

Salleo S, Lo Gullo MA, De Paoli D, Zippo M (1996) Xylem recovery from cavitation induced embolism in young plants of Laurus nobilis, a possible mechanism. New Phytol 132:47–56

Saxton KE, Rawls WJ, Romberger JS, Papendick RI (1986) Estimating generalized soil–water characteristics from texture. Soil Sci Soc Am J 50:1031–1036

Scholander PF, Hammel HT, Bradstreet ED, Hemmingsen EA (1965) Sap pressure in vascular plants. Negative hydrostatic pressure can be measured in plants. Science 148:339–346

Smith SD, Nobel PS (1986) Deserts. In: Baker NR, Long SP (eds) Photosynthesis in contrasting environments. Elsevier, Amsterdam, pp 13–62

Snyder KA, Richards JH, Donovan LA (2003) Night-time conductance in C-3 and C-4 species, do plants lose water at night? J Exp Bot 54:861–865

Sperry JS, Saliendra NZ (1994) Intra- and inter-plant variation in xylem cavitation in Betula occidentalis. Plant Cell Environ 17:1233–1241

Sterck FJ, Zweifel R, Sass-Klaassen U, Chowdhury Q (2008) Persistent soil drought reduces leaf specific conductivity in Scots pine (Pinus sylvestris) and pubescent oak (Quercus pubescens). Tree Physiol 28:529–536

Tardieu F, Simonneau T (1998) Variability among species of stomatal control under fluctuating soil water status and evaporative demand, modelling isohydric and anisohydric behaviours. J Exp Bot 49:419–432

Thompson JD (2005) Plant evolution in the Mediterranean. Oxford University Press, Oxford

Tyree MT, Zimmermann MH (2002) Xylem structure and the ascent of sap. Springer, New York

Vilagrosa A, Bellot J, Vallejo VR, Gil-Pelegrin E (2003) Cavitation, stomatal conductance, and leaf dieback in seedlings of two co-occurring Mediterranean shrubs during an intense drought. J Exp Bot 54:2015–2024

Waring RH, Running SW (1978) Sapwood water storage: its contribution to transpiration and effect upon water conductance through the stems of old-growth Douglas-fir. Plant Cell Environ 1:131–140

Wullschleger SD, Hanson PJ, Tschaplinski TJ (1998) Whole-plant water flux in understory red maple exposed to altered precipitation regimes. Tree Physiol 18:71–79

Zar JH (1996) Biostatistical analysis, 3rd edn. Prentice Hall, Englewood Cliffs

Zweifel R, Zeugin F (2008) Ultrasonic acoustic emissions in drought-stressed trees—more than signals from cavitation? New Phytol 179:1070–1079

Zweifel R, Steppe K, Sterck FJ (2007) Stomatal regulation by microclimate and tree water relations. Interpreting ecophysiological field data with a hydraulic plant model. J Exp Bot 58:2113–2131
Acknowledgements
We thank Saskia Grootemaat for her invaluable help during the field monitoring, Lars Markesteijn for his interesting discussions on hydraulics, Regino Zamora for the logistic support and José Manuel Quero, head of Sierra Cardeña y Montoro Natural Park, for the help and facilities provided during the monitoring period. Antonio Díaz-Espejo put order in our minds during the design of the measurements and so we could survive during the summer drought. Purificación de la Haba and Eloísa Agüera kindly lent us the IRGA. Vidal Barrón helped with the soil determinations and Pablo González Moreno with the spatial analysis. This study was supported by the postdoctoral grant MCINN (Spain) to J.L.Q (2007-0572), and by the coordinated Spanish MCINN projects DINAMED (CGL2005-05830), INTERBOS (CGL2008-04503-CO3-02) and CGL2007-60120. This research is part of the GLOBIMED network on forest ecology (http://www.globimed.net/).
Additional information
Communicated by Hermann Heilmeier.
About this article
Cite this article
Quero, J.L., Sterck, F.J., Martínez-Vilalta, J. et al. Water-use strategies of six co-existing Mediterranean woody species during a summer drought. Oecologia 166, 45–57 (2011). https://doi.org/10.1007/s00442-011-1922-3
Received:

Accepted:

Published:

Issue Date:
Keywords
Anisohydric

Embolism

Isohydric

Photosynthesis

Stomatal conductance

Water potential