Abstract
Adult sex ratios (ASRs) and population size are two of the most fundamental parameters in population biology, as they are the main determinants of genetic and demographic viability, and vulnerability of a population to stochastic events. Underpinning the application of population viability analysis for predicting the extinction risk of populations is the need to accurately estimate parameters that determine the viability of populations (i.e. the ASR and population size). Here we demonstrate that a lack of temporal information can confound estimation of both parameters. Using acoustic telemetry, we compared differences in breeding durations of both sexes for a giant Australian cuttlefish Sepia apama breeding aggregation to the strongly male-biased operational sex ratio (4:1), in order to estimate the population ASR. The ratio of breeding durations between sexes was equal to the operational sex ratio, suggesting that the ASR is not strongly male-biased, but balanced. Furthermore, the short residence times of individuals at the breeding aggregation suggests that previous density-based abundance estimates have significantly underestimated population size. With the current wide application of population viability analysis for predicting the extinction risk of populations, tools to improve the accuracy of such predictions are vital. Here we provide a new approach to estimating the fundamental ASR parameter, and call for temporal considerations when estimating population size.
This is a preview of subscription content, log in to check access.
Access options
Buy single article
Instant access to the full article PDF.
US$ 39.95
Price includes VAT for USA
Subscribe to journal
Immediate online access to all issues from 2019. Subscription will auto renew annually.
US$ 199
This is the net price. Taxes to be calculated in checkout.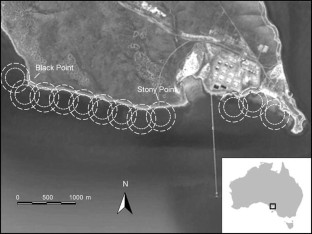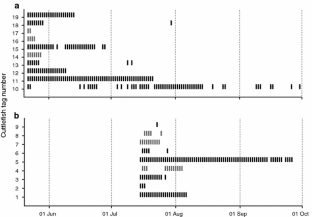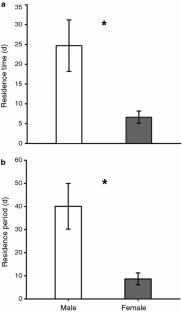 References
Aitken JP, O'Dor RK, Jackson GD (2005) The secret life of the giant Australian cuttlefish Sepia apama (Cephalopoda): behaviour and energetics in nature revealed through radio acoustic positioning and telemetry (RAPT). J Exp Mar Biol Ecol 320:77–91. doi:10.1016/j.jembe.2004.12.040

Andrews KS, Williams GD, Farrer D, Tolimieri N, Harvey CJ, Bargmann G, Levin PS (2009) Diel activity patterns of sixgill sharks, Hexanchus griseus: the ups and downs of an apex predator. Anim Behav 78:525–536. doi:10.1016/j.anbehav.2009.05.027

Bellquist LF, Lowe CG, Caselle JE (2008) Fine-scale movement patterns, site fidelity, and habitat selection of ocean whitefish (Caulolatilus princeps). Fish Res 91:325–335. doi:10.1016/j.fishres.2007.12.011

Blumenthal JM, Austin TJ, Bothwell JB, Broderick AC, Ebanks-Petrie G, Olynik JR, Orr MF, Solomon JL, Witt MJ, Godley BJ (2009) Diving behavior and movements of juvenile hawksbill turtles Eretmochelys imbricata on a Caribbean coral reef. Coral Reefs 28:55–65. doi:10.1007/s00338-008-0416-1

Brook BW, O'Grady JJ, Chapman AP, Burgman MA, Akcakaya HR, Frankham R (2000) Predictive accuracy of population viability analysis in conservation biology. Nature 404:385–387. doi:10.1038/35006050

Cluttonbrock TH, Parker GA (1992) Potential reproductive rates and the operation of sexual selection. Q Rev Biol 67:437–456. doi:10.1086/417793

Cluttonbrock TH, Vincent ACJ (1991) Sexual selection and the potential reproductive rates of males and females. Nature 351:58–60. doi:10.1038/351058a0

Corlis NJ, Veeh HH, Dighton JC, Herczeg AL (2003) Mixing and evaporation processes in an inverse estuary inferred from δ2H and δ18Ο. Cont Shelf Res 23:835–846. doi:10.1016/s0278-4343(03)00029-3

Downey NJ, Roberts MJ, Baird D (2010) An investigation of the spawning behaviour of the chokka squid Loligo reynaudii and the potential effects of temperature using acoustic telemetry. ICES J Mar Sci 67:231–243. doi:10.1093/icesjms/fsp237

English KK, Bocking RC, Irvine JR (1992) A robust procedure for estimating salmon escapement based on the area-under-the-curve method. Can J Fish Aquat Sci 49:1982–1989. doi:10.1139/f92-220

Gerber LR (2006) Including behavioral data in demographic models improves estimates of population viability. Front Ecol Environ 4:419–427. doi:10.1890/1540-9295(2006)4

Hall KC, Fowler AJ (2003) Fisheries biology of the cuttlefish, Sepia apama Gray, in South Australian waters. FRDC final report. South Australian Research and Development Institute, Adelaide

Hall KC, Hanlon RT (2002) Principal features of the mating system of a large spawning aggregation of the giant Australian cuttlefish Sepia apama (Mollusca: Cephalopoda). Mar Biol 140:533–545. doi:10.1007/s00227-001-0718-0

Hall KC, Fowler AJ, Geddes MC (2007) Evidence for multiple year classes of the giant Australian cuttlefish Sepia apama in northern Spencer Gulf, South Australia. Rev Fish Biol Fish 17:367–384. doi:10.1007/s11160-007-9045-y

Hanlon RT, Naud MJ, Shaw PW, Havenhand JN (2005) Behavioural ecology—transient sexual mimicry leads to fertilization. Nature 433:212. doi:10.1038/433212a

Heupel MR, Semmens JM, Hobday AJ (2006) Automated acoustic tracking of aquatic animals: scales, design and deployment of listening station arrays. Mar Freshwater Res 57:1–13. doi:10.1071/MF05091

Hilborn R, Bue BG, Sharr S (1999) Estimating spawning escapements from periodic counts: a comparison of methods. Can J Fish Aquat Sci 56:888–896. doi:10.1139/cjfas-56-5-888

Jackson GD, O'Dor RK, Andrade Y (2005) First tests of hybrid acoustic/archival tags on squid and cuttlefish. Mar Freshwater Res 56:425–430. doi:10.1071/MF04248

Jorgensen SJ, Kaplan DM, Klimley AP, Morgan SG, O'Farrell MR, Botsford LW (2006) Limited movement in blue rockfish Sebastes mystinus: internal structure of home range. Mar Ecol Prog Ser 327:157–170. doi:10.3354/meps327157

Kokko H, Jennions MD (2008) Parental investment, sexual selection and sex ratios. J Evol Biol 21:919–948. doi:10.1111/j.1420-9101.2008.01540.x

Kruuk LEB, Cluttonbrock TH, Albon SD, Pemberton JM, Guinness FE (1999) Population density affects sex ratio variation in red deer. Nature 399:459–461. doi:10.1038/20917

Kvarnemo C, Ahnesjo I (1996) The dynamics of operational sex ratios and competition for mates. Trends Ecol Evol 11:404–408. doi:10.1016/0169-5347(96)10056-2

Naud MJ, Hanlon RT, Hall KC, Shaw PW, Havenhand JN (2004) Behavioural and genetic assessment of reproductive success in a spawning aggregation of the Australian giant cuttlefish, Sepia apama. Anim Behav 67:1043–1050. doi:10.1016/j.anbehav.2003.10.005

Norman MD, Finn J, Tregenza T (1999) Female impersonation as an alternative reproductive strategy in giant cuttlefish. Proc R Soc B 266:1347–1349. doi:10.1098/rspb.1999.0786

Nunes RA, Lennon GW (1986) Physical property distributions and seasonal trends in Spencer Gulf, South Australia—an inverse estuary. Mar Freshwater Res 37:39–53. doi:10.1071/MF9860039

Papastamatiou YP, Lowe CG, Caselle JE, Friedlander AM (2009) Scale-dependent effects of habitat on movements and path structure of reef sharks at a predator-dominated atoll. Ecology 90:996–1008. doi:10.1890/08-0491.1

Parker GA, Simmons LW (1996) Parental investment and the control of sexual selection: predicting the direction of sexual competition. Proc R Soc B 263:315–321. doi:10.1098/rspb.1996.0048

Pecl GT, Tracey SR, Semmens JM, Jackson GD (2006) Use of acoustic telemetry for spatial management of southern calamary Sepioteuthis australis, a highly mobile inshore squid species. Mar Ecol Prog Ser 328:1–15. doi:10.3354/meps328001

Prohl H (2005) Clutch loss affects the operational sex ratio in the strawberry poison frog Dendrobates pumilio. Behav Ecol Sociobiol 58:310–315. doi:10.1007/s00265-005-0915-9

Reed JM, Mills LS, Dunning JB, Menges ES, McKelvey KS, Frye R, Beissinger SR, Anstett MC, Miller P (2002) Emerging issues in population viability analysis. Conserv Biol 16:7–19. doi:10.1046/j.1523-1739.2002.99419.x

Sauer WHH, Roberts MJ, Lipinski MR, Smale MJ, Hanlon RT, Webber DM, O'Dor RK (1997) Choreography of the squids "night dance". Biol Bull 192:203–207. doi:10.2307/1542714

Semmens JM, Buxton CD, Forbes E, Phelan MJ (2010) Spatial and temporal use of spawning aggregation sites by the tropical sciaenid Protonibea diacanthus. Mar Ecol Prog Ser 403:193–203. doi:10.3354/meps08469

Simpfendorfer CA, Heupel MR, Collins AB (2008) Variation in the performance of acoustic receivers and its implication for positioning algorithms in a riverine setting. Can J Fish Aquat Sci 65:482–492. doi:10.1139/f07-180

Stark KE, Jackson GD, Lyle JM (2005) Tracking arrow squid movements with an automated acoustic telemetry system. Mar Ecol Prog Ser 299:167–177. doi:10.3354/meps299167

Tolimieri N, Andrews K, Williams G, Katz S, Levin PS (2009) Home range size and patterns of space use by lingcod, copper rockfish and quillback rockfish in relation to diel and tidal cycles. Mar Ecol Prog Ser 380:229–243. doi:10.3354/meps0793

Trivers R (1972) Parental investment and sexual selection. In: Campbell B (ed) Sexual selection and the descent of man 1871–1971. Aldine Press, Chicago

Tsuda Y, Kawabe R, Tanaka H, Mitsunaga Y, Hiraishi T, Yamamoto K, Nashimoto K (2006) Monitoring the spawning behaviour of chum salmon with an acceleration data logger. Ecol Freshwater Fish 15:264–274. doi:10.1111/j.1600-0633.2006.00147.x

Vargas FH, Lacy RC, Johnson PJ, Steinfurth A, Crawford RJM, Boersma PD, Macdonald DW (2007) Modelling the effect of El Nino on the persistence of small populations: The Galapagos penguin as a case study. Biol Conserv 137:138–148. doi:10.1016/j.biocon.2007.02.005

Voegeli FA, Pincock DG (1996) Overview of underwater acoustics as it applies to telemetry. In: Baras E, Philippart JC (eds) Underwater biotelemetry. University of Liege, Liege

Whitney NM, Papastamatiou YP, Holland KN, Lowe CG (2007) Use of an acceleration data logger to measure diel activity patterns in captive whitetip reef sharks, Triaenodon obesus. Aquat Living Resour 20:299–305. doi:10.1051/alr:2008006
Acknowledgments
We thank Jim Mitchell (Santos Limited) for infrastructure support, and all volunteers for field assistance. Financial support was provided by The Field Naturalists Society of South Australia, Australian Geographic Society, Santos Limited., Mark Mitchell Foundation, and the ANZ Holsworth Foundation.
Additional information
Communicated by Øyvind Fiksen.
About this article
Cite this article
Payne, N.L., Gillanders, B.M. & Semmens, J. Breeding durations as estimators of adult sex ratios and population size. Oecologia 165, 341–347 (2011). https://doi.org/10.1007/s00442-010-1729-7
Received:

Accepted:

Published:

Issue Date:
Keywords
Acoustic telemetry

Breeding aggregation

Operational sex ratio

Sepia apama

Viability analysis