Abstract
In arctic and alpine environments, warm summer temperatures may force a reduction in foraging time of large herbivores, whose tolerance for heat is lower than for species adapted to warmer weather. We constructed time budgets for marked ibex (Capra ibex) males over two summers to test whether warm temperatures constrained foraging behaviour and forced altitudinal migrations. As daily temperature and solar radiation increased, feeding activity was reduced at midday and evening, but increased in the early morning, probably to anticipate for an expected reduction in foraging later in the day. With increasing temperature and solar radiation, ibex moved to higher elevations where they spent very little time feeding. Changes in forage quality and availability could not explain altitudinal migration. Temperatures above 15–20°C apparently result in heat discomfort in male Alpine ibex. As temperature and solar radiation increased, older and larger ibex spent less time feeding during daylight and showed a steeper decrease in feeding time than younger and smaller ibex. Larger males may be more sensitive to temperature and solar radiation, or may have more flexibility in allocating time to different activities, given their lower relative energetic requirements.
Access options
Buy single article
Instant access to the full article PDF.
USD 39.95
Price excludes VAT (USA)
Tax calculation will be finalised during checkout.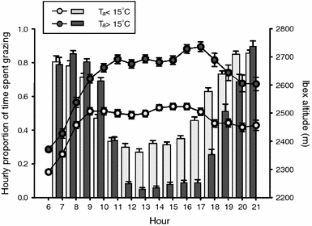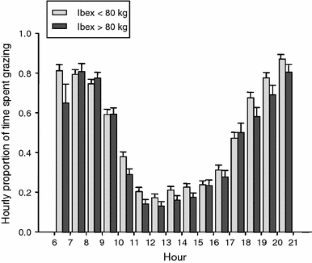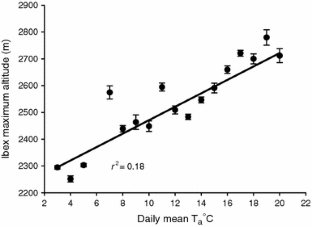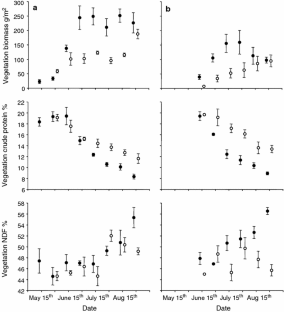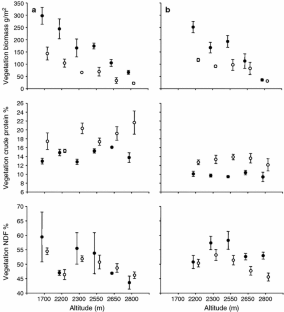 References
Albon SD, Langvatn R (1992) Plant phenology and the benefits of migration in a temperate ungulate. Oikos 65:502–513

Altmann J (1974) Observational study of behavior: sampling methods. Behaviour 49:227–267

Association of Official Analytical Chemists (1980) Official methods of analysis, Washington DC

Bassano B, Gauthier D, Joccolè L, Peracino V (2004) Capture d'ongulés de montagne par téléanesthésie. Parc Nationale de la Vanoise/Parco Nazionale Gran Paradiso, Chambery Cedex/Torino

Bassano B, von Hardenberg A, Pelletier F, Gobbi G (2003) A method to weight free-ranging ungulates without handling. Wildl Soc Bull 31:1205–1209

Belovsky GE (1984) Herbivore optimal foraging: a comparative test of three models. Am Nat 124:97–115

Belovsky GE, Slade JD (1986) Time budgets of grassland herbivores: body size similarities. Oecologia 70:53–62

Brown-Brandl TM, Eigenberg RA, Nienaber JA, Hahn GL (2005) Dynamic response indicators of heat stress in shaded and non-shaded feedlot cattle, part 1: analyses of indicators. Biosyst Eng 90:451–462. doi:10.1016/j.biosystemseng.2004.12.006

Colman JE, Pedersen C, Hjermann DØ, Holand Ø, Moe SR, Reimers E (2001) Twenty-four-hour feeding and lying patterns of wild reindeer Rangifer tarandus tarandus in summer. Can J Zool 79:2168–2175

Couturier MAJ (1962) Le bouquetin des Alpes. Imprimerie Allier, Grenoble

Demment MW, Van Soest PJ (1985) A nutritional explanation for body-size patterns of ruminant and nonruminant herbivores. Am Nat 125:641–672. doi:10.1086/284369

Dodson R, Marks D (1997) Daily air temperature interpolated at high spatial resolution over a large mountainous region. Clim Res 8:1–20

Dussault C, Ouellet JP, Courtois R, Huot J, Breton L, Larochelle J (2004) Behavioural responses of moose to thermal conditions in the boreal forest. Ecoscience 11:321–328

Festa-Bianchet M (1988) Seasonal range selection in bighorn sheep: conflicts between forage quality, forage quantity, and predator avoidance. Oecologia 75:580–586. doi:10.1007/BF00776423

Festa-Bianchet M (1991) The social system of bighorn sheep: grouping patterns, kinship and female dominance rank. Anim Behav 42:71–82. doi:10.1016/S0003-3472(05)80607-4

Festa-Bianchet M (1998) Condition-dependent reproductive success in bighorn ewes. Ecol Lett 1:91–94. doi:10.1046/j.1461-0248.1998.00023.x

Festa-Bianchet M, Jorgenson JT, Bérubé CH, Portier C, Wishart WD (1997) Body mass and survival of bighorn sheep. Can J Zool 75:1372–1379

Glantz SA, Slinker BK (1990) Primer of applied regression and analysis of variance. McGraw-Hill, New York

Grignolio S, Rossi I, Bassano B, Parrini F, Apollonio M (2004) Seasonal variations of spatial behaviour in female Alpine ibex (Capra ibex ibex) in relation to climatic conditions and age. Ethol Ecol Evol 16:255–264

Hagemoen RIM, Reimers E (2002) Reindeer summer activity pattern in relation to weather and insect harassment. J Anim Ecol 71:883–892. doi:10.1046/j.1365-2656.2002.00654.x

Higgins KF, Oldemeyer JL, Jenkins KJ, Clambey GK, Harlow RF (1996) Vegetation sampling and measurement. In: Bookhout TA (ed) Research and management techniques for wildlife and habitats, 5th edn. The Wildlife Society, Bethesda, pp 567–591

Iason GR et al (1999) Can grazing sheep compensate for a daily foraging time constraint? J Anim Ecol 68:87–93. doi:10.1046/j.1365-2656.1999.00264.x

Illius AW, Gordon IJ (1987) The allometry of food intake in grazing ruminants. J Anim Ecol 56:989–999

Kie JG (1999) Optimal foraging and risk of predation: effects on behavior and social structure in ungulates. J Mammal 80:1114–1129

Luterbacher J, Dietrich D, Xoplaki E, Grosjean M, Wanner H (2004) European seasonal and annual temperature variability, trends, and extremes since 1500. Science 303:1499–1503. doi:10.1126/science.1093877

Malechek JC, Smith BM (1976) Behavior of winter cows in response to winter weather. J Range Manag 29:9–12

Maloney SK, Moss G, Cartmell T, Mitchell D (2005) Alteration in diel activity patterns as a thermoregulatory strategy in black wildebeest (Connochaetes gnou). J Comp Physiol A 191:1055–1064. doi:10.1007/s00359-005-0030-4

McCarty JP (2001) Ecological consequences of recent climate change. Conserv Biol 15:320–331. doi:10.1046/j.1523-1739.2001.015002320.x

McLoughlin PD, Boyce MS, Coulson T, Clutton-Brock TH (2006) Lifetime reproductive success and density dependent, multi-variable resource selection. Proc R Soc Lond B 273:1449–1454

Mysterud A (1998) The relative roles of body size and feeding type on activity time of temperate ruminants. Oecologia 113:442–446. doi:10.1007/s004420050396

Mysterud A (1999) Seasonal migration pattern and home range of roe deer (Capreolus capreolus) in an altitudinal gradient in southern Norway. J Zool Lond 247:479–486. doi:10.1111/j.1469-7998.1999.tb01011.x

Mysterud A, Langvatn R, Yoccoz NG, Stenseth NC (2001) Plant phenology, migration and geographical variation in body weight of a large herbivore: the effect of a variable topography. J Anim Ecol 70:915–923. doi:10.1046/j.0021-8790.2001.00559.x

Neuhaus P, Ruckstuhl KE (2002) Foraging behaviour in Alpine ibex (Capra ibex): consequences of reproductive status, body size, age and sex. Ethol Ecol Evol 14:373–381

Oechel WC et al (1997) Global change and Arctic terrestrial ecosystems. Springer, New York

Oosenberg SM, Theberge JB (1980) Altitudinal movements and summer habitat preferences of woodland caribou in the Kluane ranges, Yukon territory. Arctic 33:59–72

Owen-Smith NR (1988) Megaherbivores. Cambridge University Press, Cambridge

Owen-Smith NR (1992) Grazers and browsers: ecological and social contrast among African ruminants. In: Spitz F, Janeau G, Gonzalez G, Aulagnier S (eds) Ongulés/Ungulates 91. S·F.E.P.M.-I.R.G.M, Paris, pp 175–181

Owen-Smith NR (1994) Foraging responses of kudus to seasonal changes in food resources: elasticity in constraints. Ecology 75:1050–1062

Owen-Smith NR (1998) How high ambient temperature affects the daily activity and foraging time of a subtropical ungulate, the greater kudu (Tragelaphus strepsiceros). J Zool Lond 246:183–192. doi:10.1111/j.1469-7998.1998.tb00147.x

Parker KL, Gillingham MP, Hanley TA, Robbins CT (1996) Foraging efficiency: energy expenditure versus energy gain in free-ranging black-tailed deer. Can J Zool 74:442–450. doi:10.1139/CJZ-74-3-442

Parker KL, Robbins CT (1984) Thermoregulation in mule deer and elk. Can J Zool 62:1409–1422. doi:10.1139/CJZ-62-7-1409

Pelletier F, Festa-Bianchet M (2004) Effects of body mass, age, dominance and parasite load on foraging time of bighorn rams, Ovis canadensis. Behav Ecol Sociobiol 56:546–551. doi:10.1007/s00265-004-0820-7

Peters RH (1983) The ecological implications of body size. Cambridge University Press, Cambridge

Pinheiro JC, Bates DM (2000) Mixed-effects models in S and S-plus. Springer, New York

Post E, Stenseth NC (1999) Climatic variability, plant phenology, and northern ungulates. Ecology 80:1322–1339. doi:10.1890/0012-9658(1999)080[1322:CVPPAN]2.0.CO;2

Pyke GH (1984) Optimal foraging theory: a critical review. Ann Rev Ecol Syst 15:523–575

Renecker LA, Hudson RJ (1986) Seasonal energy expenditures and thermoregulation responses of moose. Can J Zool 64:322–327. doi:10.1139/CJZ-64-2-322

Roberts SC, Dunbar RIM (1991) Climatic influences on the behavioral ecology of Chanler mountain reedbuck in Kenya. Afr J Ecol 29:316–329

Ruckstuhl KE (1998) Foraging behaviour and sexual segregation in bighorn sheep. Anim Behav 56:99–106. doi:10.1006/anbe.1998.0745

Ruckstuhl KE, Festa-Bianchet M, Jorgenson JT (2003) Bite rates in Rocky Mountain bighorn sheep (Ovis canadensis): effects of season, age, sex and reproductive status. Behav Ecol Sociobiol 54:167–173. doi:10.1007/s00265-003-0615-2

Schab FE, Pitt MD (1991) Moose selection of canopy cover types related to operative temperature, forage, and snow depth. Can J Zool 69:3071–3077. doi:10.1139/CJZ-69-12-3071

Schemper M (1990) The explained variation in proportional hazards regression. Biometrika 77:216–218

Seip DR, Bunnell FL (1985) Foraging behaviour and food habits of Stone's sheep. Can J Zool 63:1638–1646. doi:10.1139/CJZ-63-7-1634

Shi JB, Dunbar RIM, Buckland D, Miller D (2003) Daytime activity budgets of feral goats (Capra hircus) on the Isle of Rum: influence of season, age, and sex. Can J Zool 81:803–815. doi:10.1139/z03-055

Sokal RR, Rohlf FJ (1981) Biometry, 2nd edn. Freeman, San Francisco

Steele BM, Hogg JT (2003) Measuring individual quality in conservation and behavior. In: Festa-Bianchet M, Apollonio M (eds) Animal behavior and wildlife conservation. Island Presse, Washington, pp 243–269

Van Soest PJ (1963) Use of detergents in the analysis of fibrous feeds. II. A rapid method for the determination of fiber and lignin. J Ass Offic Agr Chem 46:829–835

Van Soest PJ (1994) Nutritional ecology of the ruminant, 2nd edn. Comstock, Ithaca

Van Soest PJ, Robertson JB, Lewis BA (1991) Methods for dietary fiber, neutral detergent fiber, and nonstarch polysaccharides in relation to animal nutrition. J Dairy Sci 74:3583–3597

von Hardenberg A (2005) Sénescence, sélection sexuelle et dynamique de population du bouquetin des Alpes (Capra ibex). PhD thesis, Département de Biologie, Université de Sherbrooke, Sherbrooke, p 200

Walther G-R et al (2002) Ecological responses to recent climate change. Nature 416:389–395. doi:10.1038/416389a

White RG (1983) Foraging patterns and their multiplier effects on productivity of northern ungulates. Oikos 40:377–384

Winterbach HEK, Bothma JD (1998) Activity patterns of the Cape buffalo Syncerus caffer caffer in the Willem Pretorius Game Reserve, Free State. S Afr J Wildl Res 28:73–81
Acknowledgments
We are grateful to Vincent Careau, Chantale Caux and Karine Gauthier Hétu for their invaluable help in the field and to Fanie Pelletier, Bill Shipley and Dany Garant for advice on statistical analyses. We thank the administration and the park wardens of the Gran Paradiso National Park for help and logistic support, in particular chief warden Luigino Jocollé and park biologist Achaz von Hardenberg. Our research on ibex ecology is supported by The Natural Sciences and Engineering Research Council of Canada and the GPNP. Financial support was provided to J.-F.A. by the Fonds Québécois de la Recherche sur la Nature et les Technologies and by the Ministère de l'Éducation du Québec. This study complied with the current laws of the country in which it was performed.
Additional information
Communicated by Jean-Michel Gaillard.
Electronic supplementary material
Below is the link to the electronic supplementary material.
About this article
Cite this article
Aublet, JF., Festa-Bianchet, M., Bergero, D. et al. Temperature constraints on foraging behaviour of male Alpine ibex (Capra ibex) in summer. Oecologia 159, 237–247 (2009). https://doi.org/10.1007/s00442-008-1198-4
Received:

Accepted:

Published:

Issue Date:

DOI: https://doi.org/10.1007/s00442-008-1198-4
Keywords
Foraging

Space use

Thermoregulation

Ungulates

Climate change