Abstract
The prior experience of prey may influence how they assess the level of predation risk associated with an information source. Here, I present the results from a set of experiments that demonstrate how the prior experience of green frog (Rana clamitans) tadpoles can influence their risk assessment during exposure to the chemical cue of predatory larval dragonflies (Anax spp.) consuming conspecific tadpoles. At the short-term scale, green frog tadpoles perceived a higher level of risk when consecutive cue exposures overlapped, but only when the total chemical cue concentration was weak. Weaker chemical cue concentrations may be less reliable than stronger cue concentrations, and overlapping cue exposures may increase the degree of certainty that tadpoles have in their perceived risk. When consecutive cue exposures did not overlap, tadpoles assessed the risk associated with each cue exposure independently. Predator-conditioned tadpoles responded longer during exposure to the Anax chemical cue than nonconditioned tadpoles, which suggests that a tadpole's long-term experience eventually does influence its risk assessment. In general, the results suggest that a prey's prior experience may influence its current perceived risk by influencing either the degree of certainty in or the level of its perceived risk. Understanding how the prior experience of prey influences their current risk assessment requires that the rate of decay of the value of prior experience should be identified at two timescales as an indicator of the current level of predation risk.
Access options
Buy single article
Instant access to the full article PDF.
US$ 39.95
Tax calculation will be finalised during checkout.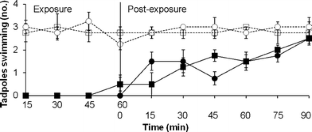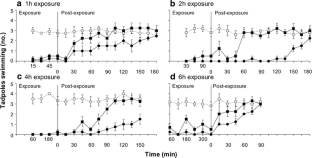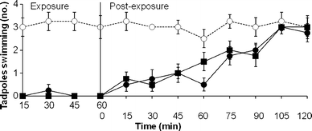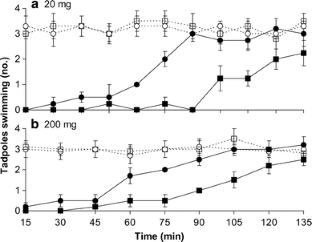 References
Alvarez D, Nicieza AG (2006) Factors affecting tadpole vulnerability to predators: can prior experience compensate for a suboptimal shape? Evol Ecol 20:523–534

Baron J (2000) Thinking and deciding, 3rd edn. Cambridge University Press, Cambridge

Brown GE, Rive AC, Ferrari MCO, Chivers DP (2006) The dynamic nature of antipredator behavior: prey fish integrate threat-sensitive antipredator responses within background levels of predation risk. Behav Ecol Sociobiol 61:9–16

Chivers DP, Smith RJF (1994) Fathead minnows, Pimephales promelas, acquire predator recognition when alarm substance is associated with the sight of unfamiliar fish. Anim Behav 48:597–605

Dill LM (1974) Escape response of the zebra danio. 1. Stimulus for escape. Anim Behav 22:711–722

Dupuch A, Magnan P, Dill LM (2004) Sensitivity of northern redbelly dace, Phoxinus eos, to chemical alarm cues. Can J Zool 82:407–415

Ferrari MCO, Kapitania-Kwok T, Chivers DP (2006) The role of learning in the development of threat-sensitive predator avoidance: the use of predator cue concentration by fathead minnows. Behav Ecol Sociobiol 60:522–527

Foam PE, Mirza RS, Chivers DP, Brown GE (2005) Juvenile convict cichlids (Archocentrus nigrofasciatus) allocate foraging and antipredator behaviour in response to temporal variation in predation risk. Behaviour 142:129–144

Fraker ME (2008) The dynamics of predation risk assessment: responses of anuran larvae to chemical cues of predators. J Anim Ecol 77:638–645

Gallie JA, Mumme RL, Wissinger SA (2001) Experience has no effect on the development of chemosensory recognition of predators by tadpoles of the American toad, Bufo americanus. Herpetologica 57:376–383

Gould JP (1974) Risk, stochastic preference, and the value of information. J Econ Theory 8:64–84

Kats LB, Dill LM (1998) The scent of death: chemosensory assessment of predation risk by prey animals. Ecoscience 5:361–394

Koops MA (2004) Reliability and the value of information. Anim Behav 67:103–111

Lima SL, Bednekoff PA (1999) Temporal variation in danger drives antipredator behavior: the predation risk allocation hypothesis. Am Nat 153:649–659

Lima SL, Steury TD (2005) Perception of predation risk: the foundation of nonlethal predator–prey interactions. In: Barbosa P, Castellanos I (eds) Ecology of predator–prey interactions. Oxford University Press, Oxford, pp 166–188

Littell RC, Henry PR, Ammerman CB (1998) Statistical analysis of repeated measures data using SAS procedures. J Anim Sci 76:1216–1231

Luttbeg BL, Schmitz OJ (2000) Predator and prey models with flexible individual behavior and imperfect information. Am Nat 155:669–683

Mirza RS, Chivers DP (2003) Response of juvenile rainbow trout to varying concentrations of chemical alarm cues: response thresholds and survival during encounters with predators. Can J Zool 81:88–95

Mirza RS, Ferrari MCO, Kiesecker JM, Chivers DP (2006) Responses of American toad tadpoles to predation cues: behavioural response thresholds, threat-sensitivity, and acquired predator recognition. Behaviour 143:877–889

Peacor SD (2006) Behavioral responses of bullfrog tadpoles to chemical cues of predation risk is affected by cue age and water source. Hydrobiologia 573:39–44

Petranka J, Hayes L (1998) Chemically mediated avoidance of a predatory odonate (Anax junius) by American toad (Bufo bufo) and wood frog (Rana sylvatica) tadpoles. Behav Ecol Sociobiol 42:263–271

SAS Institute (2003) SAS version 9.1. SAS Institute, Cary

Schoeppner NM, Relyea RA (2005) Damage, digestion, and defence: the roles of alarm cues and kairomones for inducing prey defenses. Ecol Lett 8:505–512

Semlitsch RD, Reyer HU (1992) Modification of anti-predator behaviour in tadpoles by environmental conditioning. J Anim Ecol 61:353–360

Sih A (1992) Prey uncertainty and the balancing of antipredator and feeding needs. Am Nat 139:1052–1069

Sih A, McCarthy TM (2002) Prey responses to pulses of risk and safety: testing the risk allocation hypothesis. Anim Behav 63:437–443

Sih A, Ziemba R, Harding KC (2000) New insights on how temporal variation in predation risk shapes prey behavior. TREE 15:3–4

Sih A, Bell AM, Johnson JC, Ziemba RE (2004) Behavioral syndromes: an integrative review. Q Rev Biol 79:241–277

Sundell J, Dudek D, Klemme I, Koivisto E, Pusenius J, Ylonen H (2004) Variation in predation risk and vole feeding behaviour: a field test of the risk allocation hypothesis. Oecologia 139:157–162

Turner AM, Montgomery SL (2003) Spatial and temporal scales of predator avoidance: experiments with fish and snails. Ecology 84:616–622

Turner AM, Turner SL, Lappi HA (2006) Learning, memory, and predator avoidance by a freshwater snail: effects of experience on predator recognition and defensive strategy. Anim Behav 72:1443–1450

Tverskey A, Kahneman D (1992) Advances in prospect theory: cumulative representations of uncertainty. J Risk Uncertain 5:297–323

Van Buskirk J, Arioli M (2002) Dosage response of an induced defense: how sensitive are tadpoles to predation risk? Ecology 83:1580–1585

Van Buskirk J, Muller C, Portmann A, Surbeck M (2002) A test of the risk allocation hypothesis: tadpole responses to temporal change in predation risk. Behav Ecol 13:526–530

Watkins TB, McPeek MA (2006) Growth and predation risk in green frog (Rana clamitans) tadpoles: a quantitative genetic analysis. Copeia 2006:478–488

Yoerg SI (1991) Ecological frames of mind: the role of cognition in behavioral ecology. Q Rev Biol 66:287–301
Acknowledgments
I thank Christine Balmes for helping to maintain the tadpole cultures and setting up the experiments, Scott Peacor for providing the screened containers, and Earl Werner for providing access to the ESGR. Earl Werner, the Werner lab, and two anonymous reviewers provided helpful comments that greatly improved this manuscript. This research was funded through a University of Michigan Block Grant, an ESGR Scholarship, and NSF grant DEB-0089809 to Earl Werner and Scott Peacor. The experiments comply with the current laws of the United States of America.
Additional information
Communicated by Steven Kohler.
About this article
Cite this article
Fraker, M.E. The effect of prior experience on a prey's current perceived risk. Oecologia 158, 765–774 (2009). https://doi.org/10.1007/s00442-008-1185-9
Received:

Accepted:

Published:

Issue Date:
Keywords
Activity level

Antipredator behavior

Nonlethal interactions

Predation risk assessment