Abstract
Fat accumulation by blackcaps (Sylvia atricapilla) is a prerequisite for successful migratory flight in the autumn and has recently been determined to be constrained by availability of drinking water. Birds staging in a fruit-rich Pistacia atlantica plantation that had access to water increased their body mass and fat reserves both faster and to a greater extent than birds deprived of water. We conducted a series of laboratory experiments on birds captured during the autumn migration period in which we tested the hypotheses that drinking water increases food use by easing limitations on the birds' dietary choices and, consequently, feeding and food processing rates, and that the availability of drinking water leads to improved digestion and, therefore, to higher apparent metabolizable energy. Blackcaps were trapped in autumn in the Northern Negev Desert, Israel and transferred to individual cages in the laboratory. Birds were provided with P. atlantica fruit and mealworms, and had either free access to water (controls) or were water-deprived. In experiment 1, in which mealworm availability was restricted, water-deprived birds had a fourfold lower fruit and energy intake rates and, consequently, gained less fat and total mass than control birds. Water availability did not affect food metabolizability. In experiment 2, in which mealworms were provided ad libitum, water availability influenced the birds' diet: water-restricted birds ate more mealworms, while control birds consumed mainly P. atlantica fruit. Further, in experiment 2, fat and mass gain did not differ between the two treatment groups. We conclude that water availability may have important consequences for fat accumulation in migrating birds while they fatten at stopover sites, especially when water-rich food is scarce. Restricted water availability may also impede the blackcap's dietary shift from insectivory to frugivory, a shift probably necessary for successful pre-migratory fattening.
Access options
Buy single article
Instant access to the full article PDF.
USD 39.95
Price excludes VAT (USA)
Tax calculation will be finalised during checkout.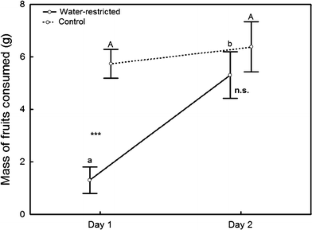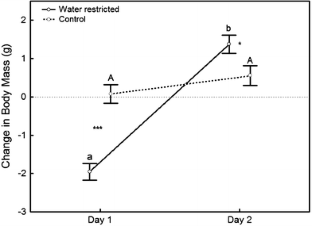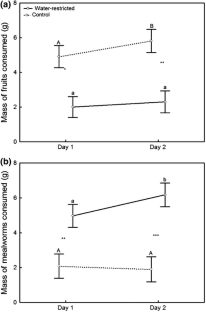 References
Alerstam T, Lindström A (1990) Optimal bird migration: the relative importance of time, energy, and safety. In: Gwinner E (ed) Bird migration: the physiology and ecophysiology. Berlin, Heidelberg, pp 331–351

Bairlein F (1985) Body weights and fat deposition of Palaearctic passerine migrants in the Central Sahara. Oecologia 66:141–146

Bairlein F (2002) How to get fat: nutritional mechanisms of seasonal fat accumulation in migratory songbirds. Naturwissenschaften 89:1–10

Bauchinger U, Wohlmann A, Biebach H (2005) Flexible remodeling of organ size during spring migration of the garden warbler (Sylvia borin). Zoology 108:97–106

Bell GP (1990) Birds and mammals on an insect diet: a primer on diet composition analysis in relation to ecological energetics. Stud Avian Biol 13:416–422

Biebach H, Friedrich W, Heine G (1986) Interaction of body mass, fat, foraging and stopover period in trans-Sahara migrating passerine birds. Oecologia 69:370–379

Bodenheimer FS (1935) Animal life in Palestine: an introduction to the problems of animal ecology and zoogeography. L. Mayer, Jerusalem

Durant D, Fritz H, Blais S, Duncan P (2003) The functional response in three species of herbivorous Anatidae: effects of sward height, body mass and bill size. J Anim Ecol 72:220–231

Ellegren H, Fransson T (1992) Fat loads and estimated flight-ranges in four Sylvia spp. analysed during autumn migration at Gotland, south-east Sweden. Ringing Migr 13:1–12

Finke MD (2002) Complete nutrient composition of commercially raised invertebrates used as food for insectivores. Zoo Biol 21:269–285

Forbes JM (2003) Wet foods for poultry. Avian Poultry Biol Rev 14:175–193

Fritz H, Durant D, Guillemain M (2001) Shape and sources of variations of the functional response of wildfowl: an experiment with mallards, Anas platyrhynchos. Oikos 93:488–496

Gannes LZ (2001) Comparative fuel use of migrating passerines: effects of fat stores, migration distance, and diet. Auk 118:665–677

Gannes LZ (2002) Mass change pattern of blackcaps refueling during spring migration: evidence for physiological limitations to food assimilation. Condor 104:231–239

Gunnarsson TG et al (2006) Population-scale drivers of individual arrival times in migratory birds. J Anim Ecol 75:1119–1127

Helms CW, Drury WHJ (1960) Winter and migratory weight and fat field studies on some North American buntings. Bird Banding 31:1–40

Izhaki I, Maitav A (1998) Blackcaps Sylvia atricapilla stopping over at the desert edge; physiological state and flight-range estimates. Ibis 140:223–233

Jeschke JM, Kopp M, Tollrian R (2002) Predator functional responses: discriminating between handling and digesting prey. Ecol Monogr 72:95–112

Kaiser A (1993) A new multi-category classification of subcutaneous fat deposits of songbirds. J Field Ornithol 64:246–255

Karasov WH (1990) Digestion in birds: chemical and physiological determinants and ecological implications. Stud Avian Biol 13:391–415

Karasov WH, McWilliams SR (2005) Digestive constraints in mammalian and avian ecology. In: Starck JM, Wang T (eds) Physiological and ecological adaptations to feeding in vertebrates. Science Publishers, Enfield

Karasov WH, Martinez del Rio C (2007) Water requirement and water flux. In: Physiological ecology: how animals process energy, nutrients and toxins, chap 12. Princeton University Press, Princeton, pp 608–644

Karasov WH, Pinshow B (2000) Test for physiological limitation to nutrient assimilation in a long-distance passerine migrant at a springtime stopover site. Physiol Biochem Zool 73:335–343

Karasov WH, Pinshow B, Starck JM, Afik D (2004) Anatomical and histological changes in the alimentary tract of migrating blackcaps (Sylvia atricapilla): a comparison among fed, fasted, food-restricted, and refed birds. Physiol Biochem Zool 77:149–160

Kendeigh SC, Dol'nik VR, Gavrilov VM (1977) Avian energetics. In: Pinowski J, Kendeigh SC (eds) Granivorous birds in ecosystems: their evolution, populations, energetics, adaptations, impact and control. Cambridge University Press, Cambridge, pp 127–204

Kersten M, Visser W (1996) The rate of food processing in the Oystercatcher: food intake and energy expenditure constrained by a digestive bottleneck. Funct Ecol 10:440–448

Lindström A (2003) Fuel deposition rates in migrating birds: causes, constraints and consequences. In: Berthold P, Gwinner E, Sonnenschein E (eds) Avian migration. Springer, Berlin, pp 307–320

Loria DE, Moore FR (1990) Energy demands of migration on red-eyed vireos, Vireo olivaceus. Behav Ecol 1:24–35

McWilliams SR, Kearney SB, Karasov WH (2002) Diet preferences of warblers for specific fatty acids in relation to nutritional requirements and digestive capabilities. J Avian Biol 33:167–174

Moore F, Kerlinger P (1987) Stopover and fat deposition by North-American wood-warblers (Parulinae) following spring migration over the Gulf of Mexico. Oecologia 74:47–54

Moreau RE (1972) The Palaearctic-African bird migration system. Academic Press, London

Pennycuick CJ, Battley PF (2003) Burning the engine: a time-marching computation of fat and protein consumption in a 5420-km non-stop flight by great knots, Calidris tenuirostris. Oikos 103:323–332

Pfister C, Kasprzyk MJ, Harrington B (1998) Body-fat levels and annual returns in migrating Semipalmated Sandpiper. Auk 115:904–915

Pierce BJ, McWilliams SR (2005) Seasonal changes in composition of lipid stores in migratory birds: causes and consequences. Condor 107:269–279

Pierce BJ, McWilliams SR, O'Connor TP, Place AR, Guglielmo CG (2005) Effect of dietary fatty acid composition on depot fat and exercise performance in a migrating songbird, the red-eyed vireo. J Exp Biol 208:1277–1285

Price T (1981) The ecology of the greenish warbler Phyloscopus trochiloides in its winter quarters. Ibis 123:131–144

Redfern CPF, Topp VJ, Jones P (2004) Fat and pectoral muscle in migrating Sedge Warblers Acrocephalus schoenobaenus. Ringing Migr 22:24–34

Sapir N (2002) Stopover ecology of autumn migratory passerines in a man-made wood at a desert edge. M.Sc. dissertation. Department of Life Sciences, Ben-Gurion University, Beer Sheva, Israel

Sapir N, Abramsky Z, Shochat E, Izhaki I (2004a) Scale-dependent habitat selection in migratory frugivorous passerines. Naturwissenschaften 91:544–547

Sapir N, Tsurim I, Gal B, Abramsky Z (2004b) The effect of water availability on fuel deposition of two staging Sylvia warblers. J Avian Biol 35:25–32

Shirihai H (1996) The birds of Israel. Academic Press, London

Shochat E, Abramsky Z, Pinshow B, Whitehouse MEA (2002) Density-dependent habitat selection in migratory passerines during stopover: what causes the deviation from IFD? Evol Ecol 16:469–488

Snow B, Snow D (1988) Birds and berries. T & AD Poyser, Calton

Snow D, Perrins C (1998) The complete birds of the Western Palearctic on CD-ROM. Oxford University Press, Oxford

Yalda AY, Forbes JM (1995) Food-intake and growth in chickens given food in the wet form with and without access to drinking-water. Br Poultry Sci 36:357–369

Yalda AY, Forbes JM (1996) Effects of food intake, soaking time, enzyme and cornflour addition on the digestibility of the diet and performance of broilers given wet food. Br Poultry Sci 37:797–807

Yasar S, Forbes JM (1999) Performance and gastro-intestinal response of broiler chickens fed on cereal grain-based foods soaked in water. Br Poultry Sci 40:65–76

Zohary M (1952) A monographic study of the genus Pistacia. Palest J Bot Jerusalem Ser 4:187–228
Acknowledgments
The authors would like to thank Adi Golos, Amram Zabari, Dr. Carmi Korine and Niv Palgi for their assistance in bird handling in the field and the laboratory. The authors would also like to thank Alon Lotan for his invaluable help and counsel in the analysis of energy content. Travel expenses were partially covered by a Rieger-JNF fellowship in environmental studies to N. Sapir. The experiments in this study comply with current Israeli laws and were done under permit number 2003/16577 from the Israeli Nature and Parks Authority and under authorization number IL-58-11-2003 issued by the university committee for the ethical care and use of animals in experiments, Ben-Gurion University of the Negev. This is publication 590 of the Mitrani Department of Desert Ecology.
Additional information
Communicated by Mark Chappell.
About this article
Cite this article
Tsurim, I., Sapir, N., Belmaker, J. et al. Drinking water boosts food intake rate, body mass increase and fat accumulation in migratory blackcaps (Sylvia atricapilla). Oecologia 156, 21–30 (2008). https://doi.org/10.1007/s00442-008-0970-9
Received:

Accepted:

Published:

Issue Date:

DOI: https://doi.org/10.1007/s00442-008-0970-9
Keywords
Diet shift

Fruit

Metabolizability

Pistacia atlantica

Stopover