Abstract
In grassland systems across the globe, ecologists have been attempting to understand the complex role of fire, grazing and rainfall in creating habitat heterogeneity and the consequences of anthropogenic control of these factors on ecosystem integrity and functioning. Using a South African grassland ecosystem as a model, we investigated the impact of fire and grazing pressure on small mammal communities during three differing periods of a rainfall cycle. Over 2 years, 15,203 trap nights revealed 1598 captures of 11 species (nine rodents, one macroscelid and one insectivore). Results highlighted the importance of the interplay between factors and showed that the role of fire, grazing and rainfall in determining small mammal abundance was species-dependant. While no two species were affected by the same environmental variables, grass cover or height was important to 56% of species. Considered independently, high rainfall had a positive influence on small mammal abundance and diversity, although the lag period in population response was species-specific. High grazing negatively affected overall abundance, but specifically in Mastomys coucha; fire alone had little immediate impact on small mammal diversity. Six months after the fire, vegetation cover had recovered to similar levels as unburned areas, although small mammal diversity and richness were higher in burned areas than unburned areas. Grazing levels influenced the rate of vegetation recovery. In conclusion, low-level grazing and burning can help to maintain small mammal biodiversity, if conducted under appropriate rainfall levels. A too high grazing pressure, combined with fire, and/or fire conducted under drought conditions can have a negative impact on small mammal biodiversity. To maintain small mammal diversity in grassland ecosystems, the combined effects of the previous year's rainfall and existing population level as well as the inhibition of vegetation recovery via grazing pressure need to be taken into consideration before fire management is applied.
Access options
Buy single article
Instant access to the full article PDF.
US$ 39.95
Tax calculation will be finalised during checkout.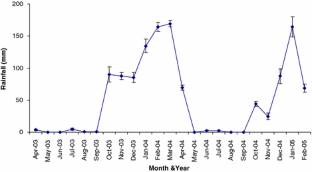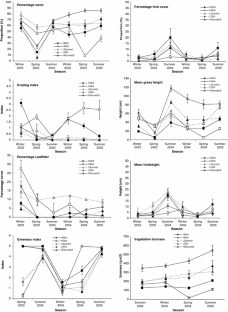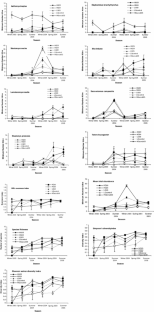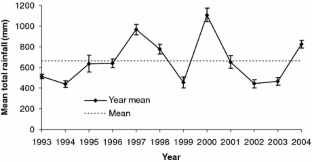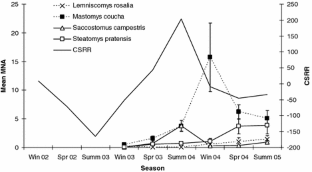 References
Acocks JPH (1988) Veld types of South Africa. In: Memoirs of the Botanical Survey of South Africa No 57:51–55. Botanical Research Institute, Department of Agriculture and Water Supply, South Africa

Anthony NM, Ribic CA, Bautz R, Garland T (2005) Comparative effectiveness of Longworth and Sherman live traps. Wildl Soc Bull 33:1–9

Archibald S, Bond WJ, Stock WD, Fairbanks DHK (2005) Shaping the landscape: fire-grazer interactions in an African Savanna. Ecol Appl 15:96–109

Beauvais GP, Buskirk SW (1999) Modifying estimates of sampling effort to account for sprung traps. Wildl Soc Bull 27:39–43

Bond WJ, Midgley GF, Woodward FI (2003) What controls South African vegetation – climate or fire? S Afr J Bot 69:79–91

Bowland AE, Perrin MR (1988) The effect of fire on the small mammal community in Hluhluwe Game Reserve. Z Saugetierkd 53:235–244

Bowland AE, Perrin MR (1989) The effect of overgrazing on the small mammals in Umfolozi Game Reserve. Z Saugetierkd 54:251–260

Bredenkamp GJ, Spada F, Kazmierczak E (2002) On the origin of northern and southern hemisphere grasslands. Plant Ecol 163:209–229

Briani DC, Palma ART, Vieira EM, Henriques RPB (2004) Post-fire succession of small mammals in the Cerrado of central Brazil. Biodivers Conserv 13:1023–1037

Brockett BH, Biggs HC, van Wilgen BW (2001) A patch mosaic burning system for conservation areas in southern African Savannas. Int J Wildland Fire 10:169–183

Caro TM (2002) Factors affecting the small mammal community inside and outside Katavi National Park, Tanzania. Biotropica 34:310–318

Cheeseman CL, Delany MJ (1979) The population dynamics of small rodents in a tropical African grassland. J Zool 188:451–475

Clark BK, Kaufman DW (1990) Short term responses of small mammals to experimental fire in tallgrass prairie. Can J Zool 68:2450–2454

Dickman CR, Mahon PS, Masters P, Gibson DF (1999) Long-term dynamics of rodent populations in arid Australia: the influence of rainfall. Wildl Res 26:389–403

Du Toit JT, Broomhall LS (2000) Mammal research in southern Africa: present patterns and future priorities. S Afr J Sci 96:225–230

Ferreira SM, van Aarde RJ (1999) Habitat associations and competition in Mastomys-Saccostomus-Aethomys assemblages on coastal dune forests. Afr J Ecol 37:121–136

Ferreira SM, van Aarde RJ (2000) Maintaining diversity through intermediate disturbances: evidence from rodents colonizing rehabilitating coastal dunes. Afr J Ecol 38:286–294

Fox BJ, Taylor JE, Thompson PT (2003) Experimental manipulation of habitat structure: a retrogression of the small mammal succession. J Anim Ecol 72:927–940

Friend GR (1993) Impact of fire on small mammal vertebrates in Mallee woodlands and heathlands of temperate Australia – a review. Biol Conserv 65:99–114

Fuller JA, Perrin MR (2001) Habitat assessment of small mammals in the Umvoti Vlei Conservancy, KwaZulu-Natal, South Africa. S Afr J Wildl Res 31:1–12

Green RH (1993) Application of repeated measures designs in environmental impact and monitoring studies. Aust Ecol 18:81–98

Gunnell J, Flowerdew JR (1990) Live trapping small mammals: a practical guide. Mammal Society Occasional Publication No 3, London

Higgins SI, Bond WJ, Trollope WSW (2000) Fire, resprouting and variability: a recipe for grass-tree coexistence in Savanna. J Ecol 88:213–229

Hudak AT (1999) Rangeland mismanagement in South Africa: failure to apply ecological knowledge. Hum Ecol 27:55–78

Jackson TP, van Aarde RJ (2004) Diet quality differentially affects breeding effort of Mastomys coucha and M. natalensis: implications for rodent pests. J Exp Zool Comp Exp Biol 301A:97–108

Johnson R, Ferguson JWH, van Jaarsveld AS, Bronner GN, Chimimba CT (2002) Delayed responses of small mammal assemblages to afforestration-induced grassland fragmentation. J Mammal 83:290–300

Joubert DF, Ryan PG (1999) Differences in mammal and bird assemblages between commercial and communal rangelands in the Succulent Karoo, South Africa. J Arid Environ 43:287–299

Keesing F (1998) Impacts of ungulates on the demography and diversity of small mammals in central Kenya. Oecologia 116:381–389

Keesing F (2000) Cryptic consumers and the ecology of an African Savanna. Bioscience 50:477

Kerley GIH (1992) Ecological correlates of small mammal community structure in the semi-arid Karoo, South Africa. J Zool 227:17–27

Kerley GIH, Knight MH, Erasmus T (1990) Small mammal microhabitat use and diet in the southern Kalahari, South Africa. S Afr J Wildl Res 20:123–126

Kern NG (1981) The influence of fire on populations of small mammals of the Kruger National Park. Koedoe 24:125–157

Leirs H, Stenseth NC, Nichols JD, Hines JE, Verhagen R, Verheyen W (1997) Stochastic seasonality and nonlinear density-dependent factors regulate population size in an African rodent. Nature 389:176–180

Letnic M (2003) The effects of experimental patch burning and rainfall on small mammals in the Simpson Desert, Queensland. Wildl Res 30:547–563

Letnic M (2004) Cattle grazing in a hummock grassland regenerating after fire: the short-term effects of cattle exclusion on vegetation in south-western Queensland. Rangeland J 26:34–48

Letnic M, Dickman CR, Tischler MK, Tamayo B, Beh CL (2004) The responses of small mammals and lizards to post-fire succession and rainfall in arid Australia. J Arid Environ 59:85–114

Letnic M, Tamayo B, Dickman CR (2005) The responses of mammals to La Nina (El Nino Southern Oscillation)-associated rainfall, predation, and wildfire in central Australia. J Mammal 86:689–703

Linzey AV, Kesner MH (1997) Small mammals of a woodland-Savannah ecosystem in Zimbabwe 1. Density and habitat occupancy patterns. J Zool 243:137–152

Linzey AV, Kesner MH, Chimimba CT, Newbery C (2003) Distribution of veld rat sibling species Aethomys chrysophilus and Aethomys ineptus (Rodentia: Muridae) in southern Africa. Afr Zool 38:169–174

Malan G, Crowe TM (1996) The diet and conservation of monogamous and polyandrous pale chanting goshawks in the Little Karoo, South Africa. S Afr J Wildl Res 26:1–10

Masters P (1993) The effects of fire driven succession and rainfall on small mammals in spinifex grassland at Uluru National Park, Northern Territory. Wildl Res 20:803–813

Monadjem A (1997) Stomach contents of 19 species of small mammals from Swaziland. S Afr J Zool 32:23–26

Monadjem A (1999) Population dynamics of Mus minutoides and Steatomys pratensis (Muridae: Rodentia) in a subtropical grassland in Swaziland. Afr J Ecol 37:202–210

Monadjem A, Perrin M (2003) Population fluctuations and community structure of small mammals in a Swaziland grassland over a three-year period. Afr Zool 38:127–137

Nyako-Lartey Q, Baxter RM (1995) The effects of different grazing regimes on the population dynamics of small mammals in the eastern cape. Trans Roy Soc S Afr 50:143–151

Parr CL, Chown SL (2003) Burning issues for conservation: a critique of faunal fire research in Southern Africa. Aust Ecol 28:384–395

Perrin MR, Bodbijl T (2001) Diet and prey selection of the gaboon adder in Zululand (KwaZulu-Natal), South Africa. S Afr J Wildl Res 31:127–134

Perrin MR, Swanepoel PS (1987) Breeding biology of the bushveld gerbil Tatera leucogaster in relation to diet, rainfall and life history theory. Afr J Zool/S Afr Tydskr Dierkd 22:218-227

Roques KG, O'Connor TG, Watkinson AR (2001) Dynamics of shrub encroachment in an African Savanna: relative influences of fire, herbivory, rainfall and density dependence. J Appl Ecol 38:268–280

Rosenstock SS (1996) Shrub-grassland small mammal and vegetation responses to rest from grazing. J Range Manage 49:199–203

Russo IM, Chimimba CT, Bloomer P (2006) Mitochondrial DNA differentiation between two species of Aethomys (Rodentia: Muridae) from southern Africa. J Mammal 87:545–553

Salinger MJ (2005) Climate variability and change: past, present and future—an overview. Climatic Change 70:9–29

Salvatori R, Egunyu F, Skidmore AK, de Leeuw J, van Gils HAM (2001) The effects of fire and grazing pressure on vegetation cover and small mammal populations in the Maasai Mara National Reserve. Afr J Ecol 39:200–204

Schmidt NM, Olsen H, Bildsoe M, Sluydts V, Leirs H (2005) Effects of grazing intensity on small mammal population ecology in wet meadows. Basic Appl Ecol 6:57–66

Scholes RJ, Walker BH (1993) An African Savanna: synthesis of the Nylsvley study. Cambridge University Press, Cambridge

Skinner JD, Chimimba CT (2005) Mammals of the Southern African subregion, 3rd edn. Cambridge University Press, Cambridge

South African Weather Service (2005) http://www.weather.sa.co.za

Southgate R, Masters P (1996) Fluctuations of rodent populations in response to rainfall and fire in a central Australian hummock grassland dominated by Plectrachne schinzii. Wildl Res 23:289–303

SPSS for Windows ver. 120 SPSS, Chicago, IL

Stenseth NC, Leirs H, Skonhoft A, Davis SA, Pech RP, Andreassen HP, Singleton GR, Lima M, Machang'u RS, Makundi RH, Zhang ZB, Brown PR, Shi DZ, Wan XR (2003) Mice, rats, and people: the bio-economics of agricultural rodent pests. Front Ecol Environ 1:367–375

Sutherland EF, Dickman CR (1999) Mechanisms of recovery after fire by rodents in the Australian environment: a review. Wildl Res 26:405–419

Trollope WSW (2004) Prescribed burning in African grasslands and Savannas for domestic livestock systems. Bull Grassl Soc S Afr 4, No 4

Van Langevelde F, van de Vijver CADM, Kumar L, Van de Koppel J, de Ridder N, van Andel J, Skidmore AK, Hearne JW, Stroosnijder L, Bond WJ, Prins HHT, Rietkerk M (2003) Effects of fire and herbivory on the stability of Savanna ecosystems. Ecology 84:337–350

Venturi FP, Chimimba CT, van Aarde RJ, Fairall N (2004) The distribution of two medically and agriculturally important cryptic rodent species, Mastomys natalensis and M. coucha (Rodentia: Muridae) in South Africa. Afr Zool 39:235–245

Vieira EM (1999) Small mammal communities and fire in Brazilian Cerrado. J Zool 249:75–81

Waite S (2000) Statistical ecology in practice: a guide to the analysis of environmental and ecological field data. Prentice Hall, Upper Saddle River

Westlin LM, Ferreira SM (2000) Do pouched mice alter litter size through reabsorption in response to resource availability? S Afr J Wildl Res 30:118–121

Whelan RJ (1995) The ecology of fire. Cambridge University Press, Cambridge

Yarnell RW (2006) The effect of game ranch management on small mammal communities in a bushveld area of South Africa. PhD thesis, University of Brighton, UK

Yarnell RW, Scott DM, Dunstone N, Burnside NG, Metcalfe DJ (2008) The impact of fire on habitat use by the short-snouted elephant shrew (Elephantulus brachyrhynchus), in South Africa. Afr Zool (in press)

Zar JH (1996) Biostatistical analysis. Prentice Hall, Upper Saddle River
Acknowledgements
Research was funded by a University of Brighton Studentship and a British Airways RGS travel bursary. We are especially gratefully to Dougal McTavish and Lynne McTavish for site access and support during fieldwork. We are also grateful to Steve Waite and Liz Cheek for comments on statistical procedures. Thanks to the staff at the Mammal Research Institute, University of Pretoria, South Africa for their support and guidance, especially to Dr. Amanda Bastos for DNA sequencing. All capture, handling and sampling methods were approved by the Animal Ethics Committee of the University of Pretoria. Caroline Bruce, Adam McKeown and two anonymous referees greatly improved earlier drafts of this paper.
Additional information
Communicated by Hannu Ylonen.
About this article
Cite this article
Yarnell, R.W., Scott, D.M., Chimimba, C.T. et al. Untangling the roles of fire, grazing and rainfall on small mammal communities in grassland ecosystems. Oecologia 154, 387–402 (2007). https://doi.org/10.1007/s00442-007-0841-9
Received:

Accepted:

Published:

Issue Date:
Keywords
Diversity

Management

Rodents

Savanna