Abstract
Woody debris (WD) is an important component of forest C budgets, both as a C reservoir and source of CO2 to the atmosphere. We used an infrared gas analyzer and closed dynamic chamber to measure CO2 efflux from downed coarse WD (CWD; diameter≥7.5 cm) and fine WD (FWD; 7.5 cm>diameter≥2 cm) to assess respiration in a selectively logged forest and a maturing forest (control site) in the northeastern USA. We developed two linear regression models to predict WD respiration: one based on WD temperature, moisture, and size (R 2=0.57), and the other on decay class and air temperature (R 2=0.32). WD respiration (0.28±0.09 Mg C ha−1 year−1) contributed only ≈2% of total ecosystem respiration (12.3±0.7 Mg C ha−1 year−1, 1999–2003), but net C flux from CWD accounted for up to 30% of net ecosystem exchange in the maturing forest. C flux from CWD on the logged site increased modestly, from 0.61±0.29 Mg C ha−1 year−1 prior to logging to 0.77±0.23 Mg C ha−1 year−1 after logging, reflecting increased CWD stocks. FWD biomass and associated respiration flux were ≈7 times and ≈5 times greater, respectively, in the logged site than the control site. The net C flux associated with CWD, including inputs and respiratory outputs, was 0.35±0.19 Mg C ha−1 year−1 (net C sink) in the control site and −0.30±0.30 Mg C ha−1 year−1 (net C source) in the logged site. We infer that accumulation of WD may represent a small net C sink in maturing northern hardwood forests. Disturbance, such as selective logging, can enlarge the WD pool, increasing the net C flux from the WD pool to the atmosphere and potentially causing it to become a net C source.
Access options
Buy single article
Instant access to the full article PDF.
USD 39.95
Price includes VAT (USA)
Tax calculation will be finalised during checkout.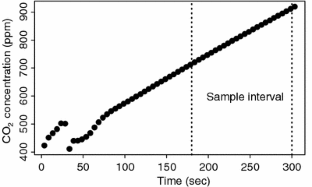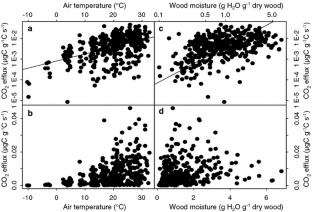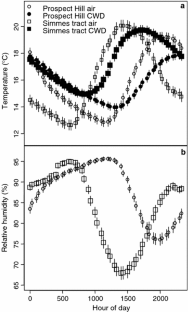 References
Abbott DT, Crossley DA (1982) Woody litter decomposition following clear-cutting. Ecology 63:35–42

Arthur MA, Tritton LM, Fahey TJ (1993) Dead bole mass and nutrients remaining 23 years after clear-felling of a northern hardwood forest. Can J For Res 23:1298–1305

Barford CC, Wofsy SC, Goulden ML, Munger JW, Hammond-Pyle E, Urbanski SP, Hutyra L, Saleska SR, Fitzjarrald D, Moore K (2001) Factors controlling long- and short-term sequestration of atmospheric CO2 in a mid-latitude forest. Science 294:1688–1691

Brown J (1974) Handbook for inventorying downed woody material. General technical report. USDA Forest Service, Ogden, Utah

Caspersen JP, Pacala SW, Jenkins JC, Hurtt GC, Moorcroft PR, Birdsey RA (2000) Contributions of land-use history to carbon accumulation in U.S. forests. Science 290:1148–1151

Chambers JQ, Schimel JP, Nobre AD (2001) Respiration from coarse wood litter in central Amazon forests. Biogeochemistry 52:115–131

Ciais P, Tans PP, Trolier M, White JWC, Francey RJ (1995) A large northern hemisphere terrestrial CO2 sink indicated by the 13C/12C ratio of atmospheric CO2. Science 269:1098–1102

Currie WS, Nadelhoffer KJ (2002) The imprint of land-use history: patterns of carbon and nitrogen in downed woody debris at the Harvard Forest. Ecosystems 5:446–460

Curtis PS, Hanson PJ, Bolstad P, Barford C, Randolph JC, Schmid HP, Wilson KB (2002) Biometric and eddy-covariance based estimates of annual carbon storage in five eastern North American deciduous forests. Agric For Meteorol 113:3–19

Davidson EA, Savage K, Bolstad P, Clark DA, Curtis PS, Ellsworth DS, Hanson PJ, Law BE, Luo Y, Pregitzer KS, Randolph JC, Zak D (2002) Belowground carbon allocation in forests estimated from litterfall and IRGA-based soil respiration measurements. Agric For Meteorol 113:39–51

Edmonds RL, Vogt DJ, Sandberg DH, Driver CH (1986) Decomposition of Douglas-fir and red alder wood in clear-cuttings. Can J For Res 16:822–831

Erickson HE, Edmonds RL, Peterson CE (1985) Decomposition of logging residues in Douglas-fir, western hemlock, Pacific silver fir, and Ponderosa pine ecosystems. Can J For Res 15:914–921

Ewel KC, Cropper WP, Gholz HL (1987) Soil CO2 evolution in Florida slash pine plantations. 1. Changes through time. Can J For Res 17:325–329

Fan S, Gloor M, Mahlman J, Pacala S, Sarmiento J, Takahashi T, Tans P (1998) A large terrestrial carbon sink in North America implied by atmospheric and oceanic carbon dioxide data and models. Science 282:442–446

Foster JR, Lang GE (1982) Decomposition of red spruce and balsam fir boles in the White Mountains of New Hampshire. Can J For Res 12:617–626

Gaudinski JB, Trumbore SE, Davidson EA, Zheng SH (2000) Soil carbon cycling in a temperate forest: radiocarbon-based estimates of residence times, sequestration rates and partitioning of fluxes. Biogeochemistry 51:33–69

Goulden ML, Munger JW, Fan S, Daube BC, Wofsy SC (1996) Measurements of carbon sequestration by long-term eddy-covariance: methods and a critical evaluation of accuracy. Global Change Biol 2:169–182

Gut A (1995) An intermediate course in probability. Spring, Berlin Heidelberg New York

Harmon ME, Hua C (1991) Coarse woody debris dynamics in two old-growth ecosystems. BioScience 41:604–610

Harmon ME, Sexton J (1996) Guidelines for measurements of woody detritus in forest ecosystems. LTER Network Office, Seattle, Wash.

Harmon ME, Franklin JF, Swanson FJ, Sollins P, Gregory SV, Lattin JD, Anderson NH, Cline SP, Aumen NG, Sedell JR, Lienkaemper GW, Cromack K Jr, Cummins KW (1986) Ecology of coarse woody debris in temperate ecosystems. Adv Ecol Res 15:133–302

Harmon ME, Whigham DF, Sexton J, Olmsted I (1995) Decomposition and mass of woody detritus in the dry tropical forests of the northeastern Yucatan peninsula, Mexico. Biotropica 27:305–316

Houghton RA, Hackler JL, Lawrence KT (1999) The US carbon budget: contributions from land-use change. Science 285:574–578

Kittredge DB, Finley AO, Foster DR (2003) Timber harvesting as ongoing disturbance in a landscape of diverse ownership. For Ecol Manage 180:425–442

Marra JL, Edmonds RL (1994) Coarse woody debris and forest floor respiration in an old-growth coniferous forest on the Olympic Peninsula, Washington, USA. Can J For Res 24:1811–1817

Mattson KG, Swank WT, Waide JB (1987) Decomposition of woody debris in a regenerating, clear-cut forest in the southern Appalachians. Can J For Res 17:712–721

McGee GG, Leopold DJ, Nyland RD (1999) Structural characteristics of old-growth, maturing, and partially cut northern hardwood forests. Ecol Appl 9:1316–1329

Munger WJ, Wofsy SC (2004) Harvard Forest CO2 flux data. Earth and Planetary Sciences, Harvard University, Cambridge, Mass.

Næsset E (1999) Relationship between relative wood density of Picea abies logs and simple classification systems of decayed coarse woody debris. Scand J For Res 14:454–461

Pregizter KS, Euskirchen ES (2004) Carbon cycling and storage in world forests: biome patterns related to forest age. Global Change Biol 10: 2052–2077

Progar RA, Schowalter TD, Freitag CM, Morrell JJ (2000) Respiration from coarse woody debris as affected by moisture and saprotroph functional diversity in Western Oregon. Oecologia 124:426–431

Raich JW, Bowden RD, Steudler PA (1990) Comparison of two static chamber techniques for determining carbon dioxide efflux from forest soils. Soil Sci Soc Am J 54:1754–1757

Rayner A, Boddy L (1988) Fungal decomposition of wood: its biology and ecology. Wiley, New York

Rice AH, Hammond-Pyle E, Saleska SR, Hutyra L, Palace M, Keller M, de Camargo PB, Portilho K, Marques DF, Wofsy SC (2004) Carbon balance and vegetation dynamics in an old-growth Amazonian forest. Ecol Appl 14:S55–S71

Schowalter TD (1992) Heterogeneity of decomposition and nutrient dynamics of oak (Quercus) logs during the first 2 years of decomposition. Can J For Res 22:161–166

Sollins P, Cline SP, Verhoeven T, Sachs D, Spycher G (1987) Patterns of log decay in old-growth Douglas-fir forests. Can J For Res 17:1585–1595

Stone JN, MacKinnon A, Parminter JV, Lertzman KP (1998) Coarse woody debris decomposition documented over 65 years on southern Vancouver Island. Can J For Res 28:788–793

Van Wagner CE (1968) The line intersect method for forest fuel sampling. For Sci 14:20–26

Wang C, Bond-Lamberty B, Gower ST (2002) Environmental controls on carbon dioxide flux from black spruce coarse woody debris. Oecologia 132:374–381

Yin XW (1999) The decay of forest woody debris: numerical modeling and implications based on some 300 data cases from North America. Oecologia 121:81–98

Yoneda T (1985) Relation of wood diameter to the rates of dry weight loss and CO2 evolution of wood litter in evergreen oak forests (studies on the rate of decay of wood litter on the forest floor, V). Jpn J Ecol 35:57–66
Acknowledgements
We thank C. Barford, B. Curry, C. Jones, Z. Liscow, K. McKain, D. Patterson, and J. Silvis for conducting the CWD and FWD inventories. Thanks to S. Pears, G. Santoni, J. Wofsy, and G. Yang for field assistance with the WD respiration measurements. We also thank J. W. Munger whose dedication makes our Harvard Forest research possible. This work was supported by grants to Harvard University from the National Science Foundation LTER program (NSF DEB-0080592) and by the Office of Science (BER), U.S. Department of Energy, through the Northeast Regional Center of the National Institute for Global Environmental Change under Cooperative Agreement no. DE-FC02-03ER63613 and the Terrestrial Carbon Program (DE-FG02-95ER62002). Financial support does not constitute an endorsement by DOE of the views expressed in the report.
Additional information
Communicated by Russell Monson
Electronic supplementary material
About this article
Cite this article
Liu, W.H., Bryant, D.M., Hutyra, L.R. et al. Woody debris contribution to the carbon budget of selectively logged and maturing mid-latitude forests. Oecologia 148, 108 (2006). https://doi.org/10.1007/s00442-006-0356-9
Received:

Accepted:

Published:
Keywords
Coarse woody debris

Fine woody debris

Infrared gas analyzer

Northern hardwood forest

Respiration