Abstract
Although numerous studies have identified mechanisms that either resist or facilitate biological invasions, few studies have explicitly tested how resisting and facilitating mechanisms interact to drive invasion success. In California, USA, undisturbed Mediterranean-type shrublands have resisted invasion by the perennial tussock grass Cortaderia jubata. In some cases, however, this resistance has been spectacularly breached even in the absence of large-scale disturbance. I tested the hypothesis that these invasions are facilitated by local reductions in the strength of biotic resistance. I evaluated invasive success using C. jubata seed and seedling additions at different microhabitats: the edge of a chaparral stand, under shrub canopy at different distances from the stand edge, and in canopy gaps within the stand. When left exposed to mammalian herbivores, seedling survivorship decreased sharply from nearly 40% on the stand edge to zero just 10 m into the stand. When transplants were protected from herbivory, however, distance from the edge had no significant influence on transplant survivorship. Seedling emergence was also greater on the edge and in canopy gaps than under the canopy, but these differences were not caused by differences in herbivory. The flux of invasive propagules reaching the soil surface was immense and greater along the edge and within gaps than under the stand canopy. Mirroring these patterns, naturally occurring seedling abundance declined dramatically with distance from the stand edge, and seedlings were far more common within stand gaps than would be expected given gap frequency within the stand. Despite strong biotic resistance to invasion within the stand, the cover of C. jubata has increased 20% over the last 9 years. These results suggest that the relative amount of susceptible edge habitat and the supply of invasive propagules can facilitate invasion even in the face of strong local biotic resistance.
Access options
Buy single article
Instant access to the full article PDF.
USD 39.95
Price excludes VAT (USA)
Tax calculation will be finalised during checkout.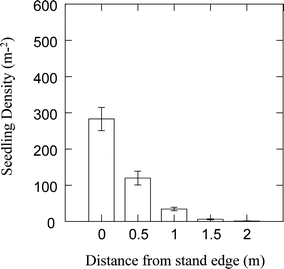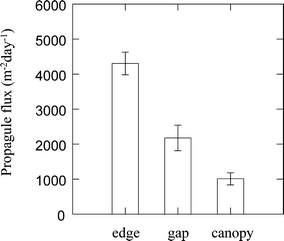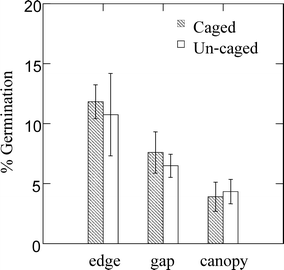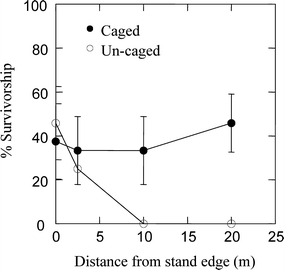 References
Alberts AC, Richman AD, Tran D, Sauvajot R, McCalvin C, Bolger DT (1993) Effects of habitat fragmentation on native and exotic plants in southern California coastal scrub. In: Keeley JE (eds) Interface between ecology and land development in southern California. Southern California Academy of Sciences, Los Angeles, pp 103–110

Bartholomew B (1970) Bare zone between California shrub/grassland communities: the role of animals. Science 170:1210–1212

Byers JE (2002) Physical habitat attribute mediates biotic resistance to non-indigenous species invasion. Oecologia 130:146–156

Cadenasso ML, Pickett STA (2001) Effect of edge structure on the flux of species into forest interiors. Conserv Biol 15:91–97

Callaway RM (1995) Positive interactions among plants. Bot Rev 61:306–349

Castro J, Zamora R, Ho´dar JA, Go´mez JM (2002) Use of shrubs as nurse plants: a new technique for reforestation in Mediterranean mountains. Res Ecol 10:297–305

Costas-Lippmann M (1976) Ecology and reproductive biology of the genus Cortaderia in California. PhD Dissertation, University of California, Berkeley

Crawley MJ (1998) What makes a community invasible? In: Gray AJ, Crawley MJ, Edwards PF (eds) Colonization, succession and stability. Blackwell Scientific, Oxford, pp 429–453

D'Antonio CM, Odion DC, Tyler CM (1993) Invasion of maritime chaparral by the alien succulent Carprobrotus edulis: the role of fire and herbivory. Oecologia 95:14–21

D'Antonio CM, Levine JM, Thomson M (2001) Ecosystem resistance to invasion and the role of propagule supply: a California perspective. Int J Med Ecol 27:233–245

Davis MA, Pelsor M (2001) Experimental support for a resource-based mechanistic model of invasibility. Ecol Lett 4:421–428

Davis FW, Hickson DE, Odion DC (1988) Composition of maritime chaparral related to fire history and soil, Burton Mesa, Santa Barbara County, California. Madroño 35:169–195

Davis MA, Wrage KJ, Reich PB (1998) Competition between tree seedlings and herbaceous vegetation: support for a theory of resource supply and demand. J Ecol 86:652–661

Drake JA, Mooney HA, DiCastri F, Groves RH, Kruger FJ, Rejmanek M, Williamson M (1989) Biological invasions: a global perspective. Wiley, Chichester UK

Drewitz JJ, DiTomaso JM (2004) Seed biology of jubatagrass (Cortaderia jubata). Weed Sci 52:525–530

Dukes JS, Mooney HA (1999) Does global change increase the success of biological invaders? Trends Ecol Evol 14:135–139

Fagan WF, Bishop JG (2000) Trophic interactions during primary succession: herbivores slow a plant reinvasion at Mount St. Helens. Am Nat 155:238–251

Foster BL, Tilman D (2003) Seed limitation and the regulation of community structure in oak savanna grassland. J Ecol 9:999–1007

Halligan JP (1974) Relationship between animal activity and bare areas associated with California sagebrush in annual grassland. J Range Manage 27:358–362

Harper JL (1977) The population biology of plants. Academic, London

Hastings A, Cuddington K, Dugaw C, Elmendorf S, Freestone A, Harrison S, Holland M, Lambrinos J, Malvadkar R, Melbourne B, Moore K, Taylor C, Thomson D (2005) The spatial spread of invasions: new developments in theory and evidence. Ecol Lett 8:91–101

Iason GR, Manso T, Sim DA, Hartley FG (2002) The functional response does not predict the local distribution of European rabbits (Oryctolagus cuniculus) on grass swards: experimental evidence. Funct Ecol 16:394–402

Keeley JE (1988) Allelopathy. Ecology 69:293–294

Keeley JE (1992) Recruitment of seedlings and vegetative sprouts in unburned chaparral. Ecology 73:1194–1208

Keitt TH, Lewis MA, Holt RD (2001) Allee effects, invasion pinning and species' borders. Am Nat 157:203–216

Knight KS, Reich PB (2005) Opposite relationships between invasibility and native species richness at patch versus landscape scales. Oikos 109:81–88

Lambrinos JG (2000) The impact of Cortaderia jubata (Lemoine) Stapf on an endangered Mediterranean-type shrubland in California. Div Dist 6:217–231

Lambrinos JG (2001) The expansion history of a sexual and asexual species of Cortaderia in California, USA. J Ecol 89:88–98

Lambrinos JG (2002) The variable invasive success of Cortaderia species in a complex landscape. Ecology 83:518–529

Levine JM (2000) Species diversity and biological invasions: relating local process to community pattern. Science 288:852–854

Levine JM, D'Antonio CM (1999) Elton revisited: a review of evidence linking diversity and invasibility. Oikos 95:397–408

Levine JM, Murrell D (2003) Community-level consequences of seed dispersal patterns. Annu Rev Ecol Syst 34:549–574

Levine JM, Adler PB, Yelenik SG (2004) A meta-analysis of biotic resistance to exotic plant invasions. Ecol Lett 7:975–989

Logland WS (1991) Risk of predation and food consumption by black-tailed jack rabbits. J Range Manage 44:447–450

Lonsdale WM (1999) Global patterns of plant invasions and the concept of invasibility. Ecology 80:1522–1536

Maron JL, Vilá M (2001) When do herbivores affect plant invasion? Evidence for the natural enemies and biotic resistance hypotheses. Oikos 95:361–373

Muller CH (1969) Allelopathy as a factor in ecological process. Vegetatio 18:348 357

Pugnaire FI, Haase P, Puigdefa´bregas J (1996) Facilitation between higher plant species in a semiarid environment. Ecology 77:1420–1426

Rande RS, Kemp PD, Hodgson J (2002) Preference of goats and sheep for browse species under field conditions. N Z J Agric Res 45:97–102

Saura-Mas S, Lloret F (2005) Wind effects dispersal patterns of the invasive alien Cortaderia selloana in Mediterranean wetlands. Acta Oecol 27:129–133

Shurin JB, Amarasekare P, Chase JM, Holt RD, Hoopes MF, Leibold MA (2004) Alternative stable states and regional community structure. J Theor Biol 227:359–368

Suarez AV, Bolger DT, Case TJ (1998) Effects of fragmentation and invasion on native ant communities in coastal southern California. Ecology 79:2041–2056

Tilman D (1988) Plant strategies and the dynamics and structure of plant communities. Princeton University Press, Princeton

Tilman D (1997) Community invasibility, recruitment limitation, and grassland biodiversity. Ecology 78:81–92

With KA (2002) The landscape ecology of invasive spread. Conserv Biol 16:1192–1203
Acknowledgments
I thank Chris Gillespie, VAFB botanist, for access to the base and helpful comments. The members of the UCLA ecology club provided many helpful suggestions on the work, and two anonymous reviewers provided comments that greatly improved the manuscript. Funding was provided by a Steven A. Vavra Fellowship in Plant Systematics. The experiments reported in this work comply with the current laws of the United States of America.
Additional information
Communicated by Louis Pitelka
About this article
Cite this article
Lambrinos, J.G. Spatially variable propagule pressure and herbivory influence invasion of chaparral shrubland by an exotic grass. Oecologia 147, 327–334 (2006). https://doi.org/10.1007/s00442-005-0259-1
Received:

Accepted:

Published:

Issue Date:

DOI: https://doi.org/10.1007/s00442-005-0259-1
Keywords
Biotic resistance

Cortaderia jubata

Chaparral

Heterogeneity

Fragmentation