Abstract
We studied competition between the obligate biotroph Puccinia triticina (designated here as Puccinia) and the facultative saprophyte Pyrenophora tritici-repentis (designated here as Pyrenophora) in older and younger leaves in a set of three host genotypes selected to be resistant to Puccinia only, Pyrenophora only, or neither. Age-related resistance is important for both of these pathogens. The facultative saprophyte Pyrenophora was generally a stronger competitor than the biotrophic Puccinia, even experiencing facilitation from the presence of Puccinia when Pyrenophora had the advantage of earlier inoculation. Both pathogen species produced the most spores when they were introduced before the competing species and more spores when introduced simultaneously compared to after the competitor. The pre-interactive niche of Puccinia was larger than the post-interactive niche and sporulation by Puccinia was substantially reduced in environments in which Pyrenophora had high sporulation rates. The pre-interactive niche of Pyrenophora was similar to the post-interactive niche and Pyrenophora had proportionally lower reductions in sporulation due to interspecific competition in the pre-interactive niche.
This is a preview of subscription content, log in to check access.
Access options
Buy single article
Instant access to the full article PDF.
US$ 39.95
Price includes VAT for USA
Subscribe to journal
Immediate online access to all issues from 2019. Subscription will auto renew annually.
US$ 199
This is the net price. Taxes to be calculated in checkout.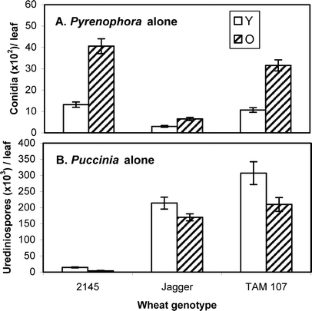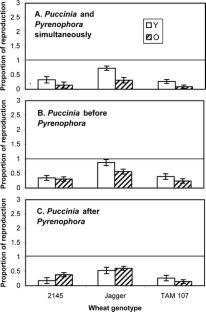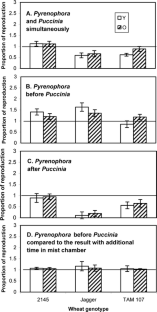 References
Adee SR, Pfender WF, Harnett DC (1990) Competition between Pyrenophora tritici-repentis and Septoria nodorum in the wheat leaf as measured with de Wit replacement series. Phytopathology 80:1177–1182

Arsenault R, Owen-Smith N (2002) Facilitation versus competition in grazing herbivore assemblages. Oikos 97:313–318

Bartels JM, Barker KR, Pederson AG, Windham LG (1998) Plant nematode interactions, Madison

Cox DJ, Hosford RM Jr (1987) Resistant winter wheats compared at differing growth stages and leaf positions for tan spot severity. Plant Dis 71:883–886

Cox CM, Garrett KA, Bowden RL, Fritz AK, Dendy SP, Heer WF (2004) Cultivar mixtures for the simultaneous management of multiple diseases: tan spot and leaf rust of wheat. Phytopathology 94:961–969

Durrant WE, Dong X (2004) Systemic acquired resistance. Annu Rev Phytopathol 42:185–209

Elton C (1927) Animal ecology. Sidgwick and Jackson, London

Eversmeyer MG, Kramer CL (2000) Epidemiology of wheat leaf and stem rust in the central Great Plains of the USA. Annu Rev Phytopathol 38:491–513

Fernandez MR, Clarke JM, Depauw RM (2002) The effect of plant height on tan spot on durum wheat in Southern Saskatchewan. Crop Sci 42:159–164

Garrett KA, Bowden RL (2002) An Allee effect reduces the invasive potential of Tilletia indica. Phytopathology 92:1152–1159

Garrett KA, Mundt CC (1999) Epidemiology in mixed host populations. Phytopathology 89:984–990

Heath MC (1996) Plant resistance to fungi. Can J Plant Pathol 18:469–475

Hobbs NT, Baker DL, Bear GD, Bowden DC (1996) Ungulate grazing in sagebrush grassland: mechanisms of resource competition. Ecol Appl 6:200–217

Huber L, Gillespie TJ (1992) Modeling leaf wetness in relation to plant disease epidemiology. Annu Rev Phytopathol 30:553–577

Hutchinson GE (1957) Concluding remarks. Cold Spring Harb Symp Quant Biol 22:415–427

Keddy PA (1989) Competition. Chapman and Hall, London

Kolmer JA (1996) Genetics of resistance to wheat leaf rust. Annu Rev Phytopathol 34:435–455

Krupinsky JM (1992) Aggressiveness of Pyrenophora tritici-repentis isolated from grass and barley hosts. Plant Dis 76:783–789

Kus JV, Zaton K, Sarker R, Cameron RK (2002) Age-related resistance in Arabidopsis is a developmentally regulated defense response to Pseudomonas syringae. Plant Cell 14:479–490

Lamari L, Bernier CC (1989) Virulence of isolates of Pyrenophora tritici-repentis on 11 wheat cultivars and cytology of the differential host reactions. Can J Plant Pathol 11:284–290

Leibold MA (1995) The Niche concept revisited: mechanistic models and community context. Ecology 76:1371–1382

da Luz WC, Bergstrom GC (1987) Interactions between Cochliobolus sativus and Pyrenophora tritici-repentis on wheat leaves. Phytopathology 77:355–1360

Mitchell CE, Tilman D, Groth JV (2002) Effects of grassland plant species diversity, abundance, and composition on foliar fungal disease. Ecology 83:1713–1726

Moran NA, Whitham TG (1990) Interspecific competition between root-feeding and leaf-galling aphids mediated by host-plant resistance. Ecology 71:1050–1058

Morgan GW (2003) Effects of spring burning and fungicide application on growth of warm season grasses and their pathogens in a native tallgrass prairie, greenhouse, and monoculture. M.S. Thesis, Kansas State University

Mundt CC (2002) Use of multiline cultivars and cultivar mixtures for disease management. Annu Rev Phytopathol 40:381–410

Newton MR, Kinkel LL, Leonard KJ (1996) Competition and density-dependent fitness in a plant parasitic fungus. Ecology 78:1774–1784

Orolaza NP, Lamari L, Balance GM (1995) Evidence of a host-specific chlorosis toxin from Pyrenophora tritici-repentis, the causal agent of tan spot of wheat. Phytopathology 85:1282–1287

Pretorius ZA, Rijkenberg FHJ, Wilcoxson RD (1988) Effects of growth stage, leaf position, and temperature on adult-plant resistance of wheat infected by Puccinia recondita f.sp. tritici. Plant Pathol 37:36–44

Price PW (1991) The plant vigor hypothesis and herbivore attack. Oikos 62:244–251

Pulliam HR (2000) On the relationship between niche and distribution. Ecol Lett 3:349–363

Raymond PJ, Bockus WW, Norman BL (1985) Tan spot of winter wheat: procedures to determine host response. Phytopathology 75:686–690

Riaz M, Bockus WW, Davis MA (1991) Effects of wheat genotype, time after inoculation, and leaf age on conidia production by Drechslera tritici-repentis. Phytopathology 81:1298–1302

Roelfs AP, Singh RP, Saari EE (1992) Rust diseases of wheat: concepts and methods of disease management. CIMMYT, Mexico

Sticher L, Mauch-Mani B, Métraux JP (1997) Systemic acquired resistance. Annu Rev Phytopathol 35:235–270

Thrall PH, Burdon JJ (2004) Evolution of virulence in a plant host-pathogen metapopulation. Science 299:1735–1737

Wilson M, Lindow SE (1994) Coexistence among epiphytic bacterial populations mediated through nutritional resource partitioning. Appl Environ Microbiol 60:4468–4477
Acknowledgements
We thank S. P. Dendy for assistance with the experiments and R. L. Bowden, A. Jumpponen, and Oecologia reviewers for comments that improved this work. This work was supported in part by NSF grant DEB-0130692, NSF grant EPS-0236913 with matching funds from the Kansas Technology Enterprise Corporation, NSF grant EPS-9874732 with matching support from the State of Kansas, the NSF Long-Term Ecological Research Program at Konza Prairie, and USDA grant 2002-34103-11746. This is Kansas State Experiment Station Contribution No. 05-29-J. The experiments reported here were performed in the U.S.A. and comply with the current laws of the U.S.A.
About this article
Cite this article
Al-Naimi, F.A., Garrett, K.A. & Bockus, W.W. Competition, facilitation, and niche differentiation in two foliar pathogens. Oecologia 143, 449–457 (2005). https://doi.org/10.1007/s00442-004-1814-x
Received:

Accepted:

Published:

Issue Date:
Keywords
Facultative saprophytes

Impact niche

Obligate parasites

Requirement niche

Rust fungi