Abstract
No-take marine reserves are advocated widely as a potential solution to the loss of marine biodiversity and ecosystem structure, and to over-fishing. We assess the duration of protection required for unfished populations of large predatory reef fish to attain natural states. We have monitored two marine reserves at Sumilon and Apo Islands, Philippines, regularly for 17 years (1983–2000). The biomass of large predatory fish was still increasing exponentially after 9 and 18 years of protection at Sumilon and Apo reserves, respectively. There was little evidence that the rate of accumulation of biomass inside the reserves was slowing down even after so many years of protection. This suggests that the length of time to full recovery will be considerable. We made two assumptions in order to estimate this period. Firstly, that biomass growth will follow the logistic model. Secondly, the conservative assumption that biomass had already attained 90% of the local carrying capacity of the environments in the reserves. We conclude that the time required for full recovery will be 15 and 40 years at Sumilon and Apo reserves, respectively. Such durations of recovery appear consistent with known life history characteristics of these fish, and with empirical data on recovery rates of heavily exploited fish stocks. By the time the full fisheries or ecosystem benefits from such reserves are apparent, human populations and impacts will have doubled in much of the developing world. Thus, networks of such reserves need to be implemented immediately. Furthermore, the management mechanisms for the reserves need to be successful over timescales of human generations.
Access options
Buy single article
Instant access to the full article PDF.
US$ 39.95
Tax calculation will be finalised during checkout.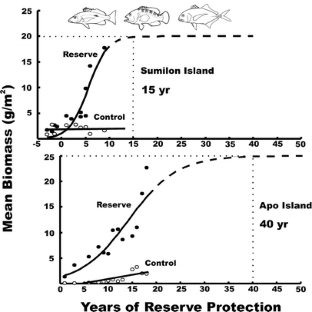 References
Alcala AC, Russ GR (1990) A direct test of the effects of protective management on abundance and yield of tropical marine resources. J Cons Int Explor Mer 47:40–47

Babcock RC, Kelly S, Shears NT, Walker JW, Willis TJ (1999) Changes in community structure in temperate marine reserves. Mar Ecol Prog Ser 189:125–134

Begon M, Harper JL, Townsend CR (1996) Ecology: individuals, populations and communities. Blackwell, Oxford

Bohnsack JA (1998) Application of marine reserves to reef fisheries management. Aust J Ecol 23:298–304

Caley MJ, Carr MH, Hixon MA, Hughes TP, Jones GP, Menge BA (1996) Recruitment and the local dynamics of open marine populations. Annu Rev Ecol Syst 27:477–500

Cappo M, Eden P, Newman SJ, Robertson S (2000) A new approach to validation of periodicity and timing of opaque zone formation in the otoliths of 11 species of Lutjanus from the central Great Barrier Reef. Fish Bull 98:474–484

Castilla JC (1999) Coastal marine communities: trends and perspectives from human exclusion experiments. Trends Ecol Evol 14:280–283

Choat JH, Robertson DR (2002) Age-based studies. In: Sale PF (ed) Coral reef fishes: dynamics and diversity in a complex ecosystem. Academic Press, San Diego, Calif., pp 57–80

Dayton PK, Sala E, Tegner MJ, Thrush SF (2000) Marine protected areas: parks, baselines, and fishery enhancement. Bull Mar Sci 66:617–634

Doherty PJ (1991) Spatial and temporal patterns in recruitment. In: Sale PF (ed) The ecology of fishes on coral reefs. Academic Press, San Diego, Calif., pp 261–293

Doherty PJ (2002) Variable replenishment and the dynamics of reef fish populations. In: Sale PF (ed) Coral reef fishes: dynamics and diversity in a complex ecosystem. Academic Press, San Diego, Calif., pp 327–355

Gell FR, Roberts CM (2002) The fishery effects of marine reserves and fishery closures. WWF-US, Washington, USA

Gerber LR, Botsford LW, Hastings A, Possingham HP, Gaines SD, Palumbi SR, Andelman S (2003) Population models and marine reserve design: a retrospective and prospective synthesis. Ecol Appl 13:S47–S64

Halpern B (2003) The impact of marine reserves; do reserves work and does reserve size matter? Ecol Appl 13:S117–S137

Halpern BS, Warner RR (2002) Marine reserves have rapid and lasting effects. Ecol Lett 5:361–366

Hastings A, Botsford LW (1999) Equivalence in yield from marine reserves and traditional fisheries management. Science 284:1537–1538

Hilborn R (2002) Marine reserves and fisheries management—reply to C.M. Roberts. Science 295:1233–1234

Hutchings JA (2000) Collapse and recovery of marine fishes. Nature 406:882–885

Jackson JBC et al. (2001) Historical overfishing and the recent collapse of coastal ecosystems. Science 293:629–638

Jennings S (2001) Patterns and prediction of population recovery in marine reserves. Rev Fish Biol Fish 10:209–231

Jennings S, Kaiser MJ (1998) The effects of fishing on marine ecosystems. Adv Mar Biol 34:201–352

Jones GP, Milicich MI, Emslie M, Lunow C (1999) Self-recruitment in a coral reef fish population. Nature 402:802–804

Kaufman KW (1981) Fitting and using growth curves. Oecologia 49:293–299

Kelly S, Scott D, MacDiarmid AB, Babcock RC (2000) Spiny lobster, Jasus edwardsii, recovery in New Zealand marine reserves. Biol Conserv 92:359–369

McClanahan TR (2000) Recovery of a coral reef keystone predator, Balistapus undulatus, in East African marine parks. Biol Conserv 94:191–198

McClanahan TR, Kaunda-Arara B (1996) Fishery recovery in a coral-reef marine park and its effect on the adjacent fishery. Conserv Biol 10:1187–1199

McManus JW (1997) Tropical marine fisheries and the future of coral reefs: a brief overview with emphasis on South East Asia. Coral Reefs 16:S121–S127

Newman SD, Williams DMcB, Russ GR (1997) Patterns of zonation of assemblages of the Lutjanidae, Lethrinidae and Serranidae (Epinephelinae) within and among mid-shelf and outer-shelf reefs in the central Great Barrier Reef. Mar Freshw Res 48:119–128

Pauly D, Christensen V, Dalsgaard J, Froese R, Torres F (1998) Fishing down food webs. Science 279:860–863

Pauly D, Christensen V, Guénette S, Pitcher T, Sumaila UR, Walters C, Watson R, Zeller D (2002) Towards sustainability in world fisheries. Nature 418:689–695

Polunin NVC (1990) Marine regulated areas: an expanded approach for the tropics. Res Manage Optim 7:283–299

Polunin NVC (2002) Marine protected areas, fish and fisheries. In: Hart PJB, Reynolds JD (eds) Handbook of fish and fisheries, vol 2. Blackwell, Oxford, pp 293–318

Roberts CM (1995) Rapid build-up of fish biomass in a Caribbean marine reserve. Conserv Biol 9:815–826

Roberts CM, Polunin NVC (1991) Are marine reserves effective in management of reef fisheries? Rev Fish Biol Fish 1:65–91

Roberts CM, Bohnsack JA, Gell F, Hawkins JP, Goodridge R (2001) Effects of marine reserves on adjacent fisheries. Science 294:1920–1923

Russ GR (2002) Yet another review of marine reserves as reef fisheries management tools. In: Sale PF (ed) Coral reef fishes: dynamics and diversity in a complex ecosystem. Academic Press, San Diego, Calif., pp 421–443

Russ GR, Alcala AC (1996a) Marine reserves: rates and patterns of recovery and decline in abundance of large predatory fish. Ecol Appl 6:947–961

Russ GR, Alcala AC (1996b) Do marine reserves export adult fish biomass? Evidence from Apo Island, central Philippines. Mar Ecol Prog Ser 132:1–9

Russ GR, Alcala AC (1999) Management histories of Sumilon and Apo marine reserves, Philippines, and their influence on national marine resource policy. Coral Reefs 18:307–319

Russ GR, Alcala AC (2003) Marine reserves: rates and patterns of recovery and decline of predatory fish, 1983–2000. Ecol Appl 13:1553–1565

Sale PF, Cowen RK (1998) Not quite so simple—reply to Roberts. Science 279:2021

Sladek-Nowlis J, Roberts CM (1999) Fisheries benefits and optimal design of marine reserves. Fish Bull 97:604–616

Willis TJ, Millar RB, Babcock RC, Tolimieri N (2003) Burdens of evidence and the benefits of marine reserves: putting Descartes before des horse? Environ Conserv 30:97–103
Acknowledgements
This project was partially funded by the United Nations Environment Program (1983), the Great Barrier Reef Marine Park Authority (1985) and a Pew Fellowship in Marine Conservation (1999–2002). We thank C. Hatcher, D. Williamson and D. Zeller for making unpublished data available. Thanks to D.R. Bellwood, S. Connolly, L. Crowder, T.P. Hughes, G.P. Jones, D. Pauly and two anonymous referees for reading the manuscript. We are indebted to P.J. Doherty for very useful and constructive editorial improvements to the manuscript.
About this article
Cite this article
Russ, G.R., Alcala, A.C. Marine reserves: long-term protection is required for full recovery of predatory fish populations. Oecologia 138, 622–627 (2004). https://doi.org/10.1007/s00442-003-1456-4
Received:

Accepted:

Published:

Issue Date:
Keywords
Biomass

Logistic model

Marine reserves

Predatory reef fish

Full recovery