Abstract
A central issue in ecology is to what extent food limitation and predation affect animal populations. We studied how survival and reproductive success was related to the female's size in a population of semi-domesticated reindeer during 2 years where there was a large difference in snowfall during winter. The females were kept within a predator-free enclosure for about 5 weeks during the calving period and thereafter released to their natural summer pastures. Small females were more likely to fail to reproduce and they produced smaller calves than large females. Additionally, small females were more likely to loose their calves due to starvation within the predator-free enclosure and to predators outside the enclosure. Food limitation during the harsh winter appeared to be the major cause of deaths. However, food limitation interacted with predation and led to high calf losses when the females experienced low food availability during the harsh winter. In contrast, predators killed no calves after the mild winter. Apparently, the interaction between predation and food limitation is due to small females favouring their own growth and survival over calf production in summers following harsh winters with food shortage. Our results indicate that a compensatory relationship exists between mortality due food limitation and predation. Thus, the impact of calf predation on reindeer demography and population dynamics may be limited.
Access options
Buy single article
Instant access to the full article PDF.
US$ 39.95
Tax calculation will be finalised during checkout.
Subscribe to journal
Immediate online access to all issues from 2019. Subscription will auto renew annually.
US$ 119
Tax calculation will be finalised during checkout.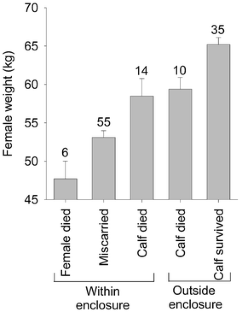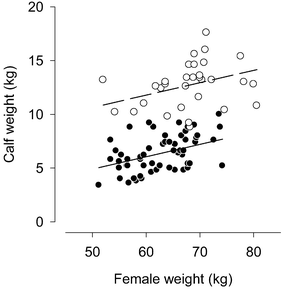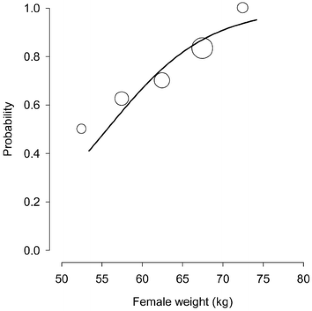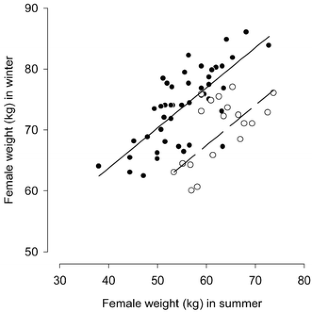 References
Adams LG, Singer FJ, Dale BW (1995) Caribou calf mortality in Denali National Park, Alaska. J Wildl Manage 59:584–594

Albon SD, Clutton-Brock TH, Guinness FE (1987) Early development and population dynamics in red deer. II. Density-independent effects and cohort variation. J Anim Ecol 56:69–81

Allison PD (1999) Logistic regression using the SAS system: theory and application. SAS Institute, Cary, NC, USA

Andersen R, Linnell DC (1998) Ecological correlates of mortality of roe deer fawns in a predator-free environment. Can J Zool 76:1217–1225

Anonymous (2000) Ressursregnskap for reindriftsnaeringen (in Norwegian). Reindriftsforvaltningen, Alta, Norway, p137

Bartmann RM, White GC, Carpenter LH (1992) Compensatory mortality in a Colorado mule deer population. Wildl Monogr 121:1–39

Bjärvall A, Franzén R, Nordkvist M, Åbman G (1990) Renar och Rovdjur. Naturvårdsverket, Solna

Cameron RD, Smith WT (1993) Calving success of female caribou in relation to body weight. Can J Zool 71:480–486

Cameron RD, Ver Hoef JM (1994) Predicting parturition rate of caribou from autumn body mass. J Wildl Manage 58:674–679

Charlesworth B (1980) Evolution in age-structured populations. Cambridge University Press, Cambridge

Chastel O, Weimerskirch H, Jouventin P (1995) Body condition and seabird reproductive performance: a study of 3 petrel species. Ecology 76:2240–2246

Clutton-Brock TH (1983) The costs of reproduction to red deer hinds. J Anim Ecol 52:367–383

Clutton-Brock TH (1984) Reproductive effort and terminal investment in iteroparous animals. Am Nat 132:212–229

Clutton-Brock TH, Albon SD, Guinness FE (1987a) Interactions between population-density and maternal characteristics affecting fecundity and juvenile survival in red deer. J Anim Ecol 56:857–871

Clutton-Brock TH, Major M, Albon SD, Guinness FE (1987b) Early development and population dynamics in red deer. I. Density-dependent effects on juvenile survival. J Anim Ecol 56:53–67

Clutton-Brock TH, Albon SD, Guinness FE (1988) Reproductive success in male and female red deer. In: Clutton-Brock TH (ed) Reproductive success: studies of individual variation. University of Chicago Press, Chicago, pp325–343

Clutton-Brock TH, Price OF, Albon SD, Jewell PA (1992) Early development and population fluctuations in Soay sheep. J Anim Ecol 61:381–396

Clutton-Brock TH, Stevenson IR, Marrow P, MacColl AD, Houston AI, McNamara JM (1996) Population fluctuations, reproductive costs and life-history tactics in female Soay sheep. J Anim Ecol 65:675–689

Coulson T, Albon S, Guinness F, Pemberton J, Clutton-Brock T (1997) Population substructure, local density, and calf winter survival in red deer (Cervus elaphus). Ecology 78:852–863

Coulson T, Catchpole EA, Albon SD, Morgan BJT, Pemberton JM, Clutton-Brock TH, Crawley MJ, Grenfell BT (2001) Age, sex, density, winter weather, and population crashes in Soay sheep. Science 292:1528–1531

Del Giudice GD (1998) Surplus killing of white-tailed deer by wolves in north-central Minnesota. J Mammal 79:227–235

Del Giudice GD, Riggs MR, Joly P, Pan W (2002) Winter severity, survival, and cause-specific mortality of female white-tailed deer in north-central Minnesota. J Wildl Manage 66:698–717

Festa-Bianchet M (1998) Condition-dependent reproductive success in bighorn ewes. Ecol Lett 1:91–94

Festa-Bianchet M, Jorgenson JT, Berube CH, Portier C, Wishart WD (1997) Body mass and survival of bighorn sheep. Can J Zool 75:1372–1379

Festa-Bianchet M, Gaillard JM, Jorgenson JT (1998) Mass- and density-dependent reproductive success and reproductive costs in a capital breeder. Am Nat 152:367–379

Folstad I, Nilssen AC, Halvorsen O, Andersen J (1991) Parasite avoidance: the cause of post-calving migration in Rangifer? Can J Zool 69:2423–2429

Gaillard JM, Sempéré AJ, Boutin JM, Van Laere G, Boisaubert B (1992) Effects of age and body weight on the proportion of females breeding in a population of roe deer (Capreolus capreolus). Can J Zool 70:1541–1545

Gaillard JM, Delorme D, Boutin JM, Van Laere G, Boisaubert B (1996) Body mass of roe deer fawns during winter in 2 contrasting populations. J Wildl Manage 60:29–36

Gaillard JM, Boutin JM, Delorme D, Van Laere G, Duncan P, Lebreton JD (1997) Early survival in roe deer: causes and consequences of cohort variation in two contrasted populations. Oecologia 112:502–513

Gaillard JM, Festa-Bianchet M, Yoccoz NG (1998) Population dynamics of large herbivores: variable recruitment with constant adult survival. Trends Ecol Evol 13:58–63

Gaillard JM, Festa-Bianchet M, Yoccoz NG, Loison A, Toïgo C (2000) Temporal variation in fitness components and population dynamics of large herbivores. Annu Rev Ecol Syst 31:367–393

Jedrzejewski W, Schmidt K, Theuerkauf J, Jedrzejewska B, Selva N, Zub K, Szymura L (2002) Kill rates and predation by wolves on ungulate populations in Bialowieza Primeval Forest (Poland). Ecology 83:1341–1356

Kojola I (1993) Early maternal investment and growth rate in reindeer. Can J Zool 71:753–758

Kojola I (1997) Behavioural correlates of female social status and birth mass of male and female calves in reindeer. Ethology 103:809–814

Landa A, Strand O, Swenson JE, Skogland T (1997) Wolverines and their prey in southern Norway. Can J Zool 75:1292–1299

Lenvik D (1988) Utvalgsstrategi i Reinflokken (in Norwegian). Reindriftsforvaltningen, Alta, Norway

Lenvik D, Aune I (1988) Selection strategy in domestic reindeer. Early mortality in calves related to maternal body weight. Norsk Landbruksforskning 2:71–76

Lenvik D, Bø E, Fjellheim A (1988) Utvalgsstrategi i reinflokken. III. Reinkalvens høstvekt relatert til mødrenes vekt og alder. Norsk Landbruksforskning 2:65–69

Linnell JDC, Aanes R, Andersen R (1995) Who killed Bambi? The role of predation on neonatal mortality of temporate ungulates. Wildl Biol 1:209–223

Lummaa VA, Clutton-Brock TH (2002) Early development, survival and reproduction in humans. Trends Ecol Evol 17:141–147

Mech LD, Smith DW, Murphy KM, MacNulty DR (2001) Winter severity and wolf predation on a formerly wolf-free elk herd. J Wildl Manage 65:998–1003

Mitchell B, McCowan D, Nicholson IA (1976) Annual cycles weight and condition in Scottish red deer Cervus elaphus. J Zool (Lond) 180:107–127

Nybakk K, Kjelvik A, Kvam T, Overskaug K, Sunde P (2002) Mortality of semi-domestic reindeer Rangifer tarandus in central Norway. Wildl Biol 8:63–68

Patterson BR, Messier F (2000) Factors influencing killing rates of white-tailed deer by coyotes in eastern Canada. J Wildl Manage 64:721–732

Pettorelli N, Gaillard JM, Van Laere G, Duncan P, Kjellander P, Liberg O, Delorme D, Maillard D (2002) Variations in adult body mass in roe deer: the effects of population density at birth and of habitat quality. Proc R Soc Lond, B, Biol Sci 269:747–753

Rönnegård L, Forslund P, Danell Ö (2002) Lifetime patterns in adult females mass, reproduction, and offspring mass in semidomestic reindeer Rangifer tarandus tarandus. Can J Zool 80:2047–2055

Saether B-E (1997) Environmental stochasticity and population dynamics of large herbivores: a search for mechanisms. Trends Ecol Evol 12:143–149

Saether B-E, Gravem AJ (1988) Annual variation in winter body condition of Norwegian moose calves. J Wildl Manage 52:333–336

Saether B-E, Heim M (1993) Ecological correlates of individual variation in age at maturity in female moose: the effects of environmental variability. J Anim Ecol 62:482–489

Saether B-E, Andersen R, Hjeljord O, Heim M (1996) Ecological correlates of regional variation in life history of the moose Alces alces. Ecology 77:1493–1500

Sand H (1996) Life history patterns in female moose Alces alces: the relationship between age, body size, fecundity and environmental conditions. Oecologia 106:212–220

SAS Institute Inc. (1990) SAS/STAT user's guide: statistics, release 6.04. SAS Institute, Cary, NC, USA

Schlotzhauer SD, Littell RC (1991) SAS system for elementary statistical analysis. SAS Institute, Cary, NC, USA

Singer FJ, Harting A, Symonds KK, Coughenour MB (1997) Density dependence, compensation, and environmental effects on elk calf mortality in Yellowstone National Park. J Wildl Manage 61:12–25

Skogland T (1985) The effects of density-dependent resource limitations on the demography of wild reindeer. J Anim Ecol 54:359–374

Smith DW, Mech LD, Meagher M, Clark WE, Jaffe R, Phillips MK, Mack JA (2000) Wolf-bison interactions in Yellowstone National Park. J Mammal 81:1128–1135

Stearns SC (1992) The evolution of life histories. Oxford University Press, Oxford

Sunde P, Kvam T, Bolstad JP, Bronndal M (2000) Foraging of lynxes in a managed boreal-alpine environment. Ecography 23:291–298

Verme LJ (1968) An index of winter severity for northern deer. J Wildl Manage 61:909–910

Weimerskirch H (1990) The influence of age and experience on breeding performance of the Antarctic fulmar Fulmarus glacialoides. J Anim Ecol 53:867–876

Weladji RB, Mysterud A, Lenvik D (2002) Age-related reproductive effort in reindeer Rangifer tarandus: evidence of senescence. Oecologia 131:79–82

Wendeln H, Becker PH (1999) Effects of parental quality and effort on the reproduction of common terns. J Anim Ecol 68:205–214
Acknowledgements
We thank the Directorate of Nature Management, the Reindeer Husbandry Research Council and the County Authorities of Finnmark and Troms for financial support. Per A. Baehr and his family helped immensely with the fieldwork. Three anonymous reviewers, I. Folstad, J.-M. Gaillard and R. Aanes gave helpful comments on the manuscript.
About this article
Cite this article
Tveraa, T., Fauchald, P., Henaug, C. et al. An examination of a compensatory relationship between food limitation and predation in semi-domestic reindeer. Oecologia 137, 370–376 (2003). https://doi.org/10.1007/s00442-003-1373-6
Received:

Accepted:

Published:

Issue Date:
Keywords
Body weight

Costs of reproduction

Demography

Life history strategies

Predator-prey interactions