Abstract
The distribution of the narrowly endemic butterfly Pseudophilotes sinaicus (Lycaenidae) was studied. Potential habitat within its range was first located and then the quality of that habitat assessed. Degree of shelter, diversity of plant species, and resource area of an individual food plant (Thymus decussatus) all affected habitat quality and together were used to develop an index of habitat suitability applicable to each site. The butterfly's distribution was then studied within the identified network of suitable habitat patches: isolated patches with a small resource area were least likely to contain butterflies. Population size in a patch (as opposed merely to patch occupancy) was affected by resource area and the quality of habitat within that patch. Metapopulation processes and variation in habitat quality therefore appear to combine to describe the distribution of patches occupied by P. sinaicus and their population sizes. This finding provides insights into some of the processes operating on an endemic species throughout its geographical range and has important implications for the conservation of this rare butterfly.
Access options
Buy single article
Instant access to the full article PDF.
US$ 39.95
Tax calculation will be finalised during checkout.
Subscribe to journal
Immediate online access to all issues from 2019. Subscription will auto renew annually.
US$ 119
Tax calculation will be finalised during checkout.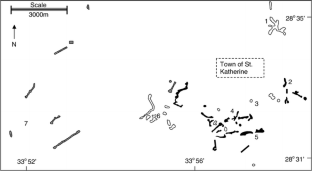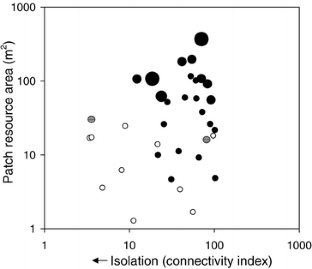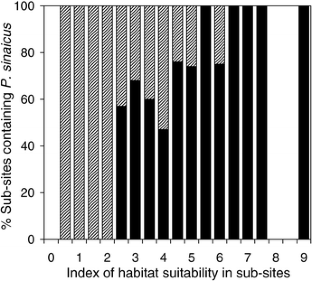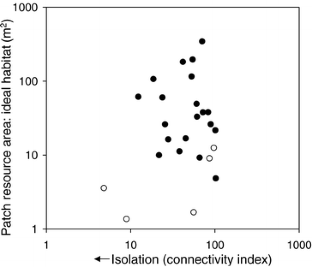 References
Åberg J, Jansson G, Swenson JE, Angelstam P (1995) The effect of matrix on the occurrence of hazel grouse (Bonasa bonasa) in isolated habitat fragments. Oecologia 103:265–269

Arnold RA (1983) Ecological studies of six endangered butterflies (Lepidoptera, Lycaenidae): island biogeography, patch dynamics and the design of habitat preserves. Entomology, vol 99. University of California, Calif.

Baguette M, Petit S, Queva F (2000) Population structure and migration of three butterfly species within the same habitat network consequences for conservation. J Appl Ecol 37(1):100–108

Beuret H (1958) Zur Systematischen Stellung einiger wenig bekannter Glaucopsychidi. Mitt Entomol Ges Basel NF 8(6):81–100

Brown JH, Stevens GC, Kaufman DM (1996) The geographic range: size, shape, boundaries, and internal structure. Annu Rev Ecol Syst 27:597–623

Dennis RL, Eales HT (1997) Patch occupancy in Coenonympha tullia: habitat quality matters as much as patch size and isolation. J Insect Conserv 1(3):167–176

Dennis RL, Eales HT (1999) Probability of site occupancy in the large heath butterfly Coenonympha tullia, determined from geographical and ecological data. Biol Conserv 87(3):295–301

Gall LF (1984) Population structure and recommendations for conservation of the narrowly endemic alpine butterfly, Boloria acrocnema (Lepidoptera:Nymphalidae). Biol Conserv 28:111–138

Gilpin ME, Hanski I (eds) (1991) Metapopulation dynamics: empirical and theoretical investigations. Academic Press, London

Greenwood NH (1997) The Sinai: a physical geography. University of Texas Press, Austin, Tex.

Gutiérrez D, Thomas CD, León-Cortés JL (1999) Dispersal, distribution, patch network and metapopulation dynamics of the dingy skipper butterfly (Erynnis tages). Oecologia 121:506–517

Hanski I (1994) A practical model of metapopulation dynamics. J Anim Ecol 63:151–162

Hanski I (1999) Metapopulation ecology. Oxford University Press, Oxford

Hanski I, Ovaskainen O (2000) The metapopulation capacity of a fragmented landscape. Nature 404:755–758

Hanski I, Pakkala T, Kuussaari M, Lei G (1995) Metapopulation persistence of an endangered butterfly in a fragmented landscape. Oikos 72:21–28

Hanski I, Alho J, Moilanen A (2000) Estimating the parameters of survival and migration of individuals in metapopulations. Ecology 81(1):239–251

Harrison S, Murphy DD, Ehrlich PR (1988) Distribution of the bay checkerspot butterfly, Euphydryas editha bayensis: evidence for a metapopulation model. Am Nat 132:360–382

Hill JK, Thomas CD, Huntley B (1999) Climate and habitat availability determine 20th century changes in butterfly's range margin. Proc R Soc Lond Ser B 266:1197–1206

Kuussaari M, Nieminen M, Hanski I (1996) An experimental study of migration in the Glanville fritillary butterfly Melitaea cinxia. J Anim Ecol 65:791–801

Lande R (1996) Statistics and partitioning of species diversity and similarity among multiple communities. Oikos 76:5–13

Larsen TB (1990) The Butterflies of Egypt. Apollo, Svendborg, Denmark

Lewis OT, Thomas CD, Hill JK, Brookes MI, Crane TPR, Graneau YA, Mallet JLB, Rose OC (1997) Three ways of assessing metapopulation structure in the butterfly Plebejus argus. Ecol Entomol 22:283–293

Marttila O, Saarinen K, Jantunen J (1997) Habitat restoration and a successful reintroduction of the endangered Baton Blue butterfly (Pseudophilotes baton schiffermuelleri) in SE Finland. Ann Zool Fenn 34:177–185

Moilanen A, Hanski I (1998) Metapopulation dynamics: effects of habitat quality and landscape structure. Ecology 79(7):2503–2515

Myers JH (1985) Effect of physiological condition of the host plant on the ovipositional choice of the cabbage white butterfly, Pieris rapae. J Anim Ecol 54(1):193–204

Nakamura I (1975) Descriptions of two new species of butterflies (Lepidoptera, Lycaenidae) from the South Sinai. J Entomol (B) 44(3):283–295

New TR (1993) Introduction to the biology and conservation of the Lycaenidae. In: New TR (ed) Conservation biology of Lycaenidae (butterflies). Occasional paper of the IUCN Species Survival Commission, vol 8. IUCN, Gland, Switzerland, pp 1–21

Parmesan C, Ryrholm N, Stefanescu C, Hill JK, Thomas CD, Descimon H, Huntley B, Kaila L, Kullberg J, Tammaru T, Tennett WJ, Thomas JA, Warren M (1999) Poleward shifts in geographical ranges of butterfly species associated with regional warming. Nature 399:579–583

Peterson MA (1996) Long-distance gene flow in the sedentary butterfly, Euphilotes enoptes (Lepidoptera: Lycaenidae). Evolution 50(5):1990–1999

Pollard E (1977) A method for assessing changes in the abundance of butterflies. Biol Conserv 12:115–134

Roland J, Keyghobadi N, Fownes S (2000) Alpine Parnassius butterfly dispersal: effects of landscape and population size. Ecology 81(6):1642–1653

Shreeve TG (1992) Monitoring butterfly movements. In: Dennis RLH (ed) The ecology of butterflies in Britain. Oxford University Press, Oxford, pp 120–138

Sutcliffe OL, Thomas CD, Yates TJ, Greatorex-Davies JN (1997a) Correlated extinctions, colonizations and population fluctuations in a highly connected ringlet butterfly metapopulation. Oecologia 109:235–241

Sutcliffe OL, Thomas CD, Peggie D (1997b) Area-dependent migration by ringlet butterflies generates a mixture of patchy population and metapopulation attributes. Oecologia 109:229–234

Thomas CD (1985) The status and conservation of the butterfly Plebejus argus L. (Lepidoptera:Lycaenidae) in North West Britain. Biol Conserv 33:29–51

Thomas CD (1994) Local extinctions, colonizations and distributions:habitat tracking by British butterflies. In: Leather SR, Watt AD, Mills NJ, Walters KFA (eds) Individuals, populations and patterns in ecology. Intercept, Andover, UK, pp 319–336

Thomas CD, Hanski I (1997) Butterfly metapopulations. In: Hanski I, Gilpin ME (eds) Metapopulation biology: ecology, genetics and evolution. Academic Press, San Diego, Calif., pp 359–386

Thomas CD, Harrison S (1992) Spatial dynamics of a patchily distributed butterfly species. J Anim Ecol 61:437–446

Thomas CD, Jones TM (1993) Partial recovery of a skipper butterfly (Hesperia comma) from population refuges:lessons or conservation in a fragmented landscape. J Anim Ecol 62:472–481

Thomas CD, Thomas JA, Warren MS (1992) Distributions of occupied and vacant butterfly habitats in fragmented landscapes. Oecologia 92:563–567

Thomas CD, Bodsworth EJ, Wilson RJ, Simmons AD, Davies ZG, Musche M, Conradt L (2001) Ecological and evolutionary processes at expanding range margins. Nature 411:577–581

Thomas JA (1983a) A quick method for estimating butterfly numbers during surveys. Biol Conserv 27:195–211

Thomas JA (1983b) The ecology and conservation of Lysandra bellargus (Lepidoptera: Lycaenidae) in Britain. J Appl Ecol 20:59–83

Thomas JA (1991) Rare species conservation:case studies of European butterflies. In: Spellerberg I, Goldsmith B, Morris MG (eds) The scientific management of temperate communities for conservation. Blackwell, Oxford, pp 149–197

Thomas JA, Thomas CD, Simcox DJ, Clarke RT (1986) Ecology and declining status of the silver-spotted skipper butterfly (Hesperia comma) in Britain. J Appl. Ecol 23:365–380

Thomas JA, Rose RJ, Clarke RT, Thomas CD, Webb NR (1999) Intraspecific variation in habitat availability among ectothermic animals near their climatic limits and their centres of range. Funct Ecol 13:55–64 [Suppl]

Thomas JA, Bourn NAD, Clarke RT, Stewart KE, Simcox DJ, Pearman GS, Curtis R, Goodger B (2001) The quality and isolation of habitat patches both determine where butterflies persist in fragmented landscapes. Proc R Soc Lond Ser B 268:1791–1796

Wahlberg N, Moilanen A, Hanski I (1996) Predicting the occurrence of endangered species in fragmented landscapes. Science 273:1536–1538.

Walter KS, Gillett HJ (eds) (1998) 1997 IUCN red list of threatened plants. IUCN, World Conservation Union, Gland, Switzerland, Cambridge

Watt WB, Chew FS, Snyder LRG, Watt AG, Rothschild DE (1977) Population structure of pierid butterflies. I. Numbers and movements of some Colias species. Oecologia 27:1–22

Weins JA (1997) Metapopulation dynamics and landscape ecology. In: Hanski IA, Gilpin ME (eds) Metapopulation biology: ecology, genetics, and evolution. Academic Press, San Diego, Calif. pp 43–62
Acknowledgements
We are grateful to Professor Moustafa Fouda (Egyptian Environmental Affairs Agency) and Dr John Grainger (St. Katherine Protectorate Management Unit) for permission to work in the area. We thank also John Grainger and his team for their logistical support, Farhan Mohamed Zedan for his assistance and invaluable local knowledge and Jo Phillips for her help with some of the fieldwork. We thank Chris Thomas and Konrad Fiedler for their helpful comments on this manuscript. We also thank Suez Canal University Faculty of Science and the staff at their research station in St. Katherine. M. J.'s research is supported by a Study Abroad Studentship from The Leverhulme Trust.
About this article
Cite this article
James, M., Gilbert, F. & Zalat, S. Thyme and isolation for the Sinai baton blue butterfly (Pseudophilotes sinaicus). Oecologia 134, 445–453 (2003). https://doi.org/10.1007/s00442-002-1123-1
Received:

Accepted:

Published:

Issue Date:
Keywords
Conservation

Endemic species

Fragmented landscape

Habitat quality

Metapopulation