Abstract
Mesenchymal stem cells (MSCs) have shown great potential in treating autoimmune diseases due to their immunomodulatory capability, which has been verified in both animal experiments and clinical trials. Psoriasis is a chronic and remitting immune-related disease. Limited studies have demonstrated that MSCs might be an effective therapeutic approach for managing psoriasis, whose underlying mechanism remains to be elucidated. In our present study, human umbilical cord-derived MSCs (hUC-MSCs) were subcutaneously injected into mice with imiquimod (IMQ)-induced psoriasis-like skin inflammation to explore the feasibility of this cellular therapy. The severity of psoriasis-like dermatitis was evaluated by cumulative psoriasis area and severity index score and epidermal thickness of skin tissue sections. Flow cytometric analysis was utilized to detect T helper cells, regulatory T cells, and γδ T cells in skin-draining lymph nodes. Real-time quantitative polymerase chain reaction and enzyme-linked immunosorbent assay were used to assess the expression levels of psoriasis-related cytokines and chemokines in mouse dorsal skin lesions. We discovered that hUC-MSCs drastically diminished the severity of IMQ-induced psoriasis-like dermatitis and suppressed inflammatory cell response. Although the tail vein injection of hUC-MSCs was also effective, it was correlated with higher mortality owing to pulmonary embolism. By comparison, subcutaneous injection with two million hUC-MSCs was identified to be the optimal therapeutic strategy. Furthermore, we uncovered that hUC-MSCs might repress skin inflammation probably through inhibiting interleukin-17-producing γδ T cells. In conclusion, subcutaneous administration of hUC-MSCs might be a promising therapeutic approach for psoriasis. Our findings provide novel insights into the underpinning mechanism of hUC-MSC treatment in the management of psoriasis.
Graphical abstract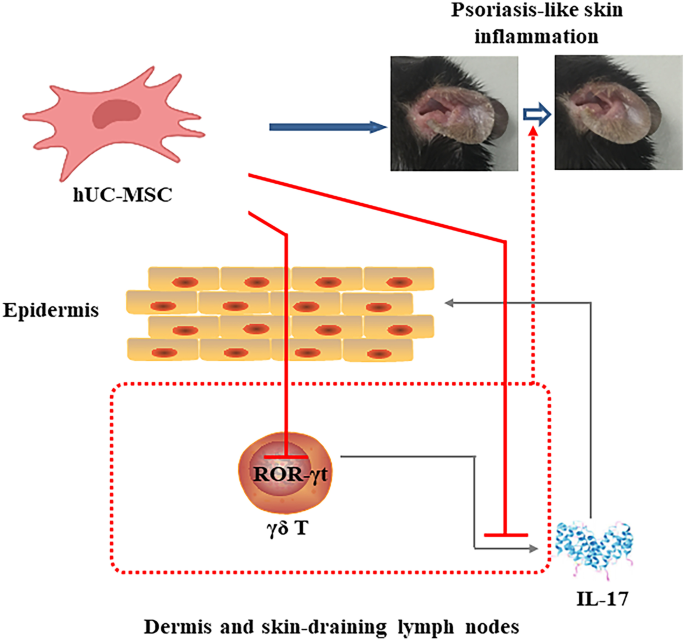 Access options
Buy single article
Instant access to the full article PDF.
USD 39.95
Price excludes VAT (USA)
Tax calculation will be finalised during checkout.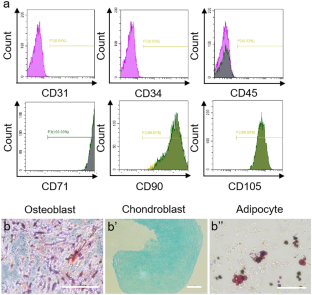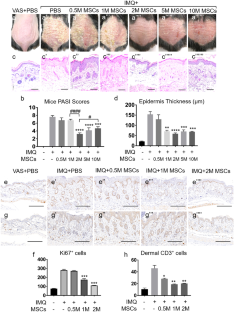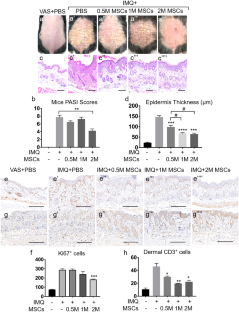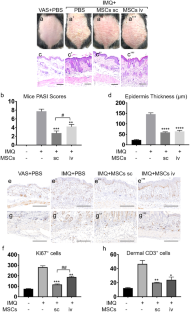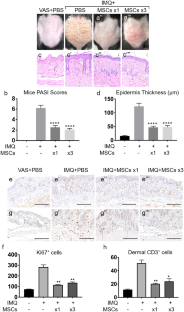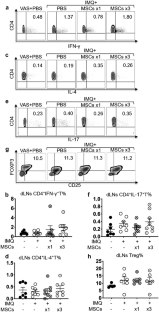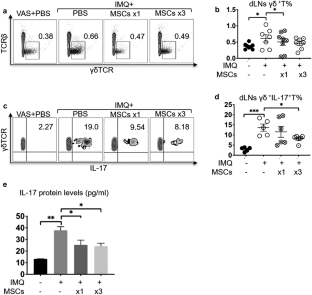 Availability of data and materials
The datasets used during the current study are available from the corresponding author on reasonable request.
Abbreviations
MSCs:

Mesenchymal stem cells

hUC-MSCs:

Human umbilical cord-derived MSCs

IMQ:

Imiquimod

RA:

Rheumatoid arthritis

SOP:

Standard operating procedure

IL:

Interleukin

BCA:

Bicinchoninic acid

TNF:

Tumor necrosis factor

IFN:

Interferon

LN:

Lymph nodes

BM:

Bone marrow

PASI:

Psoriasis area severity index

TGF:

Transforming growth factor

Th17:

T helper 17

PBS:

Phosphate-buffered saline

H&E:

Hematoxylin and eosin

SLE:

Systemic lupus erythematosus

ECM1:

Extracellular matrix protein 1

MCAM:

Melanoma cell adhesion molecule
References
Albanesi C, Madonna S, Gisondi P, Girolomoni G (2018) The interplay between keratinocytes and immune cells in the pathogenesis of psoriasis. Front Immunol 9:1549

Alves de Medeiros AK, Speeckaert R, Desmet E, Van Gele M, De Schepper S, Lambert J (2016) JAK3 as an emerging target for topical treatment of inflammatory skin diseases. PLoS One 11:e0164080

Arturo J, Perez C, Larios L, Segura O, Bastidas Y, Segura O, Lucena C, Lucena E, Ruiz C (2014) Immunomodulation and induction of remission in crohn's disease with autologous expanded mesenchymal stem cells. case report. Cytotherapy 16:S101

Bandyopadhyay M, Larregina AT (2020) Keratinocyte-polyamines and dendritic cells: a bad duet for psoriasis. Immunity 53:16–18

Bernardo ME, Fibbe WE (2013) Mesenchymal stromal cells: sensors and switchers of inflammation. Cell Stem Cell 13:392–402

Blauvelt A, Chiricozzi A (2018) The immunologic role of IL-17 in psoriasis and psoriatic arthritis pathogenesis. Clin Rev Allergy Immunol 55:379–390

Boehncke WH, Schön MP (2015) Psoriasis. Lancet (london, England) 386:983–994

Chen H, Niu JW, Ning HM, Pan X, Li XB, Li Y, Wang DH, Hu LD, Sheng HX, Xu M et al (2016) Treatment of psoriasis with mesenchymal stem cells. Am J Med 129:e13-14

Chen M, Peng J, Xie Q, Xiao N, Su X, Mei H, Lu Y, Zhou J, Dai Y, Wang S et al (2019a) Mesenchymal stem cells alleviate moderate-to-severe psoriasis by reducing the production of type i interferon (IFN-I) by plasmacytoid dendritic cells (pDCs). Stem Cells Int 2019:6961052

Chen Y, Yu Q, Hu Y, Shi Y (2019b) Current research and use of mesenchymal stem cells in the therapy of autoimmune diseases. Curr Stem Cell Res Ther 14:579–582

Choi EW, Shin IS, Song JW, Lee M, Yun TW, Yang J, Choi KS, Kim SJ (2016) Effects of transplantation of CTLA4Ig-overexpressing adipose tissue-derived mesenchymal stem cells in mice with sustained severe rheumatoid arthritis. Cell Transplant 25:243–259

Conrad C, Gilliet M (2018) Psoriasis: from pathogenesis to targeted therapies. Clin Rev Allergy Immunol 54:102–113

De Jesus MM, Santiago JS, Trinidad CV, See ME, Semon KR, Fernandez MO Jr, Chung FS (2016) Autologous adipose-derived mesenchymal stromal cells for the treatment of psoriasis vulgaris and psoriatic arthritis: a case report. Cell Transplant 25:2063–2069

Dietz AB, Dozois EJ, Fletcher JG, Butler GW, Radel D, Lightner AL, Dave M, Friton J, Nair A, Camilleri ET et al (2017) Autologous mesenchymal stem cells, applied in a bioabsorbable matrix, for treatment of perianal fistulas in patients with Crohn's disease. Gastroenterology 153:59-62.e52

Fitzgerald O, Winchester R (2014) Editorial: emerging evidence for critical involvement of the interleukin-17 pathway in both psoriasis and psoriatic arthritis. Arthritis & Rheumatology (hoboken, NJ) 66:1077–1080

Gallo R, Gambelli F, Gava B, Sasdelli F, Tellone V, Masini M, Marchetti P, Dotta F, Sorrentino V (2007) Generation and expansion of multipotent mesenchymal progenitor cells from cultured human pancreatic islets. Cell Death Differ 14:1860–1871

Gray EE, Suzuki K, Cyster JG (2011) Cutting edge: identification of a motile IL-17-producing gammadelta T cell population in the dermis. J Immunol 186:6091–6095

Han Y, Mora J, Huard A, da Silva P, Wiechmann S, Putyrski M, Schuster C, Elwakeel E, Lang G, Scholz A et al (2019) IL-38 Ameliorates skin inflammation and limits IL-17 production from γδ T cells. Cell Rep 27:835-846.e835

Hartwig T, Pantelyushin S, Croxford AL, Kulig P, Becher B (2015) Dermal IL-17-producing γδ T cells establish long-lived memory in the skin. Eur J Immunol 45:3022–3033

Hijnen D, Knol EF, Gent YY, Giovannone B, Beijn SJ, Kupper TS, Bruijnzeel-Koomen CA, Clark RA (2013) CD8(+) T cells in the lesional skin of atopic dermatitis and psoriasis patients are an important source of IFN-γ, IL-13, IL-17, and IL-22. J Invest Dermatol 133:973–979

Hou R, Liu R, Niu X, Chang W, Yan X, Wang C, Li J, An P, Li X, Yin G et al (2014a) Biological characteristics and gene expression pattern of bone marrow mesenchymal stem cells in patients with psoriasis. Exp Dermatol 23:521–523

Hou R, Yan H, Niu X, Chang W, An P, Wang C, Yang Y, Yan X, Li J, Liu R et al (2014b) Gene expression profile of dermal mesenchymal stem cells from patients with psoriasis. J Eur Acad Dermatol Venereol: JEADV 28:1782–1791

Hu Y, Chen Z, Gong Y, Shi Y (2018) A review of switching biologic agents in the treatment of moderate-to-severe plaque psoriasis. Clin Drug Investig 38:191–199

Jee MH, Mraz V, Geisler C, Bonefeld CM (2020) γδ T cells and inflammatory skin diseases. Immunol Rev

Kim N, Lee S, Kang J, Choi YA, Lee B, Kwon TK, Jang YH, Kim SH (2020) Hispidulin alleviates imiquimod-induced psoriasis-like skin inflammation by inhibiting splenic Th1/Th17 cell population and keratinocyte activation. Int Immunopharmacol 87:106767

Küçük C, Jiang B, Hu X, Zhang W, Chan JK, Xiao W, Lack N, Alkan C, Williams JC, Avery KN et al (2015) Activating mutations of STAT5B and STAT3 in lymphomas derived from γδ-T or NK cells. Nat Commun 6:6025

Mak RK, Hundhausen C, Nestle FO (2009) Progress in understanding the immunopathogenesis of psoriasis. Actas Dermosifiliogr 100(Suppl 2):2–13

Nestle FO, Kaplan DH, Barker J (2009) Psoriasis. N Engl J Med 361:496–509

Niu X, Chang W, Liu R, Hou R, Li J, Wang C, Li X, Zhang K (2016a) Expression of pro-angiogenic genes in mesenchymal stem cells derived from dermis of patients with psoriasis. Int J Dermatol 55:e280-288

Niu X, Chang W, Liu R, Hou R, Li J, Wang C, Li X, Zhang K (2016b) mRNA and protein expression of the angiogenesis-related genes EDIL3, AMOT and ECM1 in mesenchymal stem cells in psoriatic dermis. Clin Exp Dermatol 41:533–540

Paganelli A, Tarentini E, Benassi L, Kaleci S, Magnoni C (2020) Mesenchymal stem cells for the treatment of psoriasis: a comprehensive review. Clin Exp Dermatol

Prinz I, Sandrock I (2015) γδ T cells come to stay: innate skin memory in the aldara model. Eur J Immunol 45:2994–2997

Ryan JM, Barry FP, Murphy JM, Mahon BP (2005) Mesenchymal stem cells avoid allogeneic rejection. J Inflamm (London, England) 2:8

Sah SK, Park KH, Yun CO, Kang KS, Kim TY (2016) Effects of human mesenchymal stem cells transduced with superoxide dismutase on imiquimod-induced psoriasis-like skin inflammation in mice. Antioxid Redox Signal 24:233–248

Sato Y, Ogawa E, Okuyama R (2020) Role of innate immune cells in psoriasis. Int J Mol Sci 21

Shi Y, Wang Y, Li Q, Liu K, Hou J, Shao C, Wang Y (2018) Immunoregulatory mechanisms of mesenchymal stem and stromal cells in inflammatory diseases. Nat Rev Nephrol 14:493–507

Song N, Scholtemeijer M, Shah K (2020) Mesenchymal stem cell immunomodulation: mechanisms and therapeutic potential. Trends Pharmacol Sci

Subedi S, Gong Y, Chen Y, Shi Y (2019) Infliximab and biosimilar infliximab in psoriasis: efficacy, loss of efficacy, and adverse events. Drug Des Devel Ther 13:2491–2502

Sun L, Wang D, Liang J, Zhang H, Feng X, Wang H, Hua B, Liu B, Ye S, Hu X et al (2010) Umbilical cord mesenchymal stem cell transplantation in severe and refractory systemic lupus erythematosus. Arthritis Rheum 62:2467–2475

Toussirot E (2012) The IL23/Th17 pathway as a therapeutic target in chronic inflammatory diseases. Inflamm Allergy Drug Targets 11:159–168

van der Fits L, Mourits S, Voerman JS, Kant M, Boon L, Laman JD, Cornelissen F, Mus AM, Florencia E, Prens EP et al (2009) Imiquimod-induced psoriasis-like skin inflammation in mice is mediated via the IL-23/IL-17 axis. J Immunol 182:5836–5845

Vizoso FJ, Eiro N, Costa L, Esparza P, Landin M, Diaz-Rodriguez P, Schneider J, Perez-Fernandez R (2019) Mesenchymal stem cells in homeostasis and systemic diseases: hypothesis, evidences, and therapeutic opportunities. Int J Mol Sci 20

Wang H, Qiu X, Ni P, Qiu X, Lin X, Wu W, Xie L, Lin L, Min J, Lai X et al (2014) Immunological characteristics of human umbilical cord mesenchymal stem cells and the therapeutic effects of their transplantion on hyperglycemia in diabetic rats. Int J Mol Med 33:263–270

Wang L, Wang L, Cong X, Liu G, Zhou J, Bai B, Li Y, Bai W, Li M, Ji H et al (2013) Human umbilical cord mesenchymal stem cell therapy for patients with active rheumatoid arthritis: safety and efficacy. Stem Cells and Development 22:3192–3202

Wang SG, Hsu NC, Wang SM, Wang FN (2020) Successful treatment of plaque psoriasis with allogeneic gingival mesenchymal stem cells: a case study. Case Rep Dermatol Med 2020:4617520

Wu JJ, Valdecantos WC (2017) Adalimumab in chronic plaque psoriasis: a clinical guide. J Drugs Dermatol 16:779–790

Xie XJ, Di TT, Wang Y, Wang MX, Meng YJ, Lin Y, Xu XL, Li P, Zhao JX (2018) Indirubin ameliorates imiquimod-induced psoriasis-like skin lesions in mice by inhibiting inflammatory responses mediated by IL-17A-producing γδ T cells. Mol Immunol 101:386–395
Funding
This work was sponsored by grants from National Natural Science Foundation of China (No. 81872522, 82073429, 81903205, 81803120, and 81900612), the National Key Research and Development Program of China (No. 2018YFC1705301, 2018YFC1705305), Innovation Program of Shanghai Municipal Education Commission (No. 2019–01-07–00-07-E00046), the Program of Science and Technology Commission of Shanghai Municipality (No. 18140901800), Excellent Subject Leader Program of Shanghai Municipal Commission of Health and Family Planning (No. 2018BR30), Clinical Research Program of Shanghai Hospital Development Center (No. SHDC2020CR1014B, SHDC12018X06), Shanghai Sailing Program (No. 19YF1438100), Program of Shanghai Academic Research Leader (No. 20XD1403300), the Fundamental Research Funds for the Central Universities (#22120210566), and Research Program of Shanghai Skin Disease Hospital (No. 2019KYQD08).
Ethics declarations
Ethics approval and consent to participate
Not applicable.
Consent for publication
Not applicable.
Competing interests
The authors declare that they have no competing interests.
Human and animal rights and informed consent
All mouse studies were approved by the Institutional Animal Experiment Committee of the Tongji University School of Medicine and were performed in accordance with institutional and governmental guidelines.
Additional information
Publisher's Note
Springer Nature remains neutral with regard to jurisdictional claims in published maps and institutional affiliations.
Supplementary Information
Below is the link to the electronic supplementary material.
About this article
Cite this article
Chen, Y., Hu, Y., Zhou, X. et al. Human umbilical cord-derived mesenchymal stem cells ameliorate psoriasis-like dermatitis by suppressing IL-17-producing γδ T cells. Cell Tissue Res 388, 549–563 (2022). https://doi.org/10.1007/s00441-022-03616-x
Received:

Accepted:

Published:

Issue Date:

DOI: https://doi.org/10.1007/s00441-022-03616-x
Keywords