Abstract
Ovaries are the primary physiological source of female sex hormones, which play a crucial role in maintaining ovarian cycle, determining secondary sexual characteristics and preparing the endometrium for implantation. In vitro follicle engineering has been used to investigate follicle development, including ovarian hormone production and gamete maturation. To engineer functional follicles, culture and expansion of the primary ovarian cells are essential. However, the phenotypic and functional characteristics of primary ovarian cells are often lost during culture. The objective of this study is to develop an optimized culture system for maintaining ovarian cell growth and functionality. Granulosa cells (GCs) and theca cells (TCs) were isolated from female rats. The addition of follicle-stimulating hormone (FSH) or luteinizing hormone (LH) to the basal culture media significantly enhanced the secretion of estradiol from GCs and androstenedione from TCs. Serum concentrations of 5% and 10% had a similar role in promoting ovarian cell expansion and secretion of estradiol and androstenedione hormones from both types of cells. Growth differentiation factor 9 (GDF9), bone morphogenic protein 15 (BMP15), BMP7 and basic fibroblast growth factor (bFGF) enhanced GC proliferation and estradiol production, respectively. Among them, the effect of bFGF was most significant. bFGF also enhanced TC proliferation. When GCs and TCs were cultured in 5% serum, gonadotropin and bFGF-containing medium, they proliferated exponentially throughout the culture period of up to 40 days while maintaining their functional characteristics. Taken together, these results indicate that our medium formula is optimal for maximizing proliferation of functionally differentiated ovarian cells.
Access options
Buy single article
Instant access to the full article PDF.
USD 39.95
Price excludes VAT (USA)
Tax calculation will be finalised during checkout.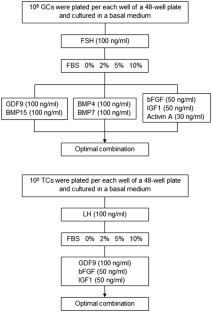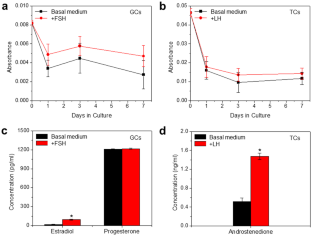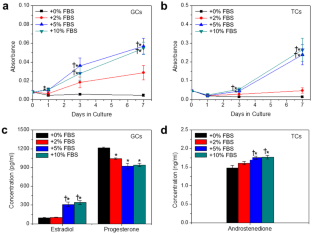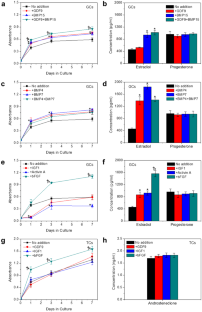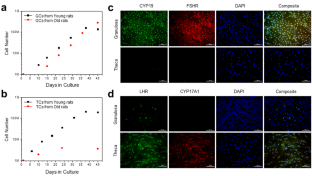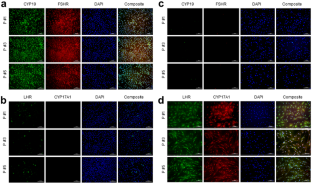 References
Practice Committee of American Society for Reproductive Medicine (2008) Estrogen and progestogen therapy in postmenopausal women. Fertil Steril 90:S88-102

North American Menopause Society (2012) The 2012 hormone therapy position statement of: the North American Menopause Society. Menopause 19:257–271

Adashi EY, Resnick CE, Brodie AM, Svoboda ME, Van Wyk JJ (1985) Somatomedin-C-mediated potentiation of follicle-stimulating hormone-induced aromatase activity of cultured rat granulosa cells. Endocrinology 117:2313–2320

Adashi EY, Resnick CE, Svoboda ME, Van Wyk JJ (1985) Somatomedin-C synergizes with follicle-stimulating hormone in the acquisition of progestin biosynthetic capacity by cultured rat granulosa cells. Endocrinology 116:2135–2142

Baranao JL, Hammond JM (1984) Comparative effects of insulin and insulin-like growth factors on DNA synthesis and differentiation of porcine granulosa cells. Biochem Biophys Res Commun 124:484–490

Ding T, Luo A, Yang S, Lai Z, Wang Y, Shen W, Jiang J, Lu Y, Ma D, Wang S (2012) Effects of basal media and supplements on diethylstilbestrol-treated immature mouse primary granulosa cell growth and regulation of steroidogenesis in vitro. Reproduction in domestic animals = Zuchthygiene 47, 355–364.

Dorrington JH, Moon YS, Armstrong DT (1975) Estradiol-17beta biosynthesis in cultured granulosa cells from hypophysectomized immature rats; stimulation by follicle-stimulating hormone. Endocrinology 97:1328–1331

Erickson GF (1983) Primary cultures of ovarian cells in serum-free medium as models of hormone-dependent differentiation. Mol Cell Endocrinol 29:21–49

Erickson GF, Casper R, Hofeditz C (1983) Role of serum-free defined medium in regulation of LH receptor in cultured rat granulosa cells. Mol Cell Endocrinol 30:37–50

Fortune JE, Armstrong DT (1977) Androgen production by theca and granulosa isolated from proestrous rat follicles. Endocrinology 100:1341–1347

Gospodarowicz D, Bialecki H (1979) Fibroblast and epidermal growth factors are mitogenic agents for cultured granulosa cells of rodent, porcine, and human origin. Endocrinology 104:757–764

Hsueh AJ, Billig H, Tsafriri A (1994) Ovarian follicle atresia: a hormonally controlled apoptotic process. Endocr Rev 15:707–724

Hsueh AJ, Erickson GF, Papkoff H (1983) Effect of diverse mammalian gonadotropins on estrogen and progesterone production by cultured rat granulosa cells. Arch Biochem Biophys 225:505–511

Hsueh AJ, Welsh TH, Jones PB (1981) Inhibition of ovarian and testicular steroidogenesis by epidermal growth factor. Endocrinology 108:2002–2004

Hurwitz A, Hernandez ER, Resnick CE, Packman JN, Payne DW, Adashi EY (1990) Basic fibroblast growth factor inhibits gonadotropin-supported ovarian androgen biosynthesis: mechanism(s) and site(s) of action. Endocrinology 126:3089–3095

Lavranos TC, Rodgers HF, Bertoncello I, Rodgers RJ (1994) Anchorage-independent culture of bovine granulosa cells: the effects of basic fibroblast growth factor and dibutyryl cAMP on cell division and differentiation. Exp Cell Res 211:245–251

Lee WS, Otsuka F, Moore RK, Shimasaki S (2001) Effect of bone morphogenetic protein-7 on folliculogenesis and ovulation in the rat. Biol Reprod 65:994–999

Liu C, Xia X, Miao W, Luan X, Sun L, Jin Y, Liu L (2013) An ovarian cell microcapsule system simulating follicle structure for providing endogenous female hormones. Int J Pharm 455:312–319

Liu YX, Hsueh AJ (1986) Synergism between granulosa and theca-interstitial cells in estrogen biosynthesis by gonadotropin-treated rat ovaries: studies on the two-cell, two-gonadotropin hypothesis using steroid antisera. Biol Reprod 35:27–36

Luck MR, Rodgers RJ, Findlay JK (1990) Secretion and gene expression of inhibin, oxytocin and steroid hormones during the in vitro differentiation of bovine granulosa cells. Reprod Fertil Dev 2:11–25

Magoffin DA, Erickson GF (1982) Primary culture of differentiating ovarian androgen-producing cells in defined medium. J Biol Chem 257:4507–4513

Magoffin DA, Erickson GF (1988) Purification of ovarian theca-interstitial cells by density gradient centrifugation. Endocrinology 122:2345–2347

Magoffin DA, Kurtz KM, Erickson GF (1990) Insulin-like growth factor-I selectively stimulates cholesterol side-chain cleavage expression in ovarian theca-interstitial cells. Mol Endocrinol 4:489–496

McNatty KP, Juengel JL, Reader KL, Lun S, Myllymaa S, Lawrence SB, Western A, Meerasahib MF, Mottershead DG, Groome NP et al (2005) Bone morphogenetic protein 15 and growth differentiation factor 9 co-operate to regulate granulosa cell function in ruminants. Reproduction 129:481–487

Nilsson E, Parrott JA, Skinner MK (2001) Basic fibroblast growth factor induces primordial follicle development and initiates folliculogenesis. Mol Cell Endocrinol 175:123–130

Nilsson EE, Skinner MK (2003) Bone morphogenetic protein-4 acts as an ovarian follicle survival factor and promotes primordial follicle development. Biol Reprod 69:1265–1272

Orisaka M, Tajima K, Tsang BK, Kotsuji F (2009) Oocyte-granulosa-theca cell interactions during preantral follicular development. J Ovarian Res 2:9

Orly J, Sato G, Erickson GF (1980) Serum suppresses the expression of hormonally induced functions in cultured granulosa cells. Cell 20:817–827

Otsuka F, Yao Z, Lee T, Yamamoto S, Erickson GF, Shimasaki S (2000) Bone morphogenetic protein-15. Identification of target cells and biological functions. J Biol Chem 275:39523–39528

Sasano H, Okamoto M, Mason JI, Simpson ER, Mendelson CR, Sasano N, Silverberg SG (1989) Immunolocalization of aromatase, 17 alpha-hydroxylase and side-chain-cleavage cytochromes P-450 in the human ovary. J Reprod Fertil 85:163–169

Savion N, Lui GM, Laherty R, Gospodarowicz D (1981) Factors controlling proliferation and progesterone production by bovine granulosa cells in serum-free medium. Endocrinology 109:409–420

Shimasaki S, Zachow RJ, Li D, Kim H, Iemura S, Ueno N, Sampath K, Chang RJ, Erickson GF (1999) A functional bone morphogenetic protein system in the ovary. Proc Natl Acad Sci U S A 96:7282–7287

Sittadjody S, Saul JM, Joo S, Yoo JJ, Atala A, Opara EC (2013) Engineered multilayer ovarian tissue that secretes sex steroids and peptide hormones in response to gonadotropins. Biomaterials 34:2412–2420

Solovyeva EV, Hayashi M, Margi K, Barkats C, Klein C, Amsterdam A, Hsueh AJ, Tsafriri A (2000) Growth differentiation factor-9 stimulates rat theca-interstitial cell androgen biosynthesis. Biol Reprod 63:1214–1218

Spicer LJ, Aad PY, Allen DT, Mazerbourg S, Payne AH, Hsueh AJ (2008) Growth differentiation factor 9 (GDF9) stimulates proliferation and inhibits steroidogenesis by bovine theca cells: influence of follicle size on responses to GDF9. Biol Reprod 78:243–253

Vitt UA, Hayashi M, Klein C, Hsueh AJ (2000) Growth differentiation factor-9 stimulates proliferation but suppresses the follicle-stimulating hormone-induced differentiation of cultured granulosa cells from small antral and preovulatory rat follicles. Biol Reprod 62:370–377

Xiao S, Robertson DM, Findlay JK (1992) Effects of activin and follicle-stimulating hormone (FSH)-suppressing protein/follistatin on FSH receptors and differentiation of cultured rat granulosa cells. Endocrinology 131:1009–1016

Yamoto M, Shikone T, Nakano R (1993) Opposite effects of basic fibroblast growth factor on gonadotropin-stimulated steroidogenesis in rat granulosa cells. Endocr J 40:691–697
Acknowledgments
We would like to thank Dr. Richard Payne and Dr. Weiling Zhao for editorial assistance.
Funding
This study was supported, in part, by Jack and Pamela Egan.
Ethics declarations
Conflict of interests
The authors declare that they have no conflict of interest.
Ethical approval
This article does not contain any studies with human participants by any of the authors. All applicable international, national and/or institutional guidelines for the care and use of animals were followed. All procedures performed in studies involving animals were in accordance with the ethical standards of the Wake Forest Institutional Animal Care and Use Committee (IACUC) (protocol number A14-126).
Additional information
Publisher's Note
Springer Nature remains neutral with regard to jurisdictional claims in published maps and institutional affiliations.
About this article
Cite this article
Jeon, M.J., Choi, Y.S., Yoo, J.J. et al. Optimized culture system to maximize ovarian cell growth and functionality in vitro. Cell Tissue Res 385, 161–171 (2021). https://doi.org/10.1007/s00441-021-03415-w
Received:

Accepted:

Published:

Issue Date:

DOI: https://doi.org/10.1007/s00441-021-03415-w
Keywords
Ovary

Granulosa cells

Theca cells

Estrogen

Progesterone