Abstract
The aim was to explore the influence of experimental diabetes mellitus type 1 (DM1) and potential protective/deleterious effects of different dietary n−6/n−3 PUFA ratios on renal phospholipid composition and pathological changes caused by DM1. Male Wistar rats were injected with 55 mg/kg streptozotocin or citrate buffer (control group). Control (C) and diabetic groups (STZ) were fed with n−6/n−3 ratio of ≈ 7, STZ + N6 with n−6/n−3 ratio ≈ 60 and STZ + DHA with n−6/n−3 ratio of ≈ 1 containing 16% EPA and 19% DHA. Tissues were harvested 30 days after DM1 induction. Blood and kidneys were collected and analysed for phospholipid fatty acid composition, pathohystological changes, ectopic lipid accumulation and expression of VEGF, NF-kB and special AT-rich sequence-binding protein-1 (SATB1). Pathological changes were studied also by using transmission electron microscopy, after immunostaining for VEGF. Substantial changes in renal phospholipid fatty acid composition resulted from DM1 and dietary PUFA manipulation. Extensive vacuolization of distal tubular cells (DTCs) was found in DM1, but it was attenuated in the STZ + DHA group, in which the highest renal NF-kB expression was observed. The ectopic lipid accumulation was observed in proximal tubular cells (PTCs) of all diabetic animals, but it was worsened in the STZ + N6 group. In DM1, we found disturbance of VEGF-transporting vesicular PTCs system, which was substantially worsened in STZ + DHA and STZ + N6. Results have shown that the early phase of DN is characterized with extent damage and vacuolization of DTCs, which could be attenuated by DHA/EPA supplementation. We concluded that dietary fatty acid composition can strongly influence the outcomes of DN.
This is a preview of subscription content, log in to check access.
Access options
Buy single article
Instant access to the full article PDF.
US$ 39.95
Tax calculation will be finalised during checkout.
Subscribe to journal
Immediate online access to all issues from 2019. Subscription will auto renew annually.
US$ 199
Tax calculation will be finalised during checkout.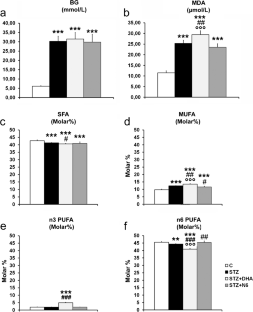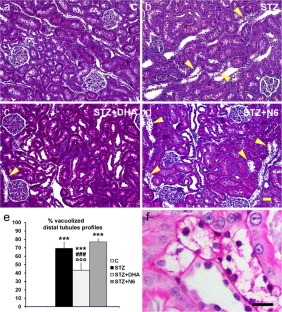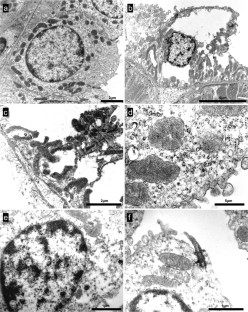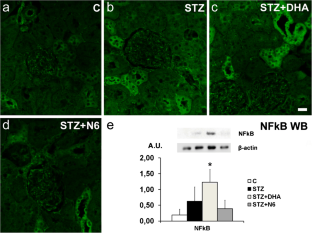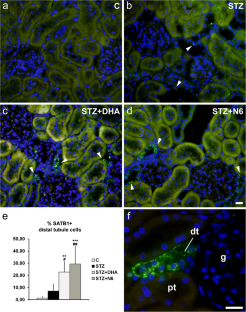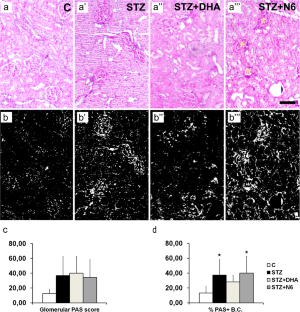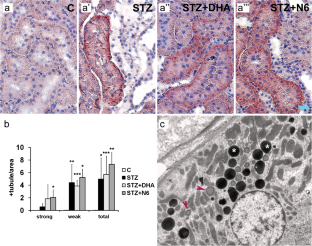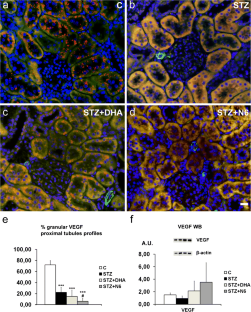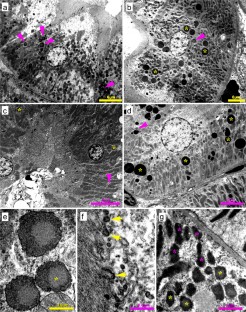 References
Agnic I, Vukojevic K, Saraga-Babic M, Filipovic N, Grkovic I (2013) Isoflurane post-conditioning stimulates the proliferative phase of myocardial recovery in an ischemia-reperfusion model of heart injury in rats. Histol Histopathol 29:89–99

Alvarez JD, Yasui DH, Niida H, Joh T, Loh DY, Kohwi-Shigematsu T (2000) The MAR-binding protein SATB1 orchestrates temporal and spatial expression of multiple genes during T-cell development. Genes Dev 14:521–535

Bang HO, Dyerberg J, Hjoorne N (1976) The composition of food consumed by Greenland Eskimos. Acta Med Scand 200:69–73

Barber E, Sinclair AJ, Cameron-Smith D (2013) Comparative actions of omega-3 fatty acids on in-vitro lipid droplet formation. Prostaglandins Leukot Essent Fatty Acids 89:359–366

Barcelli UO, Weiss M, Beach D, Motz A, Thompson B (1990) High linoleic acid diets ameliorate diabetic nephropathy in rats. Am J Kidney Dis 16:244–251

Blantz RC, Singh P (2014) Glomerular and tubular function in the diabetic kidney. Adv Chronic Kidney Dis 21(3):297–303 Epub 2014/05/02

Calder PC (2007) Immunomodulation by omega-3 fatty acids. Prostaglandins Leukot Essent Fatty Acids. 77:327–335

Delic Jukic IK, Kostic S, Filipovic N, Gudelj Ensor L, Ivandic M, Dukic JJ, Vitlov Uljevic M, Ferhatovic Hamzic L, Puljak L, Vukojevic K (2018) Changes in expression of special AT-rich sequence binding protein 1 and phosphatase and tensin homologue in kidneys of diabetic rats during ageing. Nephrol Dial Transplant 33:1075

Di Stasi D, Bernasconi R, Marchioli R, Marfisi RM, Rossi G, Tognoni G, Tacconi MT (2004) Early modifications of fatty acid composition in plasma phospholipids, platelets and mononucleates of healthy volunteers after low doses of n-3 polyunsaturated fatty acids. Eur J Clin Pharmacol 60:183–190

Fan YY, Ly LH, Barhoumi R, McMurray DN, Chapkin RS (2004) Dietary docosahexaenoic acid suppresses T cell protein kinase C theta lipid raft recruitment and IL-2 production. J Immunol 173:6151–6160

Ferrara N (1999) Role of vascular endothelial growth factor in the regulation of angiogenesis. Kidney Int 56:794–814

Folch J, Lees M, Sloane Stanley GH (1957) A simple method for the isolation and purification of total lipides from animal tissues. J Biol Chem 226:497–509

Fujikawa M, Yamazaki K, Hamazaki T, Wakaki K, Koizumi F, Yano S, Kobayashi M (1994) Effect of eicosapentaenoic acid ethyl ester on albuminuria in streptozotocin-induced diabetic rats. J Nutr Sci Vitaminol (Tokyo) 40:49–61

Garman JH, Mulroney S, Manigrasso M, Flynn E, Maric C (2009) Omega-3 fatty acid rich diet prevents diabetic renal disease. Am J Physiol Renal Physiol. 296:F306–F316

Gilbert RE (2017) Proximal tubulopathy: prime mover and key therapeutic target in diabetic kidney disease. Diabetes 66:791–800

Hamazaki T, Takazakura E, Osawa K, Urakaze M, Yano S (1990) Reduction in microalbuminuria in diabetics by eicosapentaenoic acid ethyl ester. Lipids 25:541–545

Herman-Edelstein M, Scherzer P, Tobar A, Levi M, Gafter U (2013) Altered renal lipid metabolism and renal lipid accumulation in human diabetic nephropathy. J Lipid Res 55:561–572

Holman RT, Johnson SB, Gerrard JM, Mauer SM, Kupcho-Sandberg S, Brown DM (1983) Arachidonic acid deficiency in streptozotocin-induced diabetes. Proc Natl Acad Sci U S A 80:2375–2379

Horrocks LA, Yeo YK (1999) Health benefits of docosahexaenoic acid (DHA). Pharmacol Res 40:211–225

Ibrahim W, Lee US, Szabo J, Bruckner G, Chow CK (1999) Oxidative stress and antioxidant status in mouse kidney: effects of dietary lipid and vitamin E plus iron. J Nutr Biochem 10:674–678

Ishizaka N, Hongo M, Matsuzaki G, Furuta K, Saito K, Sakurai R, Sakamoto A, Koike K, Nagai R (2010) Effects of the AT(1) receptor blocker losartan and the calcium channel blocker benidipine on the accumulation of lipids in the kidney of a rat model of metabolic syndrome. Hypertens Res 33:263–268

Jun H, Song Z, Chen W, Zanhua R, Yonghong S, Shuxia L, Huijun D (2009) In vivo and in vitro effects of SREBP-1 on diabetic renal tubular lipid accumulation and RNAi-mediated gene silencing study. Histochem Cell Biol 131:327–345

Kim HJ, Moradi H, Yuan J, Norris K, Vaziri ND (2009) Renal mass reduction results in accumulation of lipids and dysregulation of lipid regulatory proteins in the remnant kidney. Am J Physiol Renal Physiol 296:F1297–F1306

Lawrence T (2009) The nuclear factor NF-kappaB pathway in inflammation. Cold Spring Harb Perspect Biol 1:a001651

Liu J, Yeo HC, Doniger SJ, Ames BN (1997) Assay of aldehydes from lipid peroxidation: gas chromatography-mass spectrometry compared to thiobarbituric acid. Anal Biochem 245:161–166

Ma DW, Seo J, Switzer KC, Fan YY, McMurray DN, Lupton JR, Chapkin RS (2004) n-3 PUFA and membrane microdomains: a new frontier in bioactive lipid research. J Nutr Biochem 15:700–706

Majumder S, Advani A (2016) VEGF and the diabetic kidney: more than too much of a good thing. J Diabetes Complicat 31:273–279

Manickam E, Sinclair AJ, Cameron-Smith D (2010) Suppressive actions of eicosapentaenoic acid on lipid droplet formation in 3T3-L1 adipocytes. Lipids Health Dis 9:57

Masek T, Filipovic N, Hamzic LF, Puljak L, Starcevic K (2014) Long-term streptozotocin diabetes impairs arachidonic and docosahexaenoic acid metabolism and 5 desaturation indices in aged rats. Exp Gerontol 60:140–146

Masek T, Filipovic N, Vuica A, Starcevic K (2017) Effects of treatment with sucrose in drinking water on liver histology, lipogenesis and lipogenic gene expression in rats fed high-fiber diet. Prostaglandins Leukot Essent Fatty Acids 116:1–8

Mollsten AV, Dahlquist GG, Stattin EL, Rudberg S (2001) Higher intakes of fish protein are related to a lower risk of microalbuminuria in young Swedish type 1 diabetic patients. Diabetes Care 24:805–810

Mora-Fernandez C, Dominguez-Pimentel V, de Fuentes MM, Gorriz JL, Martinez-Castelao A, Navarro-Gonzalez JF (2014) Diabetic kidney disease: from physiology to therapeutics. J Physiol 592:3997–4012

Nakamura MT, Cheon Y, Li Y, Nara TY (2005) Mechanisms of regulation of gene expression by fatty acids. Lipids 39:1077–1083

Nakamura MT, Yudell BE, Loor JJ (2013) Regulation of energy metabolism by long-chain fatty acids. Prog Lipid Res 53:124–144

Paton CM, Ntambi JM (2010) Loss of stearoyl-CoA desaturase activity leads to free cholesterol synthesis through increased Xbp-1 splicing. Am J Physiol Endocrinol Metab 299:E1066–E1075

Patterson E, Wall R, Fitzgerald GF, Ross RP, Stanton C (2012) Health implications of high dietary omega-6 polyunsaturated fatty acids. J Nutr Metab 2012:539426

Pinnamaneni SK, Southgate RJ, Febbraio MA, Watt MJ (2006) Stearoyl CoA desaturase 1 is elevated in obesity but protects against fatty acid-induced skeletal muscle insulin resistance in vitro. Diabetologia 49:3027–3037

Proctor G, Jiang T, Iwahashi M, Wang Z, Li J, Levi M (2006) Regulation of renal fatty acid and cholesterol metabolism, inflammation, and fibrosis in Akita and OVE26 mice with type 1 diabetes. Diabetes 55:2502–2529

Satirapoj B (2013) Nephropathy in diabetes. Adv Exp Med Biol 771:107–122

Schmitz G, Ecker J (2008) The opposing effects of n-3 and n-6 fatty acids. Prog Lipid Res 47:147–155

Schoonjans K, Staels B, Auwerx J (1996) The peroxisome proliferator activated receptors (PPARS) and their effects on lipid metabolism and adipocyte differentiation. Biochim Biophys Acta 1302:93–109

Seo J, Barhoumi R, Johnson AE, Lupton JR, Chapkin RS (2006) Docosahexaenoic acid selectively inhibits plasma membrane targeting of lipidated proteins. FASEB J 20:770–772

Shapiro H, Theilla M, Attal-Singer J, Singer P (2010) Effects of polyunsaturated fatty acid consumption in diabetic nephropathy. Nat Rev Nephrol 7:110–121

Shimizu H, Ohtani K, Tanaka Y, Sato N, Mori M, Shimomura Y (1995) Long-term effect of eicosapentaenoic acid ethyl (EPA-E) on albuminuria of non-insulin dependent diabetic patients. Diabetes Res Clin Pract 28:35–40

Shoji T, Kakiya R, Hayashi T, Tsujimoto Y, Sonoda M, Shima H et al (2013) Serum n-3 and n-6 polyunsaturated fatty acid profile as an independent predictor of cardiovascular events in hemodialysis patients. Am J Kidney Dis 62:568–576

Simopoulos AP (1997) Omega-3 fatty acids in the prevention-management of cardiovascular disease. Can J Physiol Pharmacol 75:234–239

Simopoulos AP (2009) Evolutionary aspects of the dietary omega-6:omega-3 fatty acid ratio: medical implications. World Rev Nutr Diet 100:1–21

Starcevic K, Filipovic N, Galan A, Micek V, Gudan Kurilj A, Masek T (2018) Hepatic lipogenesis and brain fatty acid profile in response to different dietary n6/n3 ratios and DHA/EPA supplementation in streptozotocin treated rats. Mol Nutr Food Res 62:e1701007

Sun L, Halaihel N, Zhang W, Rogers T, Levi M (2002) Role of sterol regulatory element-binding protein 1 in regulation of renal lipid metabolism and glomerulosclerosis in diabetes mellitus. J Biol Chem 277:18919–18927

Takahashi M, Ando J, Shimada K, Nishizaki Y, Tani S, Ogawa T, Yamamoto M, Nagao K, Hirayama A, Yoshimura M, Daida H, Nagai R, Komuro I (2017) The ratio of serum n-3 to n-6 polyunsaturated fatty acids is associated with diabetes mellitus in patients with prior myocardial infarction: a multicenter cross-sectional study. BMC Cardiovasc Disord 17:41

Thomas ME, Morrison AR, Schreiner GF (1995) Metabolic effects of fatty acid-bearing albumin on a proximal tubule cell line. Am J Phys 268:F1177–F1184

Tosi F, Sartori F, Guarini P, Olivieri O, Martinelli N (2014) Delta-5 and delta-6 desaturases: crucial enzymes in polyunsaturated fatty acid-related pathways with pleiotropic influences in health and disease. Adv Exp Med Biol 824:61–81

Vitlov Uljevic M, Bocina I, Restovic I, Kunac N, Masek T, Kretzschmar G, Grobe M, Saric M, Vukojevic K, Saraga-Babic M, Filipovic N (2018) Reabsorption in the proximal tubuli-ultrastructural evidence for a novel aspect of renal VEGF trafficking. Cell Tissue Res 374:189–201

Vuica A, Ferhatovic Hamzic L, Vukojevic K, Jeric M, Puljak L, Grkovic I, Filipovic N (2015) Aging and a long-term diabetes mellitus increase expression of 1 alpha-hydroxylase and vitamin D receptors in the rat liver. Exp Gerontol 72:167–176

Wang Z, Jiang T, Li J, Proctor G, McManaman JL, Lucia S, Chua S, Levi M (2005) Regulation of renal lipid metabolism, lipid accumulation, and glomerulosclerosis in FVBdb/db mice with type 2 diabetes. Diabetes 54:2328–2335

Yabuki A, Tahara T, Taniguchi K, Matsumoto M, Suzuki S (2006) Neuronal nitric oxide synthase and cyclooxygenase-2 in diabetic nephropathy of type 2 diabetic OLETF rats. Exp Anim 55:17–25

Yilmaz O, Ozkan Y, Yildirim M, Ozturk AI, Ersan Y (2002) Effects of alpha lipoic acid, ascorbic acid-6-palmitate, and fish oil on the glutathione, malonaldehyde, and fatty acids levels in erythrocytes of streptozotocin induced diabetic male rats. J Cell Biochem 86:530–539

Yin H, Xu L, Porter NA (2011) Free radical lipid peroxidation: mechanisms and analysis. Chem Rev 111:5944–5972

Yokoyama M, Origasa H, Matsuzaki M, Matsuzawa Y, Saito Y, Ishikawa Y, Oikawa S, Sasaki J, Hishida H, Itakura H, Kita T, Kitabatake A, Nakaya N, Sakata T, Shimada K, Shirato K (2007) Effects of eicosapentaenoic acid on major coronary events in hypercholesterolaemic patients (JELIS): a randomised open-label, blinded endpoint analysis. Lancet 369:1090–1098

Yuan Y, Sun H, Sun Z (2017) Advanced glycation end products (AGEs) increase renal lipid accumulation: a pathogenic factor of diabetic nephropathy (DN). Lipids Health Dis 16:126

Zhang S, Gao X, Ma Y, Jiang J, Dai Z, Yin X, Min W, Hui W, Wang B (2015) Expression and significance of SATB1 in the development of breast cancer. Genet Mol Res 14:3309–3317
Acknowledgements
This work has been supported in part by the Croatian Science Foundation under the projects (IP-2014-09-8992; T. Mašek and 3163; K. Starčević) and by the Ministry of Science, Education and Sports of the Republic of Croatia (I. Bočina, K. Vukojević, N. Filipović).
Ethics declarations
Conflict of interest
On behalf of all the authors, the corresponding author states that there is no conflict of interest.
Ethical approval
All applicable international, national and/or institutional guidelines for the care and use of animals were followed. All experimental protocols were approved by the National Ethics Committee (EP 13/2015) and Veterinary Directorate, Ministry of Agriculture, Republic of Croatia and conducted according to the Croatian Animal Welfare Act.
Additional information
Publisher's note
Springer Nature remains neutral with regard to jurisdictional claims in published maps and institutional affiliations.
About this article
Cite this article
Vitlov Uljević, M., Starčević, K., Mašek, T. et al. Dietary DHA/EPA supplementation ameliorates diabetic nephropathy by protecting from distal tubular cell damage. Cell Tissue Res 378, 301–317 (2019). https://doi.org/10.1007/s00441-019-03058-y
Received:

Accepted:

Published:

Issue Date:
Keywords
Diabetic nephropathy

PUFA

Distal tubules

SATB1

VEGF