Abstract
The lymphatic system aids in osmoregulation through tissue fluid transport, but is also designed to support communication between cells of the innate and adaptive immune systems. During inflammation, changes within the lymphatics can result in an altered response to infection. Neutrophils have been described as one key cell type that facilitates antigen capture and presentation within the lymphatic system, enabling an effective adaptive immune response. Disruption of neutrophil recruitment during inflammation, due to alterations in lymphatics, is a growing area of study due to their key role in infection resolution. In this review, we discuss the currently known methods by which neutrophils are recruited to the lymphatic system and what subsequent effects they have on resident and recruited cells within the lymph vessels and nodes. We also discuss the changes in neutrophil activation and recruitment during chronic inflammatory diseases and their relationship to lymphatic dysfunction.
This is a preview of subscription content,
to check access.
Access this article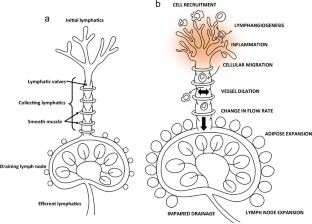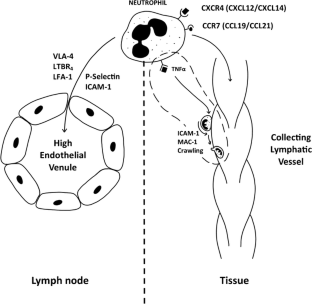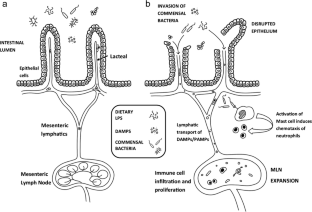 Similar content being viewed by others
References
Aebischer D, Willrodt A-H, Halin C (2014) Oxazolone-induced contact hypersensitivity reduces lymphatic drainage but enhances the induction of adaptive immunity. PLoS ONE 9(6):e99297. https://doi.org/10.1371/journal.pone.0099297

Aldrich MB, Sevick-Muraca EM (2013) Cytokines are systemic effectors of lymphatic function in acute inflammation. Cytokine 64(1):362–369. https://doi.org/10.1016/j.cyto.2013.05.015

Amulic B, Cazalet C, Hayes GL, Metzler KD, Zychlinsky A (2012) Neutrophil function: from mechanisms to disease. Annu Rev Immunol 30:459–489

Anderson AO, Anderson ND (1975) Anderson Studies on the structure and permeability of the microvasculature in normal rat lymph nodes. Am J Pathol 80:387–418

Arokiasamy S, Zakian C, Dilliway J, Wang W, Nourshargh S, Voisin M-B (2017) Endogenous TNFα orchestrates the trafficking of neutrophils into and within lymphatic vessels during acute inflammation. Sci Rep 7:44189

Beauvillain C et al (2011) CCR7 is involved in the migration of neutrophils to lymph nodes. Blood 117:1196–1204. https://doi.org/10.1182/blood-2009-11-254490

Bressenot A, Salleron J, Bastien C, Danese S, Boulagnon-Rombi C, Peyrin-Biroulet L (2015) Comparing histological activity indexes in UC. Gut 64:1412–1418

Buell MG, Berin MC (1994) Neutrophil-independence of the initiation of colonic injury. Comparison of results from three models of experimental colitis in the rat. Dig Dis Sci 39:2575–2588

Chakraborty S, Zawieja SD, Wang W, Lee Y, Wang YJ, von der Weid PY, Zawieja DC, Muthuchamy M (2015) Lipopolysaccharide modulates neutrophil recruitment and macrophage polarization on lymphatic vessels and impairs lymphatic function in rat mesentery. Am J Physiol Heart Circ Physiol 309(12):H2042–H2057

Chtanova T et al (2009) Dynamics of T cell, antigen-presenting cell, and pathogen interactions during recall responses in the lymph node. Immunity 31:342–355. https://doi.org/10.1016/j.immuni.2009.06.023

Cromer WE, Zawieja SD, Zawieja DC (2014 Apr) The effects of inflammatory cytokines on lymphatic endothelial barrier function. Angiogenesis 17(2):395–406. https://doi.org/10.1007/s10456-013-9393-2

Devi S et al (2013) Neutrophil mobilization via plerixaformediated CXCR4 inhibition arises from lung demargination and blockade of neutrophil homing to the bone marrow. J Exp Med 210:2321–2336

Drayton DL, Liao S, Mounzer RH, Ruddle NH (2006) Lymphoid organ development: from ontogeny to neogenesis. Nat Immunol 7:344–353

Egea L, Hirata Y, Kagnoff MF (2010) GM-CSF: a role in immune and inflammatory reactions in the intestine. Expert Rev Gastroenterol Hepatol 4(6):723–731. https://doi.org/10.1586/egh.10.73

Fonseca DM, Hand T, Belkaid Y (2015) Microbiota-dependent sequelae of acute infection compromise tissue-specific immunity. Cell 163(2):354–366. https://doi.org/10.1016/j.cell.2015.08.030

Fournier BM, Parkos CA (2012) The role of neutrophils during intestinal inflammation. Mucosal Immunol 5:354–366

Girard JP, Moussion C, Förster R (2012) HEVs, lymphatics and homeostatic immune cell trafficking in lymph nodes. Nat Rev Immunol 12:762–773. https://doi.org/10.1038/nri3298

Gorlino CV, Ranocchia RP, Harman MF, García IA, Crespo MI, Morón G, Maletto BA and Pistoresi-Palencia MC (2014) Neutrophils exhibit differential requirements for homing molecules in their lymphatics and blood trafficking into draining lymph nodes. J Immunol 193(4):1966–1974. https://doi.org/10.4049/jimmunol.1301791

Gretz JE, Norbury CC, Anderson AO, Proudfoot AE, Shaw S (2000) Lymph-borne chemokines and other low molecular weight molecules reach high endothelial venules via specialized conduits while a functional barrier limits access to the lymphocyte microenvironments in lymph node cortex. J Exp Med 192:1425–1440

Hampton HR, Bailey J, Tomura M, Brink R, Chtanova T (2015) Microbe-dependent lymphatic migration of neutrophils modulates lymphocyte proliferation in lymph node. Nat Commun 6:7139. https://doi.org/10.1038/ncomms8139

Iba T, Hashiguchi N, Nagaoka I (2013) Neutrophil cell death in response to infection and its relation to coagulation. J Intensive Care 1(1):13. https://doi.org/10.1186/2052-0492-1-13

Kamenyeva O, Boularan C, Kabat J, Cheung GY, Cicala C, Yeh AJ et al (2015) Neutrophil recruitment to lymph nodes limits local humoral response to Staphylococcus aureus. PLoS Pathog 11(4):e1004827

Kankuri E et al (2001) Suppression of acute experimental colitis by a highly selective inducible nitric-oxide synthase inhibitor, N-[3-(aminomethyl)benzyl]acetamidine. J Pharmacol Exp Ther 298:1128–1132

Kastenmuller W, Torabi-Parizi P, Subramanian N, Lammermann T, Germain RN (2012) A spatially-organized multicellular innate immune response in lymph nodes limits systemic pathogen spread. Cell 150(6):1235–1248

Kolaczkowska E, Kubes P (2013) Neutrophil recruitment and function in health and inflammation. Nat Rev Immunol 13:159–175. https://doi.org/10.1038/nri3399

Kruger P, Saffarzadeh M, Weber ANR et al (2015) Neutrophils: Between Host Defence, Immune Modulation, and Tissue Injury. Dehio C, ed. PLoS Pathogens 11(3):e1004651. https://doi.org/10.1371/journal.ppat.1004651

Kuan EL, Ivanov S, Bridenbaugh EA, Victora G, Wang W, Childs EW, Platt AM, Jakubzick CV, Mason RJ, Gashev AA, Nussenzweig M, Swartz MA, Dustin ML, Zawieja DC, Randolph GJ (2015) Collecting lymphatic vessel permeability facilitates adipose tissue inflammation and distribution of antigen to lymph node-homing adipose tissue dendritic cells. J Immunol 194(11):5200–5210. https://doi.org/10.4049/jimmunol.1500221

Lammermann T, Afonso PV, Germain RN (2013) Neutrophil swarms require LTB4 and integrins at sites of cell death in vivo. Nature 498:371–375. https://doi.org/10.1038/nature12175

Leak LV (1976) The structure of lymphatic capillaries in lymph formation. Fed Proc 35:1863–1871

Liao S, Cheng G, Conner DA, Huang Y, Kucherlapati RS, Munn LL, Ruddle NH, Jain RK, Fukumura D, Padera TP (2011) Impaired lymphatic contraction associated with immunosuppression. Proc Natl Acad Sci U S A 108:18784–18789

Liao S, von der Weid PY (2015) Lymphatic system: an active pathway for immune protection. Semin Cell Dev Biol 38:83–9. https://doi.org/10.1016/j.semcdb.2014.11.012

Lv J, Zou L, Zhao L, Yang W, Xiong Y, Li B, He R (2015) Leukotriene B4-leukotriene B4 receptor axis promotes oxazolone-induced contact dermatitis by directing skin homing of neutrophils and CD8+ T cells. Immunology 146(1):50–58. https://doi.org/10.1111/imm.12478

Malhotra D, Fletcher AL, Turley SJ (2012) Transcriptional insights into the lymph-node conduit network. Nat Immunol 13:499–510. https://doi.org/10.1038/ni.2262

Mempel TR, Henrickson SE, Von Andrian UH (2004) T-cell priming by dendritic cells in lymph nodes occurs in three distinct phases. Nature 427(6970):154–159

Miyasaka M, Tanaka T (2004) Lymphocyte trafficking across high endothelial venules: dogmas and enigmas. Nat Rev Immunol 4:360–370. https://doi.org/10.1038/nri1354

Murphy K, Travers P, Walport M, Janeway C (2012) Janeway's Immunobiology. Garland, New York

Natsui M et al (1997) Selective depletion of neutrophils by a monoclonal antibody, RP-3, suppresses dextran sulphate sodium-induced colitis in rats. J Gastroenterol Hepatol 12:801–808

Pelaseyed T, Bergström JH, Gustafsson JK, Ermund A, Birchenough GM, Schütte A, van der Post S, Svensson F, Rodríguez-Piñeiro AM, Nyström EE, Wising C, JohanssonME, Hansson GC (2014) The mucus and mucins of the goblet cells and enterocytes providethe first defense line of the gastrointestinal tract and interact with the immunesystem. Immunol Rev 260:8–20

Radtke AJ, Kastenmuller W, Espinosa DA (2015) Lymph-node resident CD8a+ Dendritic cells capture antigens from migratory malaria sporozoites and induce CD8+ T cell responses. PLoS Pathog. https://doi.org/10.1371/journal.ppat.1004637

Rehal S, von der Weid PY (2017) TNFΔARE mice display abnormal lymphatics and develop tertiary lymphoid organs in the mesentery. Am J Pathol 187(4):798–807

Rockson SG (2010) Causes and consequences of lymphatic disease. Ann N Y Acad Sci 1207(Suppl 1):E2–E6. https://doi.org/10.1111/j.1749-6632.2010.05804.x

Sixt M, Kanazawa N, Selg M, Samson T, Roos G, Reinhardt DP et al (2005) The conduit system transports soluble antigens from the afferent lymph to resident dendritic cells in the T cell area of the lymph node. Immunity 22:19–29

Soehnlein O, Lindbom L (2010) Phagocyte partnership during the onset and resolution of inflammation. Nat Rev Immunol 10:427–439

von der Weid PY, Rainey KJ (2010) Review article: lymphatic system and associated adipose tissue in the development of inflammatory bowel disease. Aliment Pharmacol Ther. https://doi.org/10.1111/j.1365-2036.2010.04407.x

Yang CW, Strong BS, Miller MJ, Unanue ER (2010) Neutrophils influence the level of antigen presentation during the immune response to protein antigens in adjuvants. J Immunol 185:2927–2934. https://doi.org/10.4049/jimmunol.1001289
Acknowledgments
This work is supported by the University of Calgary start-up fund to SL, provided by the Dianne & Irving Kipnes Foundation, and the Canadian Institute of Health Research (CIHR) Bridge Fund to SL.
About this article
Cite this article
Stephens, M., Liao, S. Neutrophil–lymphatic interactions during acute and chronic disease. Cell Tissue Res 371, 599–606 (2018). https://doi.org/10.1007/s00441-017-2779-5
Received:

Accepted:

Published:

Issue Date:

DOI: https://doi.org/10.1007/s00441-017-2779-5
Keywords